originally published: 10/09/2015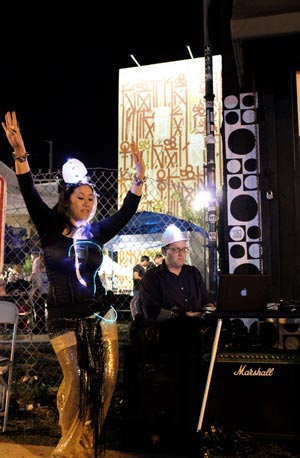 (NEW BRUNSWICK, NJ) -- The Mason Gross School of the Arts is set to launch a new music series at the school, NJDAC, highlighting computer-based music. On Sunday, October 25, 2015, Mason Gross music students and faculty, as well as guest artists, will present original music. The instruments: Laptops, along with acoustic instruments such as flute, violin, and clarinet. The event is set for 7:30 p.m. at Richard H. Shindell Choral Hall, in Mortensen Hall, 85 George Street, on Douglass Campus. NJDAC is free and open to the public. Tickets are not required.
"Ever since Max Mathews developed the first music programs at Bell Labs in the 1960s, New Jersey has played an important role in the use of computers to make music," says Mason Gross School faculty member Steven Kemper, referring to the leader in digital audio research. Kemper, who is organizing and participating in the concert, says the program features computer-generated music for loudspeakers and video; collaborations between acoustic instrumentalists and computers; interactive belly dance by performers connected to sensors that generate sound; and a brief book reading accompanied by a computer-generated soundtrack.

Kemper says he hopes that audience members will expand their conception and experience of music.
"I'm excited about the possibilities of live performances featuring music technology, especially the interactions between human performers and computer-generated sound," he says. "People listen to music generated by computers at home and on their devices, but they don't often observe live performers working with the sonic possibilities of computers."
Featured artists are Brad Garton of Columbia University, Judith Shatin, a Douglass alum on faculty at University of Virginia, and Mason Gross alum Mark Zaki, on faculty at Rutgers-Camden. Mason Gross faculty members Steven Kemper and Aurie Hsu will participate, as will Mason Gross School students Louise Fristensky, Chris Kaminski, Brendan Kingsley, D. Turner Matthews, Casey Mullen, and Chris Opperman, and Rutgers University student Jack Impink.
NJDAC is presented by Music Technology at Mason Gross. 
---
The article continues after this ad
---
---
PHOTO: Mason Gross professors Aurie Hsu and Steven Kemper performing interactive belly dance during Art Basel Miami Beach, 2013. Hsu and Kemper will participate in the Oct. 25 digital audio concert at the school. Photo courtesy of Steven Kemper.