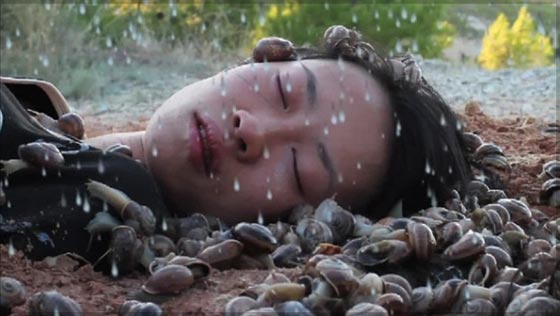 (NEWARK, NJ) -- Women in Media-Newark will hold its sixth annual International Film Festival March 24 – April 1 in celebration of Women's History Month. The winner of the international Imaging Women: Respect cell phone video contest for youth will be announced during the festival.
"Each year our Festival presents an amazing array of independent films from around the world that celebrate the indomitable spirit of women. This year, we've selected the theme And Still I Rise and our focus will be on "disappeared" women," said Pamela Morgan, Executive Director and Founder of the Festival. "We're delighted with the quality and the breadth of the films that will be screened this year. As always, we are impressed with the talent and expertise of the filmmakers who take part in the Festival."
The 2015 International Film Festival will open on March 24 with a special screening of the 1971 classic film Janie's Janie at Aljira, a Center for Contemporary Art in the Ironbound section of Newark. The opening will be hosted in collaboration with the Ironbound Community Corporation. Janie's Janie is a personal documentary about Jane Giese, a working class Newark resident who has begun to emerge from a history of physical and mental abuse. This will be the first time the film will have a major screening in Newark. Third World Newsreel noted, "The 'personal' aspect of the film was unusual for early Newsreel, and its very existence resulted from gender issue struggles within the collective itself. It is a document of a time and its issues, and of the efforts of feminists to give creative visual form to their concerns."
Other highlights of the Festival include a screening of Cuban director Gloria Rolando's film Reembarque/Reshipment with Emmy Award winning artist Wyclef Jean and his wife Claudinette participating in the discussion following the screening; a jazz concert featuring pianist Geri Allen's Trio and the Mimi Jones Fantastic Four with special guest Tia Fuller; a screening of The Art of Ama Ata Aidoo, which chronicles the life of the famed Ghanian writer; a panel discussion on human featuring NJ Asst. Attorney General Tracey Thompson, Essex County Asst. Prosecutor Kelly Sandler, FBI Victim Specialist Keyla Munoz, and Zonta International's United Nations representative specializing in human trafficking Pat Latona; a screening of the Israeli film Where is Elle-Kari and What Happened to Noriko-san? director, Dvorit Sharkal to be in attendance; and screenings of Mercedes Gaspar's Escapes/Huidas (Spain) and Sophia Turkiewicz's Once My Mother (Poland/Australia), in conjunction with the inaugural exhibition of the Dana Library's Holocaust Digital Print Collection by the late Carol Rosen, and hosting by the Newark Women's Conference on March 26th.
Morgan said the achievements of several accomplished women also will be celebrated during the Festival. Those honored are: Dr. Diane Hill, Assistant Chancellor at Rutgers University-Newark; Gwen Moten, Executive Director, The Mayor's Office of Arts, Cultural Development and Tourism for Newark; Ousseina Alidou, Ph.D., internationally renowned author, public speaker and former director, Center for African Studies, Rutgers; Donna Walker-Kuhne, Vice President , Community Engagement, New Jersey Performing Arts Center; Susan MacLaury, producer, Executive Director of the non-profit film production company Shine Global; and New Jersey Assistant Attorney General Tracey Thompson, Esq., who specializes in human trafficking.
Other Festival activities will include interviews with filmmakers, panel discussions, vendors and a Silent Auction. In addition, Fertile Soil, an art exhibit curated by Gladys Barker Grauer that features the works of four local women artists at Paul Robeson Student Center at Rutgers University-Newark has been scheduled to coincide with the eight-day Film Festival.
For the complete schedule, visit http://wim-n.com/festival-schedule-2015/
About Women In Media-Newark:
Women In Media – Newark is an organization that advocates for and educates the public about issues affecting the lives of women using film, video and new media as our platform. Merging culture and academia, we rally behind our sisters who courageously struggle to assume leadership roles in the film industry with their conscious effort to present a balanced image of women, dispelling the stereotypes and changing public perception of their sisters worldwide.
Co-sponsors of the Women In Media-Newark film series include the Rutgers University Newark Office of University-Community Partnerships/Office of the Chancellor, Rutgers Center for African Studies, the Dana Library, and Rutgers GAIA Center, in partnership with the East Orange Public Library, the West Orange Public Library; Aljira, a Center for Contemporary Art; and the Ironbound Community Corporation.
The film festival is free and open to the public although donations are welcome. More information can be found at their website at www.WIM-N.com or you may call 973-996-8342 or email info@wim-n.com.