By Jon Ciccarelli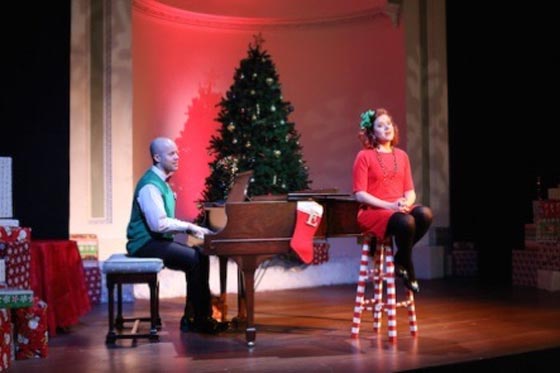 (CAPE MAY, NJ) -- The leftover turkey is taking up residence in the frig and on the dinner menu for the rest of the week, crazy displays of colored and white lights are now popping up on your neighbor's house, and Target is annoying you playing the same song in each of their commercials, yep, its official, the "holiday Season" is here. Christmas time is back and time to party with some family, shopping, food and whether it's the mix of all of these things with the chill in the air, there is something magically different about this time of year and nothing can get into the spirit more than those old favorite Christmas songs.

A celebration of Christmas' eye catching decorations, good times and its smooth tunes are ready to transport you into this magical time of year with Cape May Stage's "Merry Melodies" running at the Robert Shackleton Playhouse in Cape May from November 28-December 28. "'Merry Melodies' is a collaboration between many of Cape May StageÂąs artists; playwright Marlena Lustik, myself as the director, Producing Artistic Director Roy Steinberg, and our two Equity actors, Claire Neumann and Eddie Schnecker. The production takes everything we love about the holiday season, plus a few added bonuses, and creates an evening of nostalgia, laughter, and sing-alongs!", said director Bridget Grace Sheaff.

"I love Christmas. The holiday season has always been a time for family in my mind. So, when Roy asked me to direct the final show of the 2014 season, I was beyond thrilled. Not only is it an amazing opportunity to direct an Equity show so soon after graduating college, but it is a thrill to share some Christmas magic with our wonderful audience. My main goal was to leave the audience with a smile on their face and song in their heart." Sheaff added.

Sheaff promises a mix of music and laughs and while some its tough to pick her favorite moments, some include an array of cheesy Christmas jokes, the audience sing-along, and the imaginative, playful, and lovely retelling of Clement Clarke Moore's 'Twas the Night Before Christmas'.

"Bring your whole family! 'Merry Melodies' is full to the brim with fun for everyone. If you are looking for a way to get into the Christmas spirit, look no further than Cape May Stage," Sheaff said.

About Cape May Stage
Cape May Stage is Southern New Jersey's premiere professional theatre, having recently celebrated 25-years of artistic excellence. A modern performance space housed within a historic building, Cape May Stage produces six Mainstage shows each season along with second stage events featuring Broadway and Hollywood performers. The theatre's educational offerings include audience talkbacks, a published ŚStage Notes' Guide to every show, children's theatre camps, and a Resident Intern Company that attracts recent college graduates from all over the country for a season of intensive, hands-on learning and work. The National Playwrights' Symposium, presented each spring by the theatre, attracts award-winning playwrights and aspiring playwrights to Cape May. A favorite among locals and tourists, Cape May Stageąs reputation for artistic excellence in a relaxed setting has earned it many awards in the region.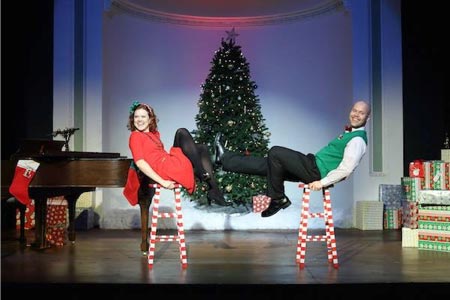 ---
"Merry Melodies"
Written by Marlena Lustik
Directed by Bridget Grace Sheaff
Cast: Eddie Schnecker and Claire Neumann
Cape May Stage
Robert Shackleton Playhouse
405 Lafayette Street, Cape May, NJ
November 28, 2014 - December 28, 2014
Thursdays-Saturdays, 7PM | Saturdays & Sundays, 3PM
Half-price senior (62+) Matinee:Â Sat Dec 13, 3PM
Pay What You Wish Matinee:Â Sun Dec 21, 3PM
Tickets are $35 for adults, $30 for Seniors (62+), $15 for Students
To purchase tickets by phone, call the box office at 609-770-8311 or visit http://www.capemaystage.org/
PHOTO: Aleksey Photography (Pictured: Eddie Schnecker & Claire Neumann)