By Gary Wien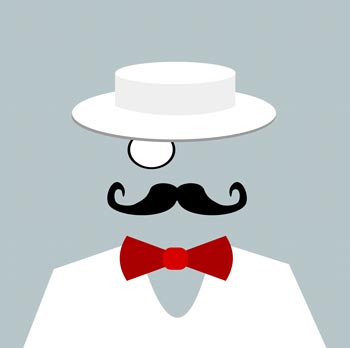 Imagine three white, middle-aged, guys from Ohio that are part of a barbershop quartet who have just lost their fourth member who died while singing the high B flat in competition. They suddenly find themselves scrambling to find a tenor before the nationals. As luck would have it, they hear an amazing voice in the background of a telephone conversation. The three agree to take on the voice as their fourth member, but when they meet him in person he looks a bit different than expected.

"Hopefully, hilarity and gentle commentary about racism along with 12 or so barbershop quartet songs ensue," said Michael Mastro, who returns to George Street as director of The Fabulous Lipitones, a musical comedy running now through December 14.

The play was created from the team of Mark St. Germain (author of Freud's Last Session and Best of Enemies) and John Markus (head writer for The Cosby Show and writer/producer of The Larry Sanders Show). The play stars YouTube sensation Rohan Kymal and Broadway veterans Donald Corren, Wally Dunn, and Jim Walton.

After losing the fourth member of their quartet, the guys are in the midst of discussing whether or not the group should move forward when the local garage calls to tell one of them that his car is ready. In the background, they hear somebody singing with a voice so wonderful that their jaws drop. They ask the mechanic if it's the radio and are told, "That's Bob, he works here." They tell him to have Bob come by for an audition. "I don't know if you want this guy… he's not your type" is the reply. Nevertheless, Bob goes to the audition.

John Markus has said that one of the main premises of the play is about being the "other". In this case, the three members of the quartet have known each other since high school. Now in their fifties, they have somebody strange in their midst.

"The play, for me, is about America," explained Mastro. "It celebrates very lovely ideas about America that I think some of us have forgotten. It's about what America can be and what it can mean to be an American. The play takes place in the present, but I'm hoping there's a little bit of a feeling of a bygone town. The playwrights told me that one of the characters was based on a character on The Andy Griffith Show. So, I actually went back and watched a few episodes of the show, which I loved as a kid. I was shocked with how well written they are and how they manage to be very real and desirous of promoting some excellent basic American values without being preachy. I'm hoping there's a little bit of that in this play."

Mastro was part of his school chorus while growing up, but was never in a barbershop quartet himself. He says he loves the way the music sounds.

"There is something so primal about not only singing but joining your voice with others," he continued. "When you do it in harmony and the harmony is tight, it's really a thrill. It's like a zone you go into. If you listen to barbershop quartets, they get all four voices to sound like overtones of the same voice."

In order to have four actors sound as though they've been performing together for decades, they have a barbershop quartet expert handling the arrangements and working with the actors every day to get them to that place. It's a level you know when you hear it said Mastro.
If you've seen The Fabulous Lipitones before, whether in New York or elsewhere, you haven't seen this version. George Street Playhouse is using a mixture of songs in the public domain and new songs written especially for this production. A few of the songs were written by one of the characters with the hopes that a certain major star will someday perform them. It's a nice added twist that helps make this production truly unique.

This will be the second time Mastro has directed a production at George Street, but he's best known as an actor. George Street audiences will remember him from roles in plays like The Sunshine Boys, The Pillowman, and Inspecting Carol. He has acted on Broadway, Off-Broadway, and regional theatres. His Broadway credits include West Side Story, Twelve Angry Men, Cat On a Hot Tin Roof, Mamma Mia!, Barrymore, and many more.

Directing is a passion that he hopes to continue. The Subject Was Roses was the first full-length production which he directed, but he's directed one-acts and one-night readings as well.

"This is second time I've directed a full-length and I'm so grateful to be doing it at George Street where I know the staff," he explained. "It comes from the top and David Saint's way of being here sets a tone. It's just one of the happiest places I've ever worked in theatre. And knowing everybody here helps me because there's a lot to attend to in a show like this. I was originally thinking of it as a play with music until we got going and I realized it really is a musical; it needs to be treated like a musical and there's a lot to attend to."

The directing bug has been with Mastro for some time. He recalls being in a rehearsal room and watching the director move actors from one side to another and wondering, "Why is he moving them? What is he telling them right now?"

"Being a director is like you're a mommy and a daddy; a psychologist and a storyteller; and an administrator," said Mastro. "I have all these different skills, but it puts them to use in unique ways. Storytelling is something I've loved about the theatre since I was 13 and knew I was going to be an actor. I think I fell in love with the theater for the first time when I went to see a community theater production of The Music Man, which is interesting because it has a barbershop quartet in it. I love all aspects of theatre. I still love acting and I feel it's my first love, but I'm really enjoying the challenges of directing."
---
The Fabulous Lipitones runs Nov. 18 - Dec. 14 at George Street Playhouse, 9 Livingston Avenue in New Brunswick, NJ
---
---
Gary Wien has been covering the arts since 2001 and has had work published with Jersey Arts, Elmore Magazine, Princeton Magazine, Backstreets and other publications. He is a three-time winner of the Asbury Music Award for Top Music Journalist and the author of Beyond the Palace (the first book on the history of rock and roll in Asbury Park) and Are You Listening? The Top 100 Albums of 2001-2010 by New Jersey Artists. In addition, he runs New Jersey Stage and the online radio station The Penguin Rocks. He can be contacted at gary@newjerseystage.com.
---