originally published: 10/17/2020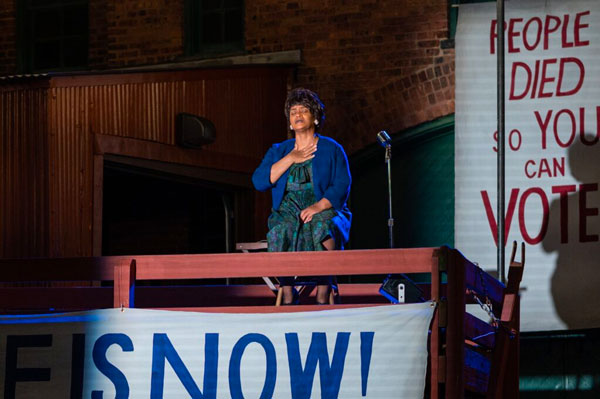 Premiere Stages at Kean brings life back to the live theater community with their production of Fannie Lou Hamer, Speak on It! The show is an opportunity to once again experience live theater but do it in a CoVid safe environment. It was thrilling to go out to the grounds of the Liberty Hall Museum which is on the other side of Morris Avenue from where Premiere Stages usually performs. The transformation to outdoor theater was thoughtfully done with remarkable results.
The show demonstrates the dedication Premiere Stages has towards presenting works that address issues which are important in contemporary society. But they also have a dedication to examining historic moments. Fannie Lou Hamer, Speak on It! allows the audience to experience both of these.
It should also be noted that this production was approved by the Actor's Equity Association.
Experiencing a New Form of Outdoor Theater
Premier Stages put together a venue that serves the audience and the production very well. From the time patrons enter the parking lot until the end of the show, safeguards to adhere to concerns for social distancing and safety in this age of CoVid are visibility in place. There is creativity that is evident as well as a warm and welcoming atmosphere from the many volunteers on hand to help out.
---
The article continues after this ad
---
---
Upon entering the parking area, the first stop is to have a temperature check.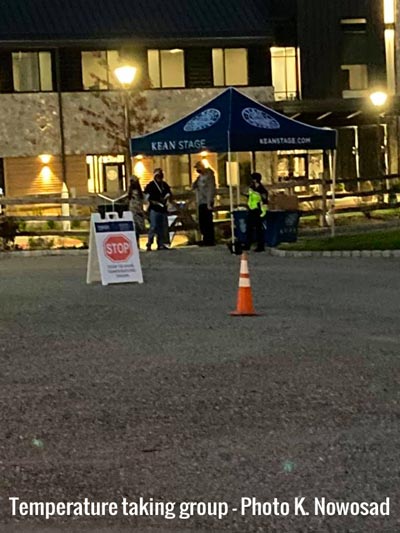 A volunteer comes to the car window to take the temperature. Another confirms that you are on the attending list. After that was completed, attendees receive a little sticker and are asked to place it somewhere visible on on their clothing. The sticker ties in to the theme of the show and is a nice souvenir.
Parking in the lot is plentiful and well lighted. It is also easy to locate the main entrance where volunteers handle the listing of attendees for the performance.
When you leave the check in areas, you walk up a winding path, past another volunteer who points out the rest room area. After a brief walk, you approach the actual theater area. The view was absolutely beautiful seeing the well lighted seating tent just ahead. There is a variety of lights that shine brightly giving a welcoming glow to the area.
Seating is divided into three main areas allowing social distancing at every spot. The main center seating is inside a large tent. Seats are arranged by groups who purchase tickets together.
Several side areas are available for twos and singles. As shown in these photos below, the variety in these areas is fun to see. There is no problem seeing the show from this side areas. The positioning of the stage allows for good viewing for all.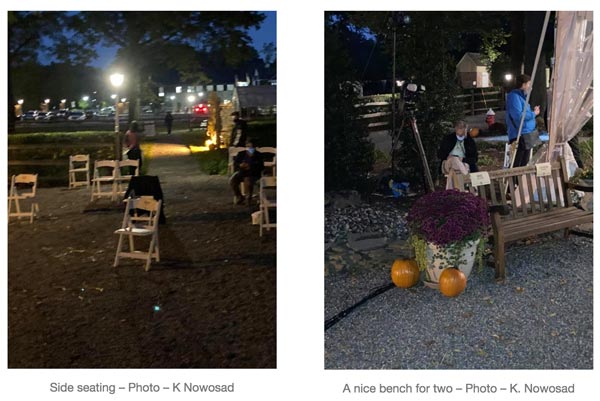 There are a number of volunteers who are friendly and very willing to help. Their enthusiasm is catchy as was Premiere Stage's Producing Artistic Director, John J. Wooten. His remarks were welcoming and warmly presented. Yes, theater is back and so the show went on!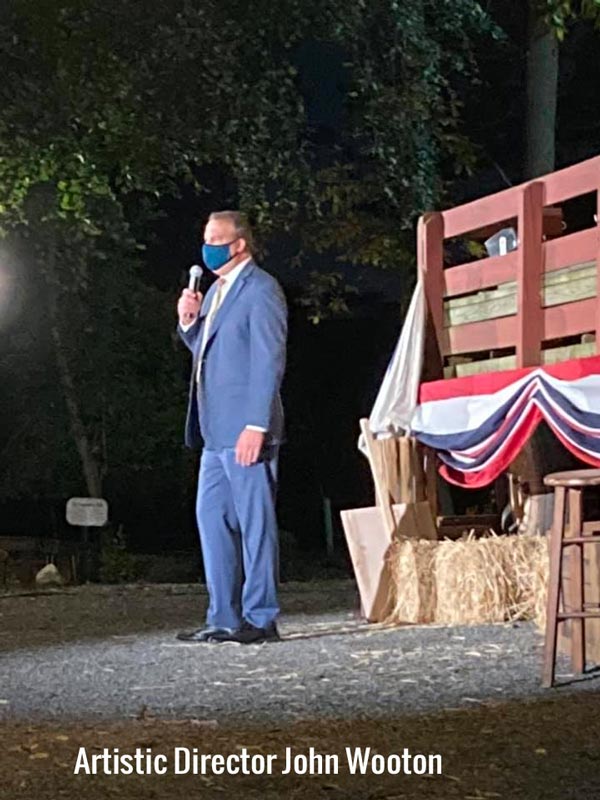 Fannie Lou Hamer – A Strong Figure in the Fight for Voter's Rights
Music plays before the show begins. The final selection before the show starts is a recording of Nina Simone's extraordinary "Mississippi Goddam." It provides a perfect bridge to introduce Fannie Lou Hamer since she was from Mississippi and she had to fight for the right to vote there. That fight, the eventual victory, and her continuing work with Voters' Rights campaigns provide the basis of what takes place during the 60 minute production.
Rema Webb turns in a powerful performance as Fannie Lou Hamer. Ms. Webb takes charge from the minute she enters the stage area until the final moment of the production. Her performance leaves no doubt in the audience's mind that Hamer was a force to be reckoned with.
The production comes from Cheryl L. West who adapts it from her play of the same name. Direction is by Marshall Jones III. This production is made possible in part by funds from the New Jersey State Council on the Arts/Department of State, a Partner Agency of the National Endowment for the Arts.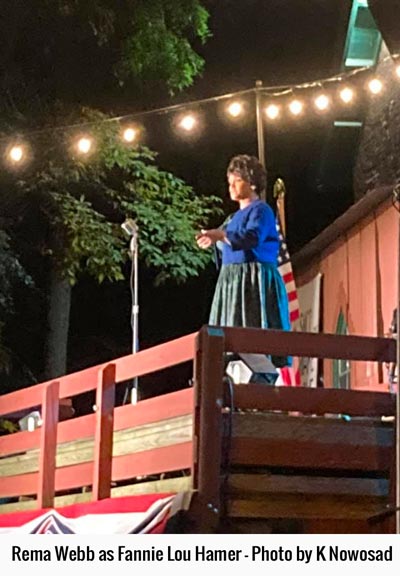 The play cleverly links the early 60's to modern day making it feel like one is attending a get out the vote rally. There are no political commercials; no candidates' names are mentioned. Early in the production, Hamer says, "I would have thought things would have changed by now." The audience applauded. She further says she is "sick and tired of being sick and tired" which also drew applauds. A memorable moment occurs when she says most dangerous are men who want to zip your lip. Amen! and the audience responded.
But the message of the play is clear: all citizens have the right and the obligation to vote. All one has to do is listen to what Fannie Lou Hamer had to endure in order to get her right to vote. It was a struggle in early 60's Mississippi for a black woman to register to vote. The character explains how she had to go to her county courthouse to do this only to be told that she had to pass a test. As a child, she had to leave school at 12 to go to work. She talks about several questions she was required to answer and they far exceeded the knowledge most average Americas would have. Despite her limited education, she studied and eventually passed the test and got registered to vote.
From there the story goes on to tell how Hamer crusaded to help others register. As she went out to do public speaking, she faced tremendous obstacles. One of the most horrific moments of her life is when she is put in jail and beaten within an inch of her life. Somehow, she survived and continued her crusade.
The play shows moments of victory but moments of tremendous struggle and disappointment. And yet, through it all, Fannie Lou Hamer continued to believe in all that the United States stands for. Her dedication to help spread the word about getting registered to vote and going to vote is a message for now and the future as well.
Music Adds Depth to the Production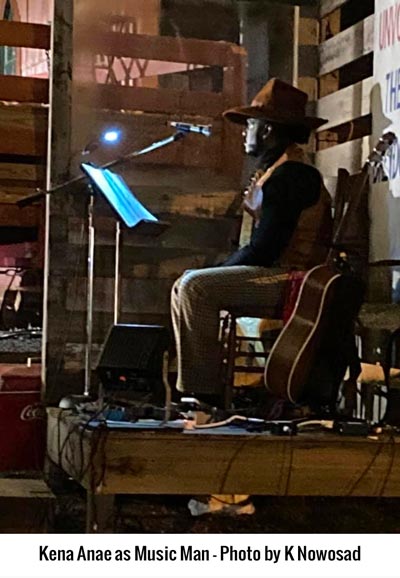 The story of Fannie Lou Hamer is fascinating enough in itself to just listen to Rema Webb deliver it with her exciting presentation. But this production takes it a step further by adding music. Playing the role of the Music Man is Kena Anae in a separate small booth/stage on the side of the main stage. He plays a guitar but there is also some background music that is coordinated into the production. Credit for Arrangement and Music Direction goes to Felton Offard.
What an outstanding addition to the play this music is. Fannie Lou Hamer speaks and then sings songs that tie into the episodes being described. Classics like "This Little Light of Mine," "I Know I've Been Changed," and the fervent "We Will Not Be Moved" and more are played throughout the show.
The inclusion of music not only provides additional commentary on the episodes of her life, but it also adds a energetic spark to the show. At the show I attended, the audience clapped along with the songs. There was an air of festivity that made going to this show a joy.
Learn More About Fannie Lou Hamer, Speak on It!
Tickets: All tickets are $20. Tickets will not be available for sale at the door on the day of the performance.
Seating: Tickets are General Admission but patrons are required to sit in assigned seats. All seating is arranged according to social distancing restrictions. Groups that purchased tickets together or arrived in one vehicle will be seated together.
All seating will be sanitized between performances by Event Staff.
Final performance is Sunday, October 18 at 3 p.m.  There will be a Q&A following the performance.
Fannie Lou Hamer, Speak On It! is 60 minutes without intermission.
For Further Information or Purchases. Check Premier Stages official website for more information or to buy tickets: www.premierestagesatkean.com/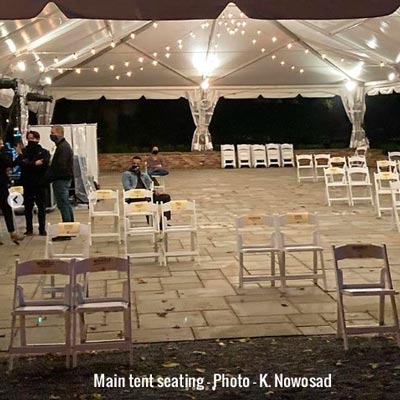 ---
Let's Go to the Theater helps people learn more about about live theater and develop appreciation for this art form. Karen M. Nowosad is the founder of the site. The enjoyment Karen gets from going to the theater is something she wants to share with others.
---