originally published: 10/01/2020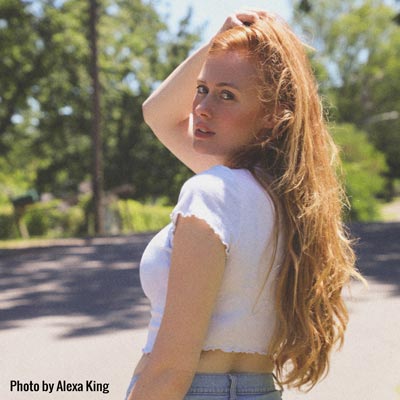 "Gypsy soul," "Unforgettable Character"and"Gorgeous with a unique voice"have all been used to describe Melody Federer; one of the most talented singer/songwriters out there today. 
Melody made a recent stop in New Jersey and gladly shared about her gig and spoke of her musical journey; an intriguing, gutsy undertaking driven by determination and a desire to succeed.
"I was born in Texas down in the Bible belt; my dad was a pastor at the time but he's not anymore, he's an author,"she explained."Then we moved to St. Louis, Missouri where all of my extended family is; I have like 70 cousins because I come from a big Irish Catholic family. Then I actually moved to New York when I was 18 and lived in New Jersey for a while on my sister's couch in Hoboken; home of SinatraI believe, I just love him. Then I fell in love with this French piano player who was doing a jazz gig in New York and I saw him when I must have been about 20 years old and we sort of fell into this whirlwind romance and he convinced me to move to Paris with him like a month later. So, I moved to Paris and we started playing as a duo on the street; he would bring his piano and I would sing and then we started playing festivals and we got a little deal offer in L.A. So, I moved to L.A. and did that and then I became a songwriter for others for a while. I went down to Nashville and wrote a bunch of songs for other people and then started releasing my own music again so now I'm living in Seattle." 
Wait; did she say 70 cousins? With a last name like Federer; is the tennis great Roger possibly one of them? 
---
The article continues after this ad
---
---
"I think so; distantly,"she said with a laugh."I know that we both like to cause a racket!" 
Hmmm, yet another link to greatness; something this performer seems to be encountering more and more as her career progresses. Federer has written music for Kelly Rowland, Hilary Duff, Jacob Whitesides, Laura Leighe and others but lately she's been collaborating with a legendary writer and composer. 
"Music has kind of taken me on a journey; these songs have taken me around the world. Recently I've been writing a lot with Burt Bacharach and that's been amazing! 
Burt Bacharach is just about as good as they come and if bouncing around from coast to coast and different continents has gotten her this far; where else does she draw inspiration from? 
"I think I have sort of weird tastes for a person of my age. Just yesterday I was driving and I was listening to The Foundations and those songs are just perfection to me and they don't get old. My dad kind of raised me on James Taylor who is my ultimate hero, Joni Mitchell, Crosby Stills Nash and Young, The Doobie Brothers, America and then I kind of discovered jazz in high school and loved Frank Sinatra, Louie Armstrong, Nat King Cole and then in Paris more jazz and now pop, country; I'm kind of all over the map. I do like a lot of older music from the 40's to the 70's; I don't know why but it just feels like they really captured something in time with the live musicians. One of my first memories was my dad playing my mom a James Taylor song on his guitar. He was self-taught and would play in the house or just to my mom sometimes and I remember him singing "Blossom" to her. He also taught me piano by ear, he'd just show me how to play the chords and just play around; he even wrote some songs when I was little; once again for my mom or about American history because he really likes American history." 
Terms such as"Old soul"and"Born too late"come to mind when reacting to her musical tastes but this vivacious entertainer is a self-professed people person; one who enjoys stopping here on the Atlantic coast and loves interacting with fans and strangers alike.  
I feel like the conversations that I have with East Coasters in New York and New Jersey are like playing a good game of tennis; lots of back and forth,"she said with sincerity."Everybody is so chatty and friendly here; they just chat with me in elevators or at the store and I think; do they know me? Then I remember, oh OK, I'm on the east coast and people are friendly."
So, Federer found herself once again here in New Jersey, Monmouth Park to be more specific as the opening act for one of her favorite performers at a drive-up concert event; something which was a first for her.
"Yeah that's the big thing! I got to open for Andrew McMahon which was mind-blowingly cool,"she stated still very excited. "I had to pass a COVID test in order to play the show so waiting on the results made me a little nervous but I was fine."
"The gig came about through my agent AJ Paul because he's worked with Andrew and they were looking for an acoustic opener so he submitted me. They got a lot of submissions and to my shock and amazement they said, "Yeah, she can do it" and I think Katie Tunstall just opened for them and she's so awesome and to be among the ranks of her and getting to open for Andrew is probably the coolest show that I've played so far in my career. I'm pretty stoked; it was pretty interesting to play for people in their cars. Night one was sold out and I think night two was as well; so, yeah..."
Melody has released a series of singles over the last several months and for this wise beyond her years artist this time around is bit extra special because the material is written by her and for her; not for someone else. 
"I have singles that are getting added to rotations at stations,"she said sounding as if she was in disbelief. "The one is called "This Town" and the newer one is called, "The Wonder Years." I have this finished album that I poured my heart and soul into the last two years down in Nashville and really took my time with it. I was really specific with the vision and the instrumentation and the arrangement and lyrics and I was super picky; I just wanted it to be authentic. I've written for other people so much and this was my baby; ya' know? I put out the first single thinking; I'll just put it out there and see what happens and it's been getting a lot of alternative radio and AAA love which blows my mind because it has always been a dream of mine to have a song on the radio. The fact that, that is sort of happening is just wild; we'll kind of see what happens with this next single and take it from there. This is what you dream of from the beginning. I've spent so much time in my life and during my angsty years driving in my car listening to the radio and I still love the radio, it's just special I think." 
Yes, it is Melody, yes, it is...
To discover more about Melody Federer and her music, she can be found on Facebook, Instagram, iTunes and Spotify under Melody Feder. 
That's it for this week! Please continue to support live and original music and until next week....ROCK ON!
---
This week's event listings
---
Bella Mia
3224 US Route 206 #1 Bordentown
(609) 291-7475
Sat. 6 p.m. Diane Chiorello   
---
Broken Goblet Brewing   
2500 State Road Bensalem, PA   
(267) 812-5653   
Thurs. 8 p.m. Mike Estabrook 
Fri. 8:30 p.m. "First Fridays" w/ Cara Cartney 
Sat. 8:30 p.m. Patio Music Saturday w/ Jenny Leigh & Brian Loftus
Wed. 8 p.m. Open Mic 
All Shows 21+
---
Candlelight Lounge     
24 Passaic Street Trenton     
(609) 695-9612     
Thurs. 6 p.m. Thursday Night Blues Jam Hosted by The Mojo Gypsies. $5 (Includes hot buffet) 
Sat. 3 p.m. (TBA) $10 (cover charge/$10 Minimum includes buffet)     
---
Championship Bar   
931 Chambers street Trenton   
(609) 396-5457  
Tuesday 8 p.m. "Jam Night" Hosted by Nikki & Caleb   
Ages 21+
---
City Streets     
510 Highway 130 South East Windsor     
(609) 426-9400   
Fri. 7:30 p.m. Kindred Spirit Duo
Mon. 9 p.m. "Malibu Mondays"      
Tues. 9 p.m. Trivia w/ Jessie & Chelsea 
Wed. 6:30 p.m. "Wine Down Wednesdays" w/ Rich Genoval      
 
---
Clubhouse at Mountain View  
850 Bear Tavern Road Ewing  
(609) 771-0400  
Thurs. 6 p.m. DC Duo
Fri. 6 p.m. Just Jeff
---
COARadio.com     
125 South Main Street Hightstown     
(609) 241-7103
Sun. 7 p.m. "Rock On Radio" feat. Lori Davis & Fran Whitney of The Strand Theater
---
Cooper's Riverview 
50 Riverview Plaza Trenton 
(609) 393-7300
Thurs. 8 p.m. Einstein Bridge
Fri. 7 p.m. Witzend
Sat. 7 p.m. "Social Saturdays" feat. Se7en Band
Mon. 7 p.m. "Sunny Monday Blues Jam" 
Tues. 8 p.m. Karaoke w/ Karen and Mark
All Events Ages 21+
---
Dog & Bull Brew House     
810 Bristol Pike (Rte. 13) Croydon, PA.     
(215) 788-2855    
Fri. 6 p.m. Brian Elliot
Sat. 4 p.m. Box of Books 
Sun. 4 p.m. (TBA)
---
German American Society   
215 Uncle Pete's Road Hamilton   
(609) 585-5200   
Fri. 8 p.m. "New York State of Mind" Billy Joel Tribute. (Advance tickets available)
---
Hamilton Tap & Grill  
557 US Route 130 North Hamilton  
(609) 905-0925  
Fri. 9 p.m. Karaoke                                                                                        
Tues. 8 p.m. Quizzoholics Trivia 
Wed. 7 p.m. Country Night. $5
---
Hopewell Valley Vineyards     
46 Yard Avenue Pennington     
(609) 737-4465     
Thurs. 6 p.m. Rick Winow
Fri. 6 p.m. "Music & Merlot" feat. Acoustic DuOver
Sat. (1 p.m.) Acoustic Road (6 p.m.) "Music & Merlot" feat. Winery Catz
Sun. 3 p.m. "Jazzy Sundays" feat. Alex Otey Trio
---
Iron Plow Vineyards     
26750 Mount Pleasant Road Columbus     
(732) 306-9111  
Fri. 7 p.m. Budd & Maggs
Sat. 7 p.m. Monk & Monk
Sun. 2 p.m. Michele Pflug
---
Killarney's Publick House     
1644 Whitehorse-Mercerville Road Hamilton    
(609) 586-1166   
Sat. 6 p.m. Mario DiBartolo & Frank Clayton 
---
Laurita Winery     
85 Archertown Road New Egypt     
(609) 752-0200   
Fri. 6 p.m. "Sounds of Summer Series: Music on the Lawn" feat. Vinyl Madness. $15 (advance 
Sat./Sun. 12 p.m. "Sangria and Sliders"
---
Mercer County Park Festival Grounds
Hughes Drive/Old Trenton Road West Windsor   
(609) 448-1947  
Fri. 7:30 p.m. Drive-in Movie Night: "Ghostbusters" (FREE event, gates open 6:30 p.m.) 
---
Odd Logic Brewing Co.
500 Bristol Pike, Bristol, PA
Thurs. 6 p.m. Hocus Pocus Beers & Brushes w/ Painting with a Twist. (Tickets required) 
---
Old Town Pub     
135 Farnsworth Avenue Bordentown     
(609) 291-9232    
Thurs. 8 p.m. Quizzoholics Trivia   
---
Palmer Square
Nassau Street Princeton
Sat. 12 p.m. "Fall Music on the Square" feat. Kindred Spirit
---
Patriots Crossing     
1339 River Road Titusville     
(609) 737-2780    
Thurs. 8 p.m. Open Mic Night
Wed. 7 p.m. "Quizzo"   
---
Patriot's Theater at The War Memorial
1 Memorial Drive Trenton
(609) 984-8400
Sat. 7:30 p.m. The Philly Pops at The Hop
---
Romeo's Restaurant & Pizza
10 Schalks Crossing Road Plainsboro
(609) 799-4554
Sat. 7 p.m. The Blue Eyed Balladeer
---
Rossi's Bar & Grill     
2110 Whitehorse-Mercerville Road Hamilton     
(609) 890-2004     
Thurs. 6 p.m. Monk, Monk & Kramer
Sun. 4 p.m. Mario DiBartolo & Frank Clayton
---
Temperance House     
5 South State Street Newtown, PA     
(215) 944-8050     
Thurs. 7p.m. "Blues Night" w/ Steve Guyger 
Tues. 8 p.m. Trivia w/ Righteous Jolly (outdoors) 
Wed. 7 p.m. Open Mic Night w/ Cara Cartney
---
TGI Fridays
780 Route 130 South Hamilton
(609) 581-6910
Fri. 7 p.m. Mike Oregano
---
The Bog (Cranbury Golf Club)
49 Southfield Road West Windsor
(609) 799-0341
Sat. 7 p.m. NRG
---
The Cool Cricket     
216 Burlington Street Fieldsboro     
(609) 291-9110     
Fri. 9 p.m. Karaoke     
Sat. 6 p.m. Joe Zook & Blues Deluxe
---
The Roost     
181 Rte. 539 Cream Ridge     
(609) 208-0050   
Sat. 8 p.m. No Bad Days
---
Tindall Road Brewing Co.
102 Farnsworth Avenue Bordentown   
(609) 526-8651    
Fri. 6 p.m. Love & Duffy
Sat. 6 p.m. Slugger O'Toole
---
Trenton Social      
449 South Broad Street Trenton     
(609) 989-7777    
Thurs. 5 p.m. "Happy Hour Throwback Thursday" w/ Jay Kountree  
Fri. 5 p.m. DJ ItsJustAhmad
Sat. 9:30 p.m. Conor Choi
Mon. 8 p.m. "Monday Night Karaoke" Hosted by Sweets
Tues. 7 p.m. Open Mic Night w/ Kyle & Mike
---
Triumph Brewing Company (New Hope, Pa. Location)     
400 Union Square New Hope, Pa.     
(215) 862-8300     
Thurs. 8 p.m. Trivia    
Sun. 7 p.m. Open Stage
All shows 21+  
---
Working Dog Winery     
610 Windsor Perrineville Road Hightstown     
(609) 371-6000 
Sat. 2 p.m. Vic Della pello
Sun. 2 p.m. Chris Giakas
---
WWFM 89.1 FM HD2 Radio
MCCC Old Trenton Road West Windsor
Jazzon2.org
Mon. 7 p.m. "Danny Coleman's Got The Blues" 
      
 

---
Danny Coleman is a veteran musician and writer from central New Jersey. He hosts a weekly radio program entitled "Rock On Radio" airing Sunday evenings at 7 p.m. EST on multiple internet radio outlets where he features indie/original bands and solo artists.
---