originally published: 09/24/2020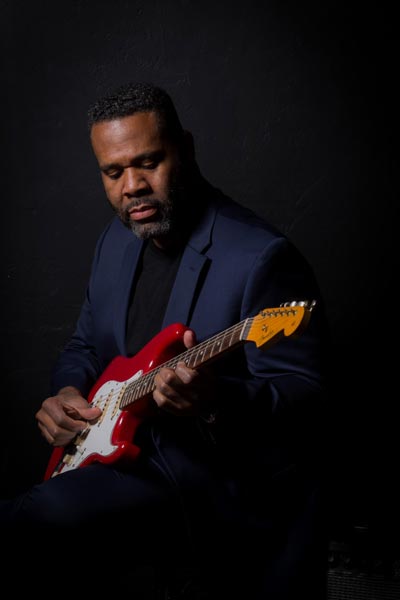 "I'm hanging in there," said guitarist Kirk Fletcher with a laugh."I'm doing fantastic over here in Switzerland but I'm originally from the Los Angeles, California area." 
Terms such as"Soulful" and"Can't Miss" have been used to describe Fletcher who has performed with some of the top blues musicians in the industry. He has shared a stage with or been a part of bands like Joe Bonamassa and The Fabulous Thunderbirds and his talents have garnered him five Blues Music Award nominations and countless accolades here in the U.S and in the U.K. 
Since he first released "I'm Here & I'm Gone"  back in 1999, Fletcher has steadily made inroads for himself and has become one of the more sought-after blues players of today and with the upcoming September 25 release of his latest effort "My Blues Pathway"  it appears he's done nothing but solidify his stellar reputation. 
"I'm a blues musician, I play guitar and I sing; I work with a full band behind me and I have a new record coming out on September 25 called, "My Blues Pathway" on the Cleopatra label," he said with brimming confidence."This record sort of took me my lifetime up until this point to record because I've played a lot of different music with a few different artists and I wanted to get back to making a blues record. I wanted to make a record based on what excited me when I first started going out to blues clubs and some of the people that I would see out there. So, I just tried to make a record that will maybe excite the next generation of musicians."
Ah,"The next generation,"a unique lot if there was one. Blues music in itself is always lying beneath the surface of pop and rock music like a geothermal pool waiting to find a crack in the surface so that it may emerge once again as a force to reckon with. So, who is the next Stevie Ray Vaughn? Is it Mike Zito or Kirk Fletcher? The beauty of the blues is nobody can say for sure when that pool will crack the surface but one thing for sure is there is a constant effort to make it happen and Fletcher's determined to keep pushing and trying to convey what raised his enthusiasm for the blues through"My Blues Pathway." 
---
The article continues after this ad
---
---
"I feel like there are younger players out there like "Kingfish" who are doing it but I also want to add my two cents because I'm a little bit older and I've seen some of the guys; people from Muddy Waters' blues band, Hubert Sumlin and people like that. So, it was those things that excited me that I was trying to capture on this record. When I was finally old enough to go out to clubs, I was able to see guys like Chris Cain, The Fabulous Thunderbirds, Denny Freeman and all of those guys and it's a whole different thing seeing them live in a club where you're in front of them and people can talk and hang out and tell stories and it just turns into this whole other experience. The excitement I used to feel when I would go to blues festivals and even records during that time and even in the 80's with guys like Robert Cray, Stevie Ray Vaughn mixed with Chicago Blues is something that I wanted to try and capture on this record."
Fletcher's enthusiasm for this record is evident; he seems to be confident it will do well but for him one gets the sense it's not about how many copies it sells but more about the story it tells. When asked to elaborate he seems immediately at ease and satisfied with the process and the outcome. 
"I used some of the musicians that I've known for a long time; Dave Kida the drummer I've known for 25 years. So, it was really cool to go on this long pathway and come back around and make music with my friends and after all of this time to see what we've learned on our musical journeys was just really cool and a lot of fun. There is also a certain comfort when making this record, it was very comfortable and just felt right so I tried to pick some covers and originals that I thought would be fun to do. The bass player Travis Carlton, we've known each other now for over 10 or 15 years; it was definitely a lot of fun and not a lot of pressure. I just sort of had arrangements and we just had at it (laughs). There's a single called "No Place to Go " that's been out for a few months now, which is doing pretty well so we'll see how it goes." 
Fletcher's guitar style is very clean, note for note can be heard and appreciated as his fingers meander along the fret board; at times his playing is reminiscent of the late B.B. King. So how did he get interested in playing guitar and specifically the blues? 
"I started playing in my father's church so that's really where I first heard a few things and my older brother Walter played guitar so he's really the one who got me started. Then later on I got into guys on the radio and also B.B. King, Bobby Bland, Howlin' Wolf and people like that, the radio had funk too; so, yeah, a lot of music."
From church services to providing guitar services for some of the biggest blues names around Fletcher has definitely enjoyed the ride. 
"Yeah, I was in The Fabulous Thunderbirds from 2004 to 2007, so for a few years and they were influential on me. Joe Bonamassa is a close friend and a good buddy. I've done a few different projects with him; he gives me advice and helps me out, we just hang out and have a good time. I played a few gigs with him,"Live at The Greek," which was a tribute to the Three Kings and a Muddy Waters and Howlin' Wolf tribute that we did together. We are around the same age so we have a lot in common; that kind of younger generation stuff. We hit it off and we've been the best of friends for a few years now." 
Many American blues artists have difficulty being received here at home but consistently find more appreciative crowds overseas; specifically, in Europe. 
"I understand why artists feel that way but I know for me that in the states there is something about that common ground and the audience from the states that's really a lot of fun too if you play the right places,"he stated in somewhat halted tones."They can be a lot of fun, there are places where you're a little bit taken for granted but there are also incredible festivals and clubs and stops that you make in the U.S. that are incredible. So, I really like both; I like the common ground that you have with the guys in the U.S and then I like European because when you go out to the clubs in Europe it's like an event; they come there just to see you. It's not like going into a club and everybody is eating food and drinking beer and there's 20 TVs on and you might not be the reason they are there; they are coming there just to see you."
"It's funny because I've not played as much here in Switzerland as much as I have in Germany, France and the U.K.; all of those places are super big blues scenes. Switzerland has its blues scene too but I mean Germany is so big and there's so many blues clubs and places that have live music that it works out really well. I'm pretty much less than a four-hour drive or a train ride; it's pretty close and the U.K. is an hour flight so I've got a lot of different scenes there." 
Multiple artists have been slowed or outright stopped by the pandemic and others like Kirk have continued on their usual path; he however, is somewhat optimistic. 
"As far as online and all of those different things it's pretty much business as usual. I sort of have maybe even a more captive audience because everybody is at home and has more time to look at stuff. We will have to see what develops; as far as touring, obviously that's wiped out. There are a few dates here and there here in Europe; it's slowly starting to come back a little bit. So, there is a light at the end of the tunnel but as far as online and that stuff you can work extra hard at promoting everything. It's a crazy time and I'm just trying to make the best of it; it's just a crazy time."
"My Blues Pathway" as well as all of Kirk Fletcher's music and information can be found at www.kirkfletcherband.com . 
That's it for this week! Please continue to support live and original music and until next week....ROCK ON!
---
This week's event listings
---
Arts Council of Princeton     
102 Witherspoon Street Princeton     
(609) 924-8777 
Sat. 12 p.m. "Art & About Pottery In Action" feat. Adam Welch
 
---
Bordentown Yacht Club
1 Farnsworth Avenue Bordentown
(609) 298-9754
Sat. 4 p.m. "Creekfest" feat. The Polish Nannies
 
---
Broken Goblet Brewing   
2500 State Road Bensalem, PA   
(267) 812-5653   
Thurs. 8 p.m. Mike Estabrook 
 
---
Cadwalder Park
299 Parkside Avenue Trenton
(408) 335-4400
Sat. 4 p.m. An Evening with The Capitol Philharmonic
 
---
Candlelight Lounge     
24 Passaic Street Trenton     
(609) 695-9612     
Thurs. 6 p.m. Thursday Night Blues Jam Hosted by The Mojo Gypsies. $5 (Includes hot buffet) 
Sat. 3 p.m. (TBA) $10 (cover charge/$10 Minimum includes buffet)    
 
---
Championship Bar   
931 Chambers street Trenton   
(609) 396-5457    
Tuesday 8 p.m. "Jam Night" Hosted by Nikki & Caleb      
 
---
Clubhouse at Mountain View  
850 Bear Tavern Road Ewing  
(609) 771-0400  
Fri. 6 p.m. Bridge Beat Duo
 
---
COARadio.com     
125 South Main Street Hightstown     
(609) 241-7103
Sun. 7 p.m. "Rock On Radio" feat. (Replay as we are on vacation)
 
---
Cooper's Riverview 
50 Riverview Plaza Trenton 
(609) 393-7300
Thurs. 8 p.m. Sara and The Sound
Fri. 7 p.m. Drunken Clams
Sat. 7 p.m. "Social Saturdays" feat. Plush Band
Mon. 7 p.m. "Sunny Monday Blues Jam" 
Tues. 8 p.m. Karaoke w/ Karen and Mark
All Events Ages 21+
 
---
Delorenzo's Tomato Pie
1707 Langhorne Yardley Road Yardley, PA
(215) 413-1006
Thurs. 5:30 p.m. Ryan Sab
 
---
Dog & Bull Brew House     
810 Bristol Pike (Rte. 13) Croydon, PA.     
(215) 788-2855    
Fri. 6 p.m. Paper Shaker
Sun. 4 p.m. Vince Schneider
 
---
German American Society   
215 Uncle Pete's Road Hamilton   
(609) 585-5200   
Fri. 5 p.m. "The Oktoberfest 2020" feat. The Adlers. $10
Sat. 5 p.m. "The Oktoberfest 2020" feat. Fritz's Polka Band / 80's Undercover. $15
Sun.12 p.m. "The Oktoberfest 2020" feat. Austrian Boys Band, G.T.V, Almrausch Dancers.
 
---
Hamilton Tap & Grill  
557 US Route 130 North Hamilton  
(609) 905-0925 
Fri. 9 p.m. Karaoke                                                                                        
Tues. 8 p.m. Quizzoholics Trivia 
Wed. 7 p.m. Country Night. $5
 
---
Hopewell Valley Vineyards     
46 Yard Avenue Pennington     
(609) 737-4465     
Thurs. 6 p.m. James Popik and Friends
Fri. 6 p.m. "Music & Merlot" feat. Deb & Mike
Sat. (1 p.m.) Silent Q (6 p.m.) "Music & Merlot" feat. The Lifters
Sun. 3 p.m. "Jazzy Sundays" feat. Hopewell Valley Vineyards Jazz Ensemble
 
---
Iron Plow Vineyards     
26750 Mount Pleasant Road Columbus     
(732) 306-9111 
Fri. 7 p.m. Rob Ballonoff
Sat. 7 p.m. Jim Gaven
Sun. 1 p.m. Bob & Dave
 
---
Laurita Winery     
85 Archertown Road New Egypt     
(609) 752-0200   
Thurs. 5 p.m. "Cornhole Tournament"
 
---
Mamma Rosa's     
572 Klockner Road Hamilton     
(609) 588-5454   
Sat. 6 p.m. Monk & Monk
Wed. 7 p.m. Karaoke
 
---
McGuinn's Place     
1781 Brunswick Avenue Lawrence     
(609) 392-0599   
Tues. 9 p.m. Karaoke       
Ages 21+     
 
---
Mercer County Park  (Boathouse at Mercer Lake) 
334 South Post Road West Windsor 
(866) 683-3586
Fri. 7:30 p.m. Drive In Movie Night feat. "Sonic The Hedge Hog" (Takes place in Grandparents Grove)
 
---
Mercer County Park Festival Grounds
Hughes Drive/Old Trenton Road West Windsor   
(609) 448-1947  
Fri. 7:30 p.m.
Sat. 6 p.m. Drive In Concert w/ Sounds of Sandstorm and Instant Funk
 
---
Odd Logic Brewing Co.
500 Bristol Pike, Bristol, PA
Thurs. 6 p.m. Beer Trivia
 
---
Old Town Pub     
135 Farnsworth Avenue Bordentown     
(609) 291-9232    
Thurs. 8 p.m. Quizzoholics Trivia   
 
---
Patriots Crossing     
1339 River Road Titusville     
(609) 737-2780    
Thurs. 8 p.m. Open Mic Night
Wed. 7 p.m. "Quizzo"   
 
---
Revere Restaurant
802 River Road Ewing
(609) 882-6365
Thurs. 6 p.m. Bad Hombres
 
---
Sparky World Famous Beer Garden
4333 New Falls Road Levittown, PA
(215) 943-2321
Thurs. 9 p.m. Karaoke
Mon. 9 p.m. Game Night w/ Kid Dalton  
 
---
Starbucks Coffee   (Trenton Community Store) 
102 South Warren Street Trenton  
(609) 393-0261  
Sat. 3 p.m. Open Mic   
 
---
Temperance House     
5 South State Street Newtown, PA     
(215) 944-8050     
Thurs. 7p.m. "Blues Night" w/ Steve Guyger 
Tues. 8 p.m. Trivia w/ Righteous Jolly (outdoors) 
Wed. 7 p.m. Open Mic Night w/ Cara Cartney
 
---
Terhune Orchards  
330 Cold Soil Road Princeton  
(609) 924-2310  
Fri. 4 p.m. "Sips & Sounds Friday" feat. Mark Miklos
 
---
TGI Fridays
780 Route 130 South Hamilton
(609) 581-6910
Fri. 7 p.m. Mike Oregano
 
---
The Cool Cricket     
216 Burlington Street Fieldsboro     
(609) 291-9110     
Fri. 9 p.m. Karaoke     
Sat. 2 p.m. "Four Bands 4 a Cause: Benefitting Recovery Advocates" feat. Meg Hansen & The Magic Tones, Tour de Force, Unleashed, El Ka Bong. 
 
---
The Cure Insurance Center     
81 Hamilton Ave. Trenton     
(609) 656-3200     
Sat. 7 p.m.  Drive In Movie Night feat. "A Most Beautiful Thing"
 
---
The Ivy Inn     
248 Nassau Street Princeton     
(609) 921-8555     
Thurs. 10 p.m. Karaoke w/ DJ Rockin' Ron 
Tues. 8 p.m. Quizzo w/ Bob E Luv    
Wed. 10 p.m. Total Request w/ DJ Rockin' Ron
 
---
Train Wreck Distillery
25 Madison Avenue Mount Holly
(609) 288-630
Sat. 5 p.m. Dave Murray
 
---
Trenton Social      
449 South Broad Street Trenton     
(609) 989-7777    
Thurs. 5 p.m. "Happy Hour Throwback Thursday" w/ Jay Kountree  
Fri. 5 p.m. DJ ItsJustAhm
Mon. 8 p.m. "Monday Night Karaoke" Hosted by Sweets
Tues. 7 p.m. Open Mic Night w/ Kyle & Mike
 
---
Triumph Brewing Company (New Hope, Pa. Location)     
400 Union Square New Hope, Pa.     
(215) 862-8300     
Thurs. 8 p.m. Trivia    
Sun. 7 p.m. Open Stage
All shows 21+    
 
---
Village Idiot Brewing Company
42 High Street Mount Holly
(609) 975-9270
Sun. 1 p.m. Open Mic
 
---
Working Dog Winery     
610 Windsor Perrineville Road Hightstown     
(609) 371-600
Sat. 1 p.m. Chris Swatt
Sun. 2 p.m. Love & Duffy
 
---
WWFM 89.1 FM HD2 Radio
MCCC Old Trenton Road West Windsor
Jazzon2.org
Mon. 7 p.m. "Danny Coleman's Got The Blues" 

---
Danny Coleman is a veteran musician and writer from central New Jersey. He hosts a weekly radio program entitled "Rock On Radio" airing Sunday evenings at 7 p.m. EST on multiple internet radio outlets where he features indie/original bands and solo artists.
---