originally published: 09/24/2020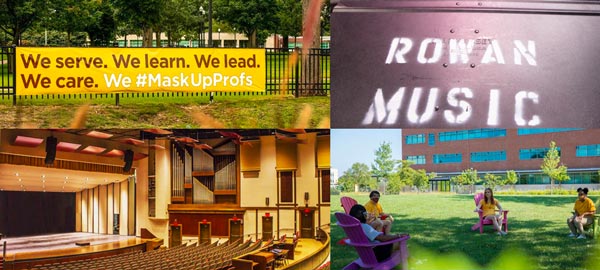 It's not only people wearing masks at Rowan University this semester.
Samantha Graifer had an unusual item on her school supply shopping list when she and her roommates — all music majors at the Glassboro college — traveled to a nearby Target at the start of the new academic year.
She needed pantyhose for her trumpet.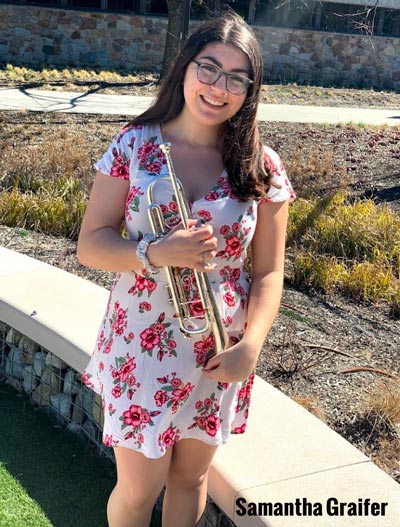 With the coronavirus still among us, the director of the wind ensemble Graifer plays in told his musicians they needed fabric to make masks for their instruments — to prevent dangerous respiratory droplets bursting into the air with every note. For trumpets, pantyhose works. Larger horns, like the tuba, need something bigger.
Face masks are also mandatory for the students, even when they're playing — which means wind players have to cut slits to fit their instrument's mouthpiece through. And when they sit down to play, of course, everyone is spaced more than six feet apart, sometimes double.
"It's definitely very weird," Graifer, a 20-year-old junior from Scotch Plains studying music education, says of the whole setup.
But, Graifer says, at least they get to play, safely.
"I can't even explain how grateful I am for that," she says. "The first rehearsal that we had, even though it was all new for us to play with masks and things on the ends of our bells and stuff, a lot of us were getting really emotional, because we hadn't had that human connection and musical connection in six months."
Colleges all over the country have the challenge of how to educate their tuition-paying students during the COVID-19 pandemic. In New Jersey, big schools like Rutgers and Princeton have opted for remote classes. Others — such as Montclair State, Seton Hall, and Rowan — offer a hybrid of online and in-person learning.
It's even trickier for those studying the performing arts, which usually involve close collaboration in group settings, producing a product to be enjoyed by an audience. That's why officials at Rowan are providing at least some in-person arts classes, with social distancing and other precautions.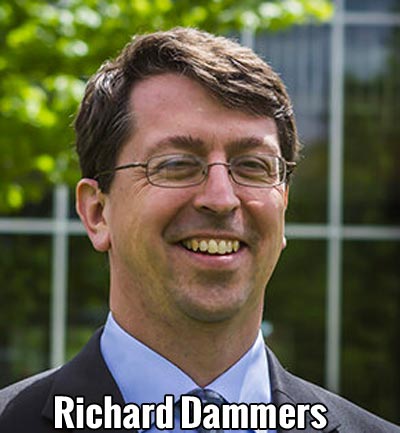 "Being able to make music or act together or dance together, respond to one another in real time in the same space is a pretty important aspect to each of those arts," explains Rick Dammers, dean of Rowan's College of Performing Arts. "It's not saying the things we do remotely aren't valid, but there's a reason we do these things in person in the first place."
This comes as Rowan, a relatively small public university in South Jersey, has lately become a coronavirus focal point in the Garden State — which has suffered more than 16,000 coronavirus deaths and has also seen its daily COVID-19 numbers drop significantly in recent months after widespread lockdowns and other restrictions. 
Only 20 percent of all classes at Rowan are in-person this semester, and there are no mass gatherings allowed onsite. But the school has more than 4,000 students living on campus, the most in New Jersey. (Usually, it's about 7,000).
The college reports its COVID-19 cases via an online dashboard, and since the semester started about three weeks ago, there have been nearly 300 positive tests. Students that test positive are isolated in a dorm and can continue classes online.
Health officials and experts say while younger people are less likely to suffer severe cases of the virus, they can still pass it to older, more vulnerable people.
Rowan held a virtual town hall last week to address a growing concern from local residents about the rising cases. University Provost Tony Lowman told them "Glassboro is our home."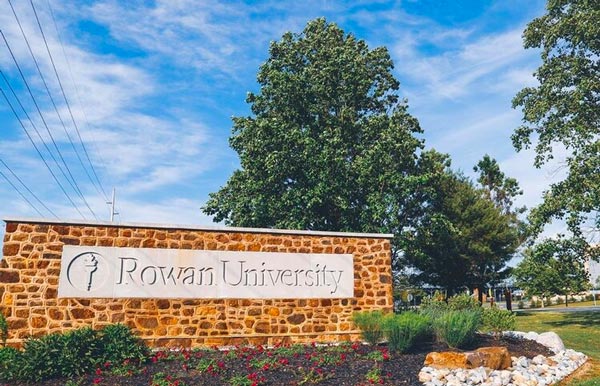 "We want to be a good neighbor," he added.
Graifer, a music education major, says she understands people's fear. Personally, she notes she can't travel 90 minutes north to her home in Union County unless she quarantines for two weeks because her mother has an autoimmune disease and thus is more at risk for a serious case of COVID-19.
"If she gets this, she could die," Graifer says.
She also laments that while many of her classmates are being vigilant, others don't seem concerned with the gravity of the situation.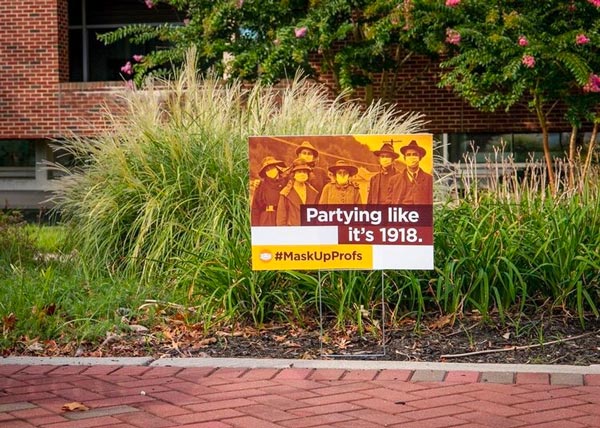 "I know there have been a lot of frat parties, and people just straight up don't care about other people's health or their families' health," says Graifer, who lives on campus. "So they'll go and stay in a really cramped basement with 200 of their closest friends and spread this. And it really sucks for people like me who are nervous about this."
By contrast, she says, most of the performing arts students "really do care."
"Because we miss playing in person and singing in person with each other," Graifer explains. "So we're trying to do everything we can to get back to that sense of normalcy."
Dammers says the goal is to "get as close to our normal experience as possible" while also doing everything as safely as possible.
A majority of arts classes at the school are remote, including many music lessons and dance classes. But orchestra and string ensembles, some music theory and music education classes, and a few theatre classes are in person.
Dammers stresses the college is being "flexible." No students are required to be on campus. And he says the school can quickly switch classes to being all-remote if the outbreak isn't manageable.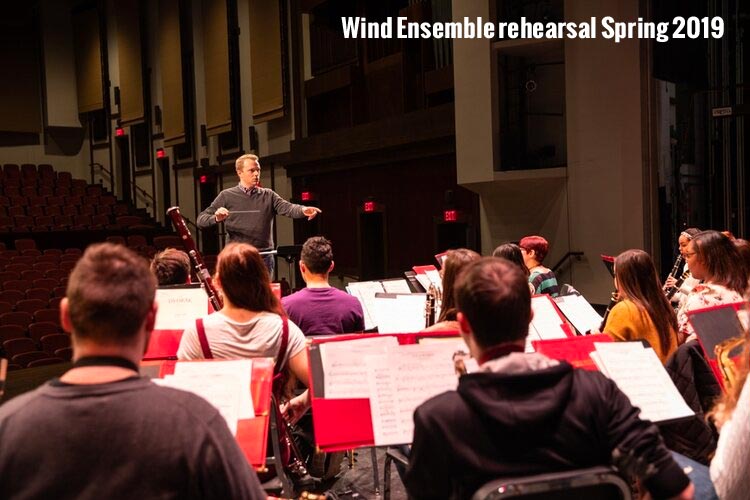 Rowan, he says, did plenty of research over the summer to prepare, and he has "a fair amount of confidence" about how to reduce the threat of the virus through aerosolized transmission.
"We've taken a very cautious, thoughtful approach," Dammers says. "It has been and continues to be balancing and saying: 'What can we do safely? And within what's safe, how do we provide the best possible learning experience?' We get to teach the same class over and over and over again. But our students are doing this once."
Just like in-person English classes at Rowan, all arts students and staff members are required to be masked and at least 6 feet apart. Rehearsal time is limited. And bands and wind ensembles practice outside under a tent.
Rooms are also open for any instrumentalist taking their classes online.
"Their teacher might be at home, or their teacher might be in a different room of the building," Dammers says.
For Dr. Timothy Schwarz, the head of the strings program at Rowan, most of his classes are in person because they're often one-on-one experiences — with him teaching individual music majors who play viola or violin. These days, he and the students use large rehearsal rooms that normally hold a hundred or so people.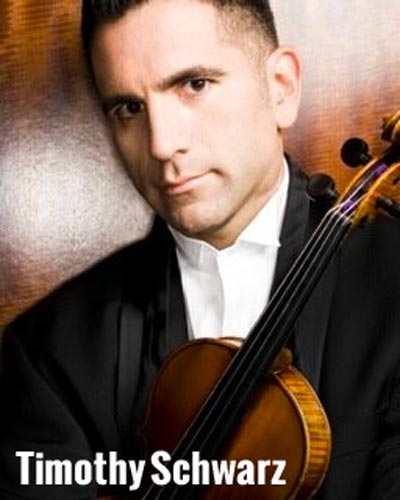 "This is a room usually an 80-piece orchestra would rehearse in," Schwarz says. "It's enormous. … I'm usually close to 20 feet away."
Schwarz says he also understands why some people are hesitant about in-person learning. But, he stresses, a lot of music students come to Rowan specifically for a private teacher.
"Because it is one-on-one, the bond is just very, very, very strong," he explains. "Just as it was with me and my teachers. They're almost like a parent. If you've established that relationship, it can work over Zoom. But it's very difficult. … It's not impossible, but it's difficult."
For ensembles? That's impossible, he explains.
 "There's no way you can play together with that level of demand for how in synch everything has to be with the technology most people have," Schwarz says. "When you're playing, you're really feeling the vibrations in your body. It's an emotional thing. It's just very, very difficult to create that emotional bond through a screen."
The biggest challenge, Dammers says, is singers.
"If someone needs to be unmasked, they are in the room alone and we have protocols in place to make sure that room isn't used until there's time to air out," the dean says.
Dammers notes that Rowan is still considering whether — and how — to host in-person performances with limited audiences this year, as long as it can be done safely. There will at least be livestreamed performances, he says.
And if the outbreak explodes? Shutting down in-person classes will be up to the university as a whole.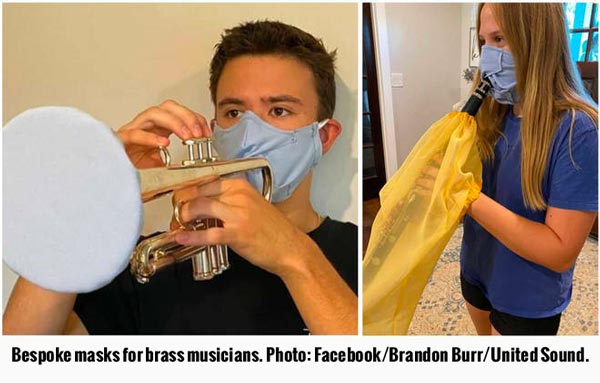 "Whatever pathway this takes — if we're able to continue as we are now through the semester, great," Dammers says. "If we have to curtail some face-to-face instruction, we're ready to go remote. And then the moment we're able to go to less restricted or unrestricted operations, we know how to do that, and we'll be ready to go."
"We are gonna have a really big party when this is done," the dean adds about the pandemic
Graifer has four in-person classes this semester — low strings, high strings, conduction, and symphonic band. In addition to the pantyhose cover for her trumpet's bell, Graifer wears a homemade cloth mask that her boyfriend's mother fashioned with an opening for the mouthpiece. Though some students wear disposable blue surgical masks, Graifer says she wanted to be able to wash and reuse hers.
Yes — in case you were wondering — Graifer was worried the pantyhose would muffle the sound of her trumpet. It hasn't, she says. In fact, the facemasks she and her fellow musicians wear pose more of a problem.
"A big part of ensemble playing is noticing not only the sounds people are putting out around you and the technique and what they do when they put the instrument to their face, and you really can't see that now," Graifer explains.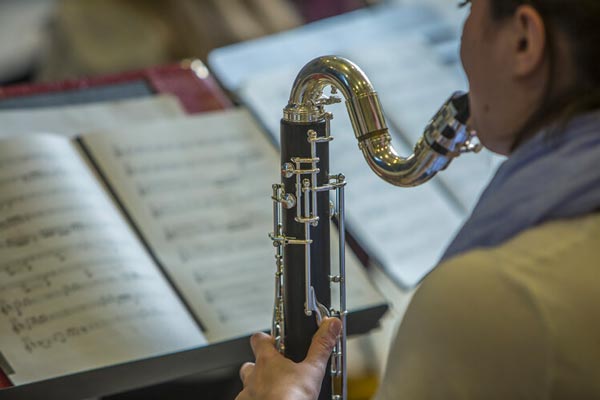 Plus, she says, being 10 to 12 feet apart from each other makes it "a lot harder to listen and blend in ensemble settings."
"It's definitely not the same," Graifer says.
But, she emphasizes, the college has done "a really good job keeping everyone safe."
"It's just been a very positive experience," Graifer says. "I feel safer playing in my ensemble and going to class than I do really anywhere else in the world right now."