originally published: 09/17/2020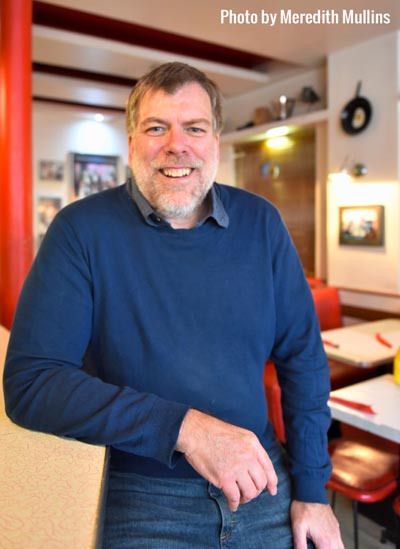 So, if you are a Connecticut Yankee in Paris, France's food court; what do you do on September 26, 2020? You celebrate "National Pancake Day" and you do so even if you're on another continent all together.
Craig Carlson is a man whose life has been built around sets of circumstances of which he firmly believes have led him to the good fortune he enjoys today. You see, he is an entrepreneur, accomplished author, cinema enthusiast and much more. 
"I'm originally from Connecticut, a small town in northern Connecticut called Enfield. Then I moved to California and then to Paris; those are the three phases of my life,"he started as he told his tale of what he likes to call,"Adventure."
"I'm doing great and greetings from the city of light here in Paris,"he continued. "I went to theUniversity of Connecticutand during my junior year I studied abroad in France; I lived with a French family, learned the language, the culture and completely fell in love with the country. After the year ended; I always figured I'd end up back here someday, I just wasn't sure exactly how. First, I thought I'd come back maybe one day for theCannes Film Festivalbecause I had studied film and wanted to do cinema and I thought, I'll be doing the red carpet at the Cannes Film Festival (laughs) but it didn't work out that way. My life took a lot of unexpected turns and twists but they led me back to France."
---
The article continues after this ad
---
---
Back to France but what were these unexpected twists and turns? 
"I studied American literature at UCONN and had a double major in French and it was when I was living in Paris during my year abroad that I became impassioned with cinema. That's when I went to graduate school at USC Film School and there I wrote many screenplays; I wrote and directed a short film which won an award in the Chicago Film Festival and the Lucille Ball Festival of Comedy in upstate New York. I ended up writing a few scripts that sold and one was made but my career did not take off like I had hoped it would. However, because I spoke French, I was able to get a job on a TV show in Paris and that's how I ended up back in Paris for a year before I had my big aha moment. So, a little bit of everything in my life led up to this moment in my life; French, cinema; the investors in my restaurant, I had 20 of them; were almost all fellow film students of mine. The learned lesson is, you may think your life goes in all of these different directions and nothing quite makes sense and then one day everything kind of comes together and every different part of your life is needed for the next big adventure and that's what this restaurant experience was like; it just brought it all together." 
So now that it was all."Brought together"one might think he had an inkling of how to run a restaurant or start a business but Carlson says that nothing could be farther from the truth.
"I would say pretty much zero,"he laughed as he confessed the experience level of his culinary shortcomings."My mom tried to cook a little bit but she was a crockpot cook and my polish grandmother could only boil chicken until all the taste was gone; so, no I had no culinary experience and no business experience. So, when I put together this plan it was very scary because it was a huge risk. I was about 37 and I said, I'm going to do something completely different and put everything in storage and came over here and learned by doing so it was quite an adventure. I cook a little bit more but the French sides of my family are still the cooks. I'm the entrepreneur, I'm the business man, I make sure everything comes out right that my customers walk out happy and make sure that there's a wonderful cultural connection between French and Americans here in my restaurant." 
It takes a lot of intestinal fortitude to make a leap of faith of such magnitude and for Carlson it paid off in a big way; so much so that even his choice of the diner's name played out to his advantage.  
"I actually own two diners, one on each side of Paris; The Right Bank and The Left Bank. The first one I opened in 2003 and the second in 2006 and we were the first American diner in the city, the first to offer pancakes, the first to have American breakfast; bacon, eggs, maple syrup just like a real diner. What's interesting is, when I first had the idea for the diner I had been working in Paris for a year and when I went back to the States my friends took me to a coffee shop and when I had my breakfast I thought, oh my God this is the one thing I miss. I had this eureka aha moment knowing, wait a minute; I'm going to open the first diner in Paris. I even knew the name; I'm going to call it"Breakfast In America"and interestingly, I never made the connection consciously that there was a super successful album and song bySupertrampcalled "Breakfast In America." It actually wasn't until I was way into putting it together and raising money for the diner that someone pointed it out and I thought, oh my goodness; will that be a problem? At the time, my lawyer who was helping me said, "It may be becauseJimmy Buffetthad a famous case where there was a bar in Arizona, I think it was; called"Margaritaville"and that's his famous song," of course and he posted a cease and desist and they had to change the name. So, my lawyer found that in the files and he said, "I think it might be dangerous if you call it that," and I said, I can understand "Margaritaville" because that's a very unique made up name but this is "Breakfast In America" because that's what I'll be serving; it's my restaurant and it's "Breakfast In America." He said, "Still, I'd be very careful about it;" so when I got to France, I went to the trademark office to see if there was a copyright for a restaurant under that name and there wasn't so I signed up for it and for the next few years I was really nervous thinking,; are they one day just going to cease and desist or find out about it and take me to court or something? I was just starting out and didn't have a lot of money and I thought that could be the end of us because of lawyers' fees and all of that. So, after about 10 years of being open a copycat diner opened up called"Happy Days;"funny enough, after about a year they suddenly changed their name to"HG Diner" because I found out that20th Century Foxwhich produced "Happy Days" the TV series said, "You can't call it that" and I thought, oh no I can still be in danger here. Then I wrote my first book where I talked a little bit about how I came up with the name and how I was worried about Supertramp and now I'm getting all of this exposure for the book; what ifRoger Hodgson, Supertramp or any of them find out about me? Am I going to be in trouble? Then the strangest twist happened; Roger Hodgson was doing part of this"Breakfast In America Tour"throughout the world and I believe last year was the 40th anniversary of the album and they were doing a stop in Paris. My publicistGailsaid, "Let's contact them and see if you can meet them or what we can do" and I said, isn't that dangerous? We've been kind of under the radar this long; is that safe? Their publicist answered back and she was wonderful and she said, "You know what? Since he's going to be performing in Paris, we'd love to give you some tickets if you'd be willing to advertise the concert in your diners" and I said, I'll do better than that; I went and bought tickets online and did this big contest to give away tickets to see Roger to my customers at each diner. So, everyone had to take pictures of their breakfast food and say why "Breakfast In America" and the album, if they knew it, was their favorite and what they loved about it. We chose two big winners, two couples and they got to go to the concert and I did as well. So, there I am listening to all their great songs because by now I knew the album very well and then the biggest surprise of all was right after he performed "Breakfast In America" Roger Hodgson gave me a shout out; "I hear there's a Craig Carlson in the audience;" I almost had a heart attack (laughs) and he said, "You apparently have two diners in Paris called "Breakfast In America;" then he said in perfect French, "That's a great name for a restaurant!" "I just sunk in my seat thinking, oh my God thank you Roger you are so wonderful. Then it got one better, I was invited backstage to meet him, had my picture with him, I gave him a mug from the diner and a copy of my book and I said, thank you so much for this blessing and letting me use the name; so, it has a very happy ending." 
So, this cinema loving, entrepreneur and business man has many branches on his business tree, one of which is also; author. Carlson has written two books since his time in Paris and as he explains; the diner was the impetus.  
"My most recent is called "Let Them Eat Pancakes, "it's a little riff on Marie Antoinette when during the French Revolution was told that people were starving and she said, "Well, let them eat cake!" 
"The first book is called,"Pancakes In Paris" and it is the origin story of the diner, how I had the idea and the monumental challenge it was to open up. I never had my own business, never had a restaurant before and here I am opening up in a foreign country, in a foreign language in the culinary capitol of the world where they don't usually eat breakfast; croissants and pan au chocolat  are wonderful but even the French don't eat that every day. There's a joke that the French eat an espresso and a cigarette for breakfast; it's not a big meal for them (laughs). So, I had all of this against me; I had big student loan debt so, it's all about the adventure of how I got the restaurant up and going. The challenges I faced with the French labor laws and taxes and all kinds of things as well as how I kind of set up my life here. Then during the book tour, my readers were so curious about life in Paris and what it's like having my own business and I eventually found my spouse here. So, "Let Them Eat Pancakes" is much more about life in France. It's a wonderful travel book; for those who have been to France it will transport you right back to Paris. I have little map in there with all of the different sites; landmarks that are part of my life every day and for those who have never been I think it will make you want to go to France. I think ultimately my goal with this book in the end, as an American living over here, I feel that both countries can learn from each other; the French with their vacations and taking their time and the quality of life is so wonderful that I think we can learn something from them. Then on the other side, I think our American optimism, we can do anything kind of thing, I think they could learn something from that wonderful spirit we have as entrepreneurs; I think they could pick up some tips from us too. The book is a lot of humor stories, adventures; there's a love story inside, if you're a foodie there's great chapters about food and running a business here and what that's like. One reader said that in these difficult times now where we can't travel that this is the perfect armchair travel book. People really respond to the humor too; there's a whole chapter about hunting season for escargot and I didn't even know there was a hunting season; who knew? I was out walking in the woods with my mother-in-law who is the greatest cook in the world and she's hunting down snails and before I knew it, she had 240 snails. We were all set to take a trip to the States and she wanted to bring snails so she could make escargot for my friends; so, we ended up smuggling 240 snails in our luggage past customs into the States (laughs). I won't spoil what happened but there's some unexpected twists in there."
With the COVID crisis putting book tours and promotional capabilities at a minimum; what does Carlson plan to do with the immediate future? 
"Life comes full circle again; I'm in final negotiations with a producer to possibly do a TV series based on the books. ANetflixseries or TV series or something like that; I hope to get back into that a little bit. They would love to come shoot on location here in Paris; pancakes and Paris; what two better things are there in life? So that's the big plan right now."
To purchase"Let Them Eat Pancakes," "Pancakes In Paris"or to discover more about Craig Carlson, please visitwww.craigcarlsonauthor.com .
That's it for this week! Please continue to support live and original music and until next week....ROCK ON!
---
This week's event listings
---
Arts Council of Princeton     
102 Witherspoon Street Princeton     
(609) 924-8777 
Tues. 7 p.m. "In Conversation" w/ Barbara DiLorenzo & Rashad Malik Davis. (FREE event / Donations are accepted) 
Artworks Trenton   
19 Everett Alley Trenton   
(609) 394-9436  
Sat. 12 p.m. "Art All Day"
---
Broken Goblet Brewing   
2500 State Road Bensalem, PA   
(267) 812-5653   
Thurs. 8 p.m. Mike Estabrook 
Sat. 8 p.m. Patio Music Saturday w/ Karaoke
Wed. 8 p.m. Open Mic w/ 7 p.m. Beer Tasting Class
All Shows 21+
---
Candlelight Lounge     
24 Passaic Street Trenton     
(609) 695-9612     
Thurs. 6 p.m. Thursday Night Blues Jam Hosted by The Mojo Gypsies. $5 (Includes hot buffet) 
Sat. 3 p.m. (TBA) $10 (cover charge/$10 Minimum includes buffet)   
---
Championship Bar   
931 Chambers street Trenton   
(609) 396-5457  
Tuesday 8 p.m. "Jam Night" Hosted by Nikki & Caleb   
---
COARadio.com     
125 South Main Street Hightstown     
(609) 241-7103
Sun. 7 p.m. "Rock On Radio" feat. Craig Carlson / Poppa John Bug
---
Cooper's Riverview 
50 Riverview Plaza Trenton 
(609) 393-7300
Thurs. 8 p.m. Time Piece
Fri. 7 p.m. Kindred Spirit
Sat. 7 p.m. "Social Saturdays" feat. Boston, Queen and Styx Tribute w/ "The Launch"
Mon. 7 p.m. "Sunny Monday Blues Jam" 
Tues. 8 p.m. Karaoke w/ Karen and MarK
All Events Ages 21+
---
Dog & Bull Brew House     
810 Bristol Pike (Rte. 13) Croydon, PA.     
(215) 788-2855     
Fri. 6 p.m. Ed from Nothing but a Nightmare
Sat.  4 p.m. Skylar Love
Sun.  4 p.m. Brian Elliott
---
German American Society   
215 Uncle Pete's Road Hamilton   
(609) 585-5200   
Fri. 7 p.m. Rainbow Full of Sound. (Performing the complete "Europe 72" album/outdoor event in Biergarten), $20 
---
Hamilton Elks 
1580 Kuser Road Hamilton
(609) 585-8610
Sat. 7 p.m. Tiltin' Catz
---
Hamilton Tap & Grill  
557 US Route 130 North Hamilton  
(609) 905-0925  
Fri. 9 p.m. Karaoke                                                                                        
Tues. 8 p.m. Quizzoholics Trivia 
Wed. 7 p.m. Country Night. $5
---
Hopewell Valley Vineyards     
46 Yard Avenue Pennington     
(609) 737-4465     
Thurs. 6 p.m. Steve Kaplan's Fascinating Rhythm
Fri. 6 p.m. "Music & Merlot" feat. Catmoondaddy
Sat. (1 p.m.) Got 35 (6 p.m.) "Music & Merlot" feat. Rober Ruffis Experience
Sun. 3 p.m. Winery Catz
26750 Mount Pleasant Road Columbus     
(732) 306-9111  
Fri. 7 p.m. Bob O & Kim
Sat. 1 p.m. Carly & Me
Sun. 2 p.m. Jerry Steele   
---
JoJo's Tavern   
2677 Nottingham Way Mercerville   
(609) 586-2678  
Fri. 7 p.m. Monk & Monk 
---
Killarney's Publick House     
1644 Whitehorse-Mercerville Road Hamilton    
(609) 586-1166    
Fri. 6 p.m. Mario DiBartolo & Frank Clayton
---
Laurita Winery     
85 Archertown Road New Egypt     
(609) 752-0200   
Fri. 6 p.m. "Sounds of Summer Series: Music on the Lawn" feat. 5 on C Quintet. $15 (advance 
---
Mercer County Park Festival Grounds   
Hughes Drive/Old Trenton Road West Windsor   
(609) 448-1947  
Sat. 6 p.m. Drive In Concert w/ Kindred Spirit / Sensational Soul Cruisers. (Gates open at 4:45 p.m.)
---
Odd Logic Brewing Co.
500 Bristol Pike, Bristol, PA
Sun. 3 p.m. Joe & Krista
---
Old Town Pub     
135 Farnsworth Avenue Bordentown     
(609) 291-9232    
Thurs. 8 p.m. Quizzoholics Trivia   
---
Patriots Crossing     
1339 River Road Titusville     
(609) 737-2780    
Thurs. 8 p.m. Open Mic Night
Wed. 7 p.m. "Quizzo"   
---
Princeton Country Club
Wheeler Way West Windsor
Sat. 6 p.m. Bridge Beat Duo
---
Romeo's Restaurant & Pizza
10 Schalks Crossing Road Plainsboro
(609) 799-4554
Fri. 7 p.m. "An Intimate Evening" w/ The Blue Eyed Balladeer
---
Rossi's Bar & Grill     
2110 Whitehorse-Mercerville Road Hamilton     
(609) 890-2004     
Thurs. 6 p.m. Monk, Monk and Kramer
Sun. 4 p.m. Mario DiBartolo & Frank Clayton
---
Sparky World Famous Beer Garden
4333 New Falls Road Levittown, PA
(215) 943-2321
Thurs. 9 p.m. Karaoke
Mon. 9 p.m. Game Night w/ Kid Dalton
---
Starbucks Coffee   (Trenton Community Store) 
102 South Warren Street Trenton  
(609) 393-0261  
Sat. 3 p.m. Open Mic   
---
Temperance House     
5 South State Street Newtown, PA     
(215) 944-8050     
Thurs. 7 p.m. "Blues Night" w/ Steve Guyger 
Fri. 7 p.m. Kate Sottile & Bob
Tues. 8 p.m. Trivia w/ Righteous Jolly (outdoors) 
Wed. 7 p.m. Open Mic Night w/ Cara Cartney
---
Terhune Orchards  
330 Cold Soil Road Princeton  
(609) 924-2310  
Fri. 4 p.m. "Sips & Sounds Friday" feat. Bill O'Neal & Andy Koontz
---
TGI Fridays   
319 US Highway 130 North East Windsor
(609) 490-1450
Thurs. 7 p.m. "Acoustic Honey" Honey Spot Blvd
---
TGI Fridays
780 Route 130 South Hamilton
(609) 581-6910
Fri. 7 p.m. Mike Oregano
---
The Beer Garden at Snipes Farm   
890 West Bridge Street Morrisville, PA   
Sat. 3 p.m. Dogs in a Pile, The Pete Tonti Band, Diamond Eyed Jack. $30 (Must purchase through website)
---
The Cool Cricket     
216 Burlington Street Fieldsboro     
(609) 291-9110     
Fri. 9 p.m. Karaoke     
---
The Cure Insurance Center     
81 Hamilton Ave. Trenton     
(609) 656-3200     
Check website for upcoming events     
---
The Ivy Inn     
248 Nassau Street Princeton     
(609) 921-8555     
Thurs. 10 p.m. Karaoke w/ DJ Rockin' Ron  
Tues. 8 p.m. Quizzo w/ Bob E Luv    
Wed. 10 p.m. Total Request w/ DJ Rockin' Ron
---
Tindall Road Brewing Co.
102 Farnsworth Avenue Bordentown   
(609) 526-8651    
Thurs. 5 p.m. "Thirsty Thursdays" (7 p.m.) Top 5 Trivia
Sat. 5 p.m. Mixtape Mojo Duo
---
Trenton Social      
449 South Broad Street Trenton     
(609) 989-7777    
Thurs. 5 p.m. "Happy Hour Throwback Thursday" w/ Jay Kountree  
Fri. 5 p.m. DJ ItsJustAhmad
Sat. 9 p.m. Julia Kirk
Mon. 8 p.m. "Monday Night Karaoke" Hosted by Sweets
Tues. 7 p.m. Open Mic Night w/ Kyle & Mike
---
Triumph Brewing Company (New Hope, Pa. Location)     
400 Union Square New Hope, Pa.     
(215) 862-8300     
Thurs. 8 p.m. Trivia   
Sun. 7 p.m. Open Stage 
All shows 21+   
---
Village Idiot Brewing Company
42 High Street Mount Holly
(609) 975-9270
Sun. 1 p.m. Open Mic
---
Wildflowers Inn     
2572 Pennington Road Pennington     
(609) 773-2392   
Sat. 9 p.m. Acoustic Rock Night w/ Love & Duffy
Mon. 9 p.m. "Moonshine Mondays" Trivia    
---
Working Dog Winery     
610 Windsor Perrineville Road Hightstown     
(609) 371-6000 
Sat. 1 p.m. Frank Cervantes
Sun. 2 p.m. Love & Duffy
---
WWFM 89.1 FM HD2 Radio
MCCC Old Trenton Road West Windsor
Jazzon2.org
Mon. 7 p.m. "Danny Coleman's Got The Blues"

---
Danny Coleman is a veteran musician and writer from central New Jersey. He hosts a weekly radio program entitled "Rock On Radio" airing Sunday evenings at 7 p.m. EST on multiple internet radio outlets where he features indie/original bands and solo artists.
---