originally published: 09/10/2020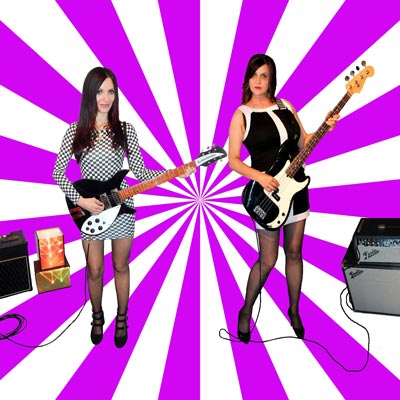 This is Karen and I'm in Scranton, Pennsylvania. This is Sharon and I'm in hot and sunny Phoenix, Arizona." 
Doesn't sound like a recipe for the makings of a great relationship; or does it? 
Karen Lynn and Sharon Lee have been, in their own words, "Inseparable" since birth and even though distance may be great in miles; their talents are always within reach. The deep connection between these first cousins has resulted in a long-awaited project called The Bookends and they have just released their second album; this one on JEM Records titled "Calliope."  
"We grew up together, we have been called "The Bookends" pretty much since we've been born," explained Sharon. "We are super related; our moms are related and our dads are related, so we've been together just about every day of our lives. Growing up we always had some kind of music going on; whether it was singing songs and making our parents sit through our little performances or whatever it was; we always did something musical together. Then I got married and moved out here to Arizona and we always said we would circle back; we had little bands or sang back-ups when we were growing up but nothing too crazy and then I moved out here to Arizona and we always said we would circle back and start The Bookends. So, one day we just decided to do it and now we do everything long distance. I'm lucky enough that I have a studio in my home so it's super easy for Karen and I to hash out our songs, how we want them to sound because we don't have that time is money thing going on, we have a studio at our disposal. So, that's how The Bookends started just a few years ago once we finally both had the time to work on it."
---
The article continues after this ad
---
---
"I'm also in a couple of other bands," continued Sharon, "So I've been super busy musically but this is something that has been our whole life so it's something that is near and dear to me to do this project with Karen. There is no way I could let more time go by; we just decided we're doing it and we'll fit it in. We are so glad that we did because the music is a labor of love for us and it's a long-standing musical relationship so it just flows."
Growing up in such a tight knit environment can have its advantages or its disadvantages depending on how one looks at it; so, what was it that set these two off on their musical path? 
"My mom sings," said an upbeat Sharon. "She didn't sing professionally but she loved to sing a lot. We had an acoustic guitar at my house that I used to pick up when I was little. We were always surrounded by music; both of our parents on both sides were huge music lovers; music was always on more than television or anything else in our homes; there was always music. So, it was just a natural thing and I think as we got older, we just decided, hey we want to do this. Karen and I were always listening to old 60's music or new stuff that reminded us of that so it was just a natural progression for us to want to do that and as teens we started kind of goofing around with different ideas and bands; it was always fun."
Karen Lynn is the guitarist in the duo and she, like Sharon Lee, brings her own influences and viewpoints from songwriting to equipment choices. This can make for an interesting dynamic given the distance currently separating the two but as they explained their unique style and collaboration methods one can see their appreciation for the other.
"I'm a huge Beatles fan," confessed Karen. "I always wanted the John Lennon Rickenbacker; the 325. I love the jangly sound of a Rickenbacker, it's very 60's and I started buying one after another. I then bought the 12 string; I have like six Rickenbackers, I just love the sound and the tone."
 "I play the guitar; we usually sing in unison, that's our thing, we sing together like bookends and we both write," continued Karen as she then yielded to Sharon who elaborated on the tracking process. "I'll write a song and lay down a demo and send it to Karen, she works out a guitar part and her vocal and sends it back to me and then I'll add it to mine or vice versa. She'll send me her stuff and I'll put down a bass line or keys and my vocal and send it back to her and then into the magical machine it goes and out pops a song (laughs). It is so easy anymore to upload a wave file; we'll save a file as a wave so I can lay down a song, send it to Karen, she can lay down her guitar and vocal and save as a wave and send them back to me and I pull them into my studio and from there it gets mixed and mastered and hopefully loved." 
Again, distance and creativity are not always the best recipe for being productive despite modern advances in technology; so, what happens when there are differences of opinion when writing or creating a song? 
"We just kind of work it out or find that happy medium or that place where it belongs," says Sharon. "If somebody is objecting to something there's a reason behind it and sometimes you can see it and sometimes you can't and sometimes it works the other way around where whoever is not hearing it will say, you know you're right that does make sense." "So, for the most part we usually have the same ideas," added Karen. "We grew up inseparably, hence The Bookends and we've always done things like pick the same color unbeknownst to the other one; for example, we designed the same exact high school ring as the other one and didn't know until we got the rings. So many things, we would buy the same records, the same outfits, bought the same whatever," said a laughing Sharon. 
Fate or perhaps it is destiny has a way of showing up when not expected and The Bookends story is no exception. Karen explained how social media and timing played a large role in their current good fortune.
"I knew Marty Scott through Facebook and one time he sent me a message because I guess he saw our page and he said, "Hey; how would you like to be the first girls to be signed to JEM Records?" "Apparently all of the acts he had signed previously had been men and we guess he thought maybe I should try some female artists and when he asked, we thought sure why not. We knew it was a great label, we were excited for the opportunity so that's how it all came about."
Opportunity knocked and this excited, bubbly duo answered. They had already released a single but were yet to have a title for the new album; so, how did they come to settle on "Calliope" and will there be any more singles released before or after the scheduled September 18 release date? 
"Calliope" is the title," said Sharon enthusiastically. "When we released the single "Sing This Song" I was talking to Marty Scott the owner of JEM Records and I said, a good single should be like a good ride at an amusement park, you should want to get on the ride and as soon as you get off you should want to get right back on again and a good single should be the same way; I've got to hear it again let's take it for another spin. His wife Toni said, "Hey you should call the album "Calliope" and we both said, hey we love that idea; it just lent itself so well to the artwork and the overall vibe on the record."
"There have been two singles released to this point, "Sing This Song," which kind of spawned the name of the album and one just recently called "She's Got It" which is also on the album. I don't know what the label's plans are on releasing a single simultaneously with the album; we've not heard anything regarding that yet so I'm not sure." 
"Calliope" is a full length 14 track disc which is also available in pink vinyl and though they stated earlier that they have had this one in the can for quite some time, Sharon says they are relatively expedient with their production once they get started. 
"We're pretty quick about things; sometimes it can take a while to get that first inspiration but once we get going, we run with it. So, it doesn't take us long, we worked on this album for a while but some of it we had written for a long time and then COVID kind of slowed us down a little bit but for the most part I think it came together pretty quickly. We bring in drummers because I can sort of eke out a beat but I can't play like that and I know tons of drummers that I work with pretty regularly and they were all thrilled to be on this record so we are very fortunate. Frank Graber who is also my husband and the producer did some of the additional guitar work; we're very lucky to be surrounded with the resources that we need; if i needed an oboe player I could probably find one (laughs)." 
Arizona and Pennsylvania are only two states on either side from being coast to coast which means they can promote in two complete opposite directions but the distance has got to put a crimp in their ability to perform; what does that mean for the promotional end of this release? 
"I think the last time we actually graced a stage, was when I was on tour with one of my other bands and Karen came up and did a song with us but us as a band it was a long time ago. We plan on promoting our records, we make little lyric videos, we make ourselves available for interviews and those kinds of things and it has actually worked out very well for us. Our first album, for a debut album from two unheard girls it really took off; it sold so well to the point where people like Marty Scott and JEM Records were approaching us. We are so fortunate to have a fan base that's excited for this kind of music and they are incredibly supportive and we are grateful for that every day; we know how lucky we are to have those kinds of people as fans and friends."
"It would be wonderful to tour but the expense and the logistics are just crazy; not that we'd be opposed to that but just to getting rehearsals down and getting a band in playable condition to go on tour is no easy task. You would need to put the time in and to have that time, one of us would have to go to the other coast for a certain amount of time and then go on the road. We have studio musicians who come play on our albums but they're not a rehearsed band. I'll send one of these guys a demo track and then they come in to record and they're familiar with the arrangement but most of the time they just come in and play to a click track in the studio. So, it's not like they are hanging around and rehearsing with us; they come in and just play to a click track. It would take a lot of work to get us out on the road; it's unfortunate because it would be so much fun. Who knows? Maybe if we sell a million copies and we're independently wealthy we can work some of this out!"
To purchase "Calliope" or discover more about The Bookends; please visit their Facebook page at https://www.facebook.com/thebookends2 .
That's it for this week! Please continue to support live and original music and until next week....ROCK ON!
---
This week's event listings
---
Bella Mia
3224 US Route 206 #1 Bordentown
(609) 291-7475
Sat. 6 p.m. Diane Chiorello
---
Broken Goblet Brewing   
2500 State Road Bensalem, PA   
(267) 812-5653   
Thurs. 8 p.m. Mike Estabrook and Vince Rockey
Fri. 8:30 p.m. Patio Music Fridays w/ Ryan Peiffer
Sat. 8 p.m. Patio Music Saturday w/ Chris Trainor
All Shows 21+
---
Candlelight Lounge     
24 Passaic Street Trenton     
(609) 695-9612     
Thurs. 6 p.m. Thursday Night Blues Jam Hosted by The Mojo Gypsies. $5 (Includes hot buffet) 
Sat. 3 p.m. (TBA) $10 (cover charge/$10 Minimum includes buffet)     
---
Clubhouse at Mountain View  
850 Bear Tavern Road Ewing  
(609) 771-0400 
Fri. 6 p.m. Ernie White
---
COARadio.com     
125 South Main Street Hightstown     
(609) 241-7103
Sun. 7 p.m. "Rock On Radio" feat. The Bookends / Jerry Monk, John Monk and Joe Kramer
---
Cooper's Riverview 
50 Riverview Plaza Trenton 
(609) 393-7300
Thurs. 8 p.m. Unleashed
Fri. 7 p.m. Well Strung
Sat. 7 p.m. "Social Saturdays" feat. 80's Undercover
Mon. 7 p.m. "Sunny Monday Blues Jam" 
Tues. 8 p.m. Karaoke w/ Karen and Mark
---
Dog & Bull Brew House     
810 Bristol Pike (Rte. 13) Croydon, PA.     
(215) 788-2855     
Fri. 6 p.m. Vince Schneider 
Sat.  4 p.m. Jeff Shelby
Sun. 4 p.m. Dana Collins
---
German American Society   
215 Uncle Pete's Road Hamilton   
(609) 585-5200   
Sat. 6 p.m. The Sensational Soul Cruisers. Tickets available by calling club. (Takes place in the outdoor Biergarten)
---
Hamilton Tap & Grill  
557 US Route 130 North Hamilton  
(609) 905-0925  
Fri. 9 p.m. Karaoke                                                                                        
Tues. 8 p.m. Quizzoholics Trivia 
Wed. 7 p.m. Country Night. $5
---
Hopewell Valley Vineyards     
46 Yard Avenue Pennington     
(609) 737-4465     
Thurs. 6 p.m. Got 35
Fri. 6 p.m. "Music & Merlot" feat. Just Us
Sat. (1 p.m.) Acoustic DuoVer (6 p.m.) "Music & Merlot" feat. Bad Hombres
Sun. 3 p.m. "Jazzy Sundays" feat. Sahara Moon
---
Iron Plow Vineyards     
26750 Mount Pleasant Road Columbus     
(732) 306-9111 
Fri. 6 p.m. Ryan Zimmerman
Sat. 6 p.m. Gregg Parker
Sun. 1 p.m. AudioPilot
---
Killarney's Publick House     
1644 Whitehorse-Mercerville Road Hamilton    
(609) 586-1166    
Thurs. 6 p.m. Radio Fiction
---
Laurita Winery     
85 Archertown Road New Egypt     
(609) 752-0200   
Thurs. 5 p.m. "Cornhole Tournament"
Fri. 6 p.m. "Sounds of Summer Series: Music on the Lawn" feat. Rockshop. $15 (advance) 
Sat. 12 p.m. "Luau at Laurita" $15 (adult/Kids 5 and under FREE)   
Sun. (12 p.m./4 p.m.) "Luau at Laurita" $15 (adult/Kids 5 and under FREE)  
---
Lawrenceville Elementary School
40 Craven Lane Lawrenceville
(609) 671-9267
Fri. 6 p.m. "Pop Up Concert" w/ Odessa Klezmer Band. (FREE event but MUST register online) 
---
Mamma Rosa's     
572 Klockner Road Hamilton     
(609) 588-5454   
Fri. 6 p.m. Love & Duffy
Sat. 6 p.m. Honey Spot Blvd. w/ "Special Guests" 
Wed. 7 p.m. Karaoke
---
McGuinn's Place     
1781 Brunswick Avenue Lawrence     
(609) 392-0599    
Fri. 9 p.m. Elephants Dancing
Tues. 9 p.m. Karaoke     
Ages 21+     
---
Old Town Pub     
135 Farnsworth Avenue Bordentown     
(609) 291-9232    
Thurs. 8 p.m. Quizzoholics Trivia   
Fri. 6 p.m. "Bordentown 911 Rememberence" feat. Tour de Force
---
Patriots Crossing     
1339 River Road Titusville     
(609) 737-2780    
Thurs. 8 p.m. Open Mic Night
Wed. 7 p.m. "Quizzo"   
---
Sparky World Famous Beer Garden
4333 New Falls Road Levittown, PA
(215) 943-2321
Thurs. 9 p.m. Karaoke
Mon. 9 p.m. Game Night w/ Kid Dalton
---
Starbucks Coffee   (Trenton Community Store) 
102 South Warren Street Trenton  
(609) 393-0261  
Sat. 3 p.m. Open Mic   
---
Temperance House     
5 South State Street Newtown, PA     
(215) 944-8050     
Thurs. 7p.m. "Blues Night" w/ Steve Guyger 
Tues. 8 p.m. Trivia w/ Righteous Jolly (outdoors) 
Wed. 7 p.m. Open Mic Night w/ Cara Cartney
---
Terhune Orchards  
330 Cold Soil Road Princeton  
(609) 924-2310  
Fri. 4 p.m. "Sips & Sounds Friday" feat. Brian Bortnick
---
TGI Fridays
780 Route 130 South Hamilton
(609) 581-6910
Fri. 7 p.m. Mike Oregano
---
The Bog (Cranbury Golf Club)
49 Southfield Road West Windsor
(609) 799-0341
Sat. 7 p.m. Guns For Hire
---
The Cool Cricket     
216 Burlington Street Fieldsboro     
(609) 291-9110     
Fri. 9 p.m. Karaoke     
Sat. 4:30 p.m. Kindred Spirit
---
The Cure Insurance Center     
81 Hamilton Ave. Trenton     
(609) 656-3200     
Check website for upcoming events     
---
The Ivy Inn     
248 Nassau Street Princeton     
(609) 921-8555     
Thurs. 10 p.m. Karaoke w/ DJ Rockin' Ron  
Tues. 8 p.m. Quizzo w/ Bob E Luv    
Wed. 10 p.m. Total Request w/ DJ Rockin' Ron
---
Tindall Road Brewing Co.
102 Farnsworth Avenue Bordentown   
(609) 526-8651    
Thurs. 5 p.m. "Thirsty Thursdays" (7 p.m.) Top 5 Trivia
Sat. 5:30 p.m. Tiltin' Catz
---
Trenton Social      
449 South Broad Street Trenton     
(609) 989-7777    
Thurs. 5 p.m. "Happy Hour Throwback Thursday" w/ Jay Kountree  
Fri. 5 p.m. DJ ItsJustAhmad
Mon. 8 p.m. "Monday Night Karaoke" Hosted by Sweets
Tues. 7 p.m. Open Mic Night w/ Kyle & Mike
---
Triumph Brewing Company (New Hope, Pa. Location)     
400 Union Square New Hope, Pa.     
(215) 862-8300     
Thurs. 8 p.m. Trivia    
Sun. 7 p.m. Open Stage 
All shows 21+   
---
Vault Brewing Company  
10 South Main Street Yardley, PA  
(267) 573-4291  
Fri. 7 p.m. Well Strung
---
Village Idiot Brewing Company
42 High Street Mount Holly
(609) 975-9270
Sun. 1 p.m. Open Mic
---
Wildflowers Inn     
2572 Pennington Road Pennington     
(609) 773-2392  
Sat. 9 p.m. Acoustic Rock Night 
Mon. 9 p.m. "Moonshine Mondays" Trivia    
---
Working Dog Winery     
610 Windsor Perrineville Road Hightstown     
(609) 371-6000 
Sat. 1 p.m. Fabulous Benson Boys
Sun. 2 p.m. Roger Gardella
---
WWFM 89.1 FM HD2 Radio
MCCC Old Trenton Road West Windsor
Jazzon2.org
Mon. 7 p.m. "Danny Coleman's Got The Blues" 
 

---
Danny Coleman is a veteran musician and writer from central New Jersey. He hosts a weekly radio program entitled "Rock On Radio" airing Sunday evenings at 7 p.m. EST on multiple internet radio outlets where he features indie/original bands and solo artists.
---