originally published: 09/03/2020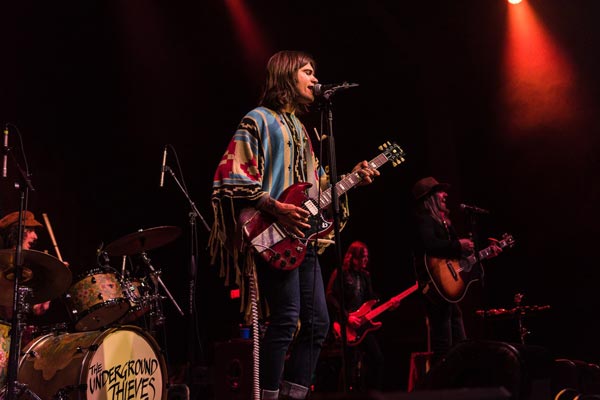 "I am over all very well," said a buoyant and excited Nick Perri as he discussed his recent release, the single which was dropped ahead of the album and much more. "I was born and raised in and around the Philadelphia area; I'm an east coast guy through and through. I did happen to marry a California girl so I was bi-coastal for a bit and living in the Southern California area but I am back now in the Philadelphia area and happy to be back home."
Perri is a seasoned professional who by his own acknowledgement has been performing in one form or another for more than two decades; which is what makes this new album extra special because it's actually his debut.
"The album is called "Sun Via" and it was officially released on August 14; the first single from it was titled "Feeling Good." The album comes in vinyl and CD, I'm excited, it's a very exciting time," he stated with unbridled enthusiasm. "I'm not sure how much you know about my journey but I got started in this when I was really young and have been doing this and have been in a variety of bands for more than 20 years; so to finally be releasing an album under my own name is a big deal for me in my creative life and in my artistic story I guess you can say. I've put a lot of time and care into this; my first session was December 1, 2017 so it took me two- and one-half years to make. So, the prospect of it finally coming out is incredibly exciting." 
Two and one-half years to make? Seems like a lengthy time for a debut disc as most are chomping at the proverbial bit to get it done and releases but Perri didn't focus on time, instead he focused on it being what he wanted from start to finish. 
---
The article continues after this ad
---
---
"I did this completely independently so time and money had to be spent very carefully. I didn't have the luxury of having a huge chunk of upfront money to go plop down on studio time. I kind of had to beg, borrow and steal my way through it on more than one occasion; that was part of why it took some time. The other thing is; I do occasionally get called to do things and I do occasionally take them. An example; I have a friend named Dorothy Martin who is really great and talented and goes by the stage name "Dorothy." She called me because her guitar player was having a baby so I went out and played some shows for her and also just life; I'm a husband, a father and a son and there is life stuff that happens along the way but in retrospect I wouldn't change a thing. The album took the time it took but I was able to capture what I wanted to capture and ultimately, all that matters to me is the album is something that I can be proud of for the rest of my life; so that to me is more important than how long it took to complete."
The album has drawn praise from bands such as Greta Van Fleet, Blackberry Smoke and others and preliminary releases are doing well; so, what was the inspiration to finally do a disc and why the title? 
"As I mentioned, I married a California girl and I ended up spending a bunch of time in Southern California and just falling in love with the whole vibe out there; not only L.A., San Diego, Orange County but getting into the desert; Joshua Tree, Yucca Valley, Palm Springs, Palm Desert. That really had an effect on me and the music that came out of there, the California sound; over the years it really became an inspiration for me. We spent a lot of time in Joshua Tree and the band and I were renting a house there last year for a week; we had gone out to shoot some music video stuff, do some additional recording and we were all living together in this house for a week and the house was on a street called Sun Via Drive. I didn't think much of it at the time but when we were putting together the record and I started seeing some of the artwork; I thought I was going to call the record something else but as we got into it and we got the final track listing; there was a great debate over the sequencing because over the two and a half year period we actually wrote 40 songs or more so I actually had enough material to make two albums. It was really important to me to get the right 10 songs to coexist with each other to tell the sonic story that I wanted to tell. So, once it all started to crystalize and I started to see some of the artwork I had a feeling that the title wasn't right. So, we all started brain storming and we were talking about having stayed in that house and the idea of "Sun Via;" which kind of loosely translates to, "Avenue to the Sun" I thought was pretty cool and it made sense."
The album has been released under the band name of Nick Perri & The Underground Thieves and can be found on Apple, Amazon, Spotify and from the band directly but what about the single? According to Nick it is not only "Timely" but held a deeper meaning for him of a more personal nature. 
"Feeling Good" came out two months ago, it has been on radio all across the country; we're just kind of getting going in that campaign but it is going well and the music video for it came out in August. The song; I had no way of knowing this when I wrote it but I do feel like it's timely. When I wrote the song two years ago, I was going through a tough time. We had started the record but we were having problems with funding, there was other stuff in my personal life that wasn't going great; it was just a tough moment in time and I think the song came from the ether; almost through me like some kind of pep talk to myself not to give up; to focus on the things that I had and not the things that I didn't have and it became like this anthem for me to stay positive and recalibrate when my mind would drift into being upset, worried or stressed out. This thing would bring me back to center; which is really great and I know obviously that I'm living now with everybody through this very difficult time; a time of uncertainty, a lot of people are scared, a lot of people are struggling and I think that the message of the song is really important right now. I think as tough as things are that it is important in everyone's life to even for just a few minutes a day, go outside or do something with a family member or a friend to feel good and to make someone else feel good. I think it's so important that we don't all just focus on the grim, the news or all of the negativity that's out there; that we carve out time to find the silver lining in all of our lives and focus on the good things that we have; especially now because I think it's critically important." 
The COVID climate has frustrated many an artist; has Perri ever thought about retreating from music or his passion through this current or those past, "Tough times?" 
"No, I've never been at the point where I thought I was going to give up or quit ever," he said emphatically. "I've gone through times that have really tested my mental capacity just to hang in there. Everyone in life goes through ups and downs, peaks and valleys, strikes and gutters as "The Dude" says in "The Big Lebowski;" it's a part of life to go through those experiences, weather the storm and hopefully come out the other side with a new perspective and a view again for the things that we have and not what we don't. I truly believe in the power of positive thinking and that it's important that everybody, even in a tough time does their best to be mindful of the light at the end of the tunnel even if it's far away; because it's there. My dad used to say, "Open the calendar and point to any day two or three months away, your problem today will be gone by that time so it can't be that big of a problem" and I've always tried to live by that advice." 
Now that the album is out, it has to be disappointing to be unable to tour or perform; Perri like most, misses the crowd interaction but knows better days are ahead. 
"Touring is a huge piece of the puzzle and I've spent probably half my life on tour; I have played with Blackberry Smoke and on the road with Dorothy we did a couple of tours with Greta Van Fleet; that's how I know those guys and they are all very sweet. I would very much like to go on the road and open shows for them anytime and I hope that happens. The plan obviously is the moment that it's safe to do so and when our industry opens back up for touring capacity then that is part of the plan. You spend all of this time creating music and the fun is going out and playing it; I'm looking forward to that time." 
So, until then? 
"I'm very active on social media, I do a lot of interactive stuff, I do videos all of the time, I've been doing livestream and they can all be found on Instagram (@Nickperri), Facebook, YouTube; I'm easy to find and always out there."
To discover more about Nick Perri or purchase "Sun Via" please go to www.nickperrimusic.com. 
That's it for this week! Please continue to support live and original music and until next week....ROCK ON!
---
This week's event listings
---
Broken Goblet Brewing   
2500 State Road Bensalem, PA   
(267) 812-5653   
Thurs. 8 p.m. Mike Estabrook 
Fri. 8:30 p.m. "First Fridays" w/ Cara Cartney 
Wed. 8 p.m. Open Mic w/ 
All Shows 21+
---
Cadwalder Park
299 Parkside Avenue Trenton
(408) 335-4400
Sat. 6 p.m. The Amazing Grace & The Grace Little Band (Outdoor event)
---
Candlelight Lounge     
24 Passaic Street Trenton     
(609) 695-9612     
Thurs. 6 p.m. Thursday Night Blues Jam Hosted by The Mojo Gypsies. $5 (Includes hot buffet) 
Sat. 3 p.m. (TBA) $10 (cover charge/$10 Minimum includes buffet)     
---
Classics Books and Gifts  
4 West Lafayette Street Trenton  
(609) 394-8400  
Sat. 2 p.m. Open Mic Hosted by Tyler Gentry 
---
Clubhouse at Mountain View  
850 Bear Tavern Road Ewing  
(609) 771-0400  
Fri. 6 p.m. Kindred Spirit Duo
---
COARadio.com     
125 South Main Street Hightstown     
(609) 241-7103
Sun. 7 p.m. "Rock On Radio" feat. Jonatha Brooke / Adriana Groza
---
Cooper's Riverview 
50 Riverview Plaza Trenton 
(609) 393-7300
Thurs. 8 p.m. Deep Release
Fri. 7 p.m. WitzEnd
Sat. 7 p.m. "Social Saturdays" feat. The Se7en Band
Mon. 7 p.m. "Sunny Monday Blues Jam" 
Tues. 8 p.m. Karaoke w/ Karen and Mark
All Events Ages 21+
---
Dog & Bull Brew House     
810 Bristol Pike (Rte. 13) Croydon, PA.     
(215) 788-2855     
Fri. 4 p.m. The Mix
Sat. 4 p.m. Brian Elliot
Sun. 4 p.m. Tiltin Catz
---
German American Society   
215 Uncle Pete's Road Hamilton   
(609) 585-5200   
Fri. 7 p.m. Rainbow Full of Sound (Performing the entire "Terapin Station" album) Doors open at 5:30 p.m., $20, (This is an outdoor event in the Biergarten)
---
Hamilton Elks 
1580 Kuser Road Hamilton
(609) 585-8610
Sat. 1 p.m. "Annual Lodge Picnic" feat. Tara Woodcock. $15 adults/$7 ages 6-12, ages 5and under FREE (All tickets must be puchased in advance) 
---
Hamilton Tap & Grill  
557 US Route 130 North Hamilton  
(609) 905-0925 
Fri. 9 p.m. Karaoke                                                                                       
Tues. 8 p.m. Quizzoholics Trivia 
Wed. 7 p.m. Country Night. $5
---
Hopewell Valley Vineyards     
46 Yard Avenue Pennington     
(609) 737-4465     
Thurs. 6 p.m. Catmoondaddy
Fri. 6 p.m. "Music & Merlot" feat. Craig Leach Group
Sat. (12 p.m.) Priya Agora-L.G.T. $25 (1 p.m.) Victor Tarassov (6 p.m.) "Music & Merlot" feat. Rainbow Fresh
Sun. 3 p.m. Jim Gaven 
---
Iron Plow Vineyards     
26750 Mount Pleasant Road Columbus     
(732) 306-9111  
Fri. 6 p.m. Bob O & Kim
Sat. 6 p.m. Frank Stagliano
Sun. 2 p.m. The Grouser Girls
---
Joseph Lawrence Park
317 Ward Avenue Bordentown
Sat. "4th of July Fireworks" at DUSK (Rescheduled from 7/4)
---
Killarney's Publick House     
1644 Whitehorse-Mercerville Road Hamilton    
(609) 586-1166    
Thurs. 5:30 p.m. Recklesstown
Fri. 6 p.m. Mario DiBartolo & Frank Clayton
---
Laurita Winery     
85 Archertown Road New Egypt     
(609) 752-0200   
Fri. 6 p.m. "Sounds of Summer Series: Music on the Lawn" feat. Vinyl Madness. $15 (advance) 
Sat. "Grape Stomp 2020" feat. (12 p.m.) Deb & Mike (5 p.m.) Raw Sugar
Sun. "Grape Stomp 2020" feat. (12 p.m) Shore Bet (5 p.m.) Anker
Mon. "First Annual JC Labor Day Telethon" 
---
McGuinn's Place     
1781 Brunswick Avenue Lawrence     
(609) 392-0599    
Tues. 9 p.m. Karaoke     
Ages 21+    
---
Mercer County Park  (Boathouse at Mercer Lake) 
334 South Post Road West Windsor 
(866) 683-3586 
Thurs. 7:30 p.m. Drive In Theater "Harry Potter & The Sorcerer's Stone." Gates open at 6:30 p.m., FREE event. (Takes place at "Grandparents Grove" near Marina Boathouse)
---
Neshaminy Creek Brewing Company
909 Ray Avenue Croydon, PA
(215) 458-7081
Sat. 12 p.m. "Tye Dye Masks and Scrunchies" 
---
New Hope Winery    
6123 Lower York Road New Hope, PA   
(215) 794-2331   
Sat. 1 p.m. Just Jeff
---
Odd Logic Brewing Co.
500 Bristol Pike, Bristol, PA
Mon. 3 p.m. "Disney Trivia" 
---
Old Town Pub     
135 Farnsworth Avenue Bordentown     
(609) 291-9232    
Thurs. 8 p.m. Quizzoholics Trivia   
Fri. 7 p.m. Radio Fiction
---
Patriots Crossing     
1339 River Road Titusville     
(609) 737-2780    
Thurs. 8 p.m. Open Mic Night
Wed. 7 p.m. "Quizzo"   
---
Romeo's Restaurant & Pizza
10 Schalks Crossing Road Plainsboro
(609) 799-4554
Fri. 7 p.m. The Blue-Eyed Balladeer
---
Rossi's Bar & Grill     
2110 Whitehorse-Mercerville Road Hamilton     
(609) 890-2004     
Thurs. 6 p.m. Monk, Monk and Kramer
Sun. 1 p.m. Sparky World Famous Beer Garden
4333 New Falls Road Levittown, PA
(215) 943-2321
Thurs. 9 p.m. Karaoke
Mon. 9 p.m. Game Night w/ Kid Dalton
---
Temperance House     
5 South State Street Newtown, PA     
(215) 944-8050     
Thurs. 7p.m. "Blues Night" w/ Steve Guyger 
Tues. 8 p.m. Trivia w/ Righteous Jolly (outdoors) 
Wed. 7 p.m. Open Mic Night w/ Cara Cartney
---
Terhune Orchards  
330 Cold Soil Road Princeton  
(609) 924-2310  
Fri. 5 p.m. "Sips & Sounds Friday" feat. Karl Dentino & Bo Child
Sat. 1 p.m. Briz
Sun.1 p.m. "Sunday Music Series" feat. Acoustic DuOver
---
The Cool Cricket     
216 Burlington Street Fieldsboro     
(609) 291-9110     
Fri. 9 p.m. Karaoke     
Sat. 4:30 p.m. The Jone Dylan Band
---
The Cure Insurance Center     
81 Hamilton Ave. Trenton     
(609) 656-3200     
 Wed. 6 p.m. Parkway Drive (Check website for ticket price/availability)
---
The Ivy Inn     
248 Nassau Street Princeton     
(609) 921-8555     
Thurs. 10 p.m. Karaoke w/ DJ Rockin' Ron  
Tues. 8 p.m. Quizzo w/ Bob E Luv    
Wed. 10 p.m. Total Request w/ DJ Rockin' Ron
---
Tindall Road Brewing Co.
102 Farnsworth Avenue Bordentown   
(609) 526-8651    
Thurs. 5 p.m. "Thirsty Thursdays" (7 p.m.) Top 5 Trivia
Fri. 6 p.m. "First Fridays" w/ Love & Duffy
---
Tir Na Nog     
1324 Hamilton Avenue Trenton     
(609) 392-2554 
Wed. 7 p.m. Monk & Monk
All Shows 21+    
---
Trenton Social      
449 South Broad Street Trenton     
(609) 989-7777    
Thurs. 5 p.m. "Happy Hour Throwback Thursday" w/ Jay Kountree  
Fri. 5 p.m. DJ ItsJustAhmad
Sat. 10 a.m. "Trenton Pork Roll Festival" feat. live music, food trucks, beer garden, mascots. $5 - $58 (VIP available)
Mon. 8 p.m. "Monday Night Karaoke" Hosted by Sweets
Tues. 7 p.m. Open Mic Night w/ Kyle & Mike
---
Triumph Brewing Company (New Hope, Pa. Location)     
400 Union Square New Hope, Pa.     
(215) 862-8300     
Thurs. 8 p.m. Trivia   
Sun. 7 p.m. Open Stage 
All shows 21+   
---
Villa Park
Fairmount and Lyndale Avenues Trenton
Sat. 8 p.m. Movies Under The Stars: "Onward" (FREE outdoor event)
---
Village Idiot Brewing Company
42 High Street Mount Holly
(609) 975-9270
Sun. 1 p.m. Open Mic
---
Wildflowers Inn     
2572 Pennington Road Pennington     
(609) 773-2392  
Sat. 9 p.m. Acoustic Rock Night w/ 
Mon. 9 p.m. "Moonshine Mondays" Trivia    
---
Working Dog Winery     
610 Windsor Perrineville Road Hightstown     
(609) 371-6000 
Sat. 1 p.m. The Williamsboy
Sun. 2 p.m. Maggs & Bud
---
WWFM 89.1 FM HD2 Radio
MCCC Old Trenton Road West Windsor
Jazzon2.org
Mon. 7 p.m. "Danny Coleman's Got The Blues" 
 

---
Danny Coleman is a veteran musician and writer from central New Jersey. He hosts a weekly radio program entitled "Rock On Radio" airing Sunday evenings at 7 p.m. EST on multiple internet radio outlets where he features indie/original bands and solo artists.
---