originally published: 08/27/2020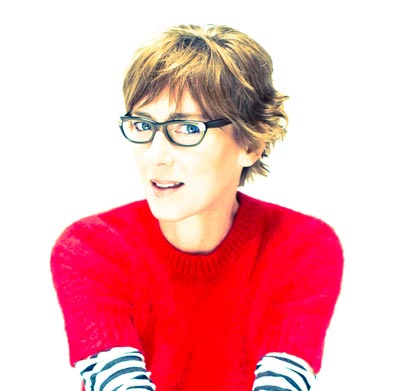 "I'm safe, I'm COVID free, it's a sunny day in Minneapolis and nothing has gone wrong today; I'm good," said a laughing Jonatha Brooke as she began discussing her latest effort entitled "The Sweetwater Sessions," her one-woman play, living in Minnesota and more. 
Originally from the east coast, Brooke has bounced around the country on an artistic sojourn; searching for the right combination of venues, writers, collaborators and others to enhance her body of work. A body which includes more than just music; so, why Minneapolis?  
"I am a Boston girl, I wound up here by way of Los Angeles and New York," she explained, "We covered both coasts pretty thoroughly and figured; why not try the middle? Minneapolis is an awesome city despite its recent troubles; it is a pretty great town. My husband grew up here so I wasn't afraid; I had been here quite a bit and had fallen in love with it. We were burnt out on New York and decided to have an adventure in a new place."
"Minneapolis is the best kept musical secret. There's so much good music going on here; Prince is from Minneapolis and he chose to stay here so that's a pretty good vote of confidence. There's a bunch of amazing musicians here, there's a really cool indie music scene with a lot of little coffee houses tucked into different neighborhoods and just a lot going on. There is a lot going on in the theater world too; I've been working on two musicals lately which is something I've been wanting to do a lot more of; it just feels like a really nurturing place to be creative."
---
The article continues after this ad
---
---
When you're a touring musician or one in search of new audiences in an attempt to expand a fan base; it is often tough stepping outside of one's comfort zone and arriving in a new place or town can be either a blessing or a curse. Brooke says she could not be happier with this stop on the journey.
"It has been awesome actually; I have been completely embraced," she elaborated with sincerity. "When I moved to town, I was able to get a residency at this beautiful club downtown called The Dakota, I was able to bring my one-woman off-Broadway show to a small theater called The Jungle; I did a month's run there. Amazing musicians have embraced me, I got a grant from The McKnight Foundation which is one of the many great art foundations here that supports artists of all walks; visual artists, musical artists; it's a really artsy city and I'm very lucky to have found it and been embraced by it. I think they try and keep it a secret because they don't want too many people honing in on it (laughs)."
Success is measured in a multitude of ways and is often based on perspective; be it one's own or the masses but a key ingredient in success is tenacity. Brooke has been artistically multi-tasking and "The Sweetwater Sessions" is her most recent focus and example of her tenacity in the music industry
"I think it's album number 13 or 14 but who's counting," she said once again with a laugh. "The Sweetwater Sessions" grew out of a recording workshop I did in Fort Wayne, Indiana at the beautiful amazing studios of Sweetwater Sound. You may have heard of Sweetwater Sound; it's basically the Amazon of gear, of musical gear. They have guitars and tech gear and all sorts of stuff there but they also have this amazing world class studio where they do workshops for all sorts of stuff and I was lucky enough to do a recording workshop there and I decided as long as I was doing these amazing recordings; why not bring in my guitar player and make a record while I'm there so people can witness what it's like to go for a live vibe in the studio and see how it goes down? So, I got some amazing tracks out of it and that's how it happened."
"There are 11 tracks; one cover song which is The Beatles "Hide Your Love Away" and 10 from my very long and varied career (laughs). Sean Driscoll my guitar player and I did a really cool arrangement of it for a benefit at City Winery a few years ago and we were like, wow, this is cool, let's bring this one back; so, we put it on the record because it kind of rocks." 
So, once again, the problem during these trying times is; how do artists get their products out there without gigs, concerts or physical contact with supporters? Brooke has been "Cooking" something up that has been well consumed internationally.
"Yeah that's the real clincher; I'm doing concerts from my kitchen every Monday at 2 p.m. central. So, that's a way without leaving home to have a world tour going on because people are tuning in from all over; Australia, Germany, France, the Philippines, Denmark, it's kind of exciting in a strange way. The pandemic has brought us closer in some ways; it brought the fans to me because I can't get to them and I've got these amazing supporters who are listening every week. We call it, "Contributing ticket price" to get into the show as it were and it's helping to sustain my life because I don't get unemployment. You can find these "Kitchen Covid Concerts" on my website, YouTube or Facebook and we are going to keep them up there so people can revisit all of them." 
Fortunately for Brooke, she has other avenues to pursue that stoke her creative fires; one of which is the aforementioned one-woman play but she's also working on two more plays that she readily admits have her creative juices flowing.
"I'm doing mostly music right now but the play is something that I can pull out of my hat quickly. It is a very ergonomic one-woman piece; I tour with my cello player and my guitar player. I have done it around the country in Philly and Cleveland, now Minneapolis and in Arkansas so it is something that I'm still pursuing but for now it is a little bit on the back burner while I do this "Sweetwater Sessions" thing and also while I stay home because no one is going anywhere (laughs). The play is called, "My Mother Has Four Noses" and it's basically a 10-song love story about me and my mother and how I cared for her over the last two years of her life. So, it's comic, it's tragic and all of those things rolled into a story that I tell and then I weave songs in and out of my storytelling; it's pretty cool." 
"There's a lot of music in the pipeline, I'm working on two different musicals with two amazing playwrights, one is called "Switched" which is about two women who are switched at birth and another one; the working title is "Tempest" which is about a female explorer back in the 1930's who gets lost in the ice and then revived later. That's really exciting; it's a little bit sci-fi and a little bit feminist and it's super exciting to explore this character and write her songs, sing in her voice; it's a challenge, it's a lot of stuff." 
"Revived?" Like survival it's what every musician or artist hopes they do in their careers with every new product or release but in today's COVID climate it's not as easy; if it ever actually was such. True to form, Brook's tenacity continues to play a part in her day to day existence and her work ethic continues to uplift her daily. 
"I think we're all kind of scrambling. We're trying to be optimistic but it feels like it might be another year before we can all get safely back out there. I'm teaching online now too; I have master classes that I'm teaching through Zoom and you just piece it all together week to week and hope you can keep going. Like I said, today was a good day; nothing went wrong (laughs)." 
To discover more about Jonatha Brooke, please go to www.jonathabrooke.com. 
That's it for this week! Please continue to support live and original music and until next week....ROCK ON!
---
This week's event listings
---
Arts Council of Princeton     
102 Witherspoon Street Princeton     
(609) 924-8777  
Fri. 6 p.m. "Story & Verse: A Storytelling & Poetic Open Mic. (Held outdoor at Pettoranello Gardens located on Mountain Avenue) 
---
Broken Goblet Brewing   
2500 State Road Bensalem, PA   
(267) 812-5653   
Thurs. 8 p.m. Mike Estabrook 
---
Candlelight Lounge     
24 Passaic Street Trenton     
(609) 695-9612     
Thurs. 6 p.m. Thursday Night Blues Jam Hosted by The Mojo Gypsies. $5 (Includes hot buffet) 
Sat. 3 p.m. (TBA) $10 (cover charge/$10 Minimum includes buffet)     
---
Clubhouse at Mountain View  
850 Bear Tavern Road Ewing  
(609) 771-0400  
Fri. 6 p.m. Jerry Monk & Joe Kramer
---
COARadio.com     
125 South Main Street Hightstown     
(609) 241-7103
Sun. 7 p.m. "Rock On Radio" feat. Melody Federer / Donna, Peter, and Steve from "Rock 2 Adopt"
---
Cooper's Riverview 
50 Riverview Plaza Trenton 
(609) 393-7300
Thurs. 7 p.m. Honey Spot Blvd
Fri. 7 p.m. No Way Out
Sat. 7 p.m. "Social Saturdays" feat. Asylum Choir
Mon. 7 p.m. "Sunny Monday Blues Jam" 
Tues. 8 p.m. Karaoke w/ Karen and Mark
All Events Ages 21+
---
Dog & Bull Brew House     
810 Bristol Pike (Rte. 13) Croydon, PA.     
(215) 788-2855     
Fri. 6 p.m. Ed from Nothing But A Nightmare
Sat. 4 p.m. Snapdragon
Sun. 4 p.m. Try Check 
---
Hamilton Tap & Grill  
557 US Route 130 North Hamilton  
(609) 905-0925  
Fri. 9 p.m. Karaoke                                                                                        
Tues. 8 p.m. Quizzoholics Trivia 
Wed. 7 p.m. Country Night. $5
---
Hopewell Valley Vineyards     
46 Yard Avenue Pennington     
(609) 737-4465     
Thurs. 6 p.m. Mark Feingold Group
Fri. 6 p.m. "Music & Merlot" feat. Deb & Mike
Sat. (1 p.m.) Modern Rewind (6 p.m.) "Music & Merlot" feat. Catmoondaddy
Sun. 3 p.m. "Jazzy Sundays" feat. Hopewell Valley Vineyards Jazz Ensemble
---
Iron Plow Vineyards     
26750 Mount Pleasant Road Columbus     
(732) 306-9111
Fri. 7 p.m. Wayne Palmer 
Sat. 1 p.m. AudioPilot
Sun. 1 p.m. Bob & Dave
---
Killarney's Publick House     
1644 Whitehorse-Mercerville Road Hamilton    
(609) 586-1166    
Fri. 6 p.m. Mario DiBartolo & Frank Clayton
---
Laurita Winery     
85 Archertown Road New Egypt     
(609) 752-0200   
Thurs. 5 p.m. "Cornhole Tournament"
Fri. 6 p.m. "Sounds of Summer Series: Music on the Lawn" feat. The Bergers. $15 (advance) 
Sun. 4:30 p.m. Polish Nannies
---
Odd Logic Brewing Co.
500 Bristol Pike, Bristol, PA
Sun. 3 p.m. Joe & Krista
---
Old Town Pub     
135 Farnsworth Avenue Bordentown     
(609) 291-9232    
Thurs. 8 p.m. Quizzoholics Trivia   
---
Patriots Crossing     
1339 River Road Titusville     
(609) 737-2780    
Thurs. 8 p.m. Open Mic Night
Wed. 7 p.m. "Quizzo"   
---
Revere Restaurant
802 River Road Ewing
(609) 882-6365
Fri. 9 p.m. Danny Lynch Project
---
Rossi's Bar & Grill     
2110 Whitehorse-Mercerville Road Hamilton     
(609) 890-2004     
Thurs. 6 p.m. Ernie White
---
Sparky World Famous Beer Garden
4333 New Falls Road Levittown, PA
(215) 943-2321
Thurs. 9 p.m. Karaoke
Mon. 9 p.m. Game Night w/ Kid Dalton
---
Temperance House     
5 South State Street Newtown, PA     
(215) 944-8050     
Thurs. 7p.m. "Blues Night" w/ Steve Guyger 
Tues. 8 p.m. Trivia w/ Righteous Jolly (outdoors) 
Wed. 7 p.m. Open Mic Night w/ Cara Cartney
---
Terhune Orchards  
330 Cold Soil Road Princeton  
(609) 924-2310  
Fri. 5 p.m. "Sips & Sounds Friday" feat. Bill O'Neal & Andy Koonz
Sat. 1 p.m. Roundabout
Sun.1 p.m. "Sunday Music Series" feat. Jerry Steele
---
The Bog (Cranbury Golf Club)
49 Southfield Road West Windsor
(609) 799-0341
Sat. 7 p.m. Dave Stefanic & Kyle Ward
---
The Cool Cricket     
216 Burlington Street Fieldsboro     
(609) 291-9110     
Fri. 9 p.m. Karaoke     
Sat. 4:30 p.m. Drunken Clams
---
The Cure Insurance Center     
81 Hamilton Ave. Trenton     
(609) 656-3200     
Check website for upcoming events     
---
The Ivy Inn     
248 Nassau Street Princeton     
(609) 921-8555     
Thurs. 10 p.m. Karaoke w/ DJ Rockin' Ron  
Tues. 8 p.m. Quizzo w/ Bob E Luv    
Wed. 10 p.m. Total Request w/ DJ Rockin' Ron
---
Tindall Road Brewing Co.
102 Farnsworth Avenue Bordentown   
(609) 526-8651    
Thurs. 5 p.m. "Thirsty Thursdays" (7 p.m.) Top 5 Trivia
Fri. 6 p.m. Recklesstown
Sat. 5:30 p.m. Tiltin Catz
---
Tir Na Nog     
1324 Hamilton Avenue Trenton     
(609) 392-2554   
Wed. 7 p.m. Monk & Monk
All Shows 21+    
---
Train Wreck Distillery
25 Madison Avenue Mount Holly
(609) 288-6300
Fri. 8 p.m. Al Snyder
---
Trenton Social      
449 South Broad Street Trenton     
(609) 989-7777    
Thurs. 5 p.m. "Happy Hour Throwback Thursday" w/ Jay Kountree  
Fri. 5 p.m. DJ ItsJustAhmad
Mon. 8 p.m. "Monday Night Karaoke" Hosted by Sweets
Tues. 7 p.m. Open Mic Night w/ Kyle & Mike
---
Triumph Brewing Company (New Hope, Pa. Location)     
400 Union Square New Hope, Pa.     
(215) 862-8300     
Sun. 7 p.m. Open Stage 
All shows 21+   
---
VFW Post 3525
77 Christine Avenue Hamilton
(609) 890-9809
Fri. 6 p.m. Joe Hutchinson
---
Village Idiot Brewing Company
42 High Street Mount Holly
(609) 975-9270
Sun. 1 p.m. Open Mic  
---
Working Dog Winery     
610 Windsor Perrineville Road Hightstown     
(609) 371-6000 
Sat. 1 p.m. Rob Messina
Sun. 2 p.m. Deb & Mike
---
WWFM 89.1 FM HD2 Radio
MCCC Old Trenton Road West Windsor
Jazzon2.org
Mon. 7 p.m. "Danny Coleman's Got The Blues" 
 

---
Danny Coleman is a veteran musician and writer from central New Jersey. He hosts a weekly radio program entitled "Rock On Radio" airing Sunday evenings at 7 p.m. EST on multiple internet radio outlets where he features indie/original bands and solo artists.
---