originally published: 08/23/2020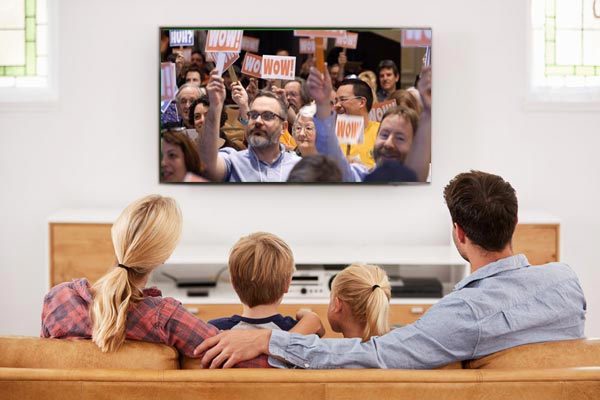 Due to the COVID-19 pandemic, Rutgers University will not have any events take place on the New Brunswick campus this Fall.  This led the New Jersey Film Festival, which is celebrating its 39th anniversary this year, to be presented virtually.  The festival runs between September 13 - October 25, 2020 and will present the New Jersey or Area Premiere (Middlesx County) for over 40 films. All the films will be available on VOD (Video On Demand) for 24 hours on their show date. There will also be special Filmmaker Introductions and Q+A Sessions available for many of the films.  Here's a look at the films for September.
---
NJ FILM FEST: Available September 13, 2020
Underground Inc: The Rise and Fall of Alternative Rock - Underground Inc tells the story of the rise and fall of the alternative rock scene, in the wake of Nirvana's success. Starting with it's roots in the eighties underground punk scene - witness the meteoric rise to mainstream dominance and how it all came crashing down against a world of excess and greed. This is the story of the music business colliding with some of the most important and overlooked musicians of the period, finally telling this story in their own words! Underground Inc explores the compelling history of the last physical rock scene in underground punk, and is a candid look into what it takes to survive as an artist in the music industry. Featuring interviews with a range of musicians and insiders from White Zombie, Queens of the Stone Age, Helmet, Clutch, Fishbone, Red Fang, Steve Albini and more. Underground Inc is a must see for both musicians and music lovers.
For an interview with the director, click here.
---
The article continues after this ad
---
---
NJ FILM FEST: Available September 13, 2020
The Super Shorts I Program
Yet Another – Tim Disbrow (Annandale, New Jersey) Cooped up inside and overcome with boredom, a young boy ventures out of the house to find a little excitement--but it's not the first time. 3 min, 2019.
Happily Everglades After – Daniel Kassel (Brooklyn, New York) Everybody's just doing their best in the lagoon. 2019; 4 min. 
The Winter – Xin Li (Carlton, Victoria, Australia) A beautiful paint-on-glass animation that follows a peasant in a snowy forest.  2020; 5 min. 
Nothing To Say – Aubrey Mintz (Toronto, Canada) Nothing to Say is an allegory in which a recent arrival at the zoo, a turtle, challenges the zookeeper and other animals by not speaking on command to receive his food. By revealing his story to the others, the turtle exposes themes of exile and being a refugee in a land that provides for the body at the cost of the soul. Various animation styles used in the film help to uncover the emotional quality of the turtle's experience. Narrated by Danny Aiello. 2019; 10 min.
She Who Invites – Sarah El Bakkhouri (Surrey, British Columbia, Canada)  An abstract visualization of the Shinto tale of Izanami; the Goddess of Death and Creation. 2019; 7 min. 
Peanut – Andy Mills (Brooklyn, New York)  After learning he has an abnormally small brain, John is prescribed a gun to kill himself. Unfortunately, he learns a gunshot to the head is not quite sufficient for his affliction. 2020; 5 min. 
Azrahel – Harry Valentine  (Los Angeles, California) When Dr. Lopez brings Vivian to the morgue to identify her son, she learns that there is no limit to what a mother will do -- and no force she will not turn to -- to bring back her child. 2019; 7 min.  
The Red Marsh – Drake Woodall (Brooklyn, New York) An isolated fisherman's latent grief resurfaces when desperation causes him to look elsewhere for food. 2020; 12 min. 
The Bronze Fly – Karleener  (Dijon, France)  A painter gives three magic pills to his visually impaired girlfriend, then intentionally loses her in the crowd. Thanks to a painting and to the three pills that transform the view into a painting style, she will search for the painter and his secret, without suspecting that, in the shadows, he will observe her during his passionate quest. In French, subtitled. 2019; 15 min. 
Speed of Time - William Stribling (West Hollywood, California)  Future cop Johnny Killfire (John Hennigan) must go back in time and team up with his former self (Sean Marquette) in order to stop the TimeBorgs from getting their hands on an app that could break the space-time continuum by delivering pizzas into the past...before they were even ordered. 2020; 13 min.
For an interview with the director of Snowglobe, click here.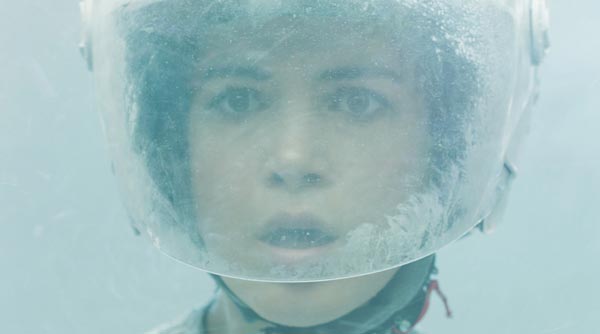 ---
NJ FILM FEST: Available September 25, 2020
The Experimental Shorts Program contains screenings of eight shorts.
Motion At A Distance - Color takes ephemeral form into the sound space. Shadow shapes emerge, interact and recede as luminous, temporary geometries call into the question the division between analog and digital ways of seeing and believing. Motion at a Distance is a stop-motion animation by Lindsay Packer. Optical sound by Andrew Yong Hoon Lee guides Packer's light-based installation and performance work into the realm of film. Lee's composition uses sound as material and is pushed and pulled much like paint on a canvas to create abstract textures that evoke mood and memory.
Dysphoria - An A.I. or person struggles to recognize the self in it's truest sense, from second to second, taking into account past, present, and future (Family pictures, watching screens, and the Free Will Thereom), all of which are happening in every moment. Warning: strobe effect.
Night Birds & Ghost Crabs - In pairing experimental imagery with interviews in which people from all walks of life discuss the gamut of that which keeps them up at night, Night Birds & Ghost Crabs documents those lonely late night moments we share with so many others the world over. As it turns out, though we are physically alone during the wee dark hours, we are united in sleeplessness with untold millions, and there's a kind of reassuring comfort in that realization.
Slideshows From The Peanut Gallery - an experimental animation that examines this pathology of longing by producing a hyper-facsimile of the family photo. The process starts by digitally scanning Kodak slides that have some formal or conceptual relationship. The subjects are then digitally traced, cut out, and animated: a kind of forensic archeology in response to the photographic image that breathes life into the subjects—and conversely flattens and mechanizes them. The resulting animation is a dream-like, non-narrative reenactment of the past that echoes the fleeting and arbitrary nature of nostalgia and the corruption of memory, an uncanny slideshow for strangers.
Patient's Copy - A hand-made reflection on the underconscious and on the illustration of ideas on plastic. This collage film comes about after the discovery, in my university office, of a thousand overhead transparencies used for teaching biology. A chemically induced gaze looks out over this archive while a light shines down on obsolete treasures, buried ideologies and the science of life. Patient's Copy focuses on the capacity of these acetate transparencies to not simply allow light to pass through them, but also to allow light to reflect off them. This suggests a new function for images that have not only been excavated from their pedagogical and technological moment but which, in their new fluorescent form, are both less plastic, and more plastic than ever before.
Bubble - This is an urban tale of love and sacrifice set in a mysterious restaurant hidden in an alleyway. On an ordinary night, a man eats a lot of herbal plants in front of a woman, transforming himself into the woman's food. In Mandarin, subtitled.
Knock, Knock, Knock - The film follows Hana, a young woman who confines herself to a tiny box-like room. She interacts with the world by listening through the thin walls that separate her from her neighbors.
Bella - A young female dancer travels on an emotional journey through psychological and physical landscapes to discover a crucial truth that lives within her.
---
NJ FILM FEST: Available September 26, 2020
Love Is Not Love - Early December, New York City, and everyone is on the hunt for love. Why? Because they haven't found it and because they haven't found it, they make it into a myth and chase the myth instead. Frank has been married to Paula for 30 years, and like many older men, desperately fears that he has missed out on something that always seems just out of reach. His search leads him to a much younger woman who works as an escort, and who initially makes him feel whole again. Blinded by the fantasy that she could be his true love, he gradually recognizes that this is merely a fable produced by his yearning. Biting dialog and a quirky take on romance, Love is Not Love explores the myth and the reality of fantasy, fate, and that illogical little thing called love.