By Al Nigrin
originally published: 08/23/2020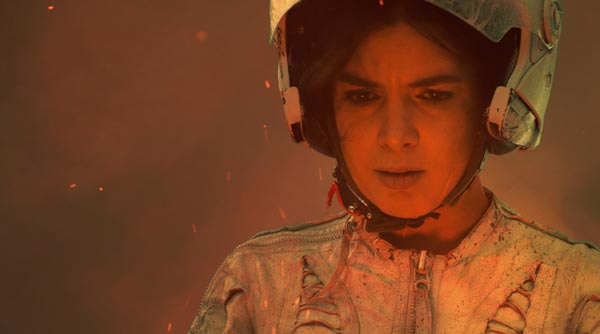 The New Jersey Film Festival premieres the science fiction short film Snowglobe by Timothy Rush on Sunday, September 20, 2020. The festival is being presented virtually due to the pandemic. Films will be available on VOD (Video On Demand) for 24 hours on their show date.
In this short film (11 minutes long), a young woman wakes in a frozen wasteland. Searching for her lost co-pilot, on the run from a totalitarian regime, she discovers a world with many secrets lying beneath its surface. Along the way, she must face the darkness and find her voice if she hopes to survive.  
Al Nigrin caught up with director Tim Rush to learn more about the film.
Your amazing sci fi short Snowglobe focuses on a young woman who wakes up in a mysterious frozen wasteland. Please tell us more about the genesis of this film?
This film is based on the real life story of myself and my friend Scott who passed away. I'm the Robin character, and the events in the film mirror events in our lives. When we got out of school, he was an amazingly talented director and I was his producer backing him up, just as Jay is the pilot and Robin is the co-pilot. Heading west to find a new life, something huge and malevolent reared its ugly head, blocking our way. While we both wrestled with depression, tragically he died in a crash, just like Jay in the film. Similar to the taunting voices Robin hears, every day I heard my own voice doubting if I could finish this film. It took two years of looking into the abyss and facing my fears to make it to the end of the film—I hope it's something Scott would be proud of. Ironically when I started, I had no idea it would turn out to be a tribute to my friend. I just wanted to do a fun project on a white background. I turned around a year later, after writing the screenplay, and discovered each beat was about me and Scott. That's why it's dedicated to him.
---
The article continues after this ad
---
---
Catherine Mersereau, who plays the lead actor, does an amazing job. Tell us more about her and how she ended up playing the central figure.
She came to an audition, Domini and I liked her energy, and she was hired!
In many ways the special effects you use are also a highlight of your film. Tell us more about how these were achieved.
Snowglobe was filmed in the middle of summer in sunny Burbank California on a soundstage with both white and greenscreen sections. We closed the doors and dumped huge bags of potato flakes into an industrial size fan to create the illusion of snow. With all the particulate floating around, we all had to wear masks before it was trendy. Sophie Vincelette, a former digital set decorator at Pixar, had wanted to try her hand at physical production design—and as Art Director I think she did a fantastic job!
Calder Greenwood, who did Robin's ship, the snow speeder and ejection seat, is quite a talented artist, worth Googling to see his amazing retro-future work. He made all the props from repurposed toys, vacuum cleaners and arcade game parts.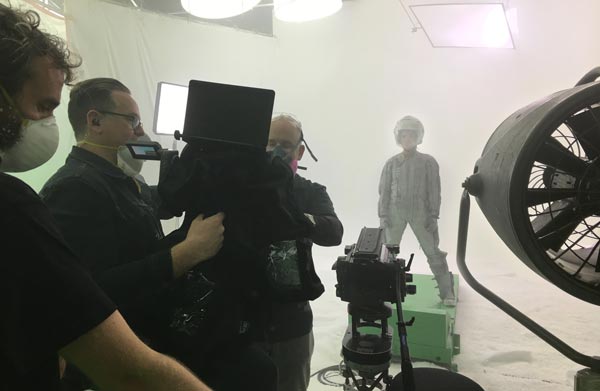 Seeing the world as frozen I wonder if you are making a commentary on climate change. Am I off base in thinking this?
No you are not. I think being an artist in today's world means taking into consideration our surroundings.
Are there any memorable stories while you made this film or any other info about your film you would like to relay to our readers?
Bruce Mitchell, the guy who made the monster, is a professional creature artist I met at Monsterpalooza. He liked my concept art and storyboards. It took about 7 or 8 months of weekend work to make the monster, with me often driving to his garage in Chatsworth to help. Along the way I learned the ancient art of making creatures in foam rubber and heard amazing stories from his 30 year career in practical effects.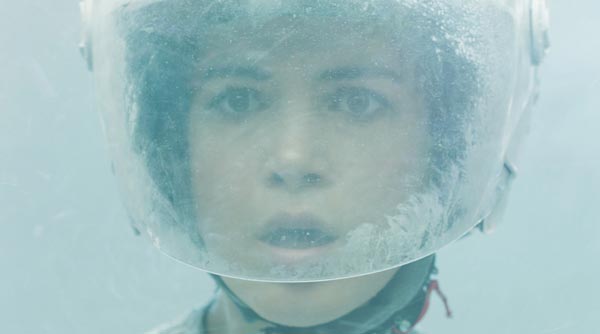 Snowglobe is part of the New Jersey Film Festival Super Shorts 1 Program.  Here are the other films available with this screening:
---
Super Shorts I Program - Sunday, September 20
Yet Another – Tim Disbrow (Annandale, New Jersey) Cooped up inside and overcome with boredom, a young boy ventures out of the house to find a little excitement--but it's not the first time. 3 min, 2019.
Happily Everglades After – Daniel Kassel (Brooklyn, New York) Everybody's just doing their best in the lagoon. 2019; 4 min. 
The Winter – Xin Li (Carlton, Victoria, Australia) A beautiful paint-on-glass animation that follows a peasant in a snowy forest.  2020; 5 min. 
Nothing To Say – Aubrey Mintz (Toronto, Canada) Nothing to Say is an allegory in which a recent arrival at the zoo, a turtle, challenges the zookeeper and other animals by not speaking on command to receive his food. By revealing his story to the others, the turtle exposes themes of exile and being a refugee in a land that provides for the body at the cost of the soul. Various animation styles used in the film help to uncover the emotional quality of the turtle's experience. Narrated by Danny Aiello. 2019; 10 min.
She Who Invites – Sarah El Bakkhouri (Surrey, British Columbia, Canada)  An abstract visualization of the Shinto tale of Izanami; the Goddess of Death and Creation. 2019; 7 min. 
Peanut – Andy Mills (Brooklyn, New York)  After learning he has an abnormally small brain, John is prescribed a gun to kill himself. Unfortunately, he learns a gunshot to the head is not quite sufficient for his affliction. 2020; 5 min. 
Azrahel – Harry Valentine  (Los Angeles, California) When Dr. Lopez brings Vivian to the morgue to identify her son, she learns that there is no limit to what a mother will do -- and no force she will not turn to -- to bring back her child. 2019; 7 min.  
The Red Marsh – Drake Woodall (Brooklyn, New York) An isolated fisherman's latent grief resurfaces when desperation causes him to look elsewhere for food. 2020; 12 min. 
The Bronze Fly – Karleener  (Dijon, France)  A painter gives three magic pills to his visually impaired girlfriend, then intentionally loses her in the crowd. Thanks to a painting and to the three pills that transform the view into a painting style, she will search for the painter and his secret, without suspecting that, in the shadows, he will observe her during his passionate quest. In French, subtitled. 2019; 15 min. 
Speed of Time - William Stribling (West Hollywood, California)  Future cop Johnny Killfire (John Hennigan) must go back in time and team up with his former self (Sean Marquette) in order to stop the TimeBorgs from getting their hands on an app that could break the space-time continuum by delivering pizzas into the past...before they were even ordered. 2020; 13 min.
Co-sponsored by the Rutgers University Cinema Studies Program.
Tickets are $12. Films will be available on VOD (Video On Demand) for 24 hours on their show date. There will also be special Filmmaker Introductions and Q+A Sessions available for many of the films. 
To buy tickets for this screening, click here.