originally published: 08/20/2020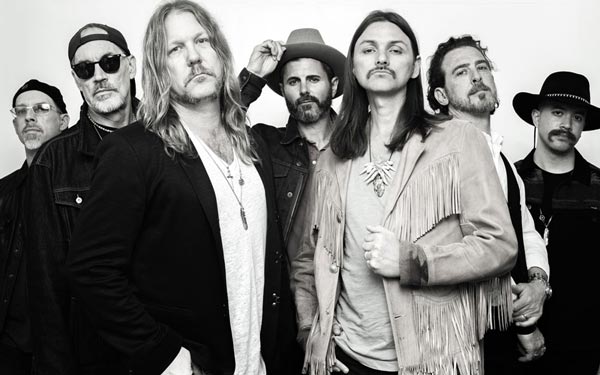 "That's a just a funny tongue in cheek southern thing; it's kind of sassy tongue in cheek. I think everyone may have their own meaning for it as to why we named it that. I remember my grandmother on my dad's side was southern and I'd go over there and she'd be cooking fried chicken and collard greens and say, "Bless Your Heart" kind of sarcastically; like they don't know anything but not derogatory, or you can say it literally; it can be taken either way.  
There's no denying the lineage from which the Allman Betts Band came but let there be no mistake; they are their own entity wrapped up in a blanket of influences which includes their famous fathers, classic rock, blues and more.
A recent conversation with guitarist/vocalist Duane Betts revealed just where the band is at, where they're going, how they are managing themselves in the pandemic, the upcoming release of their second album "Bless Your Heart" and more.
"We sure do have a new record," said an enthusiastic Betts. "We recorded it down at Muscle Shoals in Alabama and we are really pleased with it; it turned out really excellent and we're excited for people to hear it. We did our first record there, we liked it and figured; why change it if it worked the first time. We used the same producer, Matt Ross-Spang from Memphis Tennessee and we went straight to tape again; so yeah, we wanted to stick with the same kind of approach. The material is a lot different; I think we took a lot more chances and it shows a lot of growth as far as the spectrum of influences and the overall body of work on this second record but as far as the approach of where we did it and who we did it with; that was the same. We didn't use any digital, we used two-inch tape and then we mixed down the tape and it has its specific sound and it just sounds great."
---
The article continues after this ad
---
---
New record coming out August 28, pandemic in and after their highly successful debut album "Down To The River" the band was looking forward to showcasing this one due in part to its, "Vast" differences from the first; where do they go from here? 
"The new record; we're really proud of it," continued Betts. "We are really excited about it, it's a powerful experience, it's sweeping, it's vast. There's a really wide spectrum of influences; that's my take on it; as to how it differs from the first record; the first record had really good ingredients, it was well made, it showed that we were true to our heritage so to speak but this one is that and also branches off in many other directions and shows a lot of other different colors and influences. We love a lot of different stuff; we love George Harrison so we should have some stuff that sounds like that; it's just exciting to have a record. This (The pandemic) could've happened at the start of making the record and that would've been a real bummer; you can look at it like, man that's a good thing that we got our record done before everything was shut down."
 "Magnolia Road" is the first single we released in June, it's a song written by our good friend Stoll Vaughn who we write quite a bit with; he wrote it by himself actually which is somewhat ironic because it's somewhat semi-autobiographical; he's really good at that. It's a really good feeling tune, it has a summery, festival, Allman Brothers/Grateful Dead kind of thing a little bit but then the next tune we released in July had a totally different feel so we're excited about that too." 
"It's just kind of the situation we're all in but what makes it a little easier is to know that nobody can tour and even if you could it's just not a good idea now with what's going on. We're all kind of in the same boat; it's a little frustrating but we know we'll be able to tour at some point. It's a little unorthodox to put out a record and then start a tour several months later or however many months later. We'll see how it goes; we're taking it month by month; there's other ways. People can still hear the music and you can do livestreams; there's other avenues to get it out there. When we do go back on tour it's going to be really exciting; it'll be odd but it will be a great feeling."
So, how exactly did the Allman Betts Band come together?
"We just kind of; we've known each other for a while," explained Betts. "Devon was going on tour; I had just done my first solo record and he invited me to come out as an opening act and then jam together. We just wanted to see what would happen and feel it out and then we started writing and that led to the first record which we put out and toured on that last year and then here we are; we just did the second record. So yeah, it just kind of came together, we'd talked about it on and off over the years; it was the timing of it and it just felt natural, like an organic next step in our careers and everybody's career. When we formed the band, we put our heads together to put together a really great band; people we felt were suited to be in this band and it's been fun touring around the world. Obviously, this was before everything got shut down but every week it seemed like there was a new height reached, it seemed like a new musical highlight. So, it is really going great and we can't wait to get back out there."
Since they can't, "Get back out there" just yet; what do they plan on doing to stay in touch with the fan base as well as with the new release later this month? Betts says that he's going to use the time to reconnect with loved ones and even himself to a degree. 
"Devon has been doing a lot of livestreams and I've been putting tunes up on Instagram and Facebook; every now and then I'll do a tune just sitting on my couch. You take what the universe will give you, it's not like it's this huge bummer and an, oh, why me situation. Obviously, this is what's happening, this is what the universe wants and we have time off. We have worked so hard over the last couple of years touring constantly that I think it might do a lot of people some good having the time off personally. So, when something like this happens you spend time with your family, get in touch with nature, you write songs; I've been writing more than I would if I were on a bus with 12 dudes, or in sound check or in a dressing room with three dudes; do you know what I mean? I have a lot of space and time to write; so, there's always something good that can come from something that is perceived as bad. Obviously, nobody wants to be in the situation we're in but you can definitely turn it into a positive in other avenues. There's stuff on the horizon, nobody knows when touring is going to open up agin but we can't control that. I'm not really that worried about it, I'm trying to stay mellow, take care of myself, spend time with my puppy and my wife, go hiking and enjoying life. There's a lot of people who need help too, don't get me wrong, I'm not saying it's a good situation that's going on now. That's kind of my mental approach to the whole thing; it's really out of our control and the last thing that I want to do is try and push it and go out there too early. I'd rather wait until it feels really good and then go out there and start playing shows for folks again; I think that's where a lot of people stand with it. Devon does these livestreams and raises money for our touring crew, so God bless that; there are avenues to get some folks taken care of during this off time while we can't work."
To purchase "Bless Your Heart" and/or discover more about the Allman Betts Band, please visit www.allmanbettsband.com. 
That's it for this week! Please continue to support live and original music and until next week....ROCK ON! 
---
This week's event listings
---
Arts Council of Princeton     
102 Witherspoon Street Princeton     
(609) 924-8777 
Sat. 7 p.m. Cafe Improv w/ Pyrenesia, (TBA). $2
---
Broken Goblet Brewing   
2500 State Road Bensalem, PA   
(267) 812-5653   
Thurs. 8 p.m. Mike Estabrook 
Fri. 8:30 p.m.  Patio Music Fridays"
Sat. 8 p.m. "Patio Music Saturday"
---
Candlelight Lounge     
24 Passaic Street Trenton     
(609) 695-9612     
Thurs. 6 p.m. Thursday Night Blues Jam Hosted by The Mojo Gypsies. $5 (Includes hot buffet) 
Sat. 3 p.m. (TBA) $10 (cover charge/$10 Minimum includes buffet)       
---
Clubhouse at Mountain View  
850 Bear Tavern Road Ewing  
(609) 771-0400  
Fri. 6 p.m. Glenn McCollum and Celtic Connection
---
COARadio.com     
125 South Main Street Hightstown     
(609) 241-7103
Sun. 7 p.m. "Rock On Radio" feat. John DeNicola / Dan Leyes 
---
Cooper's Riverview 
50 Riverview Plaza Trenton 
(609) 393-7300
Thurs. 8 p.m. Union
Fri. 7 p.m. The Mix
Sat. 7 p.m. "Social Saturdays" feat. Kindred Spirit
Mon. 7 p.m. "Sunny Monday Blues Jam" 
Tues. 8 p.m. Karaoke w/ Karen and Mark
Wed. 8 p.m. Blues Night
All Events Ages 21+
---
Dacey's Pub 
215 West Philadelphia Avenue Morrisville, PA 
(215) 295-4838 
Fri. 6 p.m. Acoustic Music Night feat. Kate & Bob
Wed. 8 p.m. Quizzo 
---
Dog & Bull Brew House     
810 Bristol Pike (Rte. 13) Croydon, PA.     
(215) 788-2855     
Fri. 6 p.m. Brian Elliott
Sat.  4 p.m Dustin Beck
Sun. 4 p.m. Dana Collins
---
German American Society   
215 Uncle Pete's Road Hamilton   
(609) 585-5200   
Fri. 7 p.m. "Rainbow Full of Sound" outdoors at The Biergarten. $20, Doors open at 6 p.m. 
---
Hamilton Elks 
1580 Kuser Road Hamilton
(609) 585-8610
Fri. 7 p.m. Tiltin' Catz
---
Hamilton Tap & Grill  
557 US Route 130 North Hamilton  
(609) 905-0925  
Fri. 9 p.m. Karaoke                                                                                        
Tues. 8 p.m. Quizzoholics Trivia 
Wed. 7 p.m. Country Night. $5
---
Hopewell Valley Vineyards     
46 Yard Avenue Pennington     
(609) 737-4465     
Thurs. 6 p.m. Michael Andrew
Fri. 6 p.m. "Music & Merlot" feat. Winery Catz
Sat. 6 p.m. "Music & Merlot" feat. The Lifters
Sun. 3 p.m. "Jazzy Sundays" feat. Acoustic DuOver 
---
Iron Plow Vineyards     
26750 Mount Pleasant Road Columbus     
(732) 306-9111  
Fri. 7 p.m. Lara Grant
Sat. 7 p.m. The Williamsboy
Sun. 1 p.m. Ronnie Brandt
---
Killarney's Publick House     
1644 Whitehorse-Mercerville Road Hamilton    
(609) 586-1166    
Sat. 6 p.m. Mario DiBartolo & Frank Clayton 
---
Laurita Winery     
85 Archertown Road New Egypt     
(609) 752-0200  
Fri. 6 p.m. "Sounds of Summer Series: Music on the Lawn" feat. Pennington Station Band
Sat. "Blueberry Crush 2" feat. (12 p.m.) The Bergers (4:30 p.m.) DC Trio
Sun. "Blueberry Crush 2" feat. (12 p.m.) Rick Winow (4:30 p.m.) The Surge
---
McGuinn's Place     
1781 Brunswick Avenue Lawrence     
(609) 392-0599    
Tues. 9 p.m. Karaoke     
Ages 21+     
---
Old Town Pub     
135 Farnsworth Avenue Bordentown     
(609) 291-9232    
Thurs. 8 p.m. Quizzoholics Trivia   
Fri. 7 p.m. Radio Fiction
---
Patriots Crossing     
1339 River Road Titusville     
(609) 737-2780    
Thurs. 8 p.m. Open Mic Night
Wed. 7 p.m. "Quizzo"   
---
Revere Restaurant
802 River Road Ewing
(609) 882-6365
Fri. 9 p.m. Danny Lynch Project
---
Romeo's Restaurant & Pizza
10 Schalks Crossing Road Plainsboro
(609) 799-4554
Fri. 7 p.m. The Blue-Eyed Balladeer
---
Rossi's Bar & Grill     
2110 Whitehorse-Mercerville Road Hamilton     
(609) 890-2004     
Thurs. 6 p.m. Ernie White
---
Sparky World Famous Beer Garden
4333 New Falls Road Levittown, PA
(215) 943-2321
Thurs. 9 p.m. Karaoke
Mon. 9 p.m. Game Night w/ Kid Dalton
---
Temperance House     
5 South State Street Newtown, PA     
(215) 944-8050     
Thurs. 7p.m. Steve Guyger 
Fri. 6 p.m. Kate & Bob
Tues. 8 p.m. Trivia w/ Righteous Jolly (outdoors) 
Wed. 7 p.m. Open Mic Night w/ Cara Cartney
---
Terhune Orchards  
330 Cold Soil Road Princeton  
(609) 924-2310  
Fri. 5 p.m. "Sips & Sounds Friday" feat. Jerry Steele
Sat. 1 p.m. Brian Bortnick
Sun.1 p.m. "Sunday Music Series" feat. Barbara Lin Band
---
TGI Fridays   
319 US Highway 130 North East Windsor
(609) 490-1450
Thurs. 7 p.m. Paul Plumeri Duo
---
TGI Fridays   
685 Middletown Blvd. Langhorne, PA
(215) 750-8002  
Sat. 7 p.m. Ernie White
---
The Cool Cricket     
216 Burlington Street Fieldsboro     
(609) 291-9110     
Fri. 9 p.m. Karaoke     
Sat. 9 p.m. (TBA)
---
The Ivy Inn     
248 Nassau Street Princeton     
(609) 921-8555     
Thurs. 10 p.m. Karaoke w/ DJ Rockin' Ron  
Tues. 8 p.m. Quizzo w/ Bob E Luv    
Wed. 10 p.m. Total Request w/ DJ Rockin' Ron
---
Tindall Road Brewing Co.
102 Farnsworth Avenue Bordentown   
(609) 526-8651    
Thurs. 5 p.m. "Thirsty Thursdays" (7 p.m.) Top 5 Trivia
Fri. 6 p.m. The Successful Failures
Sat. 7 p.m. Too Many Kings
---
Tir Na Nog     
1324 Hamilton Avenue Trenton     
(609) 392-2554  
Wed. 7 p.m. Monk & Monk
All Shows 21+    
---
Train Wreck Distillery
25 Madison Avenue Mount Holly
(609) 288-6300
Sat. 7:30 p.m. Dave Murray
---
Trenton Social      
449 South Broad Street Trenton     
(609) 989-7777    
Thurs. (5 p.m.) "Happy Hour Throwback Thursday" (8 p.m.) EDM Hosted by Jay Kountree  
Fri. 5 p.m. DJ ItsJustAhmad
Sat. 9 p.m. Gravity Centered Acoustic
Mon. 8 p.m. "Monday Night Karaoke" Hosted by Sweets
Tues. 7 p.m. Open Mic Night w/ Kyle & Mike
---
Triumph Brewing Company (New Hope, Pa. Location)     
400 Union Square New Hope, Pa.     
(215) 862-8300     
Thurs. 8 p.m. Trivia  
Sun. 7 p.m. Open Stage 
All shows 21+   
---
VFW Post 3525
77 Christine Avenue Hamilton
(609) 890-9809
Fri. 6 p.m. Joe Hutchinson
---
Village Idiot Brewing Company
42 High Street Mount Holly
(609) 975-9270
Sun. 1 p.m. Open Mic
---
Wildflowers Inn     
2572 Pennington Road Pennington     
(609) 773-2392 
Sun. 4:30 p.m. Love & Duffy
---
Working Dog Winery     
610 Windsor Perrineville Road Hightstown     
(609) 371-6000
Sat. 1 p.m. Jersey Shore Cats
Sun. 2 p.m. Chris Giakas
---
WWFM 89.1 FM HD2 Radio
MCCC Old Trenton Road West Windsor
Jazzon2.org
Mon. 7 p.m. "Danny Coleman's Got The Blues" 

---
Danny Coleman is a veteran musician and writer from central New Jersey. He hosts a weekly radio program entitled "Rock On Radio" airing Sunday evenings at 7 p.m. EST on multiple internet radio outlets where he features indie/original bands and solo artists.
---