originally published: 08/01/2020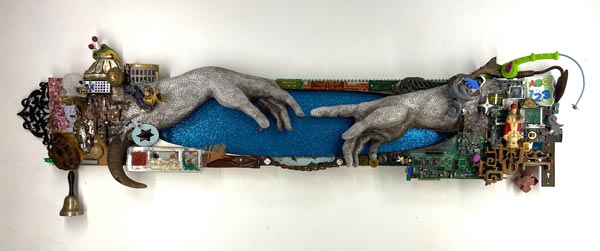 (MATAWAN, NJ) -- Thoughts & Prayers, Another Round of Vacant Stares on view at Chashama Matawan by appointment and can be seen virtually on KUNSTMATRIX from August 13 to September 19, 2020. Thoughts & Prayers, Another Round of Vacant Stares is an analysis of the American gun culture. This exhibition highlights artwork that examines the impact guns have within our nation, as a symbol of power and freedom, or as an instrument to incite fear and cause harm.
Firearms affect all American populations and demographics. The artwork featured in this exhibition is meant to facilitate a dialog on the divisive iconology of guns, the power or fear they represent, as they allow some to become empowered, while suppressing others.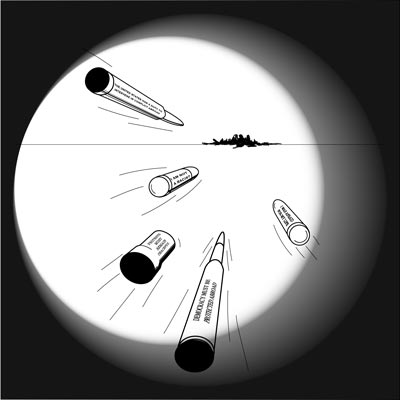 Originally, this exhibit was meant to be on view at BSB Gallery in Trenton.  However, curator Christy E. O'Connor was notified 5 weeks prior to the upcoming opening that the gallery she was working with was to close permanently.  In less then a week she secured a new location and relaunched her independent curatorial site Art Hustle in order to keep this important exhibition on American Gun Culture alive.  
Participating artists for Thoughts & Prayers include: Nanette Reynolds Beachner, Chee Bravo, Kimberly Camp, Wendy Cohen, Pam Cooper, Leslie Anne Condon, Timothy Dill, Patrick Hay, E. Sherman Hayman, Cheryl Gross & Nicelle Davis, Joy on Fire, Gusty Kincaid, Kathleen Hurley Liao, Local Artist, George Lorio, Tali Margolin, Brian McCormack, ChurchOf.Art, Stacey AS Pritchard, Margaret Roleke, Dominic Sansone, Danielle Scott, Joan Sonnenfeld, Suprina, Kenechi Unachukwu, Jodi Walker, Sue Eldridge Ward, and Kristen T. Woodward.
The Opening Reception of Thoughts & Prayers, Another Round of Vacant Stares on Thursday, August 13th at 7:00pm on Zoom.  Click here to register for the opening reception. 
---
The article continues after this ad
---
---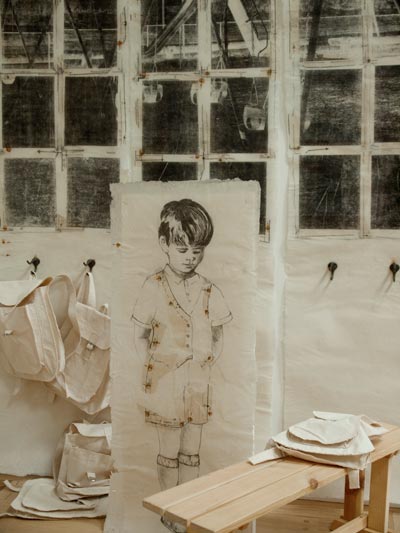 Chashama, Matawan, is located at 60 Main Street, Matawan, New Jersey. Thoughts & Prayers, Another Round of Vacant Stares will be on view August 13th - September 19th 2020, by appointment only.
Art Hustle was established in 2017 to develop engaging art exhibitions throughout the state of New Jersey and to provide opportunities for artists to work with various art spaces. As times continue to change, so does Art Hustle, as we begin to develop virtual exhibition platforms and online programming.
Art Hustle is proud to partner with Chashama in their Matawan, NJ location to present Thoughts & Prayers, Another Round of Vacant Stares. Chashama supports artists by partnering with property owners to transform unused real estate into space to create and present, and provides free art classes for under-resourced communities. They are excited to collaborate with Moms Demand Action, Gays Against Guns, and #UNLOAD. Through these partnerships they deliver programming that is inspiring and educational for activists, artists, and community members alike.
IMAGES: (TOP) H.O.G. OS Version XX, by Suprina (MIDDLE) Bullet Points, by Leslie Anne Condon (BOTTOM) The Playground, by Pam Cooper