originally published: 07/30/2020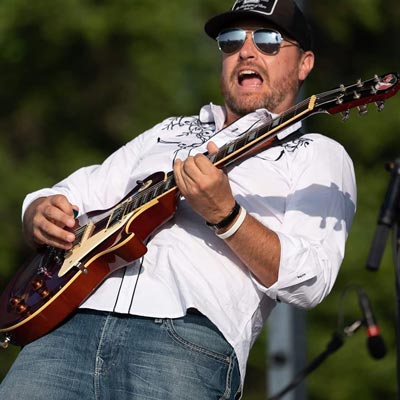 "There's no re-creating a live performance whether you're playing for four people or 4,000; it's just irreplaceable but I'll be honest with you, there's the whole process of it too; getting your stuff ready, getting there, the whole thing. There are parts of it that you probably didn't even realize or at least think or say that you'd ever miss; like setting up your gear to play a gig or a sound check but you do; you know?" 
So says songwriter/performer and recording artist Mike Montrey of the Mike Montrey Band as he discussed his feelings on the pandemic, being shut down, what the band has been up to and the release of a new single out in advance of their forthcoming EP.
"The song is called "Spirit of Youth;" he said with tempered enthusiasm. "We recorded six songs in mid-February and the long-term plan at the time was to record and put out a six song EP and follow that up with another six song EP and put it out maybe next year. Rather than put all twelve songs on an album; these days everything is kind of shrinking as far as people's attention spans go (laughs) but we recorded six songs and we intend on releasing the entire EP which is entitled, "In The Middle of Hope" in the fall; we're going to put some other singles out in the meantime but this is the first one out." 
"Officially it (The single) came out on July 10; we recorded it right before all of this stuff went down. This was a full band recording; we went to a place called GD Ponderosa Studios in North Jersey, way up in Sussex County. A guy by the name of Tom Askin recorded us and he also plays in a band called The Samples whom I used to tour around the country with for several years; so, we've known each other and he's a pretty good engineer too."
---
The article continues after this ad
---
---
Sometimes an artist will write a song or put together an album and it may take years before their work is relatable to current events or world climates and sometimes in Montrey's case; art can be somewhat prophetic. 
"In a way, to relate to that point," he began to explain, "When I wrote these songs; at the time I was conversing back and forth with the engineer about the mixes; I realized that I hadn't given a title to the actual album yet. So, I said, alright, I've got to call it something for the time being so that I could keep track of things and as I was looking through the lyrics of the songs I noticed that they all have this vibe of that sentiment which was, "In The Middle of Hope." Then two weeks later, this shit happens and it struck me as strange in a way. I would hope not, that in some way, my own thinking caused that (laughs); it was weird but I almost felt a connection to that even though I wrote these songs before it even happened and came up with the title before it happened."  
"Spirit of Youth;" why the title? Montrey explains, albeit briefly, as to how inspirations come at various points in life and aren't necessarily confined to one's younger years.
"I think lyrically it speaks to kind of what it says; how you feel when you are young to some extent but that could be gauged at any time in your life really. It's not necessarily about age but just having those inspirations with you; you know? A lot of the inferences can be determined by the listener to their own choosing but that's the gist of it." 
"There's a pretty cool video on YouTube for the single which was shot by our keyboardist Phil Silverberg. The video is cool in that it was partially shot pre-pandemic at the studio we were at where we were doing some shoots in a field with me playing guitar but the rest of it was shot in quarantine mode with individual shots of band members; I think he did a good job of it and it's worth you watching." 
With the recent release of the single and the album due out in several months or less; what have they been doing to promote their latest effort and what are their plans going forward? 
"In the Middle of Hope" kind of speaks to that pretty directly any way you look at it but during this lockdown and such, we've done a bunch of livestreams for various sites and of our own as well. It's been mainly myself and Jen Augustine who is the singer in the band. We haven't done any full band stuff because we all live in different places and we haven't been able to get together but we have done a lot of those and some with some pretty good success so that's pretty cool." 
"Ha, we'll see I guess," he said with hesitation about the future. "I kind of feel like; I'm kind of happy that we were able to get these songs recorded and share them now especially since we can't really play. So, it's kind of a good way to still connect with people who still want to listen to music and hopefully by the time that it gets a true green light; we've had offers and done a couple of smaller scale outside private events but I don't anticipate there being any legitimate music venue type gigs until next year at least. That's weird; you know? I look forward to it but for the time being we'll still make music, still create, still connect with people; there's that aspect of it and I'm going to try and take advantage of that as much as I can." 
To discover more about Mike or The Mike Montrey Band; please visit www.mikemontreyband.com .
That's it for this week! Please continue to support live and original music and until next week....ROCK ON! 
---
This week's event listings
---
Arts Council of Princeton     
102 Witherspoon Street Princeton     
(609) 924-8777  
Fri. 6:30 p.m. "Story & Verse: A Storytelling & Poetic Open Mic" (FREE event taking place at Pettoranello Gardens 20 Mountain Avenue Princeton)
---
Broken Goblet Brewing   
2500 State Road Bensalem, PA   
(267) 812-5653   
Thurs. 8 p.m. Mike Estabrook
Fri. 8 p.m. Nicole June
Sat. 6 p.m. Matt Busby
---
Candlelight Lounge     
24 Passaic Street Trenton     
(609) 695-9612     
Thurs. 6 p.m. Thursday Night Blues Jam Hosted by The Mojo Gypsies. $5 (Includes hot buffet) 
Sat. 3 p.m. (TBA) $10 (cover charge/$10 Minimum includes buffet)        
---
City Streets     
510 Highway 130 South East Windsor     
(609) 426-9400   
Sat. 8 p.m. Tanglewood
Mon. 9 p.m. "Malibu Mondays"      
Tues. 9 p.m. Trivia w/ Jessie & Chelsea 
Wed. 6:30 p.m. "Wine Down Wednesdays" w/ Rich Genoval      
---
Clubhouse at Mountain View  
850 Bear Tavern Road Ewing  
(609) 771-0400  
Fri. 6 p.m. Glenn McCollum
---
COARadio.com     
125 South Main Street Hightstown     
(609) 241-7103
Sun. 7 p.m. "Rock On Radio" feat. Duane Betts, John McCutcheon, Zack Heckendorf
---
Cooper's Riverview 
50 Riverview Plaza Trenton 
(609) 393-7300
Fri. 7 p.m. Pat Benetar Tribute w/ "Crimes Of Passion"  
Sat. 7 p.m. "Social Saturdays" feat. Se7en Band
Mon. 7 p.m. "Sunny Monday Blues Jam" 
Tues. 8 p.m. Karaoke w/ Karen and Mark
Wed. 8 p.m. Blues Night w/ 
All Events Ages 21+
---
Dog & Bull Brew House     
810 Bristol Pike (Rte. 13) Croydon, PA.     
(215) 788-2855     
Fri. 6 p.m. Eddie
Sat. 4 p.m The Mix
Sun. 4 p.m. Dustin Beck
---
Halo Pub (Fete)    
9 Hullfish Street Princeton   
(609) 921-1710   
Sat. 6 p.m. Jerry Monk & Joe Kramer
---
Hamilton Tap & Grill  
557 US Route 130 North Hamilton  
(609) 905-0925  
Fri. 9 p.m. Karaoke                                                                                        
Tues. 8 p.m. Quizzoholics Trivia 
Wed. 7 p.m. Country Night. $5 
---
Hopewell Valley Vineyards     
46 Yard Avenue Pennington     
(609) 737-4465     
Thurs. 6 p.m. Bad Hombres
Fri. 6 p.m. "Music & Merlot" feat. Acoustic DuOver
Sat. 6 p.m. "Music & Merlot" feat. Tom McMillan
Sun. 3 p.m. "Jazzy Sundays" feat. Alex & Gian
---
Iron Plow Vineyards     
26750 Mount Pleasant Road Columbus     
(732) 306-9111  
Fri. 6 p.m. Castles In The Sky
Sat. 6 p.m. Gregg Parker
Sun. 2 p.m. Lisa Bouchelle
---
Laurita Winery     
85 Archertown Road New Egypt     
(609) 752-0200   
Thurs. 6:30 p.m. "Totally Awesome 80's Run"
Fri. 7 p.m. "Jazz Music Concert" 
Sat. 12 p.m. "Luau" 
---
Neshaminy Creek Brewing Company
909 Ray Avenue Croydon, PA
(215) 458-7081
Thurs. 7 p.m. Beauty and The Beard
---
Newtown Brewing Company
103 Penns Trail Newtown, PA
(215) 944-8609 
Fri. 3 p.m. "Happy Birthdae Harry" A Harry Potter Birthday Celebration
---
Odd Logic Brewing Co.
500 Bristol Pike, Bristol PA
Fri. 6 p.m. Joe and Krista
Sun. 3 p.m. Jenny Leigh & Brian Loftus
---
Patriots Crossing     
1339 River Road Titusville     
(609) 737-2780    
Thurs. 8 p.m. Open Mic Night
Wed. 7 p.m. "Quizzo"   
---
Revere Restaurant
802 River Road Ewing
(609) 882-6365
Fri. 9 p.m. Danny Lynch Project
---
Roebling Wire Works
675 South Clinton Avenue Trenton
Sat./Sun. 10 a.m. "Trenton Punk Rock Flea Market." Live music, vendors, food trucks. $5 (2 day pass/Kids ages 10 and under FREE)
---
Rossi's Bar & Grill     
2110 Whitehorse-Mercerville Road Hamilton     
(609) 890-2004     
Thurs. 6 p.m. Ernie White
---
Sparky World Famous Beer Garden
4333 New Falls Road Levittown, PA
(215) 943-2321
Thurs. 9 p.m. Karaoke
Mon. 9 p.m. Game Night w/ Kid Dalton
---
Tavern On The Lake      
101 Main Street Hightstown     
(609) 426-9345     
Sat. 9 p.m. Complicated Matter
---
Temperance House     
5 South State Street Newtown, PA     
(215) 944-8050     
Thurs. 7 p.m. Steve Guyger & Filthy Rich  
Tues. 8 p.m. Trivia w/ Righteous Jolly (outdoors) 
Wed. 7 p.m. Open Mic Night w/ Cara Cartney
---
The Ivy Inn     
248 Nassau Street Princeton     
(609) 921-8555     
Thurs. 10 p.m. Karaoke w/ DJ Rockin' Ron  
Tues. 8 p.m. Quizzo w/ Bob E Luv    
Wed. 10 p.m. Total Request w/ DJ Rockin' Ron
---
Tindall Road Brewing Co.
102 Farnsworth Avenue Bordentown   
(609) 526-8651    
Fri. 6 p.m. Jeff Lyle Friedman
---
Tir Na Nog     
1324 Hamilton Avenue Trenton     
(609) 392-2554   
Wed. 7 p.m. Monk & Monk
All Shows 21+    
---
Train Wreck Distillery
25 Madison Avenue Mount Holly
(609) 288-6300
Fri. 7:30 p.m. Random Notes Duo
---
Trenton Social      
449 South Broad Street Trenton     
(609) 989-7777    
Thurs. (5 p.m.) "Happy Hour Throwback Thursday" (8 p.m.) EDM Hosted by Jay Kountree  
Fri. 5 p.m. DJ ItsJustAhmad
Mon. 8 p.m. "Monday Night Karaoke" Hosted by Sweets
Tues. 7 p.m. Open Mic Night w/ Kyle & Mike
---
Triumph Brewing Company (New Hope, Pa. Location)     
400 Union Square New Hope, Pa.     
(215) 862-8300     
Sun. 7 p.m. Open Stage
All shows 21+  
---
Village Idiot Brewing Company
42 High Street Mount Holly
(609) 975-9270
Sun. 1 p.m. Open Mic
---
Working Dog Winery     
610 Windsor Perrineville Road Hightstown     
(609) 371-6000 
Sat. 1 p.m. The Williamsboy 
Sun. 1 p.m. Tommy from Spoondrift
---
WWFM 89.1 FM HD2 Radio
MCCC Old Trenton Road West Windsor
Jazzon2.org
Mon. 7 p.m. "Danny Coleman's Got The Blues" 

---
Danny Coleman is a veteran musician and writer from central New Jersey. He hosts a weekly radio program entitled "Rock On Radio" airing Sunday evenings at 7 p.m. EST on multiple internet radio outlets where he features indie/original bands and solo artists.
---