originally published: 07/16/2020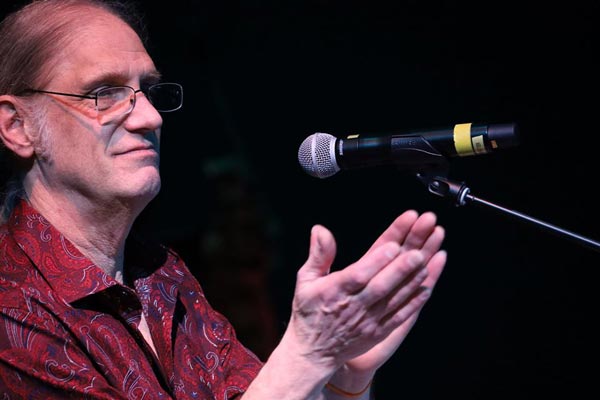 According to "Webster" the definition of respect is as follows: "A feeling of deep admiration for someone or something elicited by their abilities, qualities, or achievements" and perhaps there is no musician more respected in the Trenton, NJ music scene than Tom Reock.
A multi-instrumentalist, songwriter, recording engineer and much more to the many whose paths he has crossed; Reock has found time in his schedule to release "Roll On," a full-length CD showcasing his roots and talents in a well-produced, long awaited package of vintage Reock. 
Under some minor self-imposed pressure; Tom finally decided to take his collection of original music which he has amassed for more than a decade and put it on a disc; inducing many local denizens to say, "Finally."   
"This project; I'm always writing no matter what other stuff I'm doing," he explained. "So, it ended up that I had about 25 different songs and as the years went on other songs would knock those out of the way but it just got to the point when I turned 60 years old; it was like OK, we've got to finish this thing once and for all so that I can move on with other things in my life and that was the basis for it."
---
The article continues after this ad
---
---
"The songs constantly got reworked, I'm very happy that it came out sounding as smooth as it did considering that there is one song where I did the drums in 2007 and in 2019, I re-did the drums in the middle section; it was just insane putting it together (laughs). I always wanted to be a songwriter growing up but as you know our plans change as we go along without us really knowing it and we kind of leave things behind; not that I ever left songwriting or recording myself behind but it just wasn't a priority anymore."
"Roll On" is a combination of 70's progressive, jazz, blues and rock influences in no particular order yet so cohesive that it makes perfect sense. 
Track one, "Starting Tomorrow," has a definitive jazz feel and begins with Reock tickling the ivories as Mario DiBartolo blends in some bends and nicely placed riffs on guitar before giving way to single bass notes played by Chris Grace that evolve into a smooth walk that really drives the cut. 
"The Deepest Love" has almost whimsical overtones as Reock introduces us to the piece with a simple, almost rudimentary piano intro and accompanying vocal line before kicking it up a notch with some syncopated rhythms and vocal harmonies that give this tune a late 70's early 80's feel. 
Cut three is the title cut and is perfectly placed on this 12-track effort. Heavy on low end and dynamics; this one has a great live sound, a nice change in the middle and the bowling alley sound effect is a nice touch. 
The fourth track is called "His Grace (The Ballad Of Joey Sessions)" and transitions seamlessly from the end of the previous offering. Here, Reock seems to lament the loss of a friend as his voice ebbs and flows with each verse; a tale of loss spun masterfully in four minutes and thirty-four seconds before ceding to track five; "Roll On (Reprise)."
Track six, "The Underdog" has a rocking progressive sound with a searing lead guitar solo by John Bushnell; buried perfectly in the mix throughout and threatening to bubble to the surface. However, in a sweet production move it's held just beneath and is a real strength in the overall presentation. 
"Give My Heart" is an acoustic guitar laden ballad with powerful drum accents, strategically placed percussion and a big sound. "If you want me, you know I'll be there, if you need me, I'll be there to share, all the loving I've been waiting for so long, to you I give my heart..." 
"When Worlds Collide;" we did perform it once or twice ..." says Reock no doubt because of this track's length. Coming in at 10:38 and featuring the pedal steel and mandolin work of Jerry Steele; this one is the equivalent of "Mr. Reock's Opus." A dynamic roller coaster which Reock admits is a tip of the cap to his love of progressive rock music. This mini-symphony has something for everyone; if Emerson, Lake & Palmer had a child with Queen which was then adopted by Kansas, you'd have "When World's Collide." 
Reock doesn't stop there however; track nine is "Bird To The Wind" which once again flows from the previous track like a soft waterfall. A synthesized, keyboard dominated selection with a full orchestrated sound and more punctuated accents make this one (Much like the entire CD) headphone worthy.
Track 10 is "Everyone Loves Fiona" and its upbeat folk feel with backing vocals by Lindsay Jordan and "The New Year's Eve Singers" is a nice change from the previous few tracks. This is also the first of three songs on the disc where Reock plays all of the instruments. 
"When You Give Your Love To Me" comes in at Track 11 and is the first of two bonus tracks. Here, Reock showcases his acoustic guitar stylings; which then evolve into an up-tempo little ditty; if this album was a treadmill, this one puts us in "Cool down" mode.  
The final track is a cover offering and near replica of the Glen Campbell classic "Witchita Lineman." Reock put painstaking effort into doing this as close to Campbell's version as possible in somewhat of an homage to the man himself. 
Tom claims he didn't, "Make a concept album;" yet the way the songs flow effortlessly from one to the next with varying styles and sounds makes one wonder. "Roll On" is a fantastic compilation of songs and genres and features some of the best musical talent in the tristate area. 
A true throwback to another era, it will make an excellent addition to anyone's collection; one that should be respected like the man himself.  
To discover more about Tom Reock and his undertakings, please visit https://www.tomreock.com/
That's it for this week! Please continue to support live and original music and until next week....ROCK ON!
---
This week's event listings



There are no listings this week; check back next week! Rock On!

---
Danny Coleman is a veteran musician and writer from central New Jersey. He hosts a weekly radio program entitled "Rock On Radio" airing Sunday evenings at 7 p.m. EST on multiple internet radio outlets where he features indie/original bands and solo artists.
---