originally published: 07/09/2020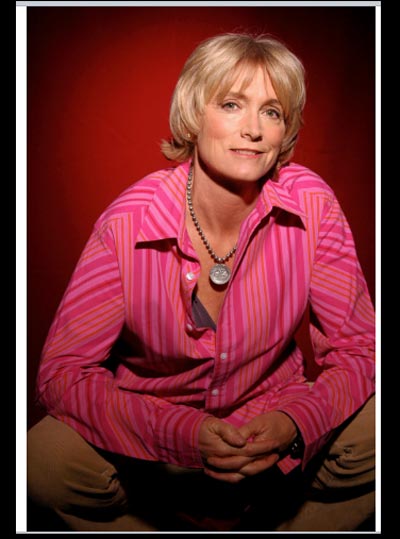 "That's why I'm on your show, something big is gonna come from this," laughed comedian Poppy Champlin as we talked Covid-19, comedy, bird calls, swim suits and more on an upcoming episode of "Danny Coleman's Rock On Radio." 
Being a stand-up comedian is not an easy living; it takes guts, a thick skin, creativity, the abilities to improvise and think on your feet and you often may be called upon to switch gears at a moment's notice. Champlin possesses all of these skills so; what led her to become a comic?
"I started in Rhode Island as a stand up right out of college because I got the bug while I was in college; comedy was really taking off then. Remember the late 70's and early 80's? There were comedy clubs opening up everywhere, everybody had a comedy club and so I thought; I wanna get in on that action. So, I did and it takes a long time to become funny and to be able to handle yourself on stage and be able to be funny every night; it took a long time. So, I moved out of Rhode Island and went to Chicago and went through the Second City situation and there were lots of big clubs in Chicago and I got into all of those and hooked up with a bunch of great comedians and learned a lot. Then I went out to L.A. to get my sitcom because everyone who was a comedian was getting a sitcom and I was like, if Lenny Clarke can get one; I can get one," she said jokingly. "So, I went out there and almost; I almost got everything that I wanted. I ended up working my ass off and missing; it's like when you're fishing and you've got one on the line and ooh, I just missed it. There were a bunch of great moments where I could've almost made it but hey, I've got stuff. Joan Rivers made me "America's Funniest Real Woman," I was on ShowTime, I got on "Comics Unleashed" with Byron Allen, I was on HBO, A & E, I got on Oprah, VH1; I did a lot of stuff but I didn't get the big brass ring; ya' know?"
Everything it's said, comes full circle and Champlin returned back to her New England roots wiser and undeterred due to less than terrific circumstances but even in times of sorrow there are bright spots and she made the best of a tough situation.
"My dad passed in 2010 and he left this little shack in the woods; I really wanted a house. Ultimately that was sort of a big goal of mine; to get a house and some land. So, I came back to scoop it up; my brother was still here so I had to buy him out and somehow, some bank foolishly gave me a line of credit and I got enough money to buy him out and redo it and here I sit in a beautiful little shack with five acres of woods around me (laughs)."
---
The article continues after this ad
---
---
One of her routines is from the great outdoors; literally. Champlin it seems has the ability to do bird calls and she does them well. 
"I learned to do the loon on the snowy banks of Yawgoo Valley Ski Area here in Rhode Island," she explained with the now familiar laugh. "My sister's boyfriend would do this call and I was like; what the hell is that? It was good because I could hear him all over the ski slope and I always knew where to find him. It does kind of sound like a loon so I say it's a loon (laughs). I can do an owl, a pigeon, a turkey, a seagull. I like the seagull when they come up to you and ask for food and they like chatter at you and then they're happy when you get rid of them by throwing your sandwich at them (laughs)." 
Much like the rest of the entertainment world, live performances have ground to a screeching halt for Champlin and her ilk but thankfully there's video and she has taken advantage of the opportunities which have come her way. 
"I shot a show in New York called "Pride Parade of Stand-Up" and there's a bunch of really good comics on there and it's going to be on Sirius XM and streaming on The Virtual Comedy Network; pretty much the running theme is that we're all gay. Gay comics, straight comics; we all had to come up through the ranks and it's tough to still be a comic right now. I mean; making a living at it? My God..."
"I had a bunch of shows cancelled; I was going to be in Baltimore and Columbus, Toledo, Cincinnati and then Syracuse and that all got trashed; so, my redo is going to start in September. I'm going to try putting it all back together in September; I had a boat cruise in France that I was supposed to do as well and that got busted; I will go international but not until they let us go." 
Poppy considers herself somewhat of an "Observational" comic but she can also be quite chameleon like if she must; utilizing that quick wit at opportune times serves her well. 
"I think because I've lived through all of the genres and know them all and realize that there's validity in every genre. I'm more of an observational comedian myself but when I find an audience that is rowdy and they are a rowdy audience that wants to play; oh boy, they are in for some fun with me because I'll play. It can become somewhat insulting to them but in a funny and fun way. I don't try and hurt people but I make sure what I say is on that line of this could be hysterical or could be painful for this person; I try to put it just on the edge of where it's not painful to them but hysterical to everybody else."
Self-deprecating humor is a tool in every comic's box and Poppy uses hers well.  
"A lot of people suffer from lower back pain; I'm suffering from lower fat pain right now. I have definitely put on the COVID 19 but it's not easy to reveal; you know (laughs)? So, I've been wearing not a one piece, not a two piece but a three piece; which is a two piece with a curtain that goes over the whole thing so that nobody hurts their eyes...."
Does she have any advice for those who may be considering becoming a comedian? 
"Yes, you have to be daring and you have to be brave and you have to just venture out there, it's like walking the plank. You've got to venture out there because you're not gonna know if you can do it or not unless you go do it." 
To discover more about Poppy Champlin, please visit www.poppychamplin.com or www.poppycockprod.com .
That's it for this week! Please continue to support live and original music and until next week....ROCK ON! 
---
This week's event listings
Artworks Trenton
19 Everett Alley Trenton   
(609) 394-9436  
Sat. 6 p.m. Opening Reception AAN Selects
Broken Goblet Brewing
2500 State Road Bensalem, PA   
(267) 812-5653   
Thurs. 7 p.m. Mike Estabrook
Fri. 8:30 p.m. Dana, Ron & Mr. C
Clubhouse at Mountain View
850 Bear Tavern Road Ewing  
(609) 771-0400  
Fri. 6 p.m. Ernie White
COARadio.com  
125 South Main Street Hightstown     
(609) 241-7103
Sun. 7 p.m. "Rock On Radio" feat. Comic Poppy Champlin, Mick Chorba, Brian Erick
Cooper's Riverview
50 Riverview Plaza Trenton 
(609) 393-7300
Thurs.
Fri. 7 p.m. Plush Band
Sat. 7 p.m. "Social Saturdays" feat. Slick Rhodes
Tues. 8 p.m. Karaoke w/ Karen and Mark
All Events Ages 21+
Cream Ridge Winery
145 Route 539 Cream Ridge   
(609) 259-9797 
Sun. 1:15 p.m. Ronnie Brandt
Havana New Hope
---
105 S. Main Street New Hope, PA.     
(215) 862-9897    
Fri. (8 p.m.) Eric Clapton Tribute w/ "Bell Bottom Blues." Doors open at 6 p.m., $20 (Minimum of 4 tickets MUST be purchased) 
Sun. 2 p.m. Southern Steel-A Tribute to Lynyrd Skynyrd, Allmman Brothers Band and More. Doors open at 1 p.m., $15 (Minimum of 4 tickets MUST be purchased) 
Hopewell Valley Vineyards  
46 Yard Avenue Pennington     
(609) 737-4465     
Thurs. 6 p.m. Roundabout
Fri. 6 p.m. "Music & Merlot" feat. Craig Leach Group
Sat. 6 p.m. "Music & Merlot" feat. Living The Dream
Sun. 3 p.m. "Jazzy Sundays" feat. A Little Bit Off 
Iron Plow Vineyards  
26750 Mount Pleasant Road Columbus     
(732) 306-9111  
Fri. 7 p.m. Karly & Me
Sun. 2 p.m. Jerry Steele
Patriots Crossing
1339 River Road Titusville     
(609) 737-2780    
Thurs. 8 p.m. Open Mic Night
Wed. 7 p.m. "Quizzo"   
Robbinsville Community Concert
Town Center Lake Drive Gazebo, Robbinsville
Tues. 7 p.m. Rich Scanella Group
Sparky World Famous Beer Garden
4333 New Falls Road Levittown, PA
(215) 943-2321
Thurs. 9 p.m. Karaoke
1867 Sanctuary 
101 Scotch Road Ewing     
(609) 392-6409  
Wed. 6 p.m. Poetry Cafe (FREE)
Temperance House 
5 South State Street Newtown, PA     
(215) 944-8050     
Thurs. 7 p.m. Steve Guyger & Filthy Rich  
Sat. 7 p.m. Two For Flinching
Tues. 8 p.m. Trivia w/ Righteous Jolly (outdoors) 
Wed. 7 p.m. Open Mic Night w/ Cara Cartney
Terhune Orchards
330 Cold Soil Road Princeton  
(609) 924-2310  
Sat. 1 p.m. Jeff Pengue
Sun.12 p.m. "Sunday Music Series" feat. Greg McGarvey
The Ivy Inn  
248 Nassau Street Princeton     
(609) 921-8555     
Thurs. 10 p.m. Karaoke w/ DJ Rockin' Ron  
Tues. 8 p.m. Quizzo w/ Bob E Luv    
Wed. 10 p.m. Total Request w/ DJ Rockin' Ron
The Roost  
181 Rte. 539 Cream Ridge     
(609) 208-0050   
Fri. 7 p.m. DC Duo
The Vibe Lounge at Mastoris
Route 130 and Route 206 Bordentown
(609) 298-4650
Tues. 7 p.m. Trivia
Train Wreck Distillery
25 Madison Avenue Mount Holly
(609) 288-6300
Thurs. 5 p.m. 
Fri. 7 p.m. Joe Vadala
Trenton Social   
449 South Broad Street Trenton     
(609) 989-7777    
Thurs. (5 p.m.) "Happy Hour Throwback Thursday" (8 p.m.) EDM Hosted by Jay Kountree  
Mon. 8 p.m. "Monday Night Karaoke" Hosted by Sweets
Tues. 7 p.m. Open Mic Night w/ Kyle & Mike
Triumph Brewing Company (New Hope, Pa. Location)     
400 Union Square New Hope, Pa.     
(215) 862-8300     
Sun. 7 p.m. Open Stage 
Village Idiot Brewing Company
42 High Street Mount Holly
(609) 975-9270
Sun. 1 p.m. Open Mic
Working Dog Winery  
610 Windsor Perrineville Road Hightstown     
(609) 371-6000 
Sat. 1 p.m. Winery Catz
Sun. 1 p.m. Catmoondaddy
WWFM 89.1 FM HD2 Radio
MCCC Old Trenton Road West Windsor
Jazzon2.org
Mon. 7 p.m. "Danny Coleman's Got The Blues" 
---
Danny Coleman is a veteran musician and writer from central New Jersey. He hosts a weekly radio program entitled "Rock On Radio" airing Sunday evenings at 7 p.m. EST on multiple internet radio outlets where he features indie/original bands and solo artists.
---