originally published: 06/30/2020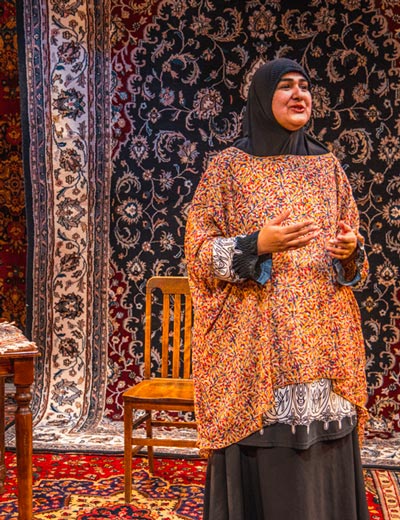 As a follow up to her Immigrant Stories appearance, playwright Rohina Malik returns to Premiere Stages at Kean to host two screenings of her critically-acclaimed solo show Unveiled on Wednesday, July 8.  The screenings will be available on Zoom at 3:00pm and 7:00pm.
Racism.  Hate crimes. Love. Islam. Culture. Language. Life. Five Muslim women serve tea and uncover what lies beneath the veil in this ​critically acclaimed one-woman show. Rohina plays all five Muslim women navigating complex social issues in a post 9/11 world.
Following the event, Rohina will answer audience questions in a live Zoom webinar. All tickets are $10 but access to this special virtual presentation is limited to 100 patrons per performance.
"Rohina Malik, the hugely talented writer-actress at the center of the Victory Gardens solo show "Unveiled," is a remarkable new theatrical voice in Chicago. In her rich, upbeat and very enjoyable 70-minute collection of five character studies of Muslim women in modern-day America, Malik gives voice to characters from whom we hear far too little in the theater."  -- Chris Jones, Chicago Tribune.
Ms. Malik is an Award-winning Chicago playwright and solo performance artist. Her play, Yasmina's Necklace, made its New Jersey premiere at Premiere Stages last September and set attendance records. Her work has been produced at Victory Gardens Theater, Chicago Dramatists and Crossroads Theatre Company in New Brunswick, among others. A proud member of the Dramatists Guild of America, Ms.Malik is the 2018 recipient of the Lee Reynolds Award, given annually to a woman active in any aspect of theatre whose work has helped to illuminate the possibilities for social, cultural or political change.
---
The article continues after this ad
---
---
"We are so pleased to welcome Rohina back to Premiere." stated John J. Wooten, producing artistic director of Premiere Stages "I have no doubt that Unveiled, like Yasmina's Necklace, will resonate with our audiences long after the performance ends."
Rohina has performed the play at the 16th Street Theater, Victory Gardens Theater, Next Theater, Brava Theater, Crossroads Theater in NJ,  Theater project Baltimore, Voyage Theater Company NYC, Silk Road Rising. New rep in Boston, The Greater Boston Stage Company, Water Tower theater in Dallas, Unveiled has also been presented at Harvard Law school and Harvard school of education, Princeton University, Yale University, NYU, University of Chicago, Stanford University, DePaul University, Loyola University, College of the Atlantic, Bates College, St. Mary's College, UC Irvine, UC Santa Barbara, UC Davis, Oklahoma State University, University of Wyoming, Brigham Young University, College of New Jersey, Washington University, Fordham University, UW Osh Kosh, Concordia University, La Verne University, and many more. 
Premiere Stages at Kean University is committed to serving the cultural needs of northern and central New Jersey through the development and production of high-quality Equity theatre premieres, professional development and educational initiatives for the local and campus communities, and the support and cultivation of emerging playwrights and theatre artists.
As the professional theatre company in residence at Kean University, Premiere Stages actively engages and enhances the specialized training programs at Kean, while embracing and serving a culturally diverse audience, underserved local youth, and a broad pool of gifted regionally-based artists.
PHOTO: Rohina Malik in Unveiled. Photo by Andrew Brilliant