originally published: 06/25/2020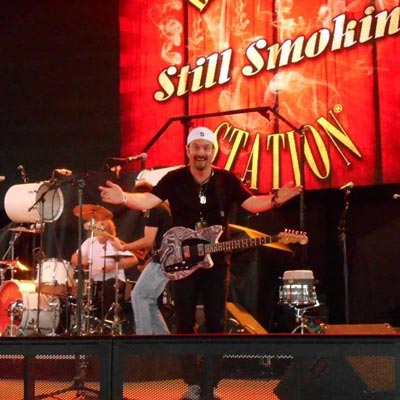 "I'm trying to; it's just such a tough business and with everything else going on," and as his voice trailed off, a pensive but forthright Billy Craig began discussing his most recent release, the status of The Brownsville Station and his current single "Margarita Way." 
A guitarist who has been in music seemingly his entire life, Craig has done multiple solo records but this most recent although far different from the others does not define him or his style. 
"I have five albums out and I'm working on a new one," he began to explain in his slow mid-western drawl. "My current one is my instrumental album, "Beyond the Pale." What I've done is, it's hard to explain because I hate to say that my career is somewhat eclectic but I don't have to stay in any one place really; most of the music that I've released to radio has been more in the Americana/Country vein. So, I released a song that I had from another album called "Margarita Way." 
"Beyond the Pale" is all guitar and instrumental, it's something I've wanted to do for quite some time and I'm actually excited to do a sequel for it because it was just so much fun. Then at the same time the people I work with and I decided that we wanted to release a single so that people actually knew I sing and write songs (laughs). We released the single "Margarita Way" and it's kind of middle of the road Jimmy Buffett yet country and we released that nationwide and it's doing great."
---
The article continues after this ad
---
---
"The funny thing is; I wrote four albums of country and Americana; I can't remember what album it was when Brownsville actually started doing shows again but it's funny because I kind of got re-infected with the rock 'n' roll bug and if you listen to my albums, you can see where it goes from acoustic and starts getting harder and harder. Brownsville definitely influenced me back into my rock 'n' roll roots and that transferred to the project of "Beyond the Pale" because it was just something that I've always had in the back of my mind; I think every guitar player does. This was something that I wanted to put together, I had a bunch of time on my hands, I was playing a lot and I was playing well and I just started coming up with these ideas and hashed them out; I feel it's some of my best work to be honest with you."
With that self-assessment and devotion to diversity; not only in his playing but his recorded work as well; to what does Craig attribute this?
"I think that goes back to the days when I started doing gigs in the eighth grade and when you did gigs back then; that's when bands were king," he stated with a slight chuckle. "We played high school dances but we also played weddings, so we had to play a lot of different kinds of music. My roots are really more rock 'n' roll but I always had that singer/songwriter and country feel that I was always interested in but when you write songs, they kind of pick you, you don't pick them. I don't say, OK I'm going to write a rock song or a country song, it just kind of comes out. So, I ended up writing multiple country albums and releasing songs to country radio and Americana but as far as rock 'n' roll; my claim to fame was a big band that I was in here in the Detroit area and that kind of started what you might call the odyssey of being in Brownsville Station."
Yes, those guys, Brownsville Station; so how did he land that gig and what does their future hold? 
"That's an interesting story , my buddy called me and said, "Hey! We're gonna do a road trip to Sun Studio; I booked a couple of days and we're gonna record some songs but there's only one catch; you've got to write some songs and have them ready for then" and I did, that was no problem. The four of us took a mini-van from Detroit and migrated down to Memphis and I sat in the back seat with a guy named Charlie Martin and I don't know if you're familiar with that but if you listen to Bob Seger, Charlie was the drummer for The Silver Bullet Band back in those days. I listened to 14 hours of rock 'n' roll stories which I truly loved and we ended up in the studio recording and because of the Detroit roots,(Brownsville Station drummer) Henry "H-Bomb" Weck was invited because he lived in Memphis at the time. So, he was invited to the session and that's where I met him and we turned into fast friends. I had a rock band; we never got a deal but we came darn close and we had a lot of airplay in the mid-west. So, he knew who I was and we kind of became really good friends over the years and we started writing. He gave me a call and said, "Hey, I want you to listen to some stuff and tell me what you think of the mix," so I sent him an e-mail and told him I loved it and if he needed a crazy guitar player that I'd love to be part of it and that's how it started; as a matter of fact, I just talked with the lead singer a few days ago; we don't have anything official that I can say about it but to be honest with you, I'm not sure where that stands right now."
So, with Brownsville on hiatus, Craig has released and is working on releasing another solo album but he's also had time to reflect on the journey; his journey.
"My dream is to do a little vinyl with the album that I'm working on now. I've never done this before but I'm a little excited; I'm staunch on writing original material but on this album, I'm doing three covers that are kind of near and dear to my heart. I was messing around with them and thought, I'm going to redo these songs just for the fun of it. I do want to say, on "Beyond the Pale," an interesting story out of there is that one of the guys who was a big hero of mine and one of my influences that people hear and kind of freak out and say, "Really? No kidding?" was Peter Frampton. I saw him when I was probably 15 maybe 14 years old and oh my God it was like magic. That always stuck with me and one day I was messing around with the chords for "Show Me The Way" and I took it and made it with a little more swing to it and this melody just kind of jumped into my head. So, I named that particular song "Frampton" and if you Google it you can hear it. We actually did release that to radio because it has been such a long time since radio has had an instrumental that I thought maybe I'd do something different because it's important to me that people realize that I'm not just an acoustic guitar player and singer; that I'm a real guitar player. I had a point in my life, one of those moments where I remembered being a kid again. Do you remember those days when the impetus or little seed in your life was planted where you knew you wanted to be in radio? That was a big moment for me and that's when I started practicing more and started doing more on the instrumental side."
"Margarita Way" is on my second album called "Next Exit Paradise." I was out in California for the holidays and we were all having a lot of fun and I kind of had an epiphany where I was like; ok so what do I do now? I had the instrumental album out but I wanted people to remember that I do sing songs so I sent the song out. I released it because there was a station over in Great Britain or Ireland that was playing the heck out of it and I realized that I'd never released it as a single in the United States. That was always stuck in my head and I just kind of let go of it; then all of a sudden, I'm in California looking at the palm trees and I'm thinking, people really do love the water and they love boats. That's what that song is all about is that whole Margarita feel and I decided that when I got home, I was going to release it as a single; "Margaritaville" did well for Jimmy Buffett so I thought; who knows? (laughs) Maybe there's room for an American guy who also plays the hell out of the guitar. (laughs) 
To find out more about Billy Craig, please visit https://www.billycraigmusic.us/ 
That's it for this week! Please continue to support live and original music and until next week....ROCK ON! 
---
This week's event listings
---
Arts Council of Princeton     
102 Witherspoon Street Princeton     
(609) 924-8777    
Fri. 7 p.m. "Story & Verse LIVE: A Storytelling and Poetic Open Mic" (This event takes place outdoors at Pettoranello Gardens) (FREE / Masks Required) 
Sat. 7 p.m. Cafe Improv. $2
---
Broken Goblet Brewing   
2500 State Road Bensalem, PA   
(267) 812-5653   
 Fri. 8:45 p.m. Beauty and the Beard
---
Candlelight Lounge     
24 Passaic Street Trenton     
(609) 695-9612     
Thurs. 6 p.m. Thursday Night Blues Jam Hosted by The Mojo Gypsies. $5 (Includes hot buffet) 
---
Clubhouse at Mountain View  
850 Bear Tavern Road Ewing  
(609) 771-0400  
Thurs. 6 p.m.  NDHS Class of 87 "Post Apocalyptic" Happy Hour
---
COARadio.com     
125 South Main Street Hightstown     
(609) 241-7103
Sun. 7 p.m. "Rock On Radio" feat. Shirley King & Steve Hackett
---
Cooper's Riverview 
50 Riverview Plaza Trenton 
(609) 393-7300
Fri. 7 p.m. Witzend
Sat. 7 p.m. "Social Saturdays" feat. The Fredz
All Events Ages 21+
---
Cream Ridge Winery   
145 Route 539 Cream Ridge   
(609) 259-9797 
Sun. 1 p.m. Ronnie Brandt
---
Dog & Bull Brew House     
810 Bristol Pike (Rte. 13) Croydon, PA.     
(215) 788-2855     
Sat. 4 p.m Tiltin' Catz
---
Hopewell Valley Vineyards     
46 Yard Avenue Pennington     
(609) 737-4465     
Fri. 6 p.m. "Music & Merlot" feat. Acoustic DuoVer
Sat. 6 p.m. "Music & Merlot" feat. Acoustic Road
Sun. 3 p.m. "Jazzy Sundays" feat. Hopewell Valley Vineyards Jazz Ensemble   
---
Iron Plow Vineyards     
26750 Mount Pleasant Road Columbus     
(732) 306-9111  
Fri. 6 p.m. The Sweet Spot
Sat. 6 p.m. Ronnie Brandt
Sun. 1 p.m. Bud & Maggs
---
Killarney's Publick House     
1644 Whitehorse-Mercerville Road Hamilton    
(609) 586-1166    
Thurs. 6 p.m. "Girls Night Out" 
---
Laurita Winery     
85 Archertown Road New Egypt     
(609) 752-0200   
Sat./Sun. 11 a.m. "Dads and Grads Food Truck Festival w/ Fire Pits"
---
McGuinn's Place     
1781 Brunswick Avenue Lawrence     
(609) 392-0599    
Fri. 9 p.m. Whiskey Vinyl
Sat. 9 p.m. Nate Ginnetty 
Ages 21+     
---
Newtown Brewing Company
103 Penns Trail Newtown, PA
(215) 944-8609 
Fri. 6 p.m. Two For Flinching 
---
Patriots Crossing     
1339 River Road Titusville     
(609) 737-2780    
Thurs. 8 p.m. Open Mic Night
Wed. 7 p.m. "Quizzo"   
---
Tavern On The Lake      
101 Main Street Hightstown     
(609) 426-9345     
Fri. 9:30 p.m. Complicated Matter
---
Temperance House     
5 South State Street Newtown, PA     
(215) 944-8050     
Thurs. 7 p.m. Steve Guyger & Filthy Rich     
Tues. 8 p.m. Trivia w/ Righteous Jolly (outdoors) 
---
Terhune Orchards  
330 Cold Soil Road Princeton  
(609) 924-2310 
Sat. 1 p.m. Lindsay Ketofsky
Sun.12 p.m. "Sunday Music Series" feat. Briz Conard
---
The Cool Cricket     
216 Burlington Street Fieldsboro     
(609) 291-9110       
Sat. (2 p.m.) "4 Bands 4 a Cause" feat. Unleashed, Einstein Bridge, Classic Pie, Polish Nannies (Benefits Recovery Advocates of America, Inc / Donations welcomed) (9 p.m.) Asylum Choir 
---
The Ivy Inn     
248 Nassau Street Princeton     
(609) 921-8555     
Thurs. 10 p.m. Karaoke w/ DJ Rockin' Ron 
---
The Roost     
181 Rte. 539 Cream Ridge     
(609) 208-0050   
Sat. 8 p.m. Diablo Sandwich Band
---
The Vibe Lounge at Mastoris
Route 130 and Route 206 Bordentown
(609) 298-4650
Tues. 7 p.m. Trivia
---
Train Wreck Distillery
25 Madison Avenue Mount Holly
(609) 288-6300
Fri. 8 p.m. Modern Mojo
Sat. 7:30 p.m. SuperLemonade
---
Trenton Buzz     
702 Pine Street Trenton     
(609) 392-6000     
Fri. 8 p.m. Live Band & Open Mic.     
Sat. 10 p.m. "Buzzed Saturdays" w/ Bockman   
---
Trenton Social      
449 South Broad Street Trenton     
(609) 989-7777     
Fri. 5 p.m. DJ ItsJustAhmad
Mon. 9 p.m. "Monday Night Karaoke" Hosted by Sweets
Tues. 7 p.m. Open Mic Night w/ Kyle & Mike
---
Triumph Brewing Company (New Hope, Pa. Location)     
400 Union Square New Hope, Pa.     
(215) 862-8300     
Thurs. 8 p.m. Trivia  
Sun. 7 p.m. Open Stage 
All shows 21+   
---
Working Dog Winery     
610 Windsor Perrineville Road Hightstown     
(609) 371-6000 
Sat. 1 p.m. Dave Kelly
Sun. 1 p.m. Jeff Lyle Friedman
---
WWFM 89.1 FM HD2 Radio
MCCC Old Trenton Road West Windsor
Jazzon2.org
Mon. 7 p.m. "Danny Coleman's Got The Blues"
 
---
Yardley Inn Restaurant & Bar   
82 East Afton Avenue Yardley, PA   
(215) 493-3800   
Sat. 8 p.m. Jonathn Ashe
 

---
Danny Coleman is a veteran musician and writer from central New Jersey. He hosts a weekly radio program entitled "Rock On Radio" airing Sunday evenings at 7 p.m. EST on multiple internet radio outlets where he features indie/original bands and solo artists.
---