originally published: 04/07/2020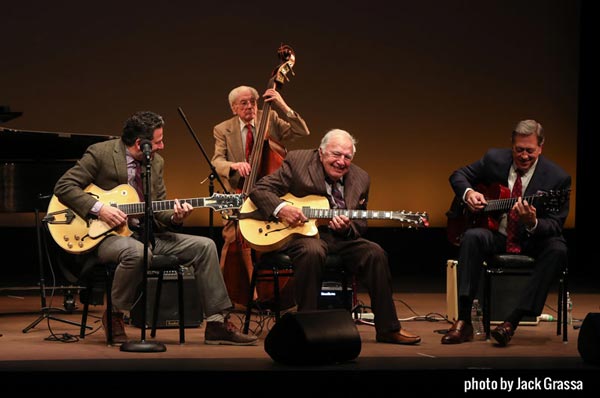 On April 1st, the patriarchs of two influential jazz families passed away. They lived more than 1,000 miles apart, but their losses were felt throughout the jazz world. One was Ellis Marsalis Jr. who passed away in New Orleans; the other was Bucky Pizzarelli, who passed away at his home in Saddle River, NJ at the age of 94. Both died from complications of COVID-19.
In the Garden State, Bucky's career is noted by his induction in the New Jersey Hall of Fame in 2011; The Rutgers Institute of Jazz Studies: American Jazz Hall of Fame; the Lifetime Achievement Award at Centenary College's Performing Arts Guild; Montclair State University "Carpe Diem" Award for Distinguished Achievement in the Arts; and the Distinguished Artist Award of Bergen County.
But his legacy extends far beyond New Jersey.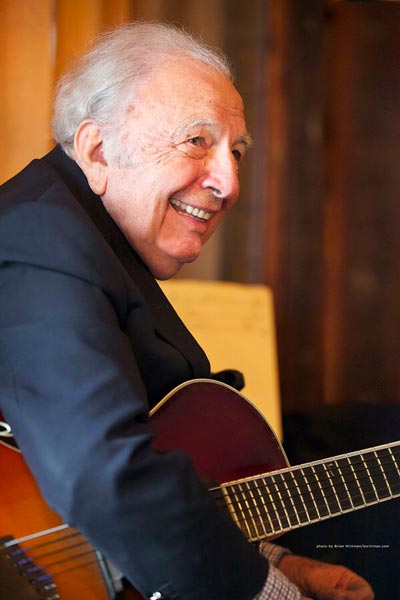 He's got a pair of guitars in the Smithsonian National Museum of American History; has performed at the White House in front of two presidents (Reagan and Clinton); is part of ASCAP's Jazz Wall of Fame; and has three honorary Doctors of Music degrees (Hamilton College, NY; William Paterson University, NJ; and the University of Southern Illinois). His career includes many years with Benny Goodman and the Tonight Show Orchestra. His resume includes work with artists like Frank Sinatra, Miles Davis, Sarah Vaughan, Paul McCartney, Ben E. King, Tony Bennett, and Dizzy Gillespie, to name a few.
Yet, even though he performed around the world, he loved playing in New Jersey and could be seen in clubs, theatres, and festivals around the state.
"Bucky was as satisfied playing a $100 gig in front of 25 people as he was in front of 25,000 people," said Ed Laub, his long-time duo partner and former student. "In fact, he probably enjoyed the former better."
One of the places that he played each year was at the Morristown's Bickford Theatre, which held an annual birthday party for Bucky. On April 2nd, Bickford added the complete concert video from one of his last celebrations at the theatre (January 9, 2017) to its YouTube channel. Brett Messenger, the Curatorial Director of the Live Arts program said, "Bucky Pizzarelli has long been a favorite with our audiences. He was a master of the seven-stringed jazz guitar and shared his musical genius with our audiences on his birthday for many years. The Morris Museum family extends its sincere condolences to Martin, John, and the extended jazz family on this sad occasion. We are happy to be able to gather virtually to celebrate his life and legacy at the Bickford Theatre at the Morris Museum."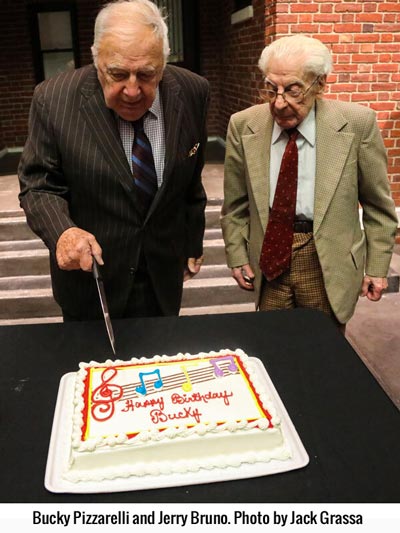 One of his shows at the Bickford included a celebration for both Bucky and bassist Jerry Bruno. Jay Smith of LKS Associates and a long-time friend of the Pizzarelli family said, "Jerry's birthday is one day after Bucky's. They met in the Vaughn Monroe Orchestra in the 1940s, which was the first big job for the two of them. They became lifetime friends. Bruno would go on to play with Frank Sinatra for 30 years."
Sanford Josephson, editor of New Jersey Jazz Society's "Jersey Jazz" magazine, noted that, "He didn't have to play shows at the Bickford Theatre or Centenary College or other local places, but I think he wanted to. He never forgot his roots."
Bucky could also be counted on to perform at the Morristown Jazz & Blues Festival every year at 2:00 p.m. According to Smith, that was his time slot from 2011 to two years ago, when age and the outdoor heat finally made it too difficult for him to continue.
"Obviously he's known around the world, but he really was a Jersey guy," said Smith. "Born in Paterson, spent most of his life in Saddle River, and he was always ready to play. He'd play a little club and he'd play a big concert. The size didn't matter to him, he just liked to play music."
Frank Vignola, an accomplished jazz guitarist who performed with Bucky several times added, "Whether it was in New Jersey or a one nighter in Istanbul, he always had such a love of performing for people. Bucky knew how to work a crowd. His touch, sense of melody, knowing what songs to play at certain times during the set. A real professional. He actually got upset when I picked him up in jeans and a t-shirt for a drive to Boston. He was in a suit and tie, ready to roll. He was just about the best accompanist that I have ever had the pleasure of working with. This is why the list of musicians he worked with is huge."
Ed Laub recalled meeting Bucky for his first guitar lesson when he was just 16. "We sat down and before I played a note he asked me, 'You want to be a musician?' I said, 'Yeah' and he says, 'Let me tell you something: your job as a musician is to make everyone you're playing with sound the best they can sound. It's not about you. That's how you make music.'"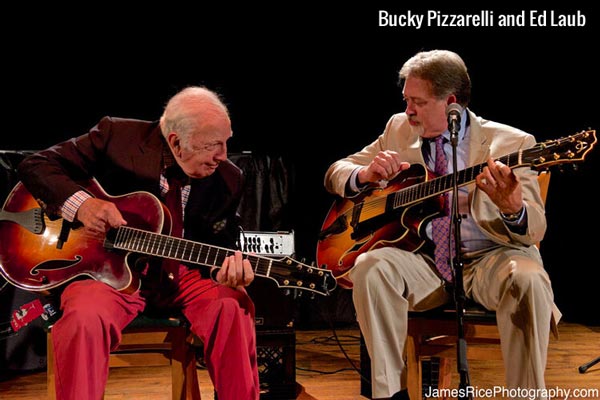 "Instead of being a primadonna and an upfront spotlight kind of guy, he knew and understood his role as a support musician and an ensemble player that made music what it is," continued Laub. "People always look at the person up front and think that's where all the talent is, but when you look at a band and an orchestra, it's all the foundation that makes the music sound like it sounds like. That's what he was all about. He constantly reinforced that with me. He'd say, 'I'm going to make you sound as good as you can sound and you're going to make me sound as good as I'm going to sound, and we're going to have a great duo.'"
Ed and Bucky were a duo for well over a decade. Both guitarists were originally trained by the same person. When Laub's teacher got sick, he was given an opportunity to meet Bucky to see if he could continue his training with him.
"My first guitar teacher was a banjo player who also played the guitar," explained Laub. "He had these funny little chord formations that were more banjo in type than guitar. At my first lesson, Bucky asked me to sit down and play him a song. When I did, he looked at this chord I played and goes, 'Where'd you learn that?' I said my former guitar teacher taught it to me. He said, 'Who was that?' I said his name was Bobby Domenick. He goes, 'That was my uncle, he taught me to play - you're in! Come back every Saturday morning."
They stayed in touch throughout Laub's time in high school and college, but drifted apart when Ed went into business with his father. They reconnected when Ed was in his late forties and plans for the duo began at a surprise birthday party for his 50th birthday.
"Bucky handed me a birthday card and said, 'Here's your present,'" recalled Laub. "I opened it up and it said, 'Lessons for life.' Then he said to me, 'Let's start getting together on Monday mornings and get this thing put together so we can take this act on the road!' And we did. The first gig out of the gate was at Birdland in New York City. From there we ended up with years in which we did 150-160 gigs a year and traveled all over the place. It was a lot of fun."
Bucky's son, John Pizzarelli, Jr., posted a touching tribute to his father on Facebook. In it, he provides a glimpse at Bucky's biography with the touch of pride that comes from a son admiring his father's legacy. And he brings up one of the special attributes of Bucky. "My father was a mentor to so many guitarists both professional and amateur. Always doling out advice, always encouraging, always in tune and always ready for a record date."
That's something which stood out to Ed Laub out as well.
"We're all better for having known a guy like him," said Laub. "He was a sharing musician. So many guitar players have licks that they learn and keep to themselves. Bucky shared his music all of the time. We would be in performances, take a break, and somebody would come backstage and want to see something. He'd just sit down, grab another guitar, put it in their hands, and say, 'Let me show you how to do this.' And he'd show him the exact lick or chord that he played. He was never afraid of anybody stealing his stuff and becoming better than him. That wasn't what he was about. He was always sharing his music and that's something you just don't see very often."
Bucky is survived by his sons John and Martin – both accomplished musicians – daughters Mary and Anne, and four grandchildren. Sadly, his wife Ruth passed away just one week later on April 8th. They were married for 66 years. Music fans and fellow artists will have to wait to pay tribute on stage to Bucky, just as New Orleans will have to wait to give Ellis Marsalis his Second Line parade through the city.
"We will have some sort of tribute once people can get closer than six feet of each other," said Josephson. "But who knows when that's going to be."
Until then, here are some additional YouTube videos of Bucky for you to enjoy–
Bucky Pizzarelli and Ed Laub performing at Bucky's induction into New Jersey Hall of Fame
A complete concert at the Bickford Theatre
The Seventh String: The Life and Tales of Bucky Pizzarelli
Bucky Pizzarelli with Les Paul