originally published: 03/23/2020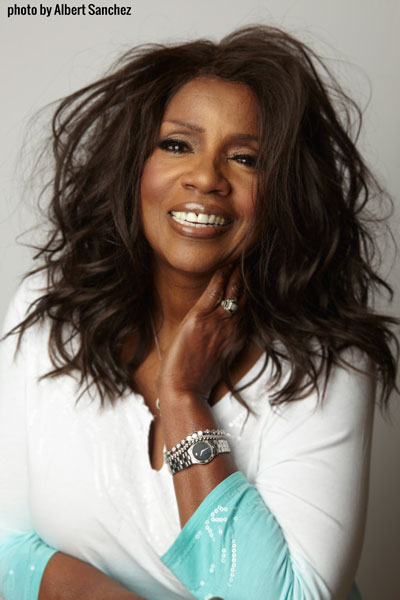 "I plan to continue recording gospel music. I think this is like the beginning of a new era for me and it's off to a good start, so my purpose is to do another gospel album this year and see where it takes me," explained legendary songstress Gloria Gaynor as she discussed her revitalized career. 
Simply put, Gaynor is a hot commodity with a full schedule of appearances both on stage and off, another Grammy Award to her credit and her sights set firmly on the future. But things weren't always as easy for this Newark, NJ born entertainer. When asked, she readily embraces the "roller coaster" that has often defined her career.
"I was discovered at a night club in New York - The Wagon Wheel on 45th Street in 1969," she recounted as if it was yesterday. "I was taken by a producer from Columbia Records who was told to come and hear me sing. He came and took me to Clive Davis who signed me to Columbia Records.  Clive had these two brothers, Melvin and Mervin Steel, write my first recording, 'Honey Bee' but then Clive left Columbia Records.  I was signed to the company and not to him, so I was just kind of hanging out there because nobody was interested in somebody who was just left there by someone who had gone."
"Nothing was happening with my career until Bruce Greenberg from MGM Records heard 'Honey Bee' and decided that he wanted me on his label," continued Gaynor. "He bought my contract,  signed me, and continued with the disco music. They wanted to know what I wanted to record, I told them I wanted to record ballads, but they were looking to do an album. They were looking for a title song for the album, so I asked them to come down and hear me perform because we were doing a version of 'Never Can Say Goodbye.' My band had rearranged the song and I was getting such a great response to it that I thought it should be the next single and the title song for the album. They came down, listened to it, and they agreed with the choice and the rest is history."  
In January 2020, she won her second Grammy Award in her career for the gospel album Testimony.  This came 40 years after winning her first for "I Will Survive," which was awarded the Grammy for Best Disco Recording. It remains the only disco song to ever win a Grammy Award. With a new album and a return to the spotlight on her in the United States, she's feeling very "blessed."
---
The article continues after this ad
---
---
"Yeah, it's great. I love traveling, I've been to over 90 countries and I'm just kind of ready to do more here," continued Gaynor.  " I have always wanted to do more here but my ex-manager kind of killed my career in America. When the disco problem started, he started sending me to other countries, which I was pleased to do. I just didn't expect to stay there and to always be performing in foreign countries, so my career died in America. We never had another hit here. I had some minor hits but nothing that did anything for my career especially because he was keeping me performing in foreign countries but 'now I'm back from outer space!'"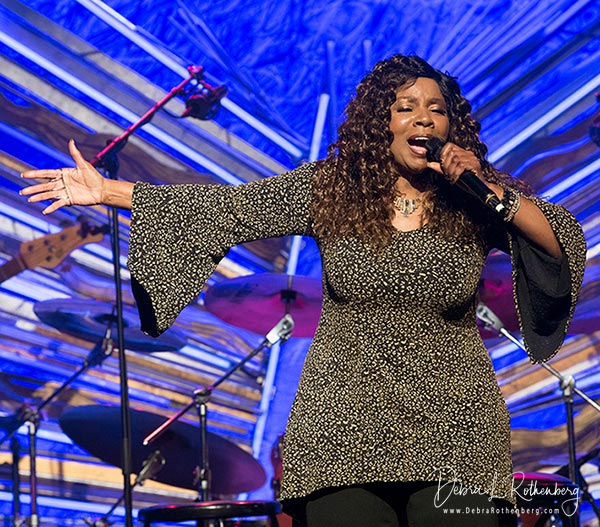 So, what about the new album? 
"Oh my yes, Testimony is the gospel album that I released last year," said Gaynor. "It won a Grammy, and the process was incredible. It was about three years in the making. The way we found the producer (Chris Stevens) is interesting. My manager, Stephanie Gold, went online and looked him up because he had done several recordings with an artist that I really enjoy. She got in touch with him and asked if he'd like to record me. He was very pleased to accept. We got together and he pulled together an awesome team of musicians and a producer/engineer and an awesome group of singers with fantastic talents. My manager got Yolanda Adams and we came together and did the recordings. We were very excited and pleased with it, but none of the record companies wanted me. They thought Gloria Gaynor: disco artist."
"A friend of mine in Nashville suggested we get together and pray about it," she recalled. "We had seven people from several different states around the country praying and we had a little prayer meeting. Not long after that we were about to sign with a company for a distribution deal, which we didn't want to do because none of us on my team knew how to make a record happen. Then just before we were going to sign with that company, our publishing company said, 'Please don't sign with them; I think we have somebody.'  And that turned out to be the Gaither organization. We ended up signing with them and it blew up from there." 
"I recorded it in Nashville with my producer in Studio A at RCA Studios," continued Gaynor. "That's a very famous studio where so many great artists have recorded in before, so we were very happy to record there and we did it analog. Several of the songs were done with all of the musicians in the studio together like we did back in the day. Whenever somebody asks me what I think is the biggest difference between the music of today and the music when I started is that for me it's the spontaneous creativity that can only happen between live musicians working together and inspiring one another. I was so pleased that Chris Stevens wanted to do it that way so that I could give that back to my audience with this music that they had written me saying that it inspires, uplifts and empowers them." 
It has been said to never underestimate the power of prayer but gospel music is a far cry from disco and given her roots of R&B; why go in this direction? Gaynor mentions how her influences came from a variety of genres. She notes names like Marvin Gaye, Stevie Wonder, Gladys Knight, Aretha Franklin, Gloria Lynne, Ella Fitzgerald, Barbara Streisand, Theo Laine, and Nancy Wilson.
"I listened to a variety of music and I still do," said Gaynor.  "Gospel music is something that I've wanted to do for years.  I was trying to do it, but the management that I had before didn't want me to do it and kept stalling me.  They'd say, 'Yeah, yeah, yeah let's do that, that's a good idea, let's do that.' So I'd say, 'When are we gonna do it?'  It just never happened."
She's won two Grammy Awards forty years apart; has artists such as Kacey Musgraves performing her new single "Back On Top" as well as "I Will Survive"; and multiple others clamoring for her attention. How does Gaynor feel knowing that "I Will Survive" has stood the test of time and is an anthem for women the world over? 
"It feels really great," she exclaimed.  "I don't know who it was, but someone said, 'People might not remember what you say but they'll remember how you made them feel.'  That song makes them feel powerful and empowered and liberated and that's wonderful for me. I love that I've been able to do that and still doing that with the same song after all these years.  A whole new generation is listening to it and claiming it and it feels wonderful to have that song. It's like the Phillips family heirloom, they keep passing it on down." 
---
Danny Coleman is a veteran musician and writer from central New Jersey. He hosts a weekly radio program entitled "Rock On Radio" airing Sunday evenings at 7 p.m. EST on multiple internet radio outlets where he features indie/original bands and solo artists.
---