originally published: 01/15/2020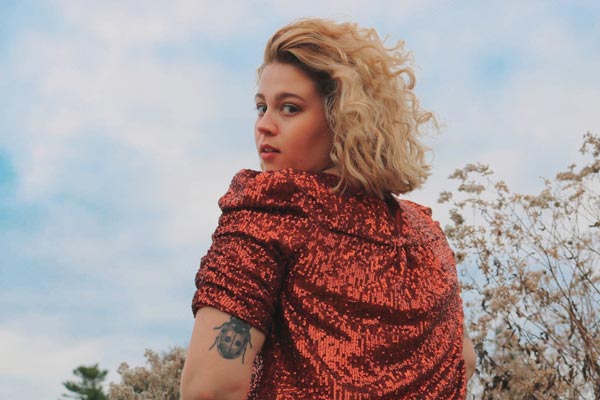 Montclair-based singer-songwriter Olivia Rohlfs is premiering the new video for her debut single, "June 8th," with Makin Waves at NewJerseyStage.com. PHOTO BY JOY MORGAN
Also featured are The Grip Weeds,  Pino's,  The Clydes, Windows of Understanding, Leah Jenea, Bulletproof Belv, The Beagles, Oh Elis, Mikell's Plot, Connor Bracken & the Mother Leeds Band, Tyler Veit, Cook Thugless, Jackson Pines, Houston & the Dirty Rats, Ezra Caspi, Jon Caspi & the First Gun, Ella Ross, Howl Peak Productions, Dinosaur Eyelids, and Mike Frank & Friends
Montclair-based, Roxbury-raised singer-songwriter Olivia Rohlfs has a new self-produced video for her single "June 8th," which recently surpassed 2,000 streams on Spotify. Shot by Tim Eppell, the new clip is entitled "The Making of June 8th" and features a behind-the-scenes montage of all the video footage shot during studio sessions at Retromedia Sound Studios in Red Bank with recording, mixing and mastering engineer Adam Vaccarelli. Backed by drummer Owen Flanagan (Avery Mandeville) and guitarist Justin Murray and bassist Jon Bass, both of Smooch the Group, Olivia dropped the single on Nov. 22, but the new video is media premiering here:
"I write mainly from personal experience and about my relationships with the people that I'm closest to," Liv said. "'June 8th' was a song that I didn't really need to work that hard at. It pretty much wrote itself within about an hour because I was writing from a very emotional place. The inspiration struck when I was back in my hometown, running errands locally, and found myself pretty much face-to-face with a long-term ex-boyfriend and his new girlfriend in a store. I immediately diverted into an aisle to avoid that awkward confrontation, but it instantly had my mind racing over him again. I got home from the store and the song just came out. Being back in our hometown where we used to live had me reminiscing about all the good and bad. Playing through every 'what if' -- what if we had never broken up, what if we were still together, what if we were never even together in the first place! If I had a re-do button, would I press it? Would I even want a re-do? June 8th was a significant day in our relationship, and as it passes every year, I always dread it and can't wait to just get through that day. It just reminds me of him, and I am waiting for the day that it doesn't anymore."
Liv plans to promote the February release of a second single, "Time You Knew," with a trek to Nashville, where she'll play Jan. 27 at The Bluebird Café and Jan. 28 at Douglas Corner Café. While there, she will record an acoustic song in a single take at Third Man Records' refurbished 1947 Voice-o-Graph booth.
"I have plans to produce a one-of-a-kind six-inch phonographic vinyl record that I will digitize and put out online shortly thereafter," she said. "
The singles will be followed by a spring EP. Local shows will be announced soon.
Jersey Shore-based Telegraph Hill Records dropped its second annual compilation late last year. The 18-track collection features some of the label's familiar faces, such as Levy & the Oaks, Bobby Mahoney and the Seventh Son, The Foes of Fern, Airacuda, Lowlight, Leah Voysey, Des and the Swagmatics, Natalie Farrell, Keith Egan, MaYayO, and Taylor Tote. New contributors are Jarod Clemons and the Late Nights, Malibu, Luke Dowler, Marc Tappan and the Dirty Shine, Ashley McKinley, Patty C, and the Abbey Road All Stars, the Beatles tribute band that performed at the Makin Waves-produced concert celebrating the 50th anniversary of the influential album. 
I am very happy to see my longtime Aquarian Weekly colleague Al Muzer inducted as one of this year's Asbury Angels on Jan. 17 at the Stone Pony, along with the legendary Asbury Park venue's co-founder Robert "Butch" Pielka, early Springsteen bandmate George Theiss, and Cuba's Nightclub owners Henry and Minnie Lopez. Al and I worked together at the Aquarian throughout the end of the last millennium and the beginning of the current one. He was a blast to hang out with and a loyal friend who always had your back. And he loved local original music like a champion. The annual induction ceremony during Light of Day Winterfest will coincide with a party celebrating the release of The Weeklings' latest LP. Having raised more than $1 million thus far to battle Parkinson's disease, the 20th annual LOD also will continue to raise awareness. For more about Light of Day Winterfest, see my review of The Weeklings new album and visit http://lightofday.org/.
The Grip Weeds will coincide the 10th anniversary reissue of their "Giant on the Beach" LP with a Light of Day show on Jan. 17 at House of Independents in Asbury Park also featuring legendary Jersey acts Dramarama and The Bongos. The LP's second single, a remake of the album track "Give Me Some of Your Ways," goes to radio next week and is one of five additional new tracks. The  more subdued original version also is on this record and is one of many Grip Weeds songs played on Little Steven's Underground Garage and featured on "Infinite Soul: The Best of The Grips," a 2008 release on Steven's Wicked Cool Records. Like most of The Grip Weeds' output "Giant on the Beach" and its expanded anniversary edition were recorded, mixed and mastered at the band's Highland Park studio, House of Vibes, where drummer Kurt Reil also has recorded The Smithereens, The Weeklings, The Anderson Council and more.
While more recently known as a wine and craft beer bar, as well as one of the best venues in Middlesex County for live original music, Pino's will celebrate its 100th anniversary in business as a liquor store, and prior to that, a green grocer and gift shop, on Feb. 14. A party also celebrating Valentine's Day will include the debut of a 100-year anniversary cocktail menu, a Highland Park Single Malt Scotch whiskey tasting, Birnn Chocolates, live music by Rouvan and imagery and artifacts depicting and detailing 100 years of the business and its borough provided by the Highland Park Historical Commission.
Also coming up at Pino's will be Tommy Strazza, Jan. 16; Arlan Feiles, Jan. 17; Laurie Goldman, Jan. 20 and 27; Trivia Tuesdays; Wednesday open mics with Tommy Strazza; Dave Sherman & Friends, Jan. 23; A Concert to Benefit The Affordable Housing Corp., Jan. 24, with Laurie Goldman, David Sherman, Phil Pirri, Magnolia Street String Band, and RGD; Low & Slow, Jan. 25; Keith Kenny, Jan. 30; "The Long Sunday" featuring local art and live music, Feb. 9; Hair Magic's record release party with Zero for Conduct and The Stuntcocks, Feb. 15; and a Fat Tuesday celebration on Feb. 25.
New Brunswick's The Clydes have built a big buzz around their latest Mint 400 Records LP, "Old Time Monarchy," the title track to which is the latest single and video. The clip was directed by Mint 400 head Neil Sabatino. Given the recent withdraw of Prince Harry and his TV-star princess Meghan Markle from the Royal Family, the tune about doom and gloom hanging over a royal wedding is quite prophetic. Having closed the year with a video for the initial single, "Jalisa," and a Pop Break show under the massive Christmas tree in the Grand Arcade of Asbury Park's historic Convention Hall, The Clydes are starting the New Year off right celebrating their new deal with 3143 Management. They'll celebrate by participating in the Jersey Shore-based outfit's showcase on Jan. 31 at the Stone Pony with other stable acts Viewers Like You, Pioneer the Eel, and Biplane, plus New Narratives.
The third annual Windows of Understanding art exhibit will take place from Martin Luther King Jr. Day through Black History Month in New Brunswick and Highland Park. Presented by New Brunswick Community Arts Council, Mason Gross School of the Arts at Rutgers University, and the Highland Park Arts Commission, the exhibit can be seen in the display windows of dozens of New Brunswick and Highland Park businesses and organizations through February. This year's curation focuses food insecurity, immigration, LGBTQIA issues, mass incarceration, human trafficking, mental health, and violence. A range of artists diverse in age and background have partnered with UndocuRutgers, Central Jersey Chapter of Jack and Jill of America, MCFOODS, Sisterwork, Still Waters Anti-Trafficking Program and the Traumatic Loss Coalition. New Brunswick public school students have tackled the issue of gun violence with their art. Self-guided maps are available online, but group tours also are available along with a variety of other culturally enlightening, uplifting and diversified, yet unifying free events.
Windows of Understanding kicks off Jan. 20 with a noon lunch celebrating Martin Luther King Jr. Day at Harvest Moon in New Brunswick. The $33 tickets, which benefit the Elijah's Promise food justice and empowerment program, can be purchased online. Immediately following the lunch, a series of free events starts with "Continuing their Legacy," which will present free learning activities, performances, mural paintings, conversation and more food from 1 to 4 p.m. at Unity Square Community Center in New Brunswick. The city's chapter of the NAACP will focus on food insecurity with Elijah's Promise Chef Pearl at 7 p.m. on Jan. 21 at Reformed Church of Highland Park. A Windows of Understanding Satellite Exhibition opens on Jan. 22 at the American Hungarian Foundation with more than 20 artists from across the state. The free show is open to the public by appointment at 732-846-5777.
Every Tuesday and Wednesday throughout Windows of Understanding and beyond, volunteers are welcome to join D.I.R.E. (Deportation and Emergency Response Equipo) to visit immigration detainees at the Elizabeth Detention Center. For more information, contact the Reformed Church of Highland Park at 732-249-7349. The fourth annual MLK Oratorical Competition will be 7 to 9 p.m. Jan. 29 at Livingston Student Center Multipurpose Room in Piscataway. Frankin Moreno of University of California, Berkeley, and Jean Stockdale of Still Waters Anti-trafficking Program will share what actions can be taken to help unaccompanied undocumented immigrant children in program called "From Both Sides of the Border" from 6 to 7:30 p.m. Feb. 4. "A Painting Workshop: A Creative Path to Food Security" from 6:30 to 8 p.m. on Feb. 6 at New Brunswick Public Library will include free refreshments as a means to inspire awareness about neighbors' limited resources. "Taco, Mural and Windows Tour" with the Esperanza Neighborhood Coalition will depart 1:30 and 3:30 p.m. Feb. 22 from 114 French St. And the Window of Understanding closing reception will be 4 to 6 p.m. Feb. 27 at Zimmerli Art Museum in New Brunswick.
Newark R&B songstress Leah Jenea has dropped a video for her latest single, "Balance." Coming to fame as a participant in Fox-TV's "The Four: Battle For Stardom," 18-year-old Leah will support the single with an appearance Jan. 17 at her hometown's Arts High School in a Q&A with staff members of the nearby Grammy Museum less than a week before the awards. Then on Feb. 1, she will perform at Syracuse University. Leah is the daughter of New Brunswick rapper Lawrence "Left Gunnz" Gaines, who runs her record label, Kapital Gainz, with his wife, Janine. "Balance" follows her second EP, "Leah Meets Nina," a tribute to jazz great Nina Simone produced by members of fellow Newark act Naughty by Nature.
Asbury rapper Bulletproof Belv has released what he believes is his best-ever song. "Krazy You," a love song that features his pal, multi-platinum Paterson-based recording act Fetty Wap. The latest of several collaborations between the two was inspired by a beat on which frequent Belv collaborator Matty Carlock was working.
"I knew Fetty Wap would be perfect for it, and I sent him the beat, and he was ready to make a hit record," Belv explained. "While making the song, I let my mom hear the unfinished version, and two weeks later, she passed away, Sept. 18. Me and Fetty Wap finished the song. My brother Fli Reg did the cover art. One butterfly for my mom and the other for a mother figure we lost in September as well.
"Matty Carlock is a great producer for making an amazing beat like this, and Cez Beats engineered this song perfectly in the studio," Belv continued." I'm blessed to be around so much talent."
See Belv and Matty play "Krazy You," as well as their other local hits, "Dark City Lights" and "F Being Friends," when they perform together on Feb. 22 at the Stone Pony and March 14 at Danny Clinch Transparent Gallery, also in Asbury.
Lawrenceville-based The Beagles closed out an exciting year with the release of the original holiday single "Love At Christmas Time" as a follow-up to their acclaimed 2018 debut LP, "Bed of Roses," which charted at No. 3 on iCharts of New Jersey. Having recently expanded their lineup, The Beagles' next musical adventure will be "Beagles Do Beatles," a tribute show commissioned by the Princeton Public Library in celebration of the 50th anniversary of the Fab Four's final LP release, "Let It Be." The May 8 show will be at Princeton's Hinds Plaza. While The Beagles' largest focus is original music, their admiration for The Beatles has always shone through in their choice of name, their working with producer Lon Van Eaton, formerly of Apple Records, and founder Rob Freeman's hop across the pond to play The Cavern in Liverpool in September 2017. "It will be an honor and a labor of love to work on adapting this timeless music," Freeman said.
Actor Laura Sisskin Fernandez ("You Hold a Pole Everyday") also is a singer-songwriter who performs under the name Oh, Elis. Having recorded four songs at Lakehouse Recording Studios in Asbury Park and released them as singles, Oh, Elis next will perform Jan. 17 at The Asbury Sound Booth as part of Light of Day Festival with Lowlight and Brother Andrew. There she will debut a new song. Oh, Elis will return to the Sound Booth on Feb. 26 when she performs with Anna Oh, Rick Barry, Julia Kirk, and Lou Panico. She also plans to record and release a single of a tune entitled "Man Oh Man" in later winter or early spring.
Veteran Sayreville rockers Mikell's Plot  have several hot shows on tap for the new year: Feb. 1 opening for Judas Priestess at the Stone Pony; April 4 at Main Street Theatre in their hometown with Black Light Medusa and Jigs & the Pigs; April 24 to 26 at The Chiller Theatre Expo at the Hilton Parsippany, and May 23 at the Perth Amboy Waterfront Arts Festival. More shows at Starland Ballroom in Sayreville, as well a New England tour also are expected. Together nearly 22 years, the seven-piece high-energy mix of punk, blues, hard rock and metal is rooted in The Ramones, Black Sabbath and AC/DC, but spiced with soulful saxophone parts to make for a distinctive award-winning sound that has nabbed airplay as far away as Brazil. Fan favorites, such as "Monster on My Wall" and "Just Show Me Funk 50," are sure to highlight their upcoming sets, along with tracks from their latest record, a self-titled outing released in 2018. Another LP is in the works.
Connor Bracken and the Mother Leeds Band have a record release show coming in May. Three singles, "Photographs of Johnny Cash," "Read on You" and "When the World Stops Turning," will be on the LP. A video for "Johnny Cash" recently was released. All three songs likely will be performed on Jan. 19 at The Saint when the edgy roots-rockin' band play the Light of Day Festival with Tommy B & The Deep Blue Sea, Jake Tavill & Indigo Soul, Calabrese/Swerlin Band, and We're Ghosts Now.
Singer-songwriter-guitarist Tyler Veit is only 23, but he has been performing along his native Jersey Shore for more than 10 years with such bands as The Dead Ramblers, Wicked Hollow, and Bad Minds. A new single, "This Old Soul," follows his recent debut outing, "(Feels Like) Heaven." Within the next few months, he will be releasing an EP, which he nearly has finished recording. Performing as a one-man band with a kick drum while simultaneously singing and playing guitar, Tyler can be enjoyed live Jan. 25 at the Idle Hour in Point Pleasant. In addition to his originals, his sets include covers of Bruce Springsteen, Neil Young, Eric Clapton and The Beatles.
Craig Cirinelli of Hidden Cabins has formed an Americana outfit called Holler and the Hand with guitarist Ed Rossman and a revolving cast of players. Following last year's debut EP, "Tessera," their forthcoming single, "Together," can be heard Feb. 8 at The Exchange in Rockaway before it is released as part of the compilation series, "Lamp Light the Fire, Vol. 3: A Compilation of Quiet(ER) Songs" on Engineer Records in England. The released will coincide with a video for the song. Then in the spring as a duo, Holler and the Hand will head to Tennessee for dates April 22 at O'Mainnin's Pub in Bristol, with North Carolina's Brad Heller and the Fustics, and April 23 on WDVX 89.9-FM's "Blue Plate Special" in Knoxville. An LP will be recorded at Portrait Recording Studios in Pompton Plains, followed by more touring of the Southeast.
The Rutgers-originated jazz-adelic rap act Cook Thugless have been makin waves in their new base of Los Angeles.  Their West Coast adventure is chronicled in a new EP, "Lost in L.A." They also recently released two stand-alone singles: the reflectively mellow "Dirty Blue" and "Replay," a collaboration with L.A. act Cool Company, who had remixed the band's "Lockjaw" to 50,000 Spotify streams. Both singles feature videos by the diversely creative band. While in L.A., Thugless members have been shooting music videos for other artists. They also will open for fellow Jersey-bred act Wyclef Jean of Fugees on Jan. 24 at The Miracle Theater in Inglewood, Calif. In the spring, the band will tour their native Northeast in support of a new LP.
While readying their second LP for a spring release, following the 2017 debut, "Purgatory Road," and two EPs, Jackson Pines will play Light of Day Winterfest's songwriter showcase on Jan. 17 at the Berkeley Oceanfront Hotel Blue Bar with Jenny Cat, Jerzy Jung, Joe Petillo, Dave Vargo, and Peter Elkas. Also coming up are a Sofar show on Jan. 23 in New York City and Feb. 28 at the Philadelphia Folksong Society with J. Solomon and Originaire, who'll celebrate the release of an EP. Meanwhile, the Americana outfit will continue to present its "Stand Up, Sing Out!" and a new educational program, "20th Century Folk Musicians," to schools throughout the tri-stage area. The forthcoming Jackson Pines LP also follows a single of a rootsy version of "Blue Christmas" and solo EP singer-songwriter-guitarist-harmonic player Joe Makoviecki released late last year entitled, "World's Fair." Joe also had a poem, "The Venus Encyclical," published in the New York city lit mag, "The Rational Creature."
Having performed 100 shows in 100 days in all 48 contiguous states and three Canadian provinces last year, Houston & the Dirty Rats aren't about to take it easy. Nominated for Best Punk Band by the Lehigh Valley Music Awards of Western New Jersey and Eastern Pennsylvania, the Phillisburg-based trio recently dropped a video for a new song entitled "Skunk in New York" via BlankTV. The road warriors can be seen live Jan. 19, Championship Bar, Trenton, with Alouth, Toads, Egg, and Breaklite; Jan. 30, One Centre Square, Easton, with The Parasitic, Road Sodas, and I'm Done; Feb. 5, Kung Fu Necktie, Philadelphia, with Puerto Rico's Ignorados Comediantes, plus Los Gueys and Little War; March 14, St Patty's Day Punkarade Fest, Norfolk, Va., and July 24, Shack Fest 2020, Bliss N.Y. In the spring, Houston & the Dirty Rats will release an EP, "Songs! From the Bathroom Stall?," on streaming services and colored vinyl with a video for the song "The Lying Game." U.S., Alaskan and European tours will follow.
He soon will be playing his freshman baseball season at Vassar College, but first young Jersey Shore rocker Ezra Caspi dropped another self-produced one-man-performed harmonic single, "I Only Love You." You can hear the Byrds-meets-The Beach Boys-like track live on Jan. 19 at the Stone Pony when Ezra plays Light of Day Winterfest's Kids Rock show with such peers as Jake Thistle, Jake Ryan, Ross Owen, Sunsets from Jupiter, Lauren Gill, Ham by the Pound and students of the Rockit, Rock'n Music, and School of Rock Red Bank music schools. The song also will be heard on an LP to be released later this year following 2019's acclaimed debut full-length, "The Best Is Yet to Come."
Talent runs in the Caspi family. Dad Jon Caspi and his band, the First Gun, also will play Light of Day on Jan. 18 at the Berkeley Hotel with Tom Kanach Band, Mike Rocket Band, and The Hot Takeout Band. In support of the psychedelic new single, "Stuck on You," featuring Black Flag's Dez Cadena on guitar, they'll also play Feb. 8, Mother Pugs, Staten Island, and Feb. 29, Brighton Bar, Long Branch, with The X-men and Fetal Rage. An EP will be released within the next few months. The working title is "Good Heart, Bad Liver."
Nick Wolff and Pete Carter of Howl Peak Productions once again created a gorgeous music video for a local indie act. This time out it's Ella Ross, whose hauntingly beautiful "Stranger" from her "Is Anyone Listening?" EP gets turned into a lush lullaby to wood nymphs set in an emerald forest. Howl Peak also recently lensed a clip for the dynamic duo Kingston & Greystarr. They've also worked with Pamela Flores and Baron Praxis and have a clip coming out soon for JAHK. As for Ella, she will drop a new single in March and celebrate its release with a show.
Dinosaur Eyelids' next album, entitled "Sticker Famous," will be released soon. The veteran band recently celebrated the 10th anniversary of their debut LP, "Winter Solstice." This forthcoming one will be their sixth, and they will be playing a bunch of it live on April 25 at The Fire in Philadelphia.
Hunterdon County jam band Mike Frank & Friends are entrenched in a large video project entitled "All in Tune" that will take form as a YouTube channel and documentary. The front man explains, "We have done 9 videos so far at different studios.  The objective is going to be showing the different styles of recording and studios, and the different hats you have to wear these days in music.  It will feature various artists from the area that we have come to know with Mike Frank & Friends and the different arrangements spin offs over the last 10 years from the group. At a Lakehouse session in Asbury Park, we recorded Little Milton's 'That's What Love Will Make You Do' to 2-inch tape live with very minimal overdub.  The band was a mix of different guys that got together for Bob Noble's birthday party in 2019.  We called it Planets of Material. We will have links to all the musicians other projects and media contacts in on the project."
In the meantime, Mike Frank & Friends will play Jan. 18 at The Willows in Asbury in Warren County and Jan. 25 at Pearly Bakers in Easton, and Mike will play acoustic with Bob Noble and Trevor Newcomb on Jan. 30 at Circa in High Bridge.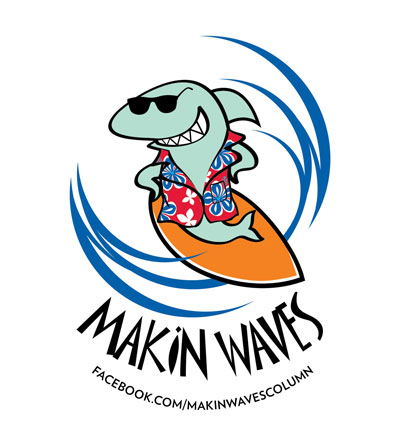 Bob Makin is the reporter for MyCentralJersey.com/entertainment and a former managing editor of The Aquarian Weekly, which launched this column in 1988. Contact him at makinwaves64@yahoo.com. And like Makin Waves at www.facebook.com/makinwavescolumn.