originally published: 12/25/2019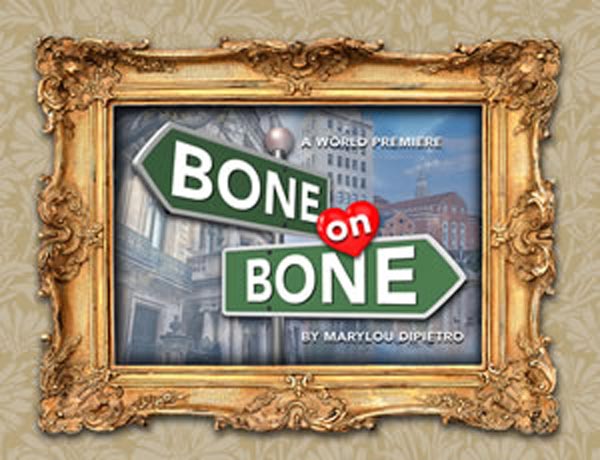 Here's a look at plays taking place on stages across the Garden State in January.  Remember to add your plays to the New Jersey Stage event calendar (listings are free) and send press releases to info@newjerseystage.com.
Bone On Bone - January 9 - February 9 at New Jersey Repertory Company, Long Branch. A comic-drama about a NYC couple who realize that their lives are moving in separate trajectories. Jonathan is a successful attorney, pretty set in his ways, who likes his life and the way his 35 year marriage has been going. Linda is an artist who has just been offered a top position at a prestigious art school - the career path she has always dreamed of having. Neither want to end their marriage, but neither want to divert from their chosen path. Who will bend, and who will break?
Goodnight Nobody - January 10 - February 9 at McCarter Theatre, Princeton. Think: The Big Chill meets This Is Us. In this deeply moving and funny play, a group of old friends reconnect after years apart. They reminisce with wild abandon, until the things they aren't telling each other come hurtling to the surface. The production features two-time Emmy Award winner Dana Delany.
One Man Star Wars Trilogy - January 10-11 at Avenel Performing Arts Center, Avenel. Canadian actor and uber geek, Charles Ross, brings his solo madcap creation One-Man Star Wars Trilogy to the stage in this mind-bending whirlwind of a show.  Ross retells the classic bad hair trilogy- no costumes, no props, no sets- all the characters, the music, the ships, and the battles. Officially endorsed by Lucasfilm, One Man Star Wars Trilogy has been performed for over a million Star Wars fans. 
American Rookie - January 11-20 at Luna Stage, West Orange. Part coming-of-age tale, part social commentary, and part comedy, American Rookie grapples with what it means to be an immigrant at a time when the country can't stop talking about it. Inspired by Bramhandkar's experiences in America after moving from Mumbai to rural Upstate New York, American Rookie brings to life the joy, humor, and pain of the assimilation process — from mimicking 80's fashion and studying Judy Blume books to constructing a new American persona altogether.
---
The article continues after this ad
---
---
Twelfth Night - January 11 - February 2 at Two River Theater, Red Bank. Unexpected love triangles, separated twins, and mistaken identities propel this gender-bending tale. A play saturated in perilous excesses—of love, of grief, of ego, of drink, of mischief—Twelfth Night is one of Shakespeare's most celebrated plays and, perhaps, his most perfect comedy.
A Bronx Tale - January 14-15 at Count Basie Center for the Arts, Red Bank. Three years ago, Academy Award nominee Chazz Palminteri teamed up with Academy Award® winner Robert De Niro, Tony® Award winner Jerry Zaks and Tony® Award nominee Sergio Trujillo to create this streetwise musical – based on Palminteri's true life story. This Broadway hit crowd-pleaser, takes you to the stoops of the Bronx in the 1960s, where a young man is caught between the father he loves and the mob boss he'd love to be. 
The Simon & Garfunkel Story - January 17 at Bergen Performing Arts Center, Englewood. This is an immersive concert-style theater show chronicling the amazing journey shared by the folk-rock duo, Paul Simon and Art Garfunkel. It tells the story from their humble beginnings as Tom & Jerry to their incredible success as one of the best-selling music groups of the '60s to their dramatic split in 1970. It culminates with the famous "The Concert in Central Park" reunion in 1981 with more than half a million fans in attendance. Using huge projection photos and original film footage, the show also features a full live band performing all their hits
Spring Awakening - January 17 - 19 at Hackensack Performing Arts Center. The winner of eight Tony Awards, including Best Musical, told by Duncan Sheik and Steven Sater through what Entertainment Weekly called, "the most gorgeous Broadway score this decade," Spring Awakening explores the journey from adolescence to adulthood with a poignancy and passion that is illuminating and unforgettable. The landmark musical is an electrifying fusion of morality, sexuality, and rock and roll that is exhilarating audiences across the nation like no other musical in years. Presented by Aspire Performing Arts Company.
Mary Poppins - January 17 - February 9 at Broadway Theatre of Pitman. The magical story of the world's most famous Nanny! Young Jane and Michael have sent many a nanny packing before Mary Poppins arrives on their doorstep. Using a combination of magic and common sense, she must teach the family members how to value each other again. Mary Poppins takes the children on many magical and memorable adventures, but Jane and Michael aren't the only ones upon whom she has a profound effect.  Get ready for a supercalifragilisticexpialidocious musical adventure with crowd-pleasing songs like, "A Spoonful of Sugar," "Feed The Birds" and "Let's Go Fly A Kite."
Dietrich - January 18 at Hudson Theatre Works. Cindy Marinagnel is Dietrich. Based on a true story, the play is set in May 1960 when the actress returned to the Berlin stage for the first time since fleeing the Hitler regime in the 1930s.  Inside her dressing room at the Tatiana Palast Theater, Dietrich weighs whether to go through with the live performance despite threats on her life by Nazi sympathizers who resent her for having spent much of World War II entertaining American soldiers on the front lines.  To them, Dietrich is a turncoat - a traitor who deserve to be shot and killed on stage.
Midwives - January 21 — February 16 at George Street Playhouse, New Brunswick. This gripping tale of suspense and riveting courtroom drama will keep audiences on the edge of their seats from start to finish. When a major snowstorm breaks out during a routine at-home birth, cutting off all communication with the outside world, midwife Sibyl Danforth is forced to make an impossible decision.  This world premiere play is adapted by Chris Bohjalian from his bestselling novel of the same name – an early selection of Oprah's Book Club.   
The Simon & Garfunkel Story - January 23 at Count Basie Center for the Arts, Red Bank. See description  on January 17. 
The Simon & Garfunkel Story - January 24 at Mayo Performing Arts Center, Morristown. See description  on January 17. 
The Diary of a Mother - January 25-26  at Hackensack Performing Arts Center. A dramatic documentary theater production that speaks to love and loss. During our lifetime most of us will experience the emotional stress that comes with loss of any kind, but nothing can produce the joy or broken heart that motherhood permits. The Diary of a Mother explores the journey of eight women who expose their moments of transparency, of complete and utter joy, and their challenges of isolation, confusion and pain when tragedy occurs uncovering the physical, emotional and spiritual response to one of life's most devastating events. The dramatization offers affirmation, expressions of inspiration and triumphs of a long journey represented by the shared characteristics of every community, neighborhood, race, religion, culture and environment as it pertains to an unnatural life experience. 
Brighton Beach Memoirs - January 25 - February 1  at Algonquin Arts, Manasquan. Set in Brooklyn, New York, Brighton Beach Memoirs tells the story of a large Polish-Jewish family living in one household during The Great Depression. The events are told through Eugene's honest, sarcastic "memoirs" and follow the Jerome family through a financial crisis, health concerns and a search for identity. A Broadway classic and one of Simon's most popular plays, Brighton Beach Memoirs had its debut in 1983, starring Matthew Broderick as the snarky protagonist, Eugene. The show had almost 1,300 performances and took home two Tony Awards, before being adapted into a 1986 movie starring Jonathan Silverman and Blythe Danner.
All My Sons - January 30 at Monmouth University's Pollak Theatre, West Long Branch. Broadcast live from The Old Vic in London, Academy Award-winner Sally Field (Steel Magnolias, Brothers & Sisters) and Bill Pullman (The Sinner, Independence Day) star in Arthur Miller's blistering drama All My Sons. America, 1947. Despite hard choices and even harder knocks, Joe and Kate Keller are a success story. They have built a home, raised two sons and established a thriving business. But nothing lasts forever and their contented lives, already shadowed by the loss of their eldest boy to war, are about to shatter. With the return of a figure from the past, long buried truths are forced to the surface and the price of their American dream is laid bare. Jeremy Herrin (NT Live: This House, People, Places & Things) directs a cast including Jenna Coleman (Victoria), and Colin Morgan (Merlin).
The Color Purple - January 30 - February 1 at State Theatre, New Brunswick.  Don't miss the Tony Award®-winning revival that exhilarated Broadway! With a soul-raising, Grammy®-winning score of jazz, gospel, ragtime, and blues, The Color Purple is an unforgettable and intensely moving revival of an American classic. Based on the Pulitzer Prize-winning novel and Academy Award®-nominated feature film, The Color Purple leaves its mark on the soul. This joyous American classic about a young woman's journey to love and triumph in the American South conquered Broadway in an all-new "ravishingly reconceived production that is a glory to behold" (The New York Times).
Kicking & Swearing One-Act Festival - January 30 - February 1 at Union County Performing Arts Center's Hamilton Stage, Rahway. The 6th Annual Kick & Swearing One-Act Festival will feature insightful writings that include original comedy, tragedy, satire, and sci-fi short plays. The Festival presented by Mystic Vision Players offers two evenings of separate plays. The first group of selected plays will be performed on Thursday, January 30th, and the second group will be performed on Friday, January 31st. The Saturday matinee, February 1st, will feature all the selected plays and more.
Unmasked: The Music Of Andrew Lloyd Webber - January 30 - March 1 at Paper Mill Playhouse, Millburn. One of the most successful musical theater composers of all time takes audiences behind the scenes in Unmasked, a world-premiere featuring stories and songs from Andrew Lloyd Webber's remarkable life and celebrated work. This funny and warm musical portrait, a concert for the theater, offers an intimate look at Lloyd Webber's five decades in the spotlight and beyond, from his quirky family and bohemian youth in London to the creation of such smash hits as Jesus Christ Superstar, Evita, Cats, Phantom of the Opera, and Sunset Boulevard. You'll hear new and sometimes unexpected interpretations of his best-loved songs, rediscovered gems, and some new material specially written for this production.