By Gary Wien
originally published: 11/26/2019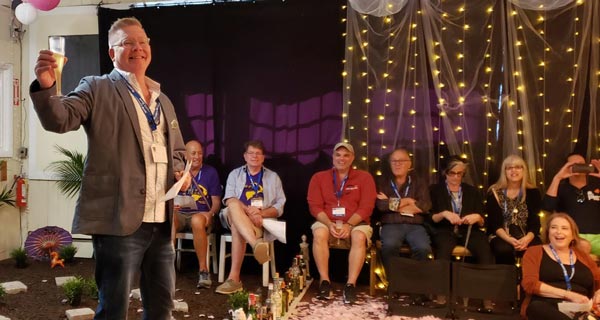 The South Camden Theatre Company that Joe Paprzycki founded is celebrating a pair of anniversaries this season.  It is the theatre company's 15th anniversary and the 10th year of the Waterfront South Theatre, which was built on the site where Paprzycki's grandfather once owned a bar. Joe's life was closely tied to the theatre and to Camden itself for a long time, but that ended a few years ago.  Today, he's living up in North Truro, Massachusetts, and enjoying a new chapter in his life.  Instead of regrets, he's having fun hanging out with people like Kathleen Turner and Tony Kushner.
Paprzycki and his husband Gus were regular attendees to the nearby Provincetown Tennessee Williams Theater Festival each year.  As a devoted fan of Tennessee Williams, Joe is entering his third year as a member of the festival's Board.  The festival is his main focus these days. It's time consuming, but he loves it.  He's also feeling inspired by being in the same environment that once provided inspiration to legendary playwrights like Tennessee Williams and Eugene O'Neill. 
"Since we moved here two and a half years ago, I've written two new full-lengths, two new short ones, and did a rewrite of the last play I was writing in Jersey," said Joe.  "This is fertile writing ground up here.  My window faces Provincetown Harbor.  I get to look at what O'Neill was looking at when he was writing up here in 1917-18.  It's pretty amazing.  Tennessee wrote right down the street from me."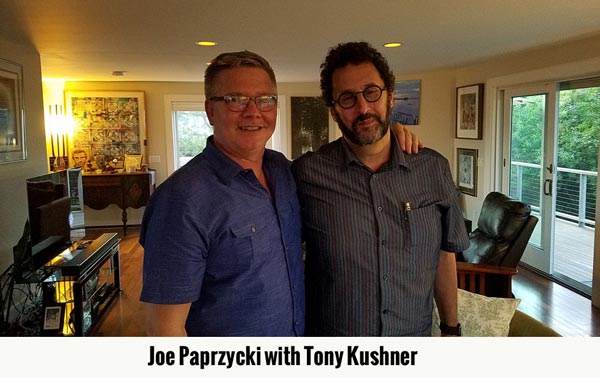 "Last year, as a fundraiser for the theatre festival, I had the chance to host Tony Kushner at my house for a salon where 16-20 people made a donation and got to hang out with Tony for two hours," he continued.  "I got the chance to show him that without Angels in America, I wouldn't be a playwright and without being a playwright I wouldn't be here.  It was good.  I said, 'Let me be a fanboy for five minutes.'  He was so nice.  Tony has a house up here in Provincetown and lives part-time in the summer with his husband.  When you have Tony Kushner standing in your living room you're like what did I do to deserve this?"
Together they talked politics, Angels in America - everything you would expect to talk to the celebrated playwright about.
---
The article continues after this ad
---
---
Kathleen Turner was at the festival this year to present a Master Class on acting and was their guest for a Gala event in June.  Joe picked her up at the airport and was able to spend some time with her.  They talked about theatre and how she goes about finding her characters, while Joe marveled at how she simply knew how to be a star.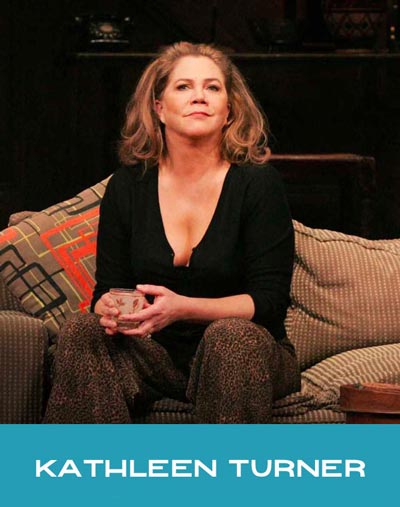 "People would approach her and she would be so wonderful to them and just so grateful when they brought up her old movies," he said.  "I told her I was married and War of the Roses was kind of my life at the time.  She said in her famous drawl, 'Oh, I feel so sorry for you!'"
Thirteen years ago, Joe and Gus attended the Provincetown Tennessee Williams Theater Festival for the first time. Joe had never been to Provincetown before, but instantly fell in love with the area and the theater.  
"It sounds cliche, but something inside me clicked and for Gus too," Joe recalled.  "I said I really don't want to go back.  So when everything happened that happened, it was like, 'I'm free now.  I can go wherever I want.'  Things happened for Gus and I that meant we could move up here.  We knew we loved it here and now we've been here two and a half years already."
While Camden served as the inspiration and location for many of his plays in the past, he's now creating work inspired by Provincetown and its illustrious history.  One of the plays he's written is about the Provincetown Players - the founding of the theatre and when Eugene O'Neill premiered Bound East For Cardiff and changed American theatre.  
Another new play of his is Visions Of Beatitude, whose title comes from a line in Eugene O'Neill's Long Day's Journey Into Night.  It's about the ghost of O'Neill and Tennessee Williams in the Atlantic House at four o'clock in the morning on the Feast of St. Genesius as they both try to pry out a secret from each other.
One play he's very excited about involves a middle-aged gay guy who ends up going to his best friend's wife's funeral and finds out what it's like when an out person goes back into the closet.
"It's a devastating piece," said Joe.  "This is opening up different doors to the storytelling - stories that I want to tell."
Without the daily pressure of running a theatre company, Joe has found more freedom to tell such stories.  The festival is still his primary focus, but it's easy to notice he feels like more of a playwright than when he was working each day in Camden.  In 2018, two of his short plays had their premiere during the Williams Festival on a bill that included Amanda Plummer in a Tennessee Williams world premiere directed by Marsha Mason.  His plays have had readings in Provincetown and there's a new company devoted to doing the works of the Provincetown Players. But he remains intrigued by the prospect of bringing a new play of his back to New Jersey someday.
"I would love to," he said.  "The one guy I would especially love to work with again is John Pietrowski at Playwrights Theatre of New Jersey.  We worked together on a play of mine called Goalposts, which is all about today.   A 58 year old guy gets kicked out of his job after 20 years - just before his pension.  You get to see what happens to workers in their 50s.  He's also got an family member facing addiction issues. The play had three readings: one in Bordentown, one in Camden, and then John Pietrowski picked it for his readings series and I got to spend an afternoon just totally dissecting the play with him and a couple of people.  He's the guy.  To me, he's the Dean of New Jersey as far as new plays are concerned.  He's a brilliant writer on his own, but he knows how to help writers with their plays.  Man, if John ever called me and said, 'Hey Joe, want to do a reading?' I'd be like, 'Ok, I'm coming down.'"
Joe may have moved past his Camden days, but the short documentary film, Dovere for Camden by Douglas Clayton, keeps a permanent memory.  The film details the struggle to build the theater and breathe life into the city.  Nearly two years after it began its run through the film festival circuit, the film continues to earn screenings around the world.  Yet, it has never had a screening in Camden itself.  
"I was always obsessed with Camden, always obsessed with that corner - even when I was living in the suburbs and it was in complete disrepair," he said.  "Before I wrote my first play, I was obsessed with that corner.  Now it's fixed.  I fixed one building in my hometown.  Going forward, hopefully the building is always there."
"I had a good ride down there," continued Joe.  "I'm first and foremost a playwright. I got to tell Camden stories, put them on a stage in Camden, and I always had a lot of support.  But I guess that chapter's closed and my new chapter has begun up here.  I spent 60 years of my life in New Jersey and I gave everything I could to Camden. I never thought I'd ever say I was out of Camden.  I thought I'd be in Camden the rest of my life doing plays, but that was not the path I was put on.  Now this is the path I was put on.  Instead of Camden, I'm writing plays about O'Neill and the Players."
---
Gary Wien has been covering the arts since 2001 and has had work published with Jersey Arts, Elmore Magazine, Princeton Magazine, Backstreets and other publications. He is a three-time winner of the Asbury Music Award for Top Music Journalist and the author of Beyond the Palace (the first book on the history of rock and roll in Asbury Park) and Are You Listening? The Top 100 Albums of 2001-2010 by New Jersey Artists. In addition, he runs New Jersey Stage and the online radio station The Penguin Rocks. He can be contacted at gary@newjerseystage.com.
---