originally published: 11/18/2019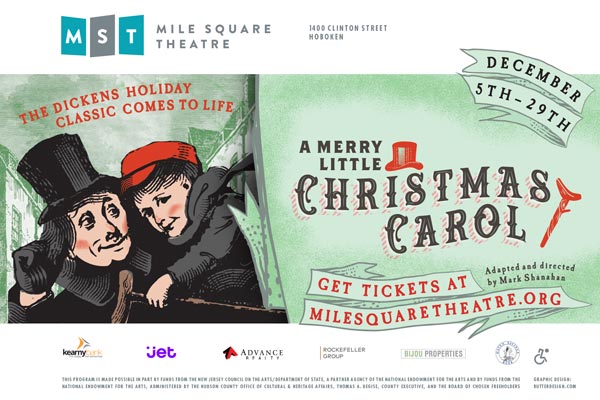 (HOBOKEN, NJ) --  Mile Square Theatre, Hudson County's leading professional theatre, presents A Merry Little Christmas Carol adapted and directed by Mark Shanahan. This is a Dickens of a tale, told many times and many ways, but never before like this. Mile Square Theatre's new production features five actors who take on all the classic characters from the beloved Dickens story, reimagined in a delightful new adaptation by Mark Shanahan. Audiences will delight in quick-change artistry, puppetry, traditional music and the warmth, laughter and tears of this beloved holiday classic.  Performances run weekends from December 5 through December 29.
A holiday treat under our tree ready for you to unwrap, A Merry Little Christmas Carol is a magical journey of discovery and redemption that is perfect for the whole family.
"Mark Shanahan is an extraordinary writer and director, and we are thrilled to have him back at MST directing his own wonderfully theatrical adaptation of the Dickens classic," says MST Artistic Director Chris O'Connor. "Mark's 2017 MST production of The 39 Steps was by far one of our most memorable productions. People still talk about it! Dickens' A Christmas Carol is my favorite tale for the holidays, and when Mark told me he had written a new adaptation, I jumped at the chance to produce it at MST." 
A Merry Little Christmas Carol stars Bruce Warren (Oklahoma! National Tour), Joe Delafield, (Tartuffe on Broadway, MST'S The 39 Steps), Joi Danielle Price (Broadway's Mamma Mia, Raisin), Kelsey Roberts (Syracuse Stage), and Paul Gary (Florida Rep).
The creative team brings back; Charlie Corcoran, who designed the set for The 39 Steps; MST resident scenic designer Matthew J. Fick, designing lights (The Net Will Appear, Pipeline), MST resident costume designer Peter Fogel (The 39 Steps, The Net Will Appear), MST resident scenic artist and prop master Emmett Grosland (I and You, Pipeline) and sound designer Sean Hagerty (The Net Will Appear).
---
The article continues after this ad
---
---
A Merry Little Christmas Carol begins performances on Thursday, December 5 and runs till Sunday, December 29 on Thursdays, Fridays and Saturdays @ 8:00pm, and Saturdays and Sundays @ 3:00pm. Opening night is December 7 @ 8:00pm. December 5 and December 6 are SOLD OUT. Mile Square Theatre is located at 1400 Clinton Street in Hoboken, New Jersey.  Tickets available at www.milesquaretheatre.org, or by calling 201-683-7014. Tickets are $15-40 • $18 students and seniors.
Discount Parking available at The Harlow at 1330 Willow Avenue and at Little Man Parking at 1300 Jefferson Street.
Mile Square Theatre is easily reached from Manhattan, a mere 15 minute bus ride from Port Authority.
This program is made possible in part by funds from the New Jersey Council on the Arts/Department of State, a partner agency of the National Endowment for the Arts and by funds from the National Endowment for the Arts, administered by the Hudson County Office of Cultural & Heritage Affairs, Thomas A. Degise, County Executive, and the Board of Chosen Freeholders.
COMPANY BIOS:
BRUCE WARREN (Scrooge) is a NYC based actor, director, teacher, and coach. He was last seen Off-Broadway in the world premiere of I Spy A Spy, originating the role of Cold Borscht. Other Off-Broadway credits include The Road to Qatar! (Original Cast Album). Bruce has performed all across North America with the First National tours of Oklahoma!, The Wizard of Oz, 25th Anniversary Cats, and at numerous Regional Theatres. He recently directed a critically acclaimed production of The Legend of Georgia McBride that his team is remounting for Virginia Stage Company in 2020. Bruce serves on the faculty for Jen Waldman Studio and holds a BFA from Ithaca College.   
JOE DELAFIELD has performed on Broadway as Damis in Tartuffe (Roundabout) and off-Broadway in Fashions for Men (Mint), Outward Bound, Theophilus North, and The Breadwinner (Keen Company).  Regional includes: Ah, Wilderness!, Da (both at the Guthrie),  Journey's End (Alley Theatre), School for Husbands (Westport Playhouse), The Subject Was Roses (Pittsburgh Public), Romeo and Juliet (Virginia Stage Company), The Glass Menagerie (Ensemble Theatre Co.),  Noises Off (La Mirada), Juno and the Paycock (Odyssey Theater), Photograph 51 (Fountain Theater), The Dingdong (Florida Rep),  The Hound of the Baskervilles (Hudson Stage) and The 39 Steps (Mile Square Theater).  Joe is a member of LA's Antaeus Company, where he was seen in The Autumn Garden, The Seagull, Macbeth, The Crucible, and The Liar, for which he was nominated for LA's Best Supporting Actor Ovation Award.  TV/Film credits include The Sopranos, All My Children, Filmic Achievement, and Company K.  Joe holds a BA from Columbia University and an MFA from NYU's Graduate Acting Program.
PAUL GARY is a Knoxville, TN native, honored to be making his debut with Mile Square Theatre! Recent credits include Forever Plaid (Sparky) and A Sanders Family Christmas (Mervin) with Cumberland County Playhouse, Hello, Dolly! (Rudolph) with Ozark Actors Theatre, and Night and Day (O'Reilly) with Florida Repertory Theatre. Endless thanks go to the Jackass Brigade, Dan and Larissa (#AndChuck), and the Gary family, whose endless and constantly astounding support will never go unappreciated. Hope you enjoy, and hope your December is one to remember!
JOI DANIELLE PRICE is thrilled to be spreading cheer at MST this holiday season. A veteran MAMMA MIA! (Ali) on Broadway, Joi's other favorite performances include RAISIN, a musical interpretation of the play A RAISIN IN THE SUN, WORLD VIEWS at Prospect Theatre Co., National Tours of MAMMA MIA! (Lisa) and RAGTIME (Sarah U/S), staged readings: SAINT HEAVEN (York Theatre), MARRY ME! (NYMF), CLASS MOMS, and is currently developing her own play. A native of Flint, Michigan, she can currently be seen on ENCORE! on Disney Plus, filmed in her hometown. Joi holds a B.F.A. in Musical Theatre from the University of Michigan, where she also received a B.A. in Communication Studies and studied Japanese. Joi holds a black belt in the martial art of Soo Bahk Do, is a mother of two, wife of one, and a proud supporter of Mile Square Theatre. 
KELSEY ROBERTS is a New York City-based theater artist originally from Chicago.  Previous credits include Mary Poppins and Hairspray (Syracuse Stage).  Inspired by the holiday spirit, Ms. Roberts is making a donation to Misericordia in Chicago, a community dedicated to sharing life with individuals with intellectual and developmental disabilities (visit http://www.misericordia.com for more information). She's a proud graduate of Syracuse University and thanks her family for their endless love and support. 
MARK SHANAHAN (Director and Playwright) MST: 39 Steps. As a director, his work has been seen at the Alley Theatre,  Westport Country Playhouse, Virginia Stage, Penguin Rep, Florida Rep, Merrimack Rep, White Heron, Fulton Theatre, Theatre Squared, Hudson Stage, Cape Playhouse, Arkansas Rep, Irish Rep and others. As an actor, he has appeared on Broadway in The 39 Steps and Off-Broadway in Tryst, The Shaughran, Checkers, As Bees In Honey Drown and more. As a playwright, his adaptation The Dingdong: Or How The French Kiss, played off Broadway and at numerous regional theatres. His adaptation A Merry Little Christmas Carol has played at White Heron Theatre and Florida Rep. Mark is an Edgar nominated playwright and an award-winning voice over artist. BA Brown University, MA Fordham University, where he serves as an adjunct faculty member. 
CHRIS O'CONNOR (Artistic Director, Producer) Chris is Founding Artistic Director of Mile Square Theatre. In 2017, he received an Award of Excellence from the New Jersey Theatre Alliance for his leadership as Artistic Director of Mile Square Theatre. As an actor, Chris has performed in such theatres as Franklin Stage Company, Seattle's A Contemporary Theatre, The Culture Project, Soho Rep, The Ahmanson, Gloucester Stage, Provisional Theatre of Los Angeles, The Bathhouse Theatre, Seattle Children's Theatre, City Theatre in Pittsburgh, where he originated the role of Peter in Craig Wright's The Pavilion, and at Maltz Jupiter Theatre in Billy Elliot. Recent TV and film credits include Magic City, Burn Notice, and the new indie thriller Depraved. Chris has directed over 25 productions at MST and has directed at theatres and universities all over America, most recently at Franklin Stage Company where he directed Billy Bishop Goes to War. Other recent work includes The Complete Works of William Shakespeare Abridged at Lyric Repertory in Logan, Utah, and recently at Mile Square Theatre; I and You, The Garden of Rikki Tikki Tavi, Betrayal, Circle Mirror Transformation and the world premiere of Long Gone Daddy by Joseph Gallo. He played Vanya in last season's production of Vanya and Sonia and Masha and Spike. Chris chairs the newly formed Hoboken Arts Advisory Board for the City of Hoboken. He is an Assistant Professor on the Theatre Arts faculty at Molloy College. Chris holds a BFA from Carnegie-Mellon University and an MFA from Rutgers University.