originally published: 10/24/2019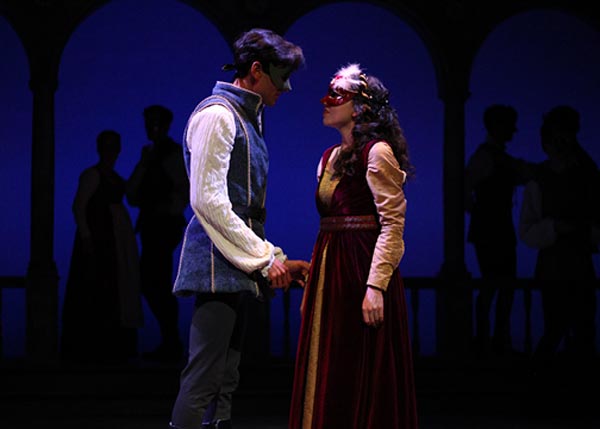 For many people, their first and possibly only exposure to Shakespeare is in high school when the play Romeo and Juliet is assigned. Ian Belknap, Director of Romeo and Juliet currently running at Shakespeare Theatre of New Jersey, had a similar experience when he was young. In his Director's Notes, he says he got the textbook and then, "My friends Kelly and Caitlin took the mildewed textbook and memorized Juliet's balcony speech . . . and tried to get me to play Romeo. 'No Way,' I said. . . . They tried to sell me on its status. 'It is a classic.' . . .They were embarrassed that their friend failed to connect to Shakespeare. I preferred musicals." Happily, for theater goers, Belknap reports that Shakespeare is now a constant companion. His enthusiasm shows in this production which plays on the Madison stage through Nov. 17, 2019.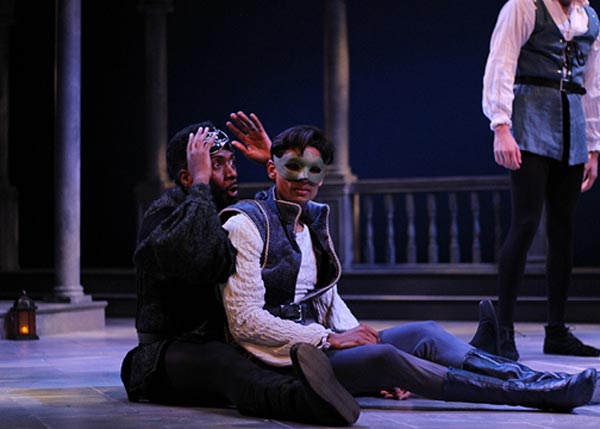 Romeo and Juliet probably has one of the most famous stories in all of literature. It centers around two families, the Montagues and the Capulets, who have been fighting each other for years. Why they fight is never made clear. Romeo Montague and Juliet Capulet fall in love with each other. But they have a problem: their families will never accept their relationship. Street fighting leads to the deaths of Mercutio and Tybalt. When Tybalt dies at the hand of Romeo, he is sentenced to banishment. Friar Lawrence comes up with a plan to help the couple that involves Juliet drinking a potion which simulates death, but Romeo does not receive word in time of what has happened. Thinking she is dead, he kills himself and when she awakes and sees Romeo dead, she kills herself. It is a lot of deaths of young people for a cause that no one knows or understands. The tragedy is enough to move the parents and heads of the households to agree to live in peace.
This is a very fine production of Romeo and Juliet which is something The Shakespeare Theatre of New Jersey is known for. They have taken a classic and given it a fresh look. This fresh look is accomplished through superb acting by the cast, amazing fight scenes, and detailed staging which allows select moments famous from the play to shine through.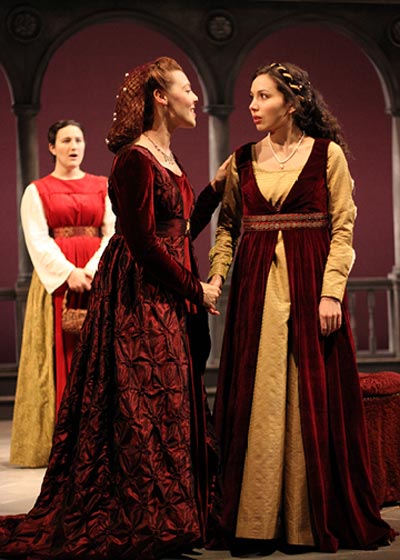 The Acting
The cast in Romeo and Juliet play their parts in the tradition of the play however there are unique touches which shine through. Keshav Moodliar plays Romeo in a manner that shows the giddiness of youth in the beginning when he is fresh off of his rejection from Rosaline. His lack of responsibilities allows him to mope around expressing his unrequited love for her. Even after he meets Juliet, he still shows that very youthful side. However, once he encounters Tybalt in the sword fighting scene where he kills him, his character changes. Mr. Moodliar does a fine job showing both sides of the Romeo character as he shows a maturity necessary to handle his banishment and desire to do what has to be done to get back to Juliet. Miranda Rizzolo plays Juliet. Ms. Rizzolo depicts a very forthright and determined Juliet. She uses great expressiveness as she looks out into the crowd and as she declares her love for Romeo. She is the image of today's strong woman knowing what she wants and stopping at nothing until she gets it.
---
The article continues after this ad
---
---
 Joshua David Robinson gives a strong performance as Mercutio. Along side of him is Isaac Hickox-Young as Benvolio who stands with Romeo in moments of fun at the beginning but then moments of sadness in act II. Torsten Johnson plays Tybalt as a fierce adversary of Romeo, annoyed that his enemy came to the masked ball and stood in the house of Capulet. Aedin Moloney plays the Nurse in a uniquely provocative manner. The well meaning Friar Lawrence is played by Matt Sullivan. Mark Elliot Wilson plays Lord Capulet and Erin Partin plays Lady Capulet.
Other cast members include: Jason C. Brown as Prince Escalus, Michael Dale as Lord Montague, Lucas Iverson as Peter, Ryan Woods as Paris. Jeffrey Marc Alkins, Lèna Chilingerian, Christian Frost, and Landon Hawkins appear in a number of ensemble roles.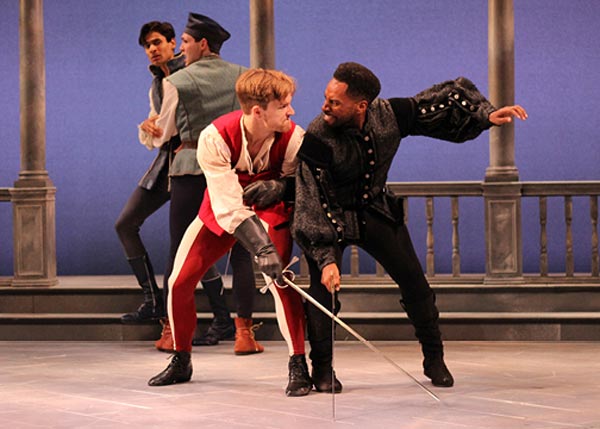 Amazing Fight Scenes
The street fight scenes are so well choreographed in this production. Sitting as an audience member, one gets the sense of how they are performed with a great deal of force. Watching people battling on a live stage can be both exciting and frightening all at the same time. Especially exciting to watch are the sword fighting scenes. The ones where deaths occur are very realistic looking. Fight Director Rick Sordelet does an amazing job with these scenes and they definitely add a full range of action for audience members to see and at times, feel a part of as well.
Detailed Staging
Although the set is simple, it is versatile and open enough to allow action to be easily seen. Impressive is the way the balcony in the Capulet home stands out with sheer style curtains that easily move aside as Juliet speaks with Romeo during their famous balcony scene. At one point, the set shows the masked ball taking place at the Capulets' home where people dance and mingle. The lighting brightly shines on the festive events taking place. That same set transforms into the inside of monastery as the lights dim and the monks walk through the area chanting while holding candles. Additionally, the center of stage allows the street fighting scenes to have ample room to take place. You can almost picture that you are seeing a square in the middle of a town as the young men come in and take up positions for their fights.
A simple, movable low bench designed to look like stone provides the area where Juliet is laid as she takes rest waiting for Friar Lawrence's potion to release her from sleep. When it is first seen on stage, it signals the beginning of the worst part of the tragedy that is set to unfold. This bench is positioned in the center of the stage away from any of the scenery indicating Juliet is no longer at her home. The concept of being in a burial crypt becomes very real as the scenes progresses. It continues to use the bench to give support to Romeo as he kills himself to join Juliet and then as she joins him in the final scene.
If you have never seen Romeo and Juliet live on stage, this is a production you want to see. If you have seen it before, go again. You'll see things in the play you may not have noticed before and it might just give you an entirely new viewpoint of the star crossed lovers and the world they lived in.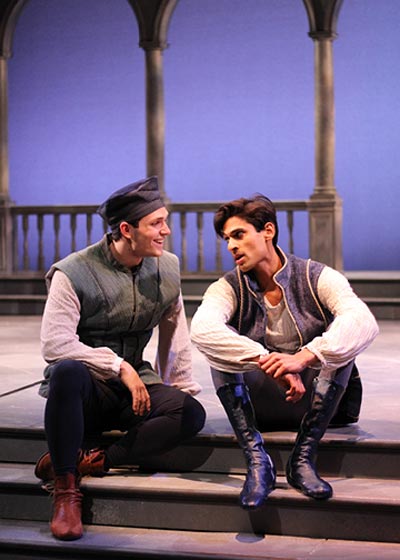 Additional Information
Running Time: 2 hours 20 minutes with an addition 15-minute intermission
Location: The Shakespeare Theatre of New Jersey, Main Stage: The F.M. Kirby Shakespeare Theatre, 36 Madison Avenue (at Lancaster Road), Madison, New Jersey (located on Drew University's campus)
Performances: Now through Nov. 17, 2019 – Tuesdays through Sundays
Contact for Info and Tickets: Call 973-408-5600 or visit ShakespeareNJ.org. Note: The Theatre is proud to continue its 30 UNDER 30 program which provides patrons age 30 and under with tickets for only $30 with a valid ID
Audience Enhancements:
For the same price as a regular ticket, the Symposium Series performances offer a post-show discussion with the cast and a member of the artistic staff. For this production, symposia will be held following the performances on Saturday, October 26 at 2:00 p.m., Tuesday, October 29 at 7:30 p.m and Saturday, November 2 at 2:00 p.m.
The Know the Show pre-show talks are offered free-of-cost. Prior to the show, an artist from The Shakespeare Theatre presents a pre-performance talk providing background information and an inside perspective on the production. This program is free with the purchase of a performance ticket and will be held on Thursday, October 24 at 7:00 p.m., with the show beginning at 8:00 p.m.
The Captioned Performance for Romeo and Juliet will be held on Thursday, October 24 at 8:00 p.m. Captions are transmitted to the patrons' web-enabled smart device via the Internet. Staff will be available prior to the beginning of the show and during the intermission to assist patrons.
Patrons with visual challenges can hear live descriptions of the action by attending the Audio-Described performance of Romeo and Juliet on Thursday, November 7 at 8:00 p.m. Pre-performance sensory webinars are available upon request and allow patrons to handle props, costumes, and set pieces prior to the show.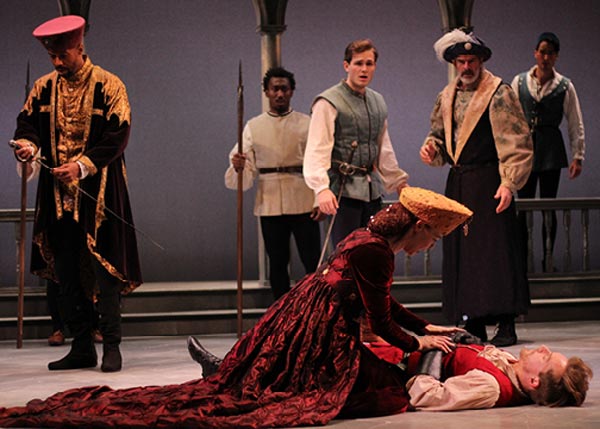 ALL PHOTOS BY JOE GUERIN
---
Let's Go to the Theater helps people learn more about about live theater and develop appreciation for this art form. Karen M. Nowosad is the founder of the site. The enjoyment Karen gets from going to the theater is something she wants to share with others.
---