originally published: 10/24/2019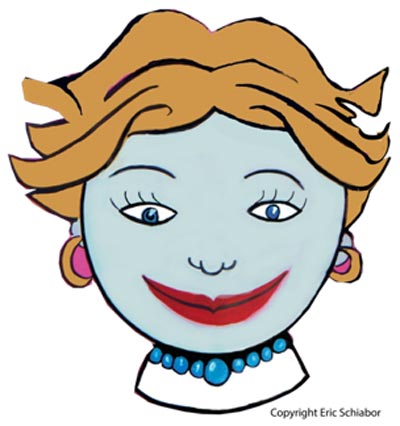 This week also features The Brighton Bar, Vendetta Rose, Solace, Pino's, Banding Together Telegraph Hill Records, Dentist, The Skullers, Jackie June, Kathleen Elle, and Slee.
Tallie Fest is an inaugural female-powered event co-produced by Brittney on Fire and Makin Waves in tribute to Asbury Park icon Tillie's overlooked girlfriend, as well as the many talented women based in Asbury and throughout New Jersey. In Gaelic, Tallie means princess, so in tribute to her, the three-day, three-venue festival will shine a light on 22 female and female-fronted music acts as a means to raise funds for two impactful women-operated Asbury-based charities. Food for Thought feeds the homeless and hungry with a free holiday dinner on Thanksgiving, Christmas and Easter at Langosta Lounge and runs a food truck to raise funds for nonprofits, while employing inner-city youth. Asbury Park Women's Convention promotes women and their rights year-round and presents an annual empowering event every March during Women's History Month.
Tallie Fest will take place Friday, Nov. 22 and Saturday, Nov. 23 with evening performances at Langosta and Asbury Park Yacht Club and Nov. 23 and Sunday, Nov. 24 with matinees at The Saint. Admission at the 9:30 p.m. to midnight shows at Langosta and APYC is free, but half of the weekend entertainment budget will be donated to Food for Thought, which also will benefit from a 50/50 raffle, a silent auction for color prints of co-sponsor Eric Schiabor's Tallie poster and a canned food drive. Tickets for the noon to 5 p.m. shows at The Saint are $10 for 21+, $15 for 18 to 20 years old. Half of those proceeds will benefit Asbury Park Women's Convention, as will a 50/50 raffle and a silent auction for Tallie prints, while a canned food drive will benefit Food for Thought.
Playing 9:30 p.m. to midnight Nov. 22 at Langosta will be:


April Centrone, Asbury-based performer-educator of Arabic percussion and music theory and co-founder of NY Arabic Orchestra, 9:30 p.m.


Taylor Tote, a powerhouse performer from Asbury known for her unique, upbeat and soulful original songs, 10:15 p.m. 


Leah Voysey, Telegraph Hill recording act who's paving her way through Asbury's pop music scene with compelling lyrics, catchy melodies and powerful vocals, 11:10 p.m.


Simultaneously at APYC will be:


Stella Mrowicki, a native of Jersey's Pine Barrens with a folk style, singer-songwriter sensibility and recording acumen that belies her young age, 9:30 p.m. 


Mamadrama, a mom-only Jersey Shore band spicing rock and punk covers with inspired originals, 10:15 p.m.


Ella Ross feat. Blaise, two vibrant singer-songwriters and good friends who ignite the AP scene with inventive songs and performances, 11:10 p.m.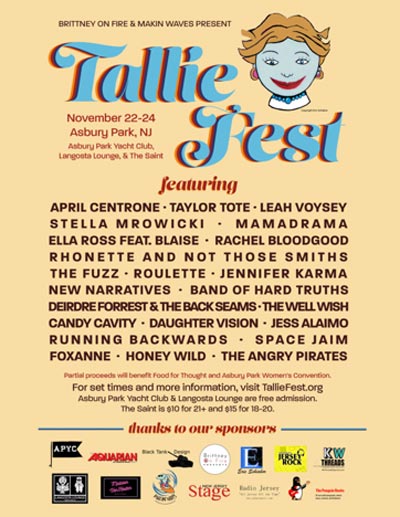 Noon to 5 p.m. Nov. 23 at The Saint will feature the following performances 
9:30 p.m. to midnight on Nov. 23 also will feature at Langosta Lounge:


Jennifer Karma, solo set by leader of the acoustic-driven pop act JAHK, 9:30 p.m.


New Narratives, musical journey of Asbury-based song and life partners with a brand-new EP, 10:15 p.m.


Deirdre Forrest & the Back Seams, award-winning songstress with new band, as well forthcoming EP produced by Grammy-nominee Steve Greenwell, 11:10 p.m.


And at Asbury Park Yacht Club:


Band of Hard Truths, Tallie Fest co-founding and co-producer, Brittney Dixon, will be presenting a brand new band in their live debut, 9:30 p.m.


Honey Wild, mix of blues, rock, jazz, pop and punk as diverse as New Jersey soon to be heard on EP, 3 p.m.


Daughter Vision, what happens when a goddess, a Viking, a demon and a kid band together to rock AP, 11:10 p.m.


Tallie Fest will draw to a close from noon to 5 p.m. Nov. 24 at The Saint with:
The Saint shows will be emceed by Asbury comic Jess Alaimo, co-founder of Asbury Park Women's Convention. Most Tallie Fest artists are featured on a Spotify Playlist.
In addition to Brittney on Fire, Makin Waves, Eric Schiabor, Langosta Lounge, Asbury Park Yacht Club and The Saint, Tallie Fest is sponsored by the Asbury Park-based Blank Tank Design website designer; Asbury-based graphic designer Madison Van Houten of Telegraph Hill Records; KW Threads, the embroiderer whose Tallie sticker on lampposts throughout Asbury inspired and will be available at the festival;  New Jersey Stage magazine and its website; The Aquarian Weekly, New Jersey's oldest alt-weekly; The Penguin Rocks online radio, its "Radio Jersey" show, and WRAT 95.9's "Jersey Rock" program and podcast.
Tallie Fest is an expansion of the annual Makin Waves Hunger Benefit, which during the past two years has raised $2,500 and more than 200 canned goods to help Food for Thought produce its annual Thanksgiving and Christmas dinners for the hungry and the homeless at Langosta Lounge.
Since its inception in 1988, Makin Waves has helped raise or donated $146,000 to charities, including Bergen County United Way, Asbury Park Music Foundation, Elijah's Promise, Little Kids Rock, The Rex Foundation and Planned Parenthood. Brittney on Fire also has raised and donated thousands of charitable dollars to various organizations.
For more info contact me at makinwaves64@yahoo.com or 732-998-9339 and Brittney at Brittneyonfire@gmail.com.
On Nov. 9 on three stages at Jersey's City Pet Shop, Mint 400 Records will continue to do what it does best: focus on local bands. More than 30 will gather for the Makin Waves- and New Jersey Stage-sponsored Indie Binge. The free festival will feature performances by Mint 400 acts, as well as those represented by Indie Binge co-sponsors 3143 Management, Pyrrhic Victory Records, Sniffling Indie Kids, and Neon Peach Records. They are Pioneer the Eel, Well Wisher, Blue Vervain, Quality Living, Ruby Bones, Phoneboy, LKFFCT, The 65's, Rosey Bengal, The Mercury Brothers, The Extensions, Scary Hours, Elijah Wolf, Nicholas Maratta & Jeff McKeon, aBIRD, Bug Martin, C.R. Gennone, The Racer, Dave Mooney, The Components, The Furies, Honey Wild, Grasser, The Prids, Guilty Giraffe, John Cozz & the Rippers, Ellis Wilkinson Band, Tri-State, The Clydes, Ryan Levasseur of The Minus Scale, Tom Barrett of Overlake, Jerry Lardieri of The Brixton Riot,, and Gene Baker of Band Nightmares. They will perform either on an upstairs stage, an upstairs solo acoustic stage or downstairs wine bar stage. 
Co-presented by JC's beloved Rock-It Docket, Indie Binge will serve as a showcase to and networking opportunity with music industry reps, so even if you're not playing, New Jersey music acts, lovers and other entities should come out, especially since it's free.  The venue has an amazing beer and wine menu, as well as great bar and vegetarian food that will be available all day. 
In other Mint 400 news, two Indie Binge acts, Ruby Bones and The Clydes have new records out. New Jersey/Brooklyn indie rockers Ruby Bones' new EP, "Tooth," is the second in a trilogy. It features the single "Rooftops," which debuted on Spotify's "New Noise" playlist. "Tooth" highlights the band's pop sensibilities, while staying true to the upbeat indie rock fans have come to enjoy. Joining singer-songwriter Chris Fox, drummer James Janocha and bassist F.C. Spies is new lead guitarist Matt Cohen. 
Launched in 2017, Ruby Bone's self-titled debut album peaked at No. 7 on Billboard's Heatseeker Mid-Atlantic chart and would go on to be the 16th most added album on the NACC radio chart. The follow-up release – and the first in the trilogy – cracked NACC's Top 200. The band expect to complete the trilogy as soon as possible. In addition to Indie Binge, they'll also play Nov. 15, Cricket Hill Brewery, Fairfield, and Dec. 6, Stosh's, Fair Lawn.
The Clydes, whose new Mint 400 release, "Old-Time Monarchy," was the Makin Waves Record of the Week last week, will celebrate the release on Oct. 25 at Pino's in Highland Park with Honey Wild and Quinton Smith & The Company. Another new Mint 400 release is "Smell My Feet," Mister Tom's entertainingly quirky Halloween-themed album.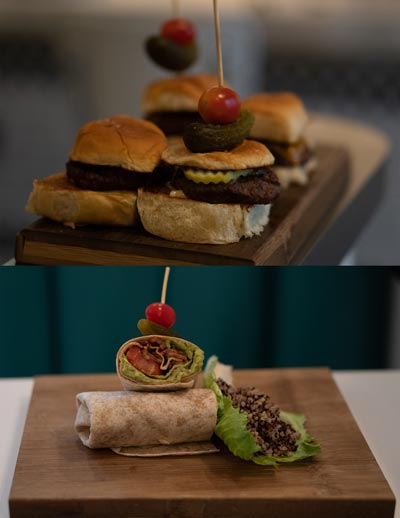 The Lebowski, top, and LGBT Wrap at Asbury Lanes Diner are part of a great new menu. PHOTO BY MAGGIE MCBRIDE

Often when we go to shows in Asbury, my family and I love to eat at the Asbury Lanes Diner even if the show isn't there. We love the avocado toast and mac 'n' cheese French onion soup, and I love the alternating flavors of the booze-soaked milkshakes. I recently also was treated to items on an updated menu: 
The Lanes Omelet filled with cheddar and Monterey cheeses, Applewood bacon, sausage, chicken apple sausage, vegetable sausage, pit fire ham, peppers and onion and served with sea salt hash and toast
LGBT Wrap, which in honor of Asbury's loving rainbow connections, is stuffed with lettuce, guacamole and tomato and served with a quinoa salad
The Lebowski, four beef sliders with cheddar onion, pickle and Dijonnaise on a King's Hawaiian bun as a nod to the Coen Brothers' 1998 cult classic, "The Big Lebowski," along with The Dude, four mini Buffalo chicken tender sliders with Lanes blues cheese slaw and a pickle, also on a King's Hawaiian bun.
A 40-year veteran of the Asbury scene, I believe Asbury Lanes is one of the three best venues in the state from the standpoint of both promoter and spectator (can you guess the other two?). One of the great appeals to me is that the fun, friendly '50s-decorated diner pays homage to the storied history of the Lanes with a wall of posters from its many amazing shows. I highly recommend stopping in for a snack before or after a show, especially if it's at the Lanes. Diner hours are 4 to 11 p.m. Tuesdays, 7 a.m. to 11 p.m. Wednesdays and Thursdays, 7 a.m. to 4 a.m. Fridays and Saturdays, 7 a.m. to 11 p.m. Sundays and closed Mondays.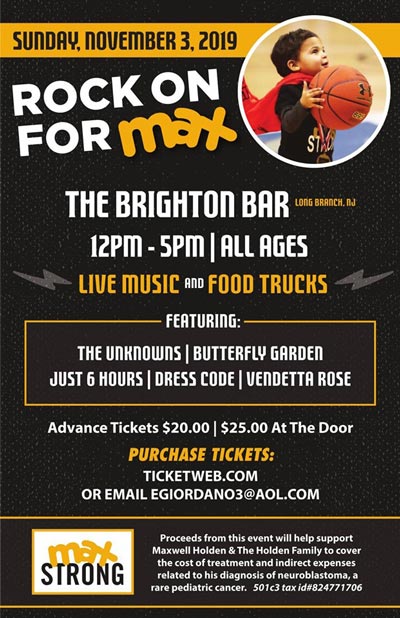 The Brighton Bar will present Rock on for Max, a benefit Max Strong, a 501c3 nonprofit organization that helps young Maxwell Holden and his family cover the cost of treatment and indirect expenses related to the lad's battle against neuroblastoma, a rare pediatric cancer. The all-ages Nov. 3 show will feature food trucks and live music by Vendetta Rose, Dress Code, Just 6 Hours, Butterfly Garden and The Unknowns. You can nab $20 tickets at ticketweb.com or egiordano3@aol.com. They're $25 at the door.
Other hot shows coming up at the Brighton include:



Solace, 40 Pound Hound, Domkraft and Ghastly Sound, Nov. 1




Sayreville's only rock station 92.9-FM's third annual Rock Party with Mikell's Plot, Jason Fox, Pale Horse, Smoked Rose, Canamara, Black Light Medusa, Blud Red Roses, Makes My Blood Dance, the Sympton Black Sabbath tribute, the Rusted Neil Young tribute and more, Nov. 2




Shut Up, 19DRT, Watercolor Nightmare and Pissed, Nov. 15



The Musicians Rock Network 10th anniversary benefit party with The X-Men, Full On Empty, Pocketful, Tight Lipped, The Red Room, and Jon Caspi & The First Gun, Nov. 23.


Speaking of Vendetta Rose, the Jersey Shore band welcomed new drummer, Joey Prince, in August and since have been writing new material that will be released over the next few months.  "Cupid's Arrow" is a new single follow-up to the "Tilted Directions" debut EP released earlier this year. Next month, the band will head into the studio with Paul Ritchie from the Parlor Mob to record another single, which is expected to be released by year's end to coincide with a holiday show on Dec. 29 at the Stone Pony with The Flukes. You also can see Vendetta Rose on Oct. 24 at The Clubhouse, Toms River. Expect a return to Asbury Lanes to be announced soon.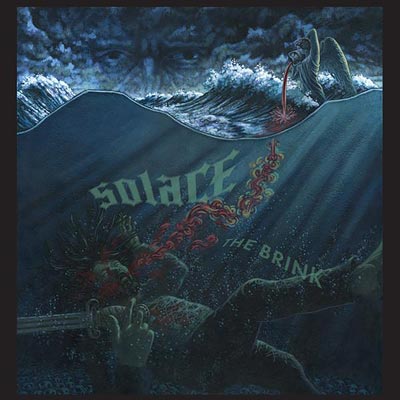 And speaking of Shore-core legends Solace, after a long gap between albums, the doomy New Wave of British Metal-influenced stoner rock band return Dec. 13 with the double LP, "The Brink," on Blues Funeral Records. Filled with dual-guitar leads, weighty doom power and riff-drunk sea shanties, the collection will be available on two different kinds of colored vinyl, as well as limited Digipak CD. You can hear the album live when Solace also play Nov. 8 at The Barbary, Philadelphia, with Pale Divine and Horehound and Dec. 14 at Sam Adams Brewhouse,  Breinigsville, Pa., with Gloominous Doom and Call of Dead. Look for a Makin Waves Record of the Week of "The Brink" here in mid-December.
Also happening at Pino's will be RGD's Halloween Show, Oct. 26, with Slippertails and Ricky Chess; "Guide to the Unknown," a live podcast about the paranormal, urban legends and folklore, Oct. 27; a complimentary tasting of Insomnia Wines followed by Raconteur Radio's radio-play adaptation of "The Exorcist," Oct. 28; a Halloween costume party with live music by hard-travelin' troubadour Keith Kenny, Oct. 31 and Nov. 21; Irish Sessions led by Brian Patrick Szura, Nov. 1; BlowupRadio.com's Banding Together Spondylitis Benefit with Rhonette and Not Those Smiths, Evil Annie & the Ants, September's Ghost, Pat Veil and Happy Joe, Nov. 2; Arlan Feiles, Nov. 15; Lowlight, San Tropez, The Brixton Riot and Tom Barrett, Nov. 22. 
On Black Friday, Pino's expects to release a holiday album compiled by Tommy Strazza, who hosts the venue's Wednesday open mic. Whenever it drops, the collection also is expected to include Mike Noordzy, Laurie Goldman, Zero for Conduct, The Stuntcocks, Peter Horvath of The Anderson Council, The Nowhere and more.
Since 2006, BlowUpRadio.com has been doing a Banding Together Spondylitis Benefit during October and November to raise money for the Spondylitis Association of America, which helps those with the disease, including the wife of BlowUp's Lazlo. The benefit will include a third and final webathon on the online station on Oct. 24, a second concert on Nov. 9 at Espresso Joe's, Keyport, with Bern & the Brights, Ciara Zwicker, erase:rewind, Joe Schroeck, Scruff Carinale, Christian Beach, Dave Vargo, Jersey Drive, Rhonette Smith, and Tony Tedesco, and another Banding Together compilation featuring previously unreleased songs at https://www.spondylitis.org/webathon.  
News from Jersey Shore-based Telegraph Hill Records includes a new single from Levy & the Oaks, "Summer Sweat," which precedes a live album captured this summer on the boardwalk and expected to drop next month. Meanwhile, Bobby Mahoney and the Seventh Son are wrapping up a two-week tour with three Midwest dates this weekend in Illinois, Michigan and Ohio. 
Label mates Des & the Swagmatics will perform as Rick James on Oct. 26 at Asbury Park's annual Convention Hell Halloween tribute concert in historic Convention Hall. Presented by Dark City Entertainment, Jams on the Sand and the AP Boardwalk, the lineup also will include Kung Fu as The Who, Quincy Mumford as Prince, and The Vansaders as The Clash. DJ Foggy Notion will spin between sets. 
The Foes of Fern, led by Telegraph right-hand man Matt Fernicola, have a hysterical new video out for "The Monkey," the fifth single from an album on the horizon. The crazy clip features all-star performances from players throughout the Asbury scene dressed as Fern in long hair and beard, which he shaved off last year for his brother's wedding. Apparently, the transition has been something of a nightmare at least is its depicted in the video, yet directed in a really comic way by Dan Natale and Linda Pluhar of Mango Visuals. Contributing to the track and video are The Mercury Brothers, Connor Bracken, Levy Okun, Jessie McCormick and more. 
See The Foes of Fern live on Oct. 25 at Asbury Park Yacht Club with Dustin Arbuckle & the Damnations and Nov. 19 at The Downtown, Red Bank, with Ty Mares and Chucky Hugh. The band host the Thursday open mic at Red Tank Brewery, and Fern hosts the Wednesday open mic at The Inkwell in Long Branch.
The videos have been pouring out of Telegraph lately with yet another great clip from Lowlight for "Coastlines" to promote their "Endless Bummer" LP. The video was captured on a recent Southern tour. Upcoming performances include Oct. 26, Fall Fest, Jackson; Oct. 31, The Saint, Asbury Park; Nov. 9, Old Franklin Schoolhouse, Metuchen. 
Look for all these bands and more when Telegraph drops Volume Two of its compilation on Dec. 27. 
Asbury indie faves Dentist have a new stand-alone single and video for a tune entitled "Someone Like You," which takes place during a home-improvement project run amok and with gory but funny results. Currently on a tour of the West and Midwest with fellow Asbury act Brick + Mortar, the infectious indie-pop trio will be heading home soon for the jaunt's final show on Nov. 2 at Asbury Lanes.

 
In celebration of the The Skullers' new EP, "Freight Trains & Party Games," singer-songwriter-guitarist Jack Skuller will play a solo set on Oct. 26 at Danny Clinch Transparent Gallery in Asbury. Philly songstress Hannah Krupa will share the bill. The EP was produced by Don DiLego in his Velvet Elk Studio in Pennsylvania's Pocono Mountains. A second single, "She Denies Herself the Things She Loves," was co-written by New York City art-popster George (House of Usher, The Schramms) and recently made into a jazz-dance video that pays tribute to the late Oscar- and Tony-winning director-choreographer Bob Fosse.
Pop-rock singer-songwriter Jackie June dropped an entertaining new video for the title track to her "Wildflower" EP just in time to promote her big gig opening last week for '80s icon Tiffany at Debonair Music Hall in Teaneck. "'Wildflower' is about being weird and proud," Jackie said. "It's about being misunderstood but knowing that you're actually really awesome. I wanted the video to be simple and fun. I had a vision to film in an all-white room and have everyone wear white except for me. I worked with Anthony Corvyx of Vyxen Vision Productions to expand on the concept, and we decided to add some twinkle lights and some pretty pink/purple accent lights. He was incredible to work with!" About working with Tiffany, she added, "The show was incredible. The crowd was amazing. Great turn out. Tiffany was an absolute dream, such a down-to-earth, sweet woman, and incredible with her fans, very engaging. And man, does she have some pipes!" Jackie's next shows will be Nov. 2 at Thirsty Soul, Philadelphia, with Brother Starling; Nov. 16, Rhythm & Spirits, Atlantic City, in a benefit for Stop the Heroin, South Jersey Horse Rescue and other charities; Dec. 5 at Jonathan Tea's next "Spilling the Tea" event at John's Cracker Barrel in Neptune, and in February in D.C. and Baltimore.
East Brunswick singer-songwriter Kathleen Elle said she is thankful that she got so much support in the semi-finals of the Grammy- and MusiCares-sponsored contest to open this year's We Can Survive Concert at the Hollywood Bowl. Up against hundreds of acts from around the world, Kathleen made it to the top 32. After releasing self-produced debut full-length, "Brainwaves," this spring, Kathleen has been performing frequently at the Jersey Shore and New York City, where she'll return Nov. 3 to The Bitter End. She plans tour in support of the 10-track LP, which she said has been streamed 40,000 times. Tour dates include Arizona's Mesa Music Festival, which will take place Nov. 14 to 16.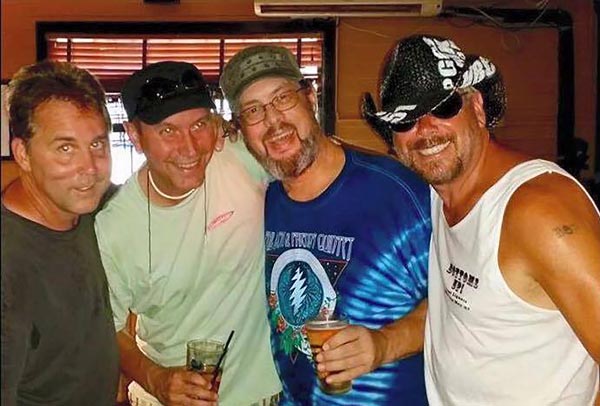 Hunterdon County local super group Bones Weedsley will have a very special guest at their annual Halloween Party on Oct. 27 at the Pattenburg House. None other than their partial namesake Slee, who'll be celebrating 35 years together as a band with the release of their debut CD, "Attitudinal Olives." Guitarist John "Barless Pellichero" is in both bands – but plays bass in Bones -- so it's going to be a busy but fun afternoon. Formed in the early 1980s out of Franklin Park and Hamilton, Slee also featured lead vocalist Jim "Mr. Slee" Seeland; bassist Greg Bacsik and drummer Mark Sacco. "Olives" was recorded by the original lineup in Hamilton with Mark at the helm in his studio, known simply as The Studio.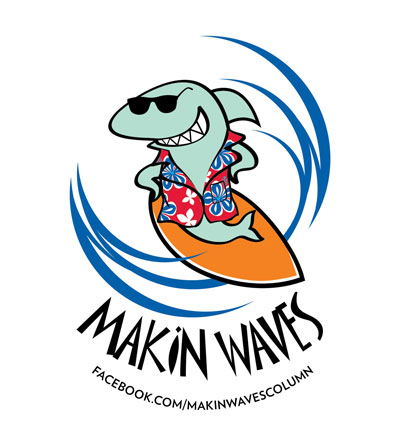 Bob Makin is the reporter for MyCentralJersey.com/entertainment and a former managing editor of The Aquarian Weekly, which launched this column in 1988. Contact him at makinwaves64@yahoo.com. And like Makin Waves at www.facebook.com/makinwavescolumn.