With their pastoral, Northwest Jersey-churned improvisational roots rock, From Good Homes always have been one of the proudest points on the Garden State Music Map. And home they are coming from New Hampshire and South Carolina to reunite once again at Waterloo Village in Hackettstown. This time, it's for an Aug. 3 record release party for a great new album, "Time and the River."
The rollicking yet personal title track kicks off the meaty 11-song comeback with a bittersweet tale of love, longing and loss. The spirited fun of "Throw Up My Hands" comes next as a country-gospel romp with a frustrated political bend that both weeps and has hope for the future. In reference to making a difference, I love the line, "All you gotta do is have a heart," which also relates to the epic closing track, "Lady Liberty," the Makin Waves Song of the Week that can be heard four times daily at AsburyMusic.com, two more times on the station's "Radio Jersey" show, as well as Makin Waves' Spotify and YouTube playlists.
One of the things that From Good Homes are best at is illustrating rural life with a charming vibrancy few other rock or country acts can rival. The opening of "Lady Liberty" is a great example that sets the scene for a powerful statement about immigration. Main singer-songwriter Todd Sheaffer compares the hope of the American Dream that the Statue of Liberty inspired in immigrants who came through Ellis Island to the nightmare of those being detained, neglected and abused in U.S. concentration camps on the Mexican border. Expressing history and empathy from the standpoint that all Americans are immigrants or descendants of them, "Lady Liberty" may be the Makin Waves Song of the Year. It certainly is the one to beat.
This lyric breaks my heart, and if it doesn't at least touch yours, you are inhumane: "I've come from a country torn with terror and strife, and I walk my children by the hand for a brand new life. And what's good for me is probably true for you: for a better life for your children, anything  you can do. Now I'm held at the border of the Land of the Free. I wait my days in an iron cage under lock and key." 
Also socio-political is "Homeland Security," a Dylanesque lament about our lack of care for the environment bolstered by Jamie Coan's fine fiddle playing, Dan Myers' quaint, yet powerful melodica solos, and a closing Native American chant that hammers home an important message about sustainability. Great at depicting nature and natural surroundings, From Good Homes also defend them. "Homeland Security" is an excellent example of how and why.
When originally together throughout the '80s and '90s, FGH never seemed like a jam band to me, but more a lyrical roots rock band who could improvise when they felt like it, much like Little Feat or The Band. Because many of their influences are jam bands whom their fans also greatly enjoy, From Good Homes were included in that scene. "Time and the River" will not disappoint those fans with five tracks that scratch a Grateful Dead itch on an hour-long outing whose songs average 5:30. Live, the album easily can stretch to a 90-minute opening set should the band choose. 
The first of the tasty Dead-like jams is "Sweet Spot," which also is a James Brown/Wilson Pickett-inspired groove. The delicious funk 'n' soul nugget makes great use of horns, particular Dan Myers' sax, as well as awesome performances by bassist Brady Rymer and drummer Patrick Fitzsimmons (Christopher Walken would want more cowbell). The break recalls the Dead with bubbly Jerry Garcia-like guitar licks by Jamie.
Even more Dead-like are: 
* "Tallahassee Trouble," an uplifting exploration of the sweet bye and bye as time passes away between old friends or siblings who haven't seen each other in a while within a recollection of the country and folk-rock of The Band and The Byrds, as well as The Dead's "Bertha"
* "Stick with Your Story,"a fusion of jazz and folk with a reggae tinge that fans of the Dead's "Fire on the Mountain" will enjoy, especially a great sax performance by Dan and bubble-like rhythm playing and sweet, soaring leads by Jamie
* "Don't Put off 'til Tomorrow," a warning against procrastination punctuated by a sweet slide guitar solo by Jamie
* "Bittersweet Falls," a great Fitz-sung tune featuring another great use of horns within a sweet bubbly mash up of The Dead and James Taylor that shares how and why to enjoy life more soulfully by singing through it.
It's wonderful to hear Fitz contributing songs and lead vocals. His "Back In The Day" also is an ode to the power of music, specifically the childhood soundtrack of 1973 when vinyl and 8-track recordings by Dobie Gray, Elton John, Roberta Flack, Dr. Hook and of "Me and Mrs. Jones," "Delta Dawn," "Space Oddity," Bad, Bad Leroy Brown," "Superfly," "Frankenstein" and "Monster Mash" scored such sweet memories as a first middle-school dance and fun summer nights before working papers. Kind of a cross between Jack Johnson vocally and melodically and novelist Thomas Wolfe lyrically, "Back in the Day" features a great verse that reflects on a first crush, while also remembering how bad fashion looked in 1973.  
Great as all the songs and performances throughout "Time and the River" are, I have to say that the album's star is Jamie. I always have been a big fan of his fiddle and mandolin playing, but on this album, he also shreds on guitar. Jamie is one of New Jersey's greatest musical exports. I so wish he still lived here. Our loss is South Carolina's gain also evidenced by "Sun and Rain," a gorgeous ballad by Todd that features patented FGH interplay between Jamie's fiddle and Dan's sax. Whereas that mix often melted into country-soul, on this track, it's more like chamber music, haunting in its layered beauty beneath a world-weary vocal by Todd that adds to the tale of experiential assuredness and priority.
"Time and the River" also features outstanding contributions from guest musicians. Northwest Jersey Grammy-winning music legend John Ginty adds soulful organ to "Lady Liberty" and "Tallahassee Trouble." The latter includes stellar pedal steel guitar playing by Marty Rifkin, an L.A. musician and producer who's worked extensively with Bruce Springsteen, as well as Jewel, Beck, Eric Clapton, Tom Petty, Glen Campbell, Dwight Yoakam and several movie soundtracks. Opening for From Good Homes at Waterloo will be New York singer-songwriter-pianist Marco Benevento, Brooklyn roots-rockers Yarn, and The Nebula, a Jersey jam band featuring members of Albert Savage.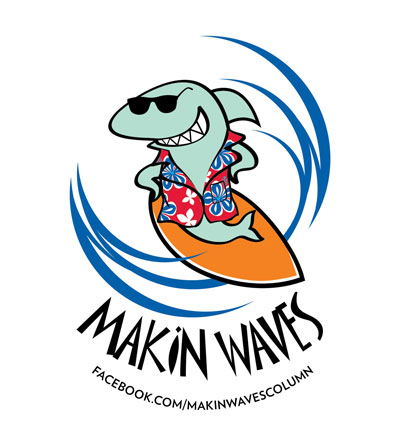 Bob Makin is the reporter for MyCentralJersey.com/entertainment and a former managing editor of The Aquarian Weekly, which launched this column in 1988. Contact him at makinwaves64@yahoo.com. And like Makin Waves at www.facebook.com/makinwavescolumn.