originally published: 06/27/2019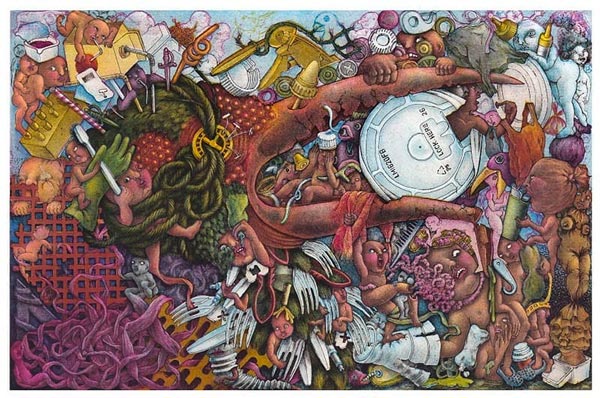 You'll find them in most supermarkets and many convenience stores: cheap, disposable plastic containers that package vegetables like arugula or spinach. Maybe you casually tossed one in the trash after cooking or snacking recently.
But in Rie Hasegawa's hands, a flimsy lid that once sealed one of those containers now has a second life.
She turned it into a piece of art. Or, more precisely, something she used to make a piece of art.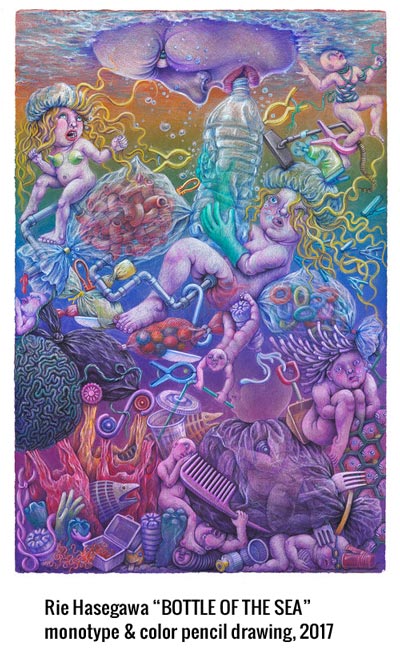 Hasegawa, a Japanese-born, New York City-based artist and printmaker, took the lid, scratched a cluster of grotesque cartoon-like characters onto the plastic, rolled ink over it and pressed the design onto paper to create a fantastical print.
The result — and the lid itself — is now one of the dozens of pieces on display in "Untrashed," an exhibit of Hasegawa's work at Guttenberg Arts in Hudson County through July 20.
The show features a collection of prints, paintings and drawings that she made to explore the ever-growing fear that overconsumption and trash are damaging the world's environment — especially the loads of plastic we use.
Consider it part art exhibit, part recycling project and part environmental warning.
It comes at what Hasegawa calls "a critical time," when many leaders and environmentalists are pushing to cut down on single-use plastic — the kind you use only once and then thrown away. In New Jersey, a growing list of towns are banning plastic shopping bags. State lawmakers are even considering a statewide ban on not only plastic bags, but plastic straws and some plastic containers.
Hasegawa, 48, knows most people have at least a nominal concern about the environment. But, she notes, she's surrounded by New Yorkers every day.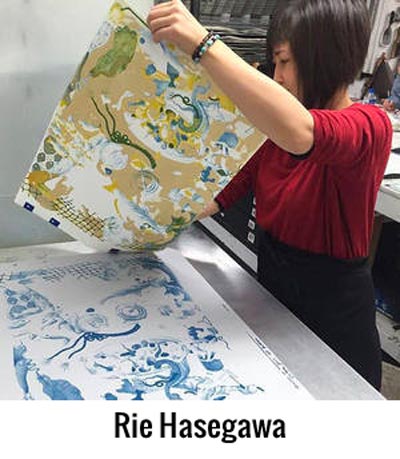 "They are addicted to the convenience," she explains. "They know what is happening. I think they care, but they don't really act to it. It's frustrating. And also surprising to me. Everybody can do even just a small thing, but they don't seem to do much."
"I don't really try to change people, Hasegawa adds. "I just like to do my part."
Some of the pieces in the show feature bubbly, humanoid characters surrounded by plastic bottles, utensils, straws and cups. And for some prints, Hasegawa eschewed the wood, linoleum and metal she traditionally employs and used recycled plastics — coffee lids, plastic bags, packing material — to make images and textures.
She also used actual plastic — string ties, beer holders, trays used for cookie packages — as collage materials in some pieces. One of the watercolors features babies wearing diapers made of the square plastic discs that shoppers use to tie the thin bags you rip from a dispenser to gather vegetables and fruit at the market.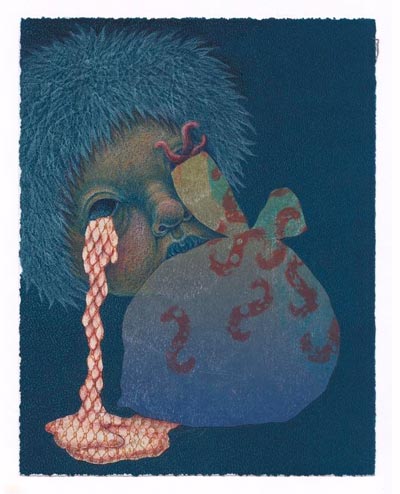 Hasegawa said 90 percent of the paper and ink she used was left over from previous projects.
"I only bought double-sided tape and one frame for this show," she says.
Matt Barteluce, director of Guttenberg Arts, believes Hasegawa is influenced by having a "global view" of the planet.
"There's so many things going right and wrong in the world, you can kind of miss out on some of these important issues," Barteluce says. "We're happy she's been using this as a talking point for people."
Plus, he notes, there's also the striking yet charming visuals in Hasegawa's work.
"I've been looking at her work for 10 years, and I still find little gems and secrets and stories in them," Barteluce says.
Hasegawa grew up in Japan with a father who made illustrations for medical books and cartoons for children's books. He was often too sick to teach her how to paint, but his work inspired her to embrace art.
She studied at the Masashino Art University in Tokyo, though she majored not in fine are but architectural design.
"I don't know why I picked that," Hasegawa recalls with a laugh.
She ended up doing some work for design firms, but she preferred painting and drawing, rather than "making something by the rules."
Hasegawa worked as a painter for a stage company in Japan for about a decade, painting backdrops for plays. Still, she yearned to make her own art.
So, she left her home country, moved to New York and focused on printmaking — the process of crafting a design on a template that can be copied onto paper as many times as you'd like.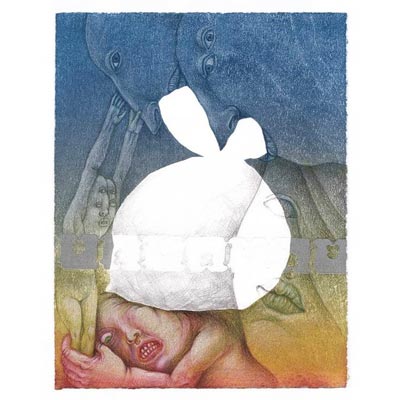 Hasegawa studied printmaking, drawing and mixed media at the National Academy School of Fine Arts in New York.
She's seen her work displayed around the globe — Germany, Peru, Taiwan, Romania, Los Angeles, Wisconsin, the Yale University Art Gallery, New York Public Library and the Zimmerli Art Museum at Rutgers University in New Brunswick.
Hasegawa works at the Robert Blackburn Printmaking Workshop in New York City, which is where Barteluce met her 10 years ago. Barteluce was immediately taken by her art.
"Talent like hers is highly noticeable," he says.
The gallery asked Hasegawa to contribute to its art and literary journal, Carrie Pigeon. And soon, she was showing her work in group exhibitions there.
In the past, Hasegawa says, she made art "subconsciously," without dwelling on the subject.  But about four years ago, she got the urge to focus more on producing art that focused on issues like the environment and politics.
"I am fueled by my own empathy toward all living creatures, as well as the terrors that threaten our own kind," Hasegawa explains. "It seems like we sometimes forget that humans are not the only ones that share this planet, but we're the only ones that destroy it."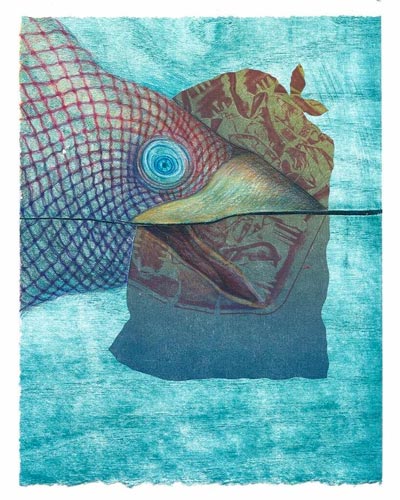 She used a technique called drypoint to produce the makeshift plastic-produced prints in this show. Hasegawa scratches images onto the plastic to produce a raised portion called a "burr." After rubbing ink on the image, it's transferred to a dampened sheet of paper by running it through an etching press. The exhibit also features traditional etches, woodcuts and more.
Hasegawa has tried to completely stop using single-use plastic herself. But that, she says, is almost impossible, because of how common it is in everyday life.
Does she feel she's at least found a creative way to recycle?
"In a way. A very sad way," Hasegawa explains. "It's better than nothing, but I don't think recycling is good enough. We have to ban it."
Her hope is "Untrashed" will show there are alternatives to single-use plastics and inspire some people to make changes.
"Refuse first," Hasegawa says. "Reuse and repurpose if you can."