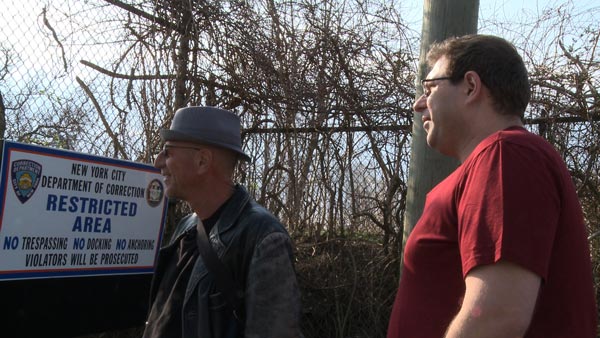 (ASBURY PARK, NJ) --  When Jason Charnick discovers a long pushed aside box of interviews with his father (a heroin addict who was in jail for most of Jason's life and who died of AIDS in 1997) he learns about generations of family secrets, which force him to redefine his own past, doubt his present, and question his future.  His journey is chronicled in real time in the documentary Getting Over, which will be screened at The Collective Art Tank in Asbury Park on Friday, April 26 and Saturday, April 27 - both nights at 7:00pm, followed by a Q&A with the filmmaker. Admission is free.
Over five years in the making, Getting Over is the passion project of a lifetime from filmmaker Charnick.  Given a box of video tapes by his uncle that chronicled his father's final days, it took him well over a decade to even face the image of his father again.
In 1997, Jason's father recorded 17 hours of video interviews with his brother, noted New York artist Arnie Charnick.  The topics covered his entire life - from his childhood growing up in the Bronx, up until just a few months before his death.  When Jason finally felt ready to watch these tapes, what he saw would redefine many of the childhood memories he held so dear.  It would also take him on an unexpected emotional journey, not only back home to New York, but into the past as well.
New Jersey Stage interviewed Charnick for issue 58 of our monthly magazine. In the interview, readers will learn about how viewing these tapes was like entering a personal Matrix for Charnick. He learns of his mother's extensive drug use (including an overdose that nearly killed her), his grandfather living off the grid for decades as a military deserter, and his father's extensive prison history.  It's a powerful story revealed in a gripping film. As his uncle says in the film, "Everybody's got their problems." Some families are better at keeping secrets though.
The Collective Art Tank is located at 529 Bangs Avenue in Asbury Park, New Jersey.  For more on the film visit www.gettingoverfilm.com
---