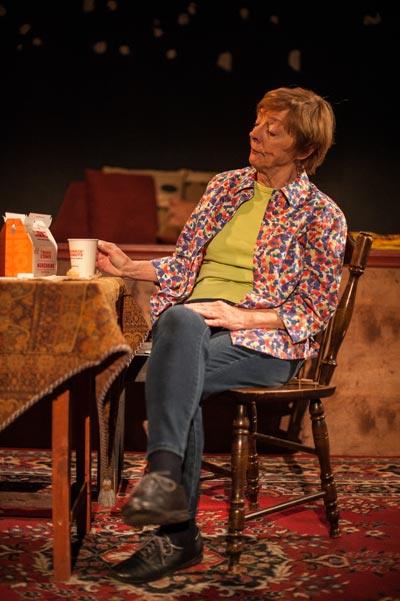 (SUMMIT, NJ) -- Dreamcatcher Repertory Theatre, professional theatre in residence at Oakes Center in Summit, is producing the New Jersey Premiere of Dead and Buried by James McLindon. This dark comedy, set in a cemetery right before Halloween, tells the story of three people who want what they can't have, but get what they need from each other. Dead and Buried runs September 27-October 14, 2018.
In the play, 18-year-old Perdue finds a job in a place most people wouldn't even consider: the local graveyard. Bid, the taciturn former Marine who runs the cemetery, hires Perdue because she unexpectedly touches Bid's heart. Bid's young assistant Robbie has gleaned most of his knowledge of manhood from the pages of Maxim, and falls head over heels in love with Perdue and all of her troubles. By play's end, each of their searches for what they've lost ends when they find one another instead.
The production is directed by Laura Ekstrand (Livingston) and features Dreamcatcher ensemble member Noreen Farley (Clinton). Making their debuts on the Dreamcatcher stage are Philipe AbiYouness (Hackettstown) and Stephanie Windland (New York City). James McLindon, a Massachusetts resident, is a member of the Nylon Fusion Theater Company in New York. His plays have been produced in New York, Colorado, Michigan, Massachusetts, and many other theatres around the country. Dead and Buried is currently being translated for a production in Estonia.
Dead and Buried will run at Dreamcatcher from Thursday, September 27, a preview performance, through Sunday, October 14, 2018. Performances are Friday and Saturday nights at 8:00pm, and Sundays at 2:00pm. Tickets range from $20 to $35, with special rates for subscribers and groups. Purchase tickets at www.dreamcatcherrep.org or by calling Brown Paper Tickets at 800-838-3006. Special dates: Thursday, September 27 is a preview performance; all tickets $20. Friday, September 28 is opening night, followed by a reception with the cast. Sunday, September 30 is Senior Sunday; seniors age 65+ pay $20. Talkbacks follow the September 30 and October 7 matinees.
Performances are at Oakes Center, located at 120 Morris Avenue in Summit. Parking is available in the lot behind the theatre at 20 Ashwood Avenue and at the Summit Recreation Center, 100 Morris Avenue. The facility is wheelchair accessible. Assistive listening devices for the hearing impaired and advance large print scripts are available for free by prior arrangement. To purchase tickets or for information on any of Dreamcatcher Repertory Theatre's programs, visit www.dreamcatcherrep.org or contact Dreamcatcher Repertory Theatre at Oakes Center, 120 Morris Avenue, Summit, NJ 07901, business phone 908-514-9654.
Dreamcatcher was founded in 1994 as a non-profit professional ensemble of actors, a subset of whom perform in every production. The mission of our ensemble is to build community with the audience by sharing contemporary, life-affirming stories that challenge, energize and entertain. We seek to expose theatregoers to ideas and lives like and unlike their own, to awaken their imaginations and create empathy for others. The company focuses on deepening the experience of our patrons by supplementing the performances with personal contact through receptions, talkbacks and interactive programs.
Dreamcatcher's core company of professional local actors performs contemporary work that entertains and challenges, and has at its heart a belief in the essential goodness of people. The company's activities include mainstage productions, improv comedy and cabarets, new play readings and a variety of educational and senior outreach programs.
Dreamcatcher's programs are funded by the New Jersey State Council on the Arts/Department of State, a partner agency of the National Endowment for the Arts; the Geraldine R. Dodge Foundation; Dramatist Guild Fund; The Summit Area Public Foundation; the Manley-Winser Foundation; and many other corporations, foundations and individuals. Dreamcatcher Repertory Theatre is an Equity Producing Theatre member of the New Jersey Theatre Alliance.
---