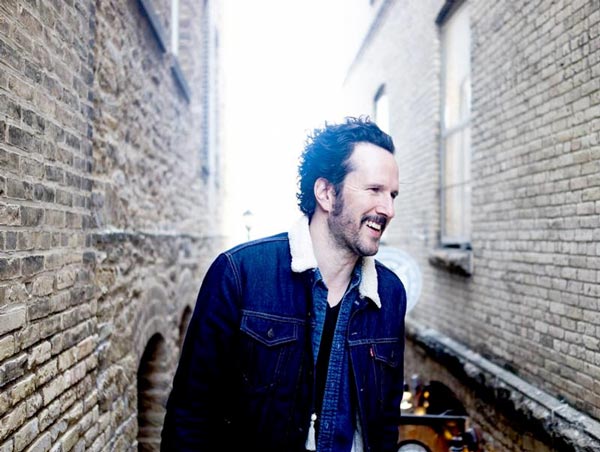 (JERSEY CITY, NJ) -- White Eagle Hall presents Mason Jennings on Sunday, September 16 at 7:00pm. Jennings is touring in support of his latest album, Songs From When We Met, which was released earlier this year.  Tickets are $20.
When Mason Jennings started writing songs for the album, he was in a setting he had never written in before. "I was living out at a farm for a month and walking through some old woods on the property every day. There was a river. And each day an owl would come find me, and then perch above me, day or night. I saw lots of snakes. Songs just came to me there. They were coming in so fast they just about took my head off. It was unlike anything I've experienced before," recalls Jennings. 
Songs From When We Met pulls you in from the start, with Jennings telling the listener, "Get into my car now ... let's leave the city." A great ambassador for the album is the slow grooving "I Know You." "The lyrics at the end of this song sum up the love tone of this album: "Most people don't make sense to me, I don't know much in this world you see, but I know you."
The story of Songs From When We Met comes to an end with the track "Magic Is Real." "The rain on this track is real. We opened the doors of the studio and put mics up and that's the sound of rain on the trees in Wisconsin. Rain is healing."
The album was recorded with Grammy-winning engineer Brian Joseph (Paul Simon, Bon Iver). "His studio has tons of windows. It is an old renovated barn in Eau Claire Wisconsin. He's got tons of amazing wasp nests, bones, books, hanging lights. The walls are covered in ropes. It's so beautiful. He's got bees out back. The studio sits on beautiful land and lots of natural light. Very helpful." Then the recordings went off to Los Angeles to be mixed by another Grammy winner, producer Shawn Everett (Alabama Shakes, The War On Drugs).
---
The article continues after this ad
---
---
Jennings was born on the Island of Hawaii, but at an early age his family moved to the opposite of tropical, Pittsburgh, Pennsylvania. Jennings produced his self-titled debut album in 1997 on a Tascam analog four-track in the living room of a rented home, playing all instruments himself. Birds Flying Away, Mason's second record, revealed his penchant for singing first-person narratives of imaginary rustic characters. In 2002, Jennings released a studio album, Century Spring, and a "fans only" collection of acoustic songs, Simple Life. Jennings recorded two Bob Dylan songs, "The Times They Are A-Changin'" and "The Lonesome Death of Hattie Carroll," which Christian Bale lip-synched in the film I'm Not There. In early 2008, Mason signed with Jack Johnson's record label, Brushfire Records. Jennings's album Blood of Man soon followed and received a coveted 4-star review in Rolling Stone, who said, "What makes Mason Jennings one of the best singer songwriters you've never heard of is his ragged intimate voice and his simple ruminations on God, war, hope and gratitude." In 2011, he released Minnesota, his first new album of original songs since 2009's Blood of Man. After releasing Wild Dark Metal in 2016, Jennings took time off to refocus his career and personal life; he remarried in 2018 and released an album of love songs inspired by his new relationship, Songs From When We Met.
White Eagle Hall is located at 337 Newark Ave in Jersey City, New Jersey.  For more information or to purchase tickets visit whiteeaglehalljc.com