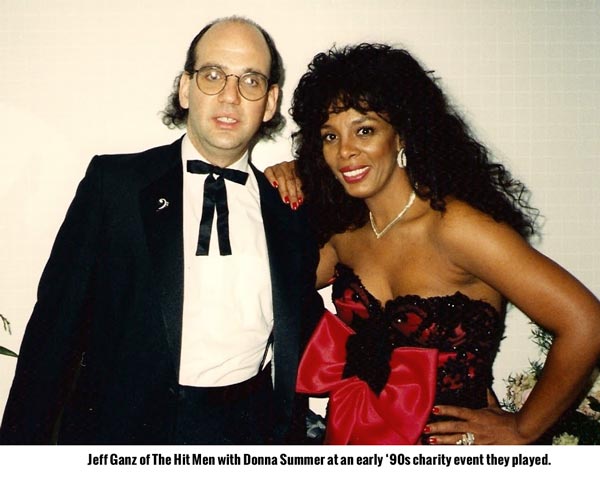 Members of The Hit Men, the "real deal" musicians who each helped deliver dozens of hits to the superstar artists of the '70s, '80s, and '90s could not be happier to see their former collaborator, Donna Summer, posthumously enter the Tony Award spotlight this Sunday with a pair of nominations of Summer: The Donna Summer Musical.
"This is so well-deserved. She was truly one of the nicest people I've ever worked with, and one of the best singers ever," says Hit Men bassist Jeff Ganz, whose stellar resume includes sessions or live work with Cheap Trick, Lou Reed, Dr. John, Johnny Winter, and many more. "It's such a shame she's not here to enjoy it. She would have loved to have seen it."
To illustrate his point, Ganz recalls asking the Disco Queen about performing his all-time Summer favorite, "There Will Always Be You," a deep track ballad from the Bad Girls LP.
"Her eyes got real big with amazement, as she says, 'Oh my, that was the first song I ever wrote!,'" Ganz relayed. "She could not have been more excited to hear how much I loved it."
The Hit Men keyboardist and musical director Lee Shapiro got a quick sense of Summer's sweetness when Franke Vallie and the Four Seasons shared the bill with her on Dick Clark's New Year's Rockin' Eve in the mid-'70s. Shapiro was Valli's "kid" musical director and keyboardist during that resurgent decade of his career.
---
The article continues after this ad
---
---
"She was generous with the spotlight, musically perfect, and a true star while remaining unassuming," IN the fainale of the TV show, I played the bass part of "Love to Love You Baby and she spun around and gave me a big hug and said, "That's my song."
After decades of helping deliver dozens of hits with the likes of Paul McCartney, Elton John, Rod Stewart, and Carly Simon, The Hit Men have taken their next major step toward stardom on their own terms, with the release of their first original music video from their first original single, "You Can't Fight Love" from their new album, Don't Stop.
The Don't Stop U.S. Tour, having already criss-crossed the U.S. with an all-new production featuring the most recent chapters in The Hit Men's "Hits-tory" from the '70s, '80s, and '90s, resumes later this summer.
What the Wrecking Crew meant to the pop music revolution of the '60s, The Hit Men have meant to some of the most indelible hits of the '70s and beyond. It's only now that the evolution of The Hit Men story – fueled, in part, by their countless first-hand experiences as eyewitnesses to rock history – has become arevelation.
The Hit Men includes Ganz, Shapiro, Jim Ryan (lead guitar/vocals), Russ Valazquez (vocalist/ keyboardist/ percussionist), and Steve Murphy (drummer/vocalist). They've seen it all and intersperse their stories – and many more – with lighthearted affection on stage, engaging audiences of all ages in self-deprecating fashion as they continue to sign up new members of The Hit Men "faithful" wherever they've played since coming together in pristine harmony hundreds of shows ago.  
The Hit Men are hardly steeped in the past. But thanks to their illustrious pasts, they sure know good songs when they hear 'em, and are especially attracted to well-written songs with great melody and hooks. No wonder the members share a fondness for contemporary stars like Ed Sheeran, Lady Gaga, John Legend and Jason Mraz.
The Hit Men continue to recreate their classics while proving again and again that you absolutely can teach old dogs new "tracks."
THE HIT MEN "DON'T STOP" 2018 TOUR DATES
August 9: Clayton Opera House, Clayton, NY
August 15: Cape May Convention Center, Cape May NJ
August 18: West End Cruise Night & Classic Car Show, Long Branch, NJ
September 29: Friends of the PAC, Middleton, WI
October 12: Mohegan Sun, Uncasville, CT
October 13: State Theater, Easton, PA
October 20: Vinegar Hill Music Theater, Arundel, ME
October 27: Honeywell Center, Wabash, IN
October 28: The Holland Theater, Bellefontaine, OH
November 10: GSU PAC, University Park, IL
November 15: Cox Performing Arts Center at Dixie State Univ., St. George, UT
December 2: Katherine Hepburn Theater, Old Saybrook, CT
​​​​​​​