originally published: 05/26/2018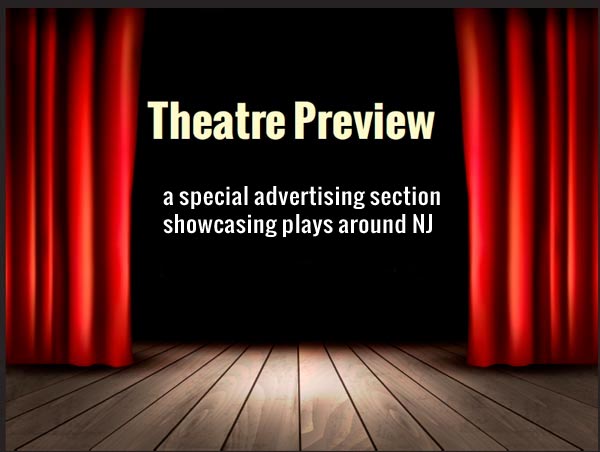 A look at plays coming to stages around the Garden State. Remember to add your shows to the NJ Stage event calendar.  Listings are always free and seen by thousands each week.
The Shakespeare Theatre of NJ presents Tartuffe By Molière (Translated by Richard Wilbur) until June 10th. Tartuffe, the consummate con man, hypocrite and womanizer, meets his match under Molière's deft pen. A masterpiece of biting social commentary brilliantly enclosed in a swirl of witty verse, outrageous characters, and delightful machinations; you'll laugh and wince simultaneously as you hear how familiar this 17th century family sounds to our 21st century ears!  The production is directed by Bonnie J. Monte.
Cape May Stage presents Erma Bombeck: At Wit's End from May 23 - June 22.  Written by Allison Engel and Margaret Engel, this is a loving tribute and lampoon of life in the suburbs filled with light-hearted humor and nuggets of wisdom that give insight into the life and family of the beloved 1960s columnist. Kate McCauley Hathaway stars as Erma Bombeck. The production is directed by Marlena Lustik.

Paper Mill Playhouse presents Half Time from May 31 through July 1st. An incredible true story of ten ordinary seniors with extraordinary dreams who audition to dance at halftime for a major basketball team. Only after making the cut do they learn they won't be dancing tap, salsa, or swing–instead, they will bring down the house with a style that is entirely new to them: hip-hop. Take the uplifting journey with these dreamers–and the young coaches who inspire them along the way–as they battle self-doubt, stereotypes, and even each other for a chance to bust a move at center court in front of the 20,000 screaming fans.
American Theater Group at SOPAC presents the World Premiere of Small Town Story from May 31 to June 10th. Inspired by true events, this is a musical about a musical that rocked a community. Deep divisions arise in town when it's announced the annual high school musical will be Rent. As the escalation drives wedges between parents and students- and teachers and neighbors – secrets are uncovered that threaten to tear them apart. Small Town Story explores the indelible power of theatre, the inherent dangers of silence and the potential of young people to change the world. 
---
The article continues after this ad
---
---
Axelrod Performing Arts Center presents Disney's NEWSIES: The Broadway Musical from June 1 - June 17. Adapted from the Disney film, it is based on the real-life NYC Newsboy Strike of 1899 with a score by eight-time Academy Award winner Alan Menken (Beauty and the Beast, Little Shop of Horrors, Aladdin) and Jack Feldman and a book by four-time Tony Award winner Harvey Fierstein. While on Broadway, Newsies received 23 major theatrical nominations– including eight Tony Award nods – and won Tony, Drama Desk and Outer Critics Circle Awards for Score and Choreography. 
On June 1, NJPAC Stage Exchange presents a reading of The Hombres. Commissioned by Two River Theater, The Hombres looks at the intimacy of male relationships through the point of view of Machismo culture. Set in New Jersey, the play follows Julián, a gay Latino yoga teacher, as he clashes with the Latino construction workers working outside his studio—particularly the older head of the crew, Héctor, who seeks from Julián something he never expected.

Mayo Performing Arts Center presents Shrek The Musical from June 1-3. Based on the Oscar-winning DreamWorks Animation film, Shrek the Musical is a Tony Award-winning fairy tale adventure that brings all the beloved characters you know from the film to life on stage and proves there's more to the story than meets the ears.
The Theater Project presents Kaleidoscop Kabaret from June 1-3. This is their annual presentation of short plays written by The Theater Project's member playwrights is being hosted in Union Center by Unity Bank, in a cleverly converted annex at its Union branch. Member playwrights participating in this year's Kabaret are Luigi Jannuzzi of Hillsborough, Lynn Marie Macy of Cranford, Joseph Vitale of Denville, Stephanie Griffin of Ocean Grove and Mary Jane Walsh of Basking Ridge. Novelist, playwright, screenwriter and workshop founding member William Mesce Jr of Linden will also showcase work at the event.

Two River Theater presents the World Premiere of Songbird from June 9 to July 1st. Written by Michael Kimmel, the play involves fading country star Tammy Trip returning home to the honky-tonk that launched her music career, planning to help the son she abandoned launch his own. But will her arrival do more harm than good? Dreams, ambition, love, and heartbreak—along with a good deal of whiskey—all collide in this acclaimed new musical, based on Chekhov's The Seagull. Featuring Music & Lyrics by Lauren Pritchard and Directed by Gaye Taylor Upchurch.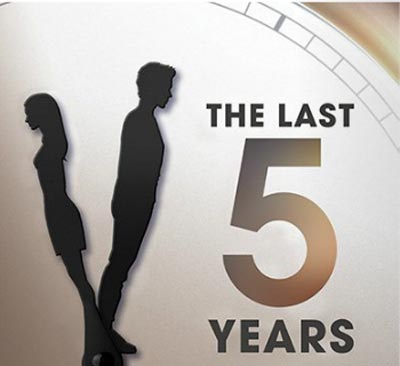 Eagle Theatre presents The Last Five Years from June 1 through July 1st.  An emotionally powerful and intimate musical about a man and a woman who fall in and out of love over the course of five years. The musical's unconventional structure consists of Cathy telling her story backwards while Jamie tells his story chronologically; the two characters only meet once, at their wedding in the middle of the show. Music and Book by Jason Robert Brown; Directed by Ed Corsi; Music Direction by Jason Neri.
Jersey City Theater Center presents Yarns By No Dominion from June 7-9. No Dominion Theatre Co.'s Yarns began initial development in November 2015. The concept for this original devised theatre project derived from a passage from Debbie Stoller's crochet how-to manual, The Happy Hooker: "...[A] lace manufacturer admitted that he expected his workers to turn a few tricks on the side to make up for his not paying them a living wage....this may even explain how the word "hooker" came to have such wayward connotations." 
The Princeton Festival presents A Funny Thing Happened on the Way to the Forum from June 10 through July 1st. This Tony-winning Broadway farce is light, fast-paced, witty, irreverent and one of the funniest musicals ever written. A Funny Thing Happened on the Way to the Forum takes comedy back to its roots, combining situations from the time-tested, 2000-year-old comedies of Roman playwright, Plautus, with the infectious energy of classic vaudeville.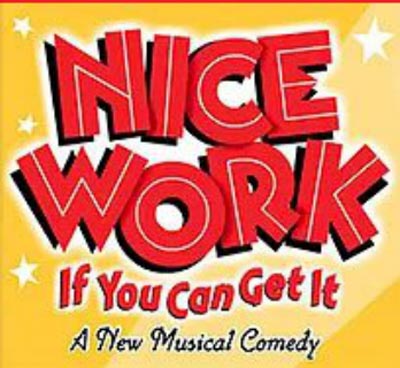 Surflight Theatre presents Nice Work If You Can Get It from June 12-24. A hilarious new screwball comedy, Nice Work If You Can Get It pokes fun at the Prohibition era in a clash of elegant socialites and boorish bootleggers, all set to the glorious songs of George and Ira Gershwin. The show includes such Gershwin favorites as: "Nice Work if You Can Get It", "Fascinating Rhythm" and "Someone to Watch Over Me."
East Lynne Theater Company presents the World Premiere of On The Sunny Side of the Street from June 13-July 21. A cast of four bring the lyrics of the incredible Dorothy Fields to life in this world premiere revue, with Charles Gilbert as musical director and accompanist, and Karen Cleighton as choreographer, under the direction of Gayle Stahlhuth. During her almost 50-year career, Dorothy Fields wrote lyrics for more than 400 songs; worked on 15 Broadway musicals, sometimes as book writer and/or lyricist, and almost 30 Hollywood films.  

New Jersey Repertory Company presents the World Premiere of Mercy from June 14 - July 15. After the untimely death of his wife, Orville tries to get on with his life. His father is taking care of the baby, while his boss aggressively tries to comfort him. However, everything changes for Orville when he inadvertently meets the man responsible for his wife's death.Written by Adam Szymkowicz; Directed by Gail Winar.
Shadow Lawn Stage at Monmouth University presents The Fantasticks from June 21 to July 1st. The world's longest-running musical, The Fantasticks is a funny and romantic musical about a boy, a girl, and their two fathers who try to keep them apart. The narrator, El Gallo, asks the audience to use their imagination and follow him into a world of moonlight and magic. The boy and the girl fall in love, grow apart and finally find their way back to each other after realizing the truth in El Gallo's words that, "without a hurt, the heart is hollow.
Phoenix Productions Presents: In the Heights at the Count Basie Theater from June 22-24. Set over the course of three days in Washington Heights, New York City, In the Heights tells the universal story of a vibrant community where the coffee from the corner bodega is light and sweet, the windows are always open, and the breeze carries the rhythm of three generations of music. It's a community on the brink of change, full of hopes, dreams and pressures, where the biggest struggles can be deciding the traditions you take with you and which ones you leave behind. 
Mayo Performing Arts Center presents Dirty Dancing from June 23-24. This worldwide smash hit tells the classic story of Baby and Johnny, two fiercely independent young spirits from different worlds who come together in what will be the most challenging and triumphant summer of their lives. 
Monmouth University presents National Theatre Live in HD with Macbeth by Shakespeare on June 27. The ruined aftermath of a bloody civil war. Ruthlessly fighting to survive, the Macbeths are propelled towards the crown by forces of elemental darkness.

UCPAC's Hamilton Stage presents Her Dream / His Nightmare on June 29-30. Couple Bo and Val have been in a loving relationship for the past three years. Val is a newly devoted Christian excited about her new life while Bo is divorced with 2 children from a previous marriage. Life is perfect until Val discovers that he isn't being totally honest with her, and they will have to weather the storm of their relationship. Will he be the man of her dreams and make them a reality, or will she she stay stuck in his nightmare?!
The Broadway Theatre of Pitman presents Chicago from June 29 - July 22. Set in the 1920's, this jazz soaked musical sizzles, starring two women trying to work the judicial system. Tensions arise when Roxie Hart, a wannabe vaudevillian star and famed double-murderess and nightclub performer Velma Kelly acquire the same lawyer. The two compete for the spotlight and attention of their lustful lawyer. Featuring timeless songs including "All That Jazz" and "Class."