By Gary Wien
originally published: 05/17/2018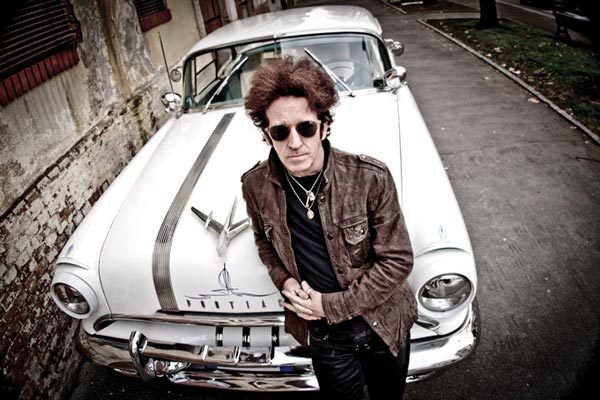 (ASBURY PARK, NJ) -- No stranger to the Jersey Shore, Willie Nile returns to Asbury Park on Saturday, June 9 for a Rock 'N Roll Birthday Bash at House of Independents. He will be supported by local favorites Colossal Street Jam.  Doors are at 7:00pm. Tickets range from $30 to $60.
"Playing in Asbury Park is always deep and meaningful for me," said Nile. "The history there is so rich and full of great rock 'n' roll it's a real honor to be a part of it. The audiences are smart and passionate and are well aware of all the history there and if they believe in you and dig what you're doing they'll give you everything they've got. That's why the band and I are always so psyched to come and play there. It's a total blast!"
Nile has been a fixture at the Light of Day Foundation shows which raise money and awareness for Parkinson's Disease research. He may be from Buffalo, NY, but he's a true adopted son of the Jersey Shore music community. Born on June 7th, Nile will be celebrating his birthday in Asbury Park and invites you to celebrate with him.
"I can't wait for the show at the House of Independents on June 9th!" added Nile. "We'll be bringing our 'A' game and so will the audience! If anyone isn't blown away by the show and doesn't walk out feeling a hundred times better than when they walked in I'll give them their money back.  I also recommend everyone who comes out should bring two pairs of socks because we plan on blowing their socks off so they'll need another pair! Can't wait! Asbury here we come!"
Nile's latest album, Positively Bob - Willie Nile Sings Bob Dylan - was released in the summer of 2017.  To say it breathes new life into Dylan classics is an understatement.  Nile brings his own signature sounds to songs like "The Times They Are A-Changin", "Blowin' In The Wind", "I Want You" and many more.  Personally, I had never heard anyone come close to The Byrds in redefining Dylan songs as their own until I first heard Willie's album. It's the latest in a string of simply amazing rock and roll records from Nile.
---
The article continues after this ad
---
---
His 2016 album World War Willie appeared on numerous year end top ten lists and was named Album Of The Year by Twangville Magazine. The song "Forever Wild" was named Coolest Song In The World by Little Steven's Underground Garage. 
In November 2014, he took a break from his traditional guitar-infused rock to release If I Was A River - an album of piano-based songs. The New Yorker called it "One of the most brilliant singer-songwriters of the past thirty years." No Depression raved, "Willie Nile's artistic renaissance continues unabated."  New Jersey Stage interviewed Willie when this album came out and you can read the magazine's cover story here.
Earlier albums from 2013's American Ride and 2011's Streets of New York received rave reviews as well. And 2010's The Innocent Ones gave us a modern rock and roll classic - a song that has become the anthem of Light of Day and Love Hope Strength shows around the world.  The song is "One Guitar" and it has already been covered on records by The Alarm and Joe D'Urso as well as played live by countless numbers of artists.
Willie has toured across the U.S. with The Who and has sung with Bruce Springsteen and The E Street Band. As the induction program from the Buffalo Music Hall of Fame says: "His live performances are legendary." American Songwriter adds, "Nile cranks up the volume and tears into these tunes with the same hunger, passion and exuberance he displays in his legendary sweat-soaked shows."
Opener Colossal Street Jam is a 5-piece band that was a mainstay in the Asbury Park and NJ scene in the late 80's to early 90's. The band is composed of five great friends (Gene Potts, Sal Marra, Tony Flora, Dave Halpern, and Eric Safka) who play a 70's style brand of infectious and melodic rock and roll. 
The band has reunited to play shows celebrating its music of over 20 yrs ago. CSJ has shared the stage with many great artists throughout their career including: Robbie Krieger, Kings X, The Drive-by Truckers, The Hold Steady, Gov't Mule, Johnny Winter, Sebastian Bach, Bruce Dickinson, Screamin Cheetah Wheelies, Ritchie Blackmore, Steve Morse, Zebra, Deep Purple, Clarence Clemons and many more.
For more on Colossal Street Jam, check out Bob Makin's interview with the band from 2017 and a review of their album by Rosemary Conte.
House of Independents is located at 572 Cookman Avenue in Asbury Park, New Jersey.
---
Gary Wien has been covering the arts since 2001 and has had work published with Jersey Arts, Elmore Magazine, Princeton Magazine, Backstreets and other publications. He is a three-time winner of the Asbury Music Award for Top Music Journalist and the author of Beyond the Palace (the first book on the history of rock and roll in Asbury Park) and Are You Listening? The Top 100 Albums of 2001-2010 by New Jersey Artists. In addition, he runs New Jersey Stage and the online radio station The Penguin Rocks. He can be contacted at gary@newjerseystage.com.
---