By Rosemary Conte
originally published: 03/27/2017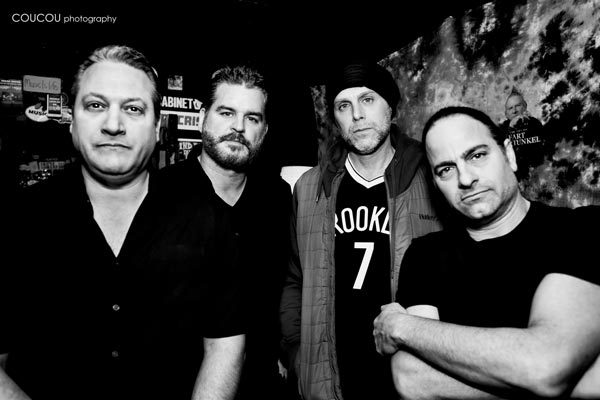 Gene Potts was a talented 13-year old when I met him. I could see he had the makings of a fine singer. Gene was dedicated to his lessons, grew confident, and by age 19 he was lead singer in a band we know today as Colossal Street Jam.
I hadn't seen Gene for 20 or so years, when in 2015, another student of mine told me she sometimes sat in with his band. That was the beginning of our re-connection. When I finally got to see the band live in 2016, I was blown away. The band was a cut above so many others, and Gene had become the exceptional singer whose promise I saw at age 13. I believe his achievement was due more to his musical genes (his dad is a gospel singer) and his own dedication than to anything I did.
CSJ's bio describes the five-piece band's sound as infectious and melodic rock n roll. What I heard was performances by real artists who communicate with each other so well, that it's at a level I call "oneness." And, by the way, I make no distinction between singers and other instrumentalists as musicians.
Here are just some of the originals on the 11-track CD Living Free and what I like about them:
"Won't Last This Way" is the opening stunner, and sets the tone for a powerhouse experience. Gene introduces an attractive vocal attitude with just enough grittiness. I like that he has such a command of his instrument that allows him to be a versatile singer---should he choose to be. In this song, the tight unison and harmony in the recurring riffs by guitarist Sal Marra and bassist Tony Flora become the distinctive sound of a "dynamic duo." Marra uses a fat effect here and on several of the tracks that feels to me like a big, warm blanket wrapping around me. And with the solid punctuation by drummer Dave Halpern, this track becomes hypnotic.
---
The article continues after this ad
---
---
The title track "Living Free" is a beautifully crafted song, with a catchy hook, and vocal harmonies that grow even more lush in a closing vamp with Laura Catalina Johnson's voice soaring in face belt asides. How do you end a song that has built to such an emotional pitch? You don't. You just sustain the feeling for a moment or two as it marches past you in gentle fade.
"Songbird," a love song, has a gentle acoustic guitar intro that is repeated by Marra before each verse. Here, is a more intimate vocal by Gene that reveals his versatility. His emotional vocal climax is executed perfectly.
"Hanging Around" features a few bars of one of the several guitar textures Marra delivers on this disc. I wanted to hear more of it…but then, it's not a good idea to overdo a good thing, and the seasoned Marra knows that. It's that sense of good taste one hears from grown-up players that makes a band so good and so interesting to hear. Tasteful performance is the final stage of an artist's development. There's a challenge for the listener in this song…like…am I feeling some time changes here…or are they just suggesting or pretending? These are accomplished players capable of raising the bar for listeners.
This is good song-writing and good production. All the songs on Living Free feel different. The varied "feel" and tempos had me looking forward to what I would hear in each subsequent track. I was so into the bluesy "Be Good to Yourself" that it seemed a short performance by guys long on blues chops. You know---how when you're enjoying yourself, time seems to race by.
"I Can't Take It" treated me to the Hammond B3 sound I love, and played by Eric Safka. Here, too, is that driving, interesting bass line with novel, rhythmic vocal and instrumental action. I love the musical surprises here and the jazzy chord changes.
"Let It Go" begins with a spoofy Wolfman Jack, then Marra's vocal on a fun country two-step with tickling guitar and piano interplay. Really, really fun. I didn't want it to end!
"Sweet Little Lady" the final track, was recorded live at Asbury Park's Stone Pony. You'll hear killer solos from all the players. This is the strong, mutual climax a band and it's live audience wants to feel when the evening wraps up.
You can see Colossal Street Jam on March 22, as they open the new Teak Roof Top, the addition to the Teak Restaurant, at 64 Monmouth St., Red Bank. And upcoming, they'll be at 10th Avenue Live, Kenilworth, April 1st; House of Independents, Asbury Park, April 28th; and the Jersey Shore Music Festival 2017, Seaside Heights on May 21st. They're a busy crew, so check out the rest of their schedule at www.ColossalStreetJam.com

The CD is available at their gigs; at cdbaby.com ; on iTunes, Spotify, Apple Music and Google Music and can be ordered from the website.