originally published: 05/02/2018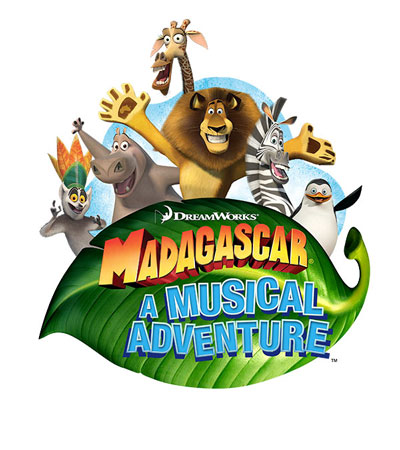 "We were looking for a fun musical with a score that our audiences could relate to and appreciate," said Stephen L. Fredericks, the Founder and Executive Director of The Growing Stage – The Childrens Theatre of New Jersey in Netcong. "'DreamWorks' Madagascar – A Musical Adventure' features an upbeat, modern style that fit the bill, and the book has a great story with humor that can be appreciated by all ages. That's an important quality that we don't overlook in our selections since we are attempting to create a piece that can be appreciated by an entire family, and not simply a targeted age group."
The Growing Stage has been presenting quality children's theatre since 1982. Their mission has always been to provide a theatrical experience that the entire family could enjoy – something that doesn't always happen in children's theatre. Some plays for children are designed solely for children and are something parents endure rather than enjoy. That's not the case with The Growing Stage, a theatre that presents intimate versions of mainstream Broadway hits, world premieres and shows that are more theatre than children's theatre – shows that are perfect for the entire family and a wonderful way to introduce children to the theatre.
"As one of the oldest art forms in our culture, theatre plays a vital role and offers a unique opportunity in the development of a child," explained Fredericks. "The expression of ideas, culture and voices, as well as the vehicle to further learn from the stories of others, broadens the world in a manner that both complements what they are learning at school as well as home, and expands it through their own imagination."
It doesn't hurt when the play is full of fun, exciting characters like those found in "Madagascar." The musical, based on the hit animated film from 2005, follows this zany cast of characters as they escape from their home in New York's Central Park Zoo and find themselves on an unexpected journey to the madcap world of King Julien's Madagascar.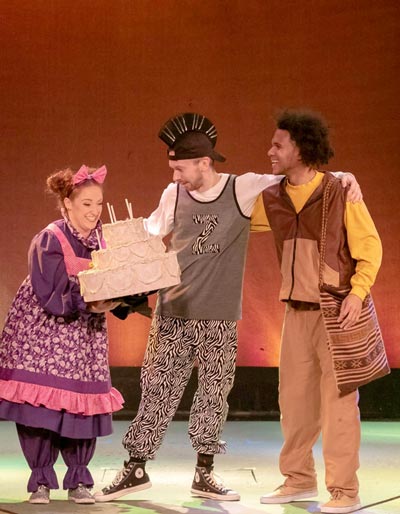 Alex the Lion is the king of the urban jungle, the main attraction at New York's Central Park Zoo. He and his best friends – Marty the Zebra, Melman the Giraffe and Gloria the Hippo – have spent their whole lives in blissful captivity before an admiring public and with regular meals provided for them. Not content to leave well enough alone, Marty lets his curiosity get the better of him and makes his escape – with the help of some prodigious penguins – to explore the world.
The cast for The Growing Stage production features 10 talented actors: James Ross (Alex the Lion), Davis Cameron Lemley (Marty the Zebra), Allie Ambriano (Gloria the Hippo), Kirk Jasen Lambert (Melman the Giraffe), Ryan Hagan (Skipper the Penguin), Brandon Wiener (Kowalski the Penguin), Sharon Romano (Private the Penguin), Nikole Rizzo (Rico the Penguin), Grace Noel (Maurice the Lemur), and Na'Jee Tariq (King Julien).
Many of the actors at The Growing Stage return for future productions. One example is Davis Cameron Lemley, who has been seen in Netcong in plays like "Peter & The Starcatcher," "A Christmas Carol," "The Box of Stories" and "The Cat in the Hat. As Lemley was completing his BA degree in Musical Theatre at New Jersey City University, he learned that The Growing Stage was holding auditions for "Peter & The Starcatcher."
"I had never been there before, but it took no time to realize how special this company was and what it meant to its community," said Lemley. "Performing for children and families has its own rewards. For the children, I've noticed they are quick to let you know what's on their minds out in the audience. It makes my job more challenging, but it shows how observant they are and how much work I need to put into developing a convincing character!"
Lemley sees Marty the Zebra as a dreamer. His direction was based on effectively utilizing energy to further the performance.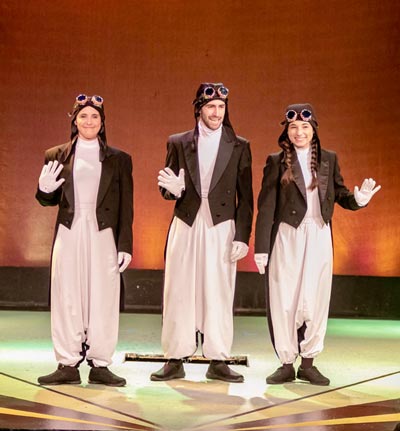 "The show allows him to take the journey he always wanted in order to realize what was truly important to him," explained Lemley. "The excitement he exudes on stage is never-ending, but it's more than satisfying when I can achieve that level of performance."
Fredericks is the director of "Madagascar," and he said the theatre takes casting very seriously. When casting for a musical, they not only look for actors who can sing or dance well, but they want good acting and strong energy levels as well.
"Quality is a vital component to our theatre, especially due to the genre we focus on," said Fredericks. "In addition to presenting a professional piece of theatre for the entire family, we take very seriously our role in helping to develop the audience of tomorrow as well. To that end, we foster both the growth of the emerging artists and audience at the same time. We believe we accomplish that, in part, by casting the very best for our productions."
Fredericks continued, "In addition to leaving with money still in your pocket, we have designed a very unique theatre space that allows for high production values, while still allowing the space to be accessible and intimate with our audience. Our adult performers are emerging stars in their own right, and the level of performance is something that always blows away families new to The Growing Stage."
Lemley, from Cedar Grove, is one with aspirations of Broadway. He says his dream role would be Huey Calhoun from "Memphis," who, ironically, is a dreamer, much like Marty the Zebra. While he auditions for roles in the city, he's becoming a regular at The Growing Stage – a place that has become something of a second home for him.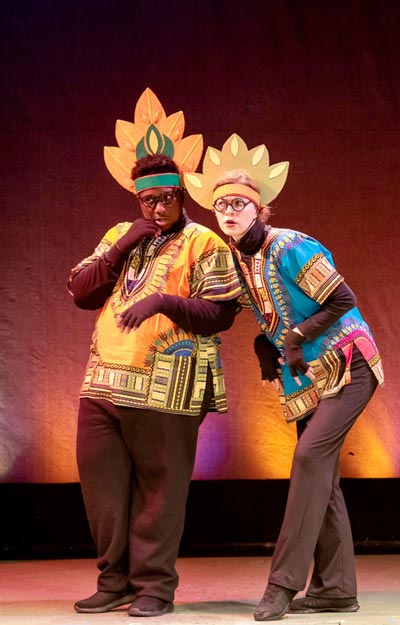 "After becoming a part of their family this past year, I realized how much impact they have on such a wide range of young audiences," said Lemley. "I cannot begin to express how much our productions inspire young children that wish to perform when they grow up! It is a true joy to see so many families come through and feel such exuberance coming to the theater. With everything in the world being 'out of sort,' I'm glad to provide a positive escape for so many people!"
Fredericks would agree with that. As the Executive Director for the company for the past 36 years, he has seen young audience members grow up to be parents who then bring their own children to the theatre, and even continue as grandparents. He describes the experience as one that is very humbling that he values beyond any personal accolades in his life.
"In college, I took a Children's Theatre class thinking it was an easy 'A'," recalls Fredericks. "It wasn't, and I have been studying it for my entire professional career! Seriously though, I learned from my professor, who remains both friend and mentor throughout the years, that our genre of theatre provides so much more than the applause at the end of the show. If done well, it inspires a next generation of art patrons, it encourages shared conversation and memories from an entire family and it stimulates the child's mind to think beyond its own self to an entire world that stretches both the real world of today as well as the imagined of what could be tomorrow."
"DreamWorks's Madagascar – A Musical Adventure" is on stage weekends now through May 20 with performances on Saturdays and Sundays at 4:00pm in the Historic Palace Theatre, 7 Ledgewood Avenue, Netcong. The play features a Book by Kevin Del Aguila with music and lyrics by George Noriega and Joel Someillan. Admission is $15 for children, $20 for seniors and $25 for adults. Directions and a list of restaurants near the theatre is available at http://www.growingstage.com/plan-your-visit/
PHOTOS BY JERRY DALIA