originally published: 03/15/2018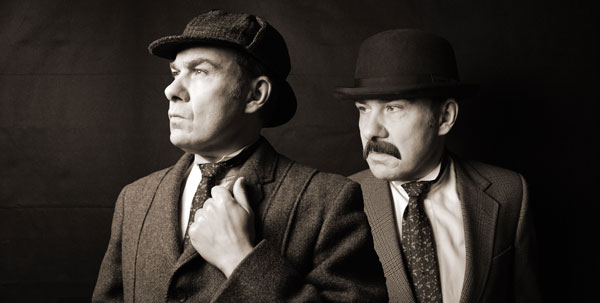 "Mr. Holmes, I am under such a strain that I shall go mad if it continues. Do you think that your powers could shed a little light in the darkness which surrounds me?" asks Enid Stonor, who made her way from an eerie country mansion to London to talk to Sherlock Holmes and Dr. Watson.  Her sister died under mysterious circumstances and she's asking for help because Enid believes she will be the next to be murdered.
That's the premise behind "Sherlock Holmes' Adventure of the Speckled Band," which East Lynne Theater Company will present on Friday and Saturday, March 16-17, at 8:00pm in Cape May.  The production is done in the style of an old-time radio broadcast, complete with live sound effects and commercials, just like the Sherlock Holmes' radio series on NBC that premiered in 1930.  They will be using a script adapted by Craig Wichman, Founder and Producer of the nationally acclaimed Quicksilver Radio Theater.  His script received the National Federation of Community Broadcasters' "Gold Reel" for Radio Drama Award.
East Lynne Theater has been producing radio plays featuring the exploits of Sherlock Holmes for more than a decade.  This production returns Lee O'Connor as Sherlock Holmes and Fred Velde as Dr. Watson – roles they have played for quite some time. The cast also includes Susan Tischler as Enid Stonor,  Craig Wichman as Dr. Roylott, Phil Pizzi in multiple roles (as well as operating live sound effects) and Gayle Stahlhuth as Mrs. Hudson and Violet Stoner. Stahlhuth, the Artistic Director for the theatre also directs the production.  Performances take place at The First Presbyterian Church of Cape May, 500 Hughes Street, where the company is in residence.
Culture Vultures caught up with Stahlhuth to learn more about the show.
Culture Vultures: What is it about Sherlock Holmes that makes the stories work so well in the radio play format?
Gayle Stahlhuth: The Sherlock Holmes stories lend themselves to a nice radio format because they're mostly short stories that can be pretty easily adapted into the half hour radio format. In our case, we stretch them out a little bit so they're about 50-60 minute radio versions, which include old-time radio commercials.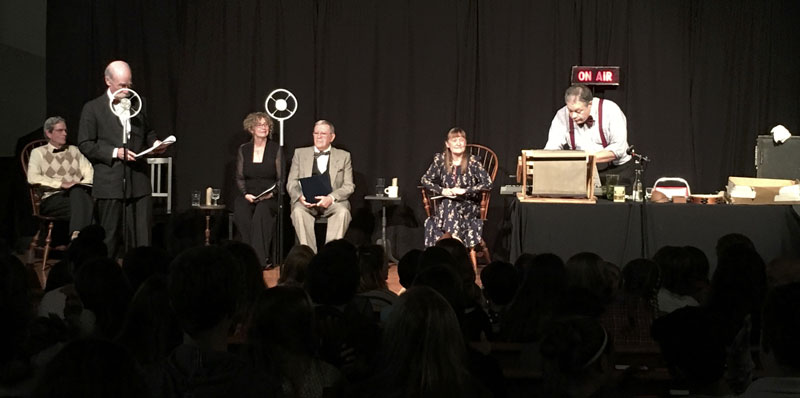 CV: You're using a script by Craig Wichman.  I know you've worked with his scripts before, but has he ever performed with the theater?
GS: This is the first time! With his own Quicksilver Radio Theatre, he always plays Sherlock Holmes, so this will be the first time he's playing Dr. Roylott in his own script.  When it comes to Sherlock Holmes, we either use Craig's adaptations or my own.  I don't use the Edith Meiser scripts because she kind of wimps out the women, which I think is very funny being a woman herself doing the adaptations.
CV: I know you have used Lee O'Connor and Fred Velde as Holmes and Watson for a while, what do they bring to the roles?
GS: Both Lee and Fred have terrific voices for radio.  When I cast this show, I'm very careful about the sound and how people's voices will be on microphones.  Although there's no airwaves picking us up, we perform on microphones as if they were being broadcast to the universe.
In our versions, Watson is not a bumbler.  He's a very smart guy who has a war wound and is a well-respected physician.   It was only when Nigel Bruce started to play him in the films that he began to be a little more on the doughty side.  Most people don't believe that was Conan Doyle's interpretation.
So, it's their voices that add a lot and their complete understanding of the characters.  And it's kind of nice to have the same people play them every year.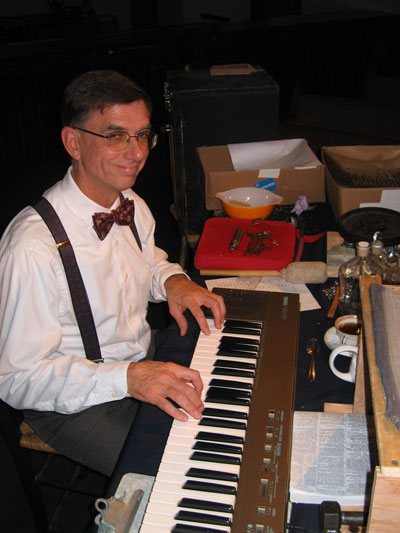 CV: What are some of the aspects of a radio play that are different from a traditionally staged production?
GS: Radio plays are about timing. For example, you have to be aware of when the sound effects person has someone knock on a door, they have to wait until the door opens and then they can actually go in and have the door close before they speak.  So, it's not only the timing with people speaking, but you have to have an eye on the person doing sound effects and vice versa.  That's so you don't literally walk on a line or speak as the door is being closed or anything like that.
By now we have a bit of a stable of actors who have done a radio production with us.  So they're pretty adept at knowing which microphone to go to and how to avoid making noise when they turn pages and all of that.
The more we are committed on stage to believing that we are actually being broadcast live and people can hear us from coast to coast, the more fun we have, and the more careful we are with how we present it.  We even have an on-air sign that goes on when the stage manager does the countdown "5-4-3-2-GO!"  The on-air sign goes on and it's quite wonderful to realize the whole audience shuts up!
CV: How do the Sherlock Holmes stories fit in with the theatre's mission?
GS: We're an American-based company and Sherlock Holmes is British.  We know that.  But the Mid-Atlantic Center for the Arts – another nonprofit down here in Cape May – had been doing Sherlock Holmes weekends for at least 20 years.  About 15 years ago, we talked about how East Lynne Theater could help with the Sherlock Holmes weekends.   I knew it had to be American somehow, which is why we started with the William Gillette adaptation.  Gillette is American, so we were actually doing an American play that was quite popular in 1899.  Then we needed something else and by doing research we learned that the first radio versions of Sherlock Holmes were in this country beginning in 1930.  So, we're still true to our mission.
It was Edith Meiser back in 1930 that suggested Sherlock Holmes to NBC and the men at NBC said they couldn't do it until she found a sponsor.  She found one and that series lasted 20 years.  It was on the radio every week from 1930 until 1950.
---
For more information on the production and the cast or to purchase tickets, visit East Lynne Theater company's website.