originally published: 09/14/2017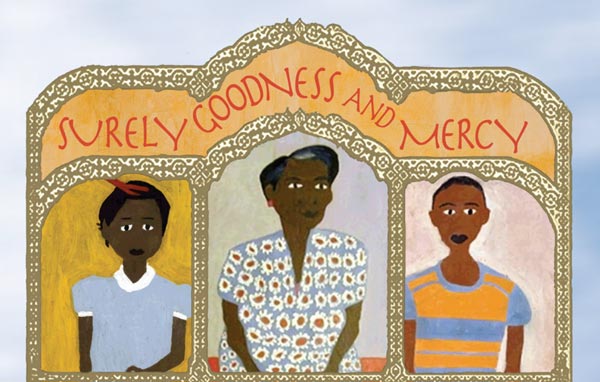 (NEWARK, NJ) -- A brilliant twelve year-old boy with an abusive aunt tries to help his only friend, a cafeteria lunch lady, with the troubling symptoms of a disease that's starting to take over her body in "Surely Goodness and Mercy" a new play by Newark resident, Chisa Hutchinson, commissioned and produced by Writers Theatre of New Jersey that will open at Newark's Symphony Space on September 29th, 2017.  This production of "Surely Goodness and Mercy" is part of a National New Play Network Rolling World Premiere which will see this brand new play produced in Newark, New Jersey; Salt Lake City, Utah; and Chicago, Illinois this year.
The playwright, Chisa Hutchinson, captures the world she saw around her as she was growing up - racism, abuse, poverty, but also hope, love, and angels in everyday dress who protect those around them.  As Ms. Hutchinson says, "Think about it. How else would folks who live under tough circumstances survive if we weren't there for each other? Just because our generosity doesn't get our name on a building doesn't mean it doesn't make a difference."
People familiar with Newark will recognize landmarks and organizations mentioned in the play and the issues discussed in it - the lack of access to healthcare, the struggles of stand-out students in underfunded urban schools, and the difficulties in taking care of someone with a debilitating illness can be understood and appreciated by anyone who watches the play.
Prompted by the subject matter, Writers Theatre of New Jersey Artistic Director, John Pietrowski, chose to produce the play in Newark instead of in Madison, where the theatre is based.  Rodney Gilbert, another Newark resident, will direct the play and most of the cast members also hail from Newark.  As Mr. Gilbert explains, his connection to Newark adds a personal dimension to his involvement with the play: "I'm excited to be able to bring to this piece my experience as a native of Newark. It is my hope to bring authenticity to the warmth that the city and the characters exude."
This play was originally commissioned by the NJPAC Stage Exchange, a program of the New Jersey Performing Arts Center - John Schreiber, President & CEO, and Writers Theatre of New Jersey, in partnership with the New Jersey Theatre Alliance.
---
The article continues after this ad
---
---
"As part of the NJPAC Stage Exchange, we were able to commission this beautiful play by Ms. Hutchinson," said John Pietrowski. "And with the help of the Newark Community, we are able to present it in Newark and integrate the play with other projects we run in town. We hope everyone will come and share in this amazing piece of writing."
"Surely Goodness and Mercy" opens Friday, September 29 at 8:00 PM and will run through October 14.  Performance times are as follows:  Thursdays at 7:30 PM, Fridays and Saturdays at 8 PM, and Sunday matinees at 4 PM.  Student matinees are offered on Wednesdays and Thursdays at 10 AM.
General admission is $25, senior citizen tickets are $20, and tickets for students with valid student ID are $10.  The two Thursday performances are "pay what you can" evenings.
(Note:  There will be a 2 PM matinee on Saturday, October 14.  There is no performance on Saturday, September 30.  The play is suitable for ages 15 and older.) 
Performances will be held at Newark Symphony Hall, located at 1020 Broad St. in Newark, New Jersey.  For more information or to purchase tickets, click here.
This production and educational outreach were made possible by a generous gift from the Kenneth Goldman Donor Fund.
For more information on any of Writers Theatre's programs, please visit www.wtnj.org