originally published: 06/23/2017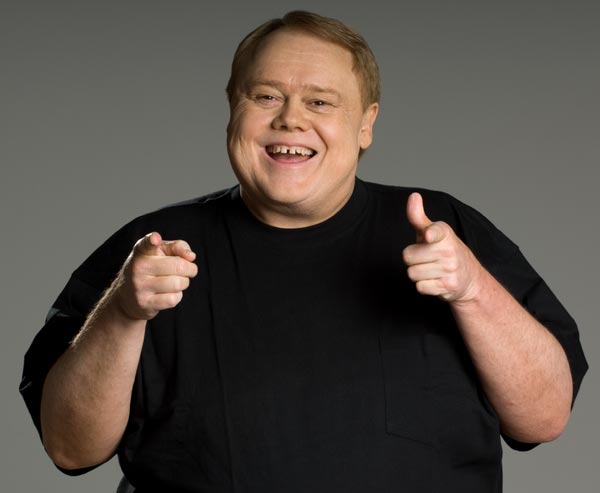 "I never wanted to be a comic. It's not something that I ever said I wanted to grow up and be," said world class comedian and actor Louie Anderson who performed at South Orange Performing Arts Center on June 17.
Be it by accident or eventually by design, he's turned being a comedian into an award winning career. "I went with some friends to a comedy club and saw these guys who I didn't think were really very funny," he recounted in an almost apologetic tone. "So when we left, my friends said to me, 'If you think you're funnier, you should give it a try' and I thought; why not? So I went back to the same club the next week and I did well and thought to myself, hey, I can do this and I haven't stopped since."
Three Emmy awards, countless movie and television appearances as well as being named by Comedy Central as, "One of 100 Greatest Stand-up Comedians of All Time," has all come his way over the last 30 years. However, like most, it was timing and a nice break that led to his career opening up.  After deciding to pursue comedy, he entered the 1981 Midwest Comedy Competition, hosted by comedic legend Henny Youngman.  Anderson took home the first place trophy. Youngman found his work and style to his liking and employed him as a writer.
Youngman is one of several key comedic influences who shaped Anderson's career; others include Bob Hope, Jack Benny, and the great Johnny Carson.  Anderson made his national television debut on Carson's Tonight Show in 1984.
"Johnny, Bob Hope, they had such great writers," he stated. "I learned so much from these guys.  And Johnny, well he was a friend to all young comedians; I'd have to say he was my favorite. Johnny was a mid-western guy like me and we have similarities. Jack Benny had the timing. I mean the way he'd just roll the eyes or give that look was perfect. Bob Hope, I modeled my delivery somewhat after him. Hope had this way of delivering his material that was, well, there's not been anyone like him since."
---
The article continues after this ad
---
---
Word spread quickly of Louie's style, at times self-deprecating, mixed with stories of his family, his childhood, and friends.  Soon Hollywood and television came calling. 
"I thought I might be a singer," he laughed. "My dad was a jazz trumpet player. He played for Hoagy Carmichael's band and he kind of helped steer me away from that; he was a glass is half empty kind of guy. Growing up with so many siblings (Louie is one of eleven children), I have no shortage of material and my life was funny at times. When I got the call to be in the Eddie Murphy movie, Coming To America, that was nice; especially since it helped open some doors for me. Margaret Loesch of 'Fox Kids' approached me shortly thereafter and said, 'We think you could do a series.'  She introduced me to the animator Matt O'Callaghan and he drew me some pictures. I was totally enamored with the idea so we made a pilot episode and it was well received so Fox said, 'let's make another 13 episodes.'  We did that for three years and then they sold the program and the network and that ended the run."
The run produced three Emmy awards for Anderson and the animated series; one for, "Outstanding Sound Editing" and two for, "Outstanding Performer in an Animated Program." It also garnered three Humanitas Prize awards for animation in a children's series. "That felt great and was unexpected," says Anderson of the Emmy awards. "It was very fun being nominated and I was surprised when I won because I was up against Ed Asner and Robin Williams."
Anderson was part of a class of comics when he began in the '80s that were fortunate to be able to take their acts to places all over the globe via the growth of cable television. HBO half hour specials as well as taped programs from comedy clubs such as Dangerfield's, Caroline's, and The Improv. When asked who he fancied as a comedian, either a peer or of today's generation, he confidently responded "Jim Gaffigan." 
"Gaffigan is a lovely human being," said Anderson.  "I love all comedians because I know what they go through and I'm a big fan of comedy, but Jim is special. How anyone can have that much material and stay above board is a true talent. He keeps it clean and he's funny." 
These days, Anderson keeps busy with his stand-up and the role of Christine Baskets on the hit FX comedy series, Baskets, for which he won his third and most recent Emmy in 2016. Louie plays the part of a woman, a role which he modeled after his mother and sisters. He also includes the character into his current routine. 
What can we expect from Louie in the future? "More stand-up, more new material, I'm working on a new one hour special, my sixth one of those. I'm going to be on Colbert doing stand-up; my life is as good as it gets now and I'm really enjoying myself."
---
Danny Coleman is a veteran musician and writer from central New Jersey. He hosts a weekly radio program entitled "Rock On Radio" airing Sunday evenings at 7 p.m. EST on multiple internet radio outlets where he features indie/original bands and solo artists.
---