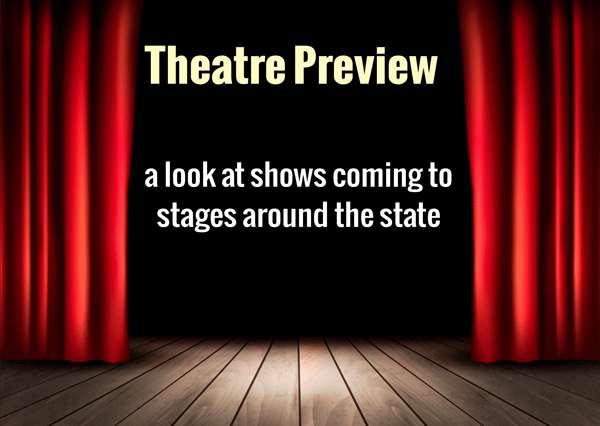 Godspell

Eagle Theatre - 208 Vine Street, Hammonton
GODSPELL modernizes a series of parables by using a wide variety of games, storytelling techniques, and hefty dose of comic timing. Crafted to thrill and inspire, this unique theatrical reflection preaches the eloquence of love, loyalty, and freedom! Presented "in the round"!
Featuring Music & Lyrics by Stephen Schwartz and Book by John-Michael Tebelak.
The Eagle's production is directed by Ted Wioncek III with music direction by Jason Neri. The production runs November 4 through December 11.
---
The Lion In Winter

Two River Theatre - 21 Bridge Avenue, Red Bank
---
Doesn't every family Christmas end in war?
"Well-what shall we hang?  The holly or each other?"  Set during Christmas 1183, this great American classic--filled with ruthless schemeing, deception and romance--is the ultimate fight for the throne.  Join Henry II of England, his wife Eleanor of Aquitaine, and their three sons for a sharp-tongued and witty look at how dysfunctional the royal family can be.
Performances run November 12 through December 4.
---
A Christmas Carol, The Musical

The Growing Stage - 7 Ledgewood Avenue, Netcong
Ebenezer Scrooge is a prosperous curmudgeon who believes personal wealth is far more valuable than the happiness and comfort of others. With an infuriated "Bah! Humbug!" Scrooge summates his feelings of Christmas tidings and charitable giving, but he's forced to face his selfish ways when three ghosts on Christmas Eve lead him through his Past, Present, & Future. Thanks to their guidance, Scrooge recognizes his faults and greets Christmas morning with a cheerful "Happy Christmas" before spending the day reconnecting and sharing love with those that mean the most to him.
Performances run November 18 through December 18.
---
Mary Poppins - The Broadway Musical

Centenary Stage Company - 400 Jefferson Street, Hackettstown
Everyone's favorite practically perfect nanny takes the Centenary Stage in this Supercalifragilisticexpialidocious musical adventure!  Mary Poppins by Disney and Cameron Mackintosh is an enchanting mixture of irresistible story, unforgettable songs, breathtaking dance numbers, a live orchestra, and astonishing stagecraft.
It's great fun for the entire family from ages 5 to adult.
Performances take place November 25 through December 11 in the Sitnik Theater.
---
The Bodyguard, The Musical

Paper Mill Playhouse, 22 Brookside Drive, Millburn
Based on the Oscar-nominated film, this dazzling production stars Grammy Award nominee and R&B superstar Deborah Cox. Former Secret Service agent turned bodyguard Frank Farmer is hired to protect superstar Rachel Marron from an unknown stalker.  Each expects to be in charge; what they don't expect is to fall in love.  A breathtakingly romantic thriller, The Bodyguard features a host of chart-topping hits including "Queen of the Night," "So Emotional," "One Moment in Time," "Saving All My Love,"  "I Wanna Dance with Somebody," and one of the biggest selling songs of all time, "I Will Always Love You."
Performances run November 25 through January 1.
---
One Christmas Carol

Cape May Stage, 405 Lafayette Street, Cape May
One Christmas Carol is a one-man tour de force is an intimate and spirited evening of theatre that everyone in the family will love.  Dicken's famous story about selfishness and selflessness is stripped down to its bare essence with one actor portraying over 35 different characters.
Written by Douglas H. Baker and directed by Roy Steinberg, the production stars Gary Marchek.
This is the East Coast Premiere of a new and very unique take on the holiday classic. 
Recommended for ages 6 and older.
The production runs November 25 through December 31.
---
Yuletide Tales

East Lynne Theater, 500 Hughes Street, Cape May
Typical this time of year, East Lynne Theater selects a few to present for the holidays in storytelling fashion.  This means that everything is memorized and at least 30 different characters are interpreted, many with simple gestures like the flick of a wrist, a nod of the head, and/or a change in the dialect. The tales are endearing, witty, and appropriate for all ages. This year, the American writers selected for storyteller Gayle Stahlhuth incldue Nathaniel Hawthorne (1804-1864), Edward Everett Hale (1822-1909), Mark Twain (1835-1910), and O. Henry (1862-1910), under the title Yuletide Tales.   
Performances run November 25 through December 10.
---
Daddy Long Legs

George Street Playhouse, 9 Livingston Avenue, New Brunswick
A witty and winsome young woman's wishes are answered when an anonymous gentleman she nicknames Daddy Long Legs gives her the opportunity to leave her orphanage and attend university. In return, Jerusha shares her life with her unknown benefactor through treasured letters as she grows into an intelligent and independent woman and experiences a budding romance with a young suitor. This heartwarming new musical has charmed audiences of all ages from London to New York. From the adapter and director of Broadway's Les Miserables, and winner of a 2016 Drama Desk Award.
Performances run November 9 through December 24.
---
This Wonderful Life

Luna Stage, 555 Valley Road, West Orange
Spend some time this holiday season with performer extraordinaire Erica Bradshaw as she inhabits every single role of this stage adaptation of the iconic holiday film It's a Wonderful Life.
Erica's not exactly your typical resident of Bedford Falls, but Luna's not your typical theatre. Experience this heartwarming story as you've never seen it before and enjoy a few winks and smirks along the way.
Experience the holiday classic as you've never seen it before in this adaptation by Steve Murray.
Luna's one person show is directed by Daryl L. Stewart and runs from December 1 through December 18.
---
A Christmas Carol

McCarter Theatre, 91 University Place, Princeton
This holiday season, McCarter presents a reimagined production of Dickens' classic, A Christmas Carol. Follow Ebenezer Scrooge on a magical journey through Christmas past, present, and future and watch as McCarter artists—joined by ensemble members from the greater Princeton community—bring this story to life all around you with more magic, and merriment than ever before! This exciting new production will usher you into the spirit of the season with all the joy, wonder, and generosity that Scrooge himself discovers.
McCarter's production runs from December 9 through December 31.
---
Black Nativity

Crossroads Theatre Co, 7 Livingston Avenue, New Brunswick
Infused with ritual, African dance and storytelling, this exciting retelling of the classic Nativity features a mutli-talented cast, displaying an array of music and dance stylest that welcome the spirit and energy of the holiday season.
Written by Langston Hughes, this play is one of the most beloved holiday traditions at Crossroads theatre is its holiday performance of Black Nativity. This timeless holiday classic is treasured by families across the nation. Join us for an experience full of joy, community, and spirit.
The production runs December 9-11, December 15-17.
---
Algonquin Arts Theatre, 173 Main Street, Manasquan
Irving Berlin's White Christmas -- November 26 through December 4
Elf, the Musical, Jr. - December 17-18