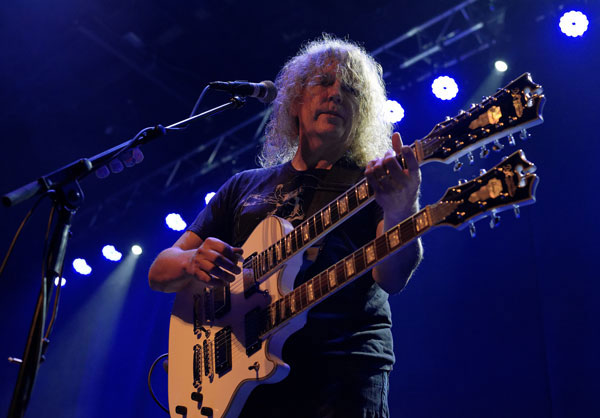 (NEWTON, NJ) -- The hard-rock power-trio Zebra played at The Newton Theatre on April 14 as part of their 2017 tour and delivered a performance that showcased why they've amassed such a loyal following.  Playing for just under two hours, Zebra's set covered all ground, from the contemplative acoustic Who's Behind The Door to heavy rockers such as Wait Until The Summer's Gone.
Zebra got its start in 1975.  After relocating to Long Island, NY from Louisiana shortly after forming, they quickly hit it big in the Tri-State music scene.  Their reputation grew thanks to their covers of Led Zeppelin, RUSH, David Bowie, The Moody Blues, ZZ Top and Montrose.  This is when I first saw the band, most often at the now-defunct Mad Hatter of Stony Brook, NY.  Even though their sets were comprised of covers and only a handful of originals, even then I never thought of Zebra as a cover band.  They always added their own style to every cover they played; I always knew that what I was seeing was an original band that was using covers to get to the next level. The band steadily added more originals to the sets to the point where their nights were mostly originals and just a handful of covers.  Despite this, the audiences kept growing, enough for Long Island radio station WBAB to get behind the band.  Eventually Atlantic Records took note and signed them.  At the time of its release, their debut album was one of the fasted-selling debuts in the label's history.
Four albums and a DVD later the band is working harder than ever, and they pulled out all of the stops at The Newton Theatre.  Their performance was characteristically tight and found the band playing and sounding as good as always.  Singer/guitarist Randy Jackson's soaring vocals never missed or wavered and his fret work is still stunning.  His guitars of choice at this show were a pair of white D'Angelicos, a single neck and a double-neck, along with a 12-string acoustic.  Drummer Guy Gelso ranges his style from heavy stomp beats to playing with a lighter, jazz-inspired feel, and his phrasing is always unique, particularly in his drum fills.  Bassist/keyboardist Felix Hanemann is as solid on bass as they come, providing a foundation for Jackson and Gelso to cut loose from. Hanemann's background vocals are also key to the Zebra sound, and his voice was in perfect form. 
Zebra consists of Randy Jackson (lead vocals, guitars), Felix Hanemann (bass guitar, keyboards, vocals), and Guy Gelso (drums, vocals).
Click here for a slideshow of photographs from the Zebra show in New Jersey Stage magazine.  All photos by Bob Beucler.
---
Bob Beucler is a lifelong a musician and fan of rock photography who lives in central New Jersey.  You can see his photography at www.BobBeucler.com.