NJ Musicians "Rock Against Hate" With Music Compilation to Benefit Planned Parenthood and The Trevor Project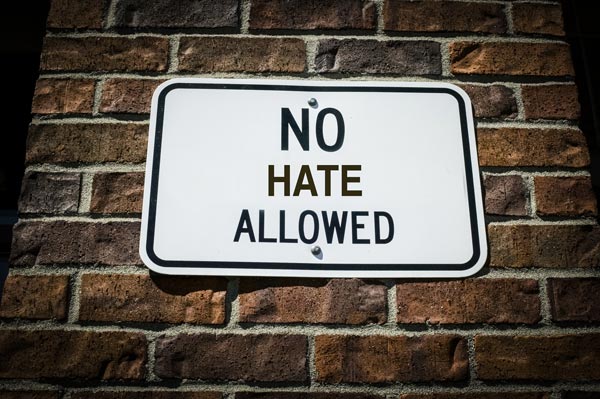 On January 20th, RockAgainstHate.org will release a compilation for download featuring songs from more than 60 acts, from New Jersey and around the globe, to raise money for Planned Parenthood and The Trevor Project.
"In the aftermath of a very divisive election, and the unfortunate increase in hate crimes that happened in its wake, I reached out to my friends about doing something positive", says Lazlo (founder of BlowUpRadio.com and curator of 'Rock Against Hate' Compilation).  "Since my friends happen to be musicians, a compilation to benefit some worthy causes seemed the best course of action."
All the songs on this compilation are original songs that in some way showcase activism, social issues, or protest. As that can be left open to individual interpretation, this album is wide ranging in subject matter and styles of music.
---
As is posted on their website, RockAgainstHate.org: The people associated with this compilation probably don't all share the same opinion on many things, but we all agree on this:
---
1. Hate crimes are not an appropriate response, ever!
2. The organizations this compilation is benefiting, Planned Parenthood and The Trevor Project, are just two of many worthy causes that will be in desperate need of funding over the next four years.
---
"Rock Against hate" is $10 (with all money going to Planned parenthood or The Trevor Project), and features music from: A Halo Called Fred, Aquino, Atom Driver, Beatrix Potter, Ben Godwin, Ben Hughes, Beth Wimmer, Billy Hector, Break Away, Brett Fuentes, Bruce Tunkel, Catherine Wacha, Colie Brice, Craig Greenberg, DDA, Diego Allessandro & Lot 25, Don Lee, DownTown Mystic, Dr. Void & The Death Machines, Dub Proof, Ember Swift, Fairmont, Friction 57, HAL, Happy Joe, Jim Testa, Joe Schroeck, Jon Caspi & The First Gun, Just Some Punk(s), Justin Evan Thomas, Keith Monacchio, Kimon, Laree Cisco, Levy & The Oaks, Lifeguard Nights, Lisa Coppola, Logs In The Mainstream, Mazeffect, Meeko Brando, Miss Ohio, New Day Dawn, Old Smile, Psykidelic Oven Mit, Rachel Romanowski, Reconstitute, Sally Draper, Sarah Donner, September's Ghost, Shotgun Bill, SonOfDov, Talley Summerlin, The Afraid Brigade, The Bitter Chills, The Campfire Flies, The Dark Brothers, The Porchistas, The Skullers, The Successful Failures, Tony Appleseed, Tris McCall, Val Emmich, Vin Colella, Zak Smith, Ziggy Grover.
Every day between now and January 20th, five songs from "Rock Against Hate" will be posted for streaming.
Planned Parenthood delivers vital reproductive health care, sex education, and information to millions of women, men, and young people worldwide.
The Trevor Project is the leading national organization providing crisis intervention and suicide prevention services to lesbian, gay, bisexual, transgender and questioning (LGBTQ) young people ages 13-24.
originally published: 2017-01-10 17:37:55
| | |
| --- | --- |
| Postmodern Jukebox | "Just Awesome!" The Osmonds LIVE! at PNC Bank Arts Center |
| Liveliness; Spirit; Excitement: The Music That Moves South Jersey Jazz Society | "Best of the Best!" The Happy Together Tour 2017 LIVE! at BergenPAC |
New Jersey Stage © 2017 by Wine Time Media, LLC | PO Box 140, Spring Lake, NJ 07762 (732) 280-7625 | info@newjerseystage.com

Images used on this site have been sent to us from publicists, artists, and PR firms.
If there is a problem with the rights to any image, please contact us and we will look into the matter.