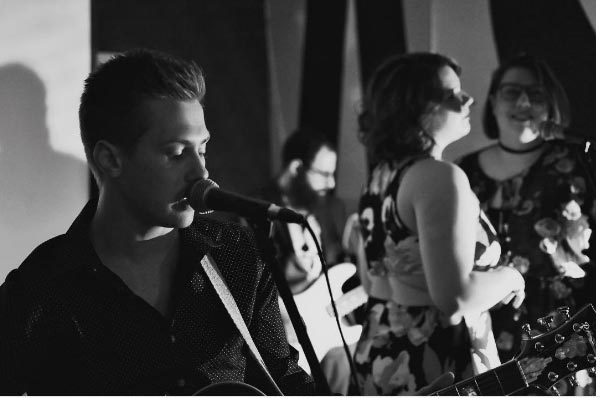 Matthew Stephen and the Sweet Action might be a new name for you, but fans of Airacuda will instantly recognize the voice. Matthew Stephen Menges began his solo project in April 2016 when Airacuda went on an indefinite hiatus. He was the frontman for the band with major writing credits on both of the band's EPs, including full credit on their singles 'Pals' and 'I Got A Woman'. He has just released the video for his new single, "Grooving to the Beat." The video was shot by Nelson Wong of Something Something Productions. Makeup by Jamie Leigh Artistry, with Matthew starring as the old man.
Following the break up, Menges began forming his own backing band, The Sweet Action, to bring his song ideas to life. His songs blend Blues, Soul, Funk, Jazz, and an eclectic mix of Rock N' Roll. His musical inspiration comes from all-american rasp tinged songwriters of the past like Springsteen and John Mellancamp, modern pop songwriters James Bay and Hozier, and Rock N' Roll giants of the past and today. Matthew Stephen & The Sweet Action released 'Stuck In New York City', a Rolling Stones-esque country tune in February 2017. The band went right back into the studio to record their debut 4 song EP 'Grooving To The Beat' and are currently in the final stages of mixing. Catch the release show July 1st at Asbury Park Yacht Club.
New Jersey Stage spoke with Matthew about the video.
Great track! I love how it's a rock song that aims to get people out on the dance floor. Do you think rock music gets a bad rap for not being danceable?
Thank you! I find rock as danceable as most rap songs. If it has the right tempo and groove, any song in any genre can get you moving It's included in any DJ set for weddings. The song is musically inspired by 'It's A Long Way To The Top(If You Wanna Rock N Roll)' by AC/DC and 'Everyday People' by Sly & The Family Stone. Both of those tunes get my toes tapping whenever they come on.
Who came up with the concept of the video?
I came up with the concept, and then I brainstormed further with the videographer Nelson Wong. I wanted to keep things fun and quirky. The lyrics provided my story board. I thought turning myself into an old man would make for a more interesting character and story, and I knew the artist who could make it happen.
---
How did you like seeing yourself as an old man? Or as a bald man?
It was like looking into the mirror of the future, especially the bald part. I thought I aged well. The bald cap itself got very sweaty during the 85 degree, 12 hour shoot.
Was it difficult shooting in public places like on the boardwalk or in the arcade?
We lucked out for the most part. We only had two shots that we had to reshoot due to strangers walking through the shot. The group flash mob dance on the boardwalk took the most patience waiting for crowds to go by, and we actually had a few random people join in the final dance scene.
It's a very well done video, what are you most proud of?
I'm extremely proud of it as a whole, and mostly just because we pulled it off. There were a bunch of variables like weather, work schedules, having the song ready. I had the vision in my head and we nailed everything I set out to do.
Videos sort of lost their luster for a while when MTV stopped playing them but came back in a big way when YouTube was created. How important do you think videos are for bands today?
With YouTube being a main outlet for music discovery, it's very important. Anyone can put music on the internet so it's takes something extra to stand out. I think the music video will draw more attention to the single and our upcoming EP than just releasing the audio. People can now see the whole artistic vision behind the music.
Finally, any plans for the summer tour wise?
We are focused mainly on the EP Release show Saturday July 1st at Asbury Park Yacht Club. We aren't doing an official tour, we are staying tri-state for the summer with a few dates scattered about and filling in still. I want to get the guys back into the studio and start work on our sophomore EP.
For more on Matthew visit www.matthewstephenmusic.com