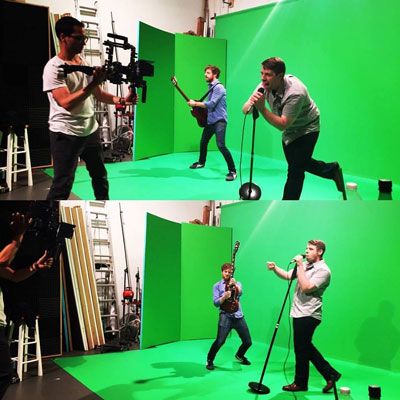 This week, the Scene Report looks at Meeko Brando, 18th & Addison, Inventure, Modern Chemistry, Dark City Strings, In the Presence of Wolves, Wayne Olivieri, Night Birds, The Pop*Break, The Hook Journal, Jigs & the Pigs, and the Makin Waves Jam 'N Groove Fest
So here's a great new band worth checking out: Meeko Brando from Trenton. Snotty punks who'll make you dance, they released their solid five-song EP, "Lemonade Lemonade," last month and immediately hooked up with the one of the best gigs in the state: Art All Night. On July 7, they'll be rockin' The Saint in Asbury Park with local indie rockers The Welts.
The band kind of reminds me of Public Image Limited and Big Audio Dynamite because of the way they combine edgy rhythms with danceable ones. Fans of Joy Division, Mars Volta and Interpol also may like them. I especially love the layers of guitars on the opening "Mako Sharko," which combines piercing stabs and scratching squalls of feedback with bubbly, crunchy and buzz-saw sounds. Not sure how they're going to recreate all that live as a five-piece, but it should be worth exploring …
Congrats to 18th & Addison from Toms River and Inventure from Brick Township who won an opportunity to play The Warped Tour respectively on July 7 at BB&T Pavilion in Camden and July 15 at PNC Bank Arts Center in Holmdel. After Warped Tour, 18th & Addison will do a swift jaunt of the south before playing Aug. 3 at Kung Fu Necktie, Philadelphia, and Aug. 6 at The Brighton Bar, Long Branch. Inventure, who recently released a video for a tune called "Flutter," will play a benefit for veterans, Soldiers not Forgotten, on July 23 at Anytime Fitness in Brick …
After three EPs, including one produced by Adam Lazzara of Taking Back Sunday, Modern Chemistry will release their full-length debut, "Everything in Gold," on July 8 at House of Independents in Asbury Park. A stellar lineup will share the bill: Lowlight, Wyland and Colton Kayser. Less than a week later, Modern Chemistry once again will hit the road with management mates Taking Back Sunday, as well as Every Time I Die. Tour dates on July 14 and 15 at Webster Hall in New York City commence a national tour that will go from Boston to California through Aug. 1 …
The eclectic Asbury Park-based bluegrass band Dark City Strings will release their sophomore album, "Stars Above and Depths Below," on June 30at The Wonder  Bar. The 10-song collection is a follow-up to the 2015 debut, "Fast, True & Free."  The Jersey Shore-based bluegrass outfit Glimmer Grass Band will share the bill. Dark City Strings also will play in Asbury on Aug. 19 at Langosta Lounge and Aug. 29 at The Saint with Billy Strings from Nashville …
The jazz-inspired South Jersey progressive metal band In the Presences of Wolves will celebrate the release of their EP, "Of Two Minds," July 8 at Connie's Ric Rac in Philadelphia. Produced by Dillinger Escape Plan guitarist Kevin Antreassian at his Backroom Studios in Dover, the five-song effort is a follow-up to the debut LP, "Thalassas." The first single, "The One Who Fell to Earth," also is a video. In the Presence of Wolves also will perform Aug. 11 at The Barbary, also Philly in what they're billing as a '90s Grunge/Alternative Singalong …
Wayne Olivieri will return on July 22 to Asbury Park's fabled Stone Pony, the location for his new video for "I'm a Music Man" from his recently released solo debut album, "Eclectic Mind."
Throughout his long career in bands (Rockids, Oliver's Twist), Olivieri has shared the stage with The Ramones, The Talking Heads, Blondie, Aerosmith, Roger McGuinn, Twisted Sister, David Johansson, Southside Johnny, Cindy Lauper, Rick Derringer, Billy Idol and many more …
Having recently returned home from a tour of Australia, New Brunswick-based Fat Wreck Chords recording artists Night Birds have three tasty gigs coming up: July 15, DC9, Washington D.C., with Psychic Subcreatures; July 27, Monty Hall, Jersey City, with Western Addiction and Moral Panic, and July 28, Boot & Saddle, Philadelphia, also with Western Addiction. On July 31, Night Birds will be making a big announcement, so stay tuned …
The Pop*Break Summer Social on July 8 at The Anchor's Bend in Asbury Park will feature The Morgan Freemasons, Matt Scuteri & the Jive Stewards, and The Clydes acoustic, plus DJ SPF2000, aka Pop*Break publisher Bill Bodkin, spinning between sets. Weather permitting, the party will be on the beach with lots of Pop*Break giveaways …
Emily Famularo, the Toms River-raised publisher of the tristate music site, The Hook Journal, has launched a monthly series of charity EPs stocked with local bands from Jersey, Pennsylvania and New York. Via Bandcamp, "The July EP" will feature yeenar, Architect The Destroyer, and Nikolai. Proceeds will go to Books through Bars, a Philly nonprofit that donates books and educational texts to prison inmates across the United States. The organization also helps publish zines of creative work by inmates. The Hook will be accepting soft cover book donations throughout July…  
Some never would have believed that Jigs Giglio, who for years was considered the Keith Richards of New Jersey, would make it to the age of 55, but here he is to live to tell many rock 'n' roll tales at a birthday bash on June 30 at The Brighton Bar in Long Branch. Jigs & the Pigs will open for Mark Aguilar & Family, featuring Slick Aguilar of Jefferson Starship …
Just wanted to share a few more details about the Makin Waves Jam N Groove Fest not mentioned in the interview with Mike Montrey and Karl Dietel that you can read here. The July 21 show is part of the Makin Waves 30th Anniversary Concert Series. In addition to Mike Montrey Band and Karl Dietel Five, performers will include Anthony Krizan with CC Coletti Band and Danielle Illario Band, plus Garden State Line, Waiting on Mongo, Alan Grant Band, Joe Stuby & Rocking Horse, 10-year-old bass-and-drum phenoms Lil' Asmar & Lil' Josh, and the Midnight Rider Jam in tribute to the late Gregg Allman with The 90 Proof Band and Bones Weedsley. Admission is $12 with $2 going to the Russell Perry Memorial Scholarship, which allows once-troubled students at Hunterdon Preparatory School to continue to study music in college.
The reason this Scene Report is so long and far ahead is because going forward only one of the three elements of Makin Waves will be presented each week. An interview will run the first week, followed by a Record of the Week, a Scene Report, a second Record of the Week, and if a fifth week, a second Scene Report. From now on, I only will be doing one interview a month. Sorry to disappoint those artists who were counting on one, but with the freed-up time, I have to battle some health problems, so if you could send some good vibes my way, I'd appreciate it. Hope to see you at my shows and other events!
Bob Makin is the reporter for www.MyCentralJersey.com/entertainment and the former managing editor of and still a contributor to The Aquarian Weekly, which launched this column in 1988. Contact him at makinwaves64@yahoo.com.