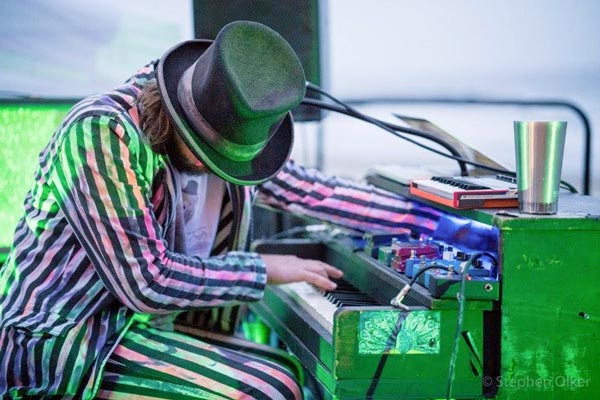 (ASBURY PARK, NJ) -- The second installation of Jams on the Sand, a free summer concert series every Thursday from June 22nd through August 31st 2017 in Asbury Park will feature a local artist followed by bands from New Orleans, Boston, San Francisco, Philadelphia, New York, St. Louis, and Burlington, Vermont. Shows will take place on the Beach Stage of Anchor's Bend from 6:00pm–10:00pm. There will be a designated drinking area for adults 21 and over.
The series will showcase a different national recording artist each week showcasing different genres each week.  Because of the success of the series last year, it has been expanded from 8 weeks to 11.
Each evening will begin at 6pm with Chris Soltis and Brendan Brophy of the band Enjoy! playing acoustic and will have a different special local guest each week.  The national acts will follow with two sets ending no later than 10:00pm.
Shows will be held rain or shine.  The Anchor's Bend promenade area will be used if there is inclement weather.
The following artists have been confirmed for the series.

June 22nd – Flow Tribe (New Orleans, LA)

June 29th – Ripe (Boston, MA)

July 6th – The Devon Allman Band (St. Louis, MO)

July 13th – Tom Hamilton's American Babies ft. Holly Bowling – Holly Bowling will start with her solo classical interpretations and then sit in with the American Babies (Philadelphia, PA / San Francisco, CA)

July 20th – RAQ (Burlington, VT)

July 27th – Bonerama (New Orleans, LA)

Aug 3rd – Midnight North ft. Grahame Lesh (San Francisco, CA)

Aug 10th – Hayley Jane & The Primates (Burlington, VT)

Aug 17th – Roots of Creation (Boston, MA)

Aug 24th – Scott Sharrard | Adam Ezra Group (New York, NY | Boston, MA)

Aug 31st – Start Making Sense - Tribute to the Talking Heads (Philadelphia, PA)
---
The Anchor's Bend is a restaurant and bar located in the Arcade of Convention Hall at 1300 Ocean Avenue, Asbury Park, NJ 07712.  The beach stage is located to the north of Convention Hall.
PHOTO: Marco Benevento from Jams on the Sand 2016. Photo courtesy of Stephen Okler