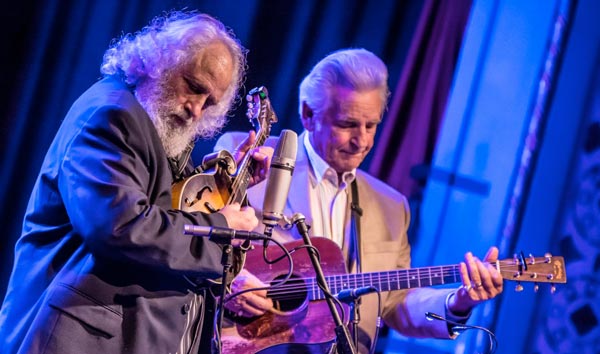 (NEWTON, NJ) -- Del & Dawg, featuring the bluegrass greats Del McCoury and David Grisman, will perform at The Newton Theatre on Friday, April 15, 2017 at 8:00 pm. Tickets range from $54 to $69.
Del McCoury and David Grisman met at the first show Del ever played (on banjo) with Bill Monroe in the spring of 1963 at New York University in Greenwich Village. Three years later, Del & Dawg played their first gig together in Troy, NY at the Rensselaer Polytechnic Institute. They both celebrated the arrival of first-born sons, Monroe Grisman and Ronnie McCoury, within a month of each other.
Through the years they have shared the stage at venues and festivals across the country and in 2012 released Hardcore Bluegrass, a unique collection of bluegrass classics, made at two Dawg studio jam sessions in the 1990s, but this marks the first time they have toured together as a duo—more than 50 years after they first met. 
Purchase tickets by visiting www.thenewtontheatre.com or contact the Box Office at 973-383-3700. 
The historic Newton Theatre, located at 234 Spring Street in Newton, NJ, was founded in 1924. Revitalized and fully renovated, Sussex County's premier entertainment venue reopened in 2011 as a 605 seat capacity live performing arts center. With it's rich history and diverse programming The Newton Theatre is essential to the buoyancy of New Jersey's Skylands region.