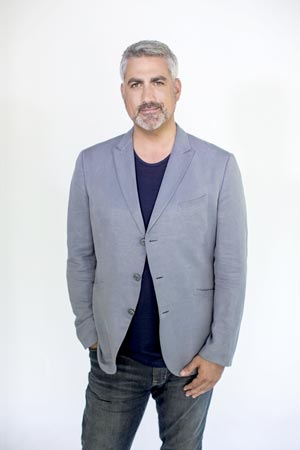 New Jersey Stage is fortunate to have many writers contributing to the magazine and our daily site.  Among them, one of the hardest working writers is Danny Coleman who writes "Rock On! This Week's Sound Bites" - a weekly column found on the website.  Danny is known throughout the New Jersey music community for his weekly radio show and recently added a video talk show as well.  While those shows largely promote independent artists from the tri-state area, his weekly column promotes local artists as well as national ones.
Here is a look back at a few interviews by Danny over the last half of 2016.  Be sure to check out his column every Thursday at NewJerseyStage.com!
Taylor Hicks - published in October 2016
"Ya' know, I love doing the intimate venues. These small acoustic performing arts centers and such are something that I've always wanted to do. I'm a weekend warrior with my music so I'm really enjoying this," says former "American Idol" winner Taylor Hicks as he discussed his upcoming November 3 appearance at the South Orange Performing Arts Center.
Born in Birmingham, AL, Hicks paid his dues by gigging around the American South. Purchasing his first harmonica at a flea market at the age of 16, he taught himself how to play the blues and from there moved on to the electric guitar several years later.
After bouncing around in several bands, Taylor decided to go solo and would eventually release two albums of material as an unsigned independent artist; later, at the urging of his half brother, Hicks auditioned for "Idol." Now one may think that winning the 2006 title of "American Idol," as well as the adulation of fans and followers worldwide would be a climactic point in one's life; Taylor views this differently. "To someone who has struggled like me, everything is climactic," he stated with a laugh. "The big break always seemed to elude me and this business is tough. So trust me, I take nothing for granted. I worked hard before "American Idol" and I continue to work hard now and hopefully it continues to pay off. Every show and every stage is climactic for me and I truly appreciate how I've been graced."
---
Simon Cowell stated that he felt Hicks would "never make it to the final round," of the competition but Taylor and his fans both old and new had other plans. Backed by the then newly dubbed "Soul Patrol" fan base, he delivered gutsy performances on the program and attributes his singing style, then and now to his bluesy influences. "I've got a lot of branches in my musical tree," he explained." Ray Charles, Stevie Wonder because of the harmonica, Delbert McClinton, Van Morrison, Bob Seger; it seems like, as my instruments grew, so did my tree. These all had some sort of similarities to me. I don't know if it was their styles or soulfulness but they had a role in my development as an artist."
Currently, Hicks has two projects ready to make their debut; a new CD due out in the spring of 2017 and a new television program which took to the air on October 21 called "State Plate" on INSP tv. "Rootsy," is how he describes the forthcoming disc as he has no qualms taking his time to complete the process. "I haven't released a record in a long time and that's because I need a vehicle to do so; I don't just release a record for the sake of releasing something. I need a reason, something to drive me and for me it's never a quick process. Ninety percent of the battle is writing the songs; recording is the easy part. Although it's going great, right now I'm in the studio and we just started recording so we should be done by the new year and released by the spring."
"State Plate," is Taylor's new foray into the television market and can be found at 9pm EST every Friday on INSP tv. The program will visit multiple states across the US in an effort to highlight and in some cases explain the origins of some of our nation's most famous dishes. Hicks claims that his love of food and being a southern man have both aided the show; which has currently put a "wrap" on its first season. "Obviously being from Alabama, I'm a foodie," he said with a knowing chuckle. "Being a musician and the music allowing me to travel as much as I do, eating in so many different parts of our country; this was only natural. This show isn't just me going to different states and eating food, it's very educational to the viewers. I really dig into the heartland of America, I go to farms and to agricultural places to see where and how the food was grown and harvested. We just finished up the first season and the first episode aired on October 21. I loved gaining an understanding of where our great culinary arts came from. Some of the places and recipes have been cared for and handed down for generations and on this show I loved getting to know the people who have preserved those things."
When pressed on his favorite food or state cuisine, Hicks found it much easier to discuss his upcoming SOPAC show and the future than make a choice; even poking a little fun at himself while doing so. "As I said, I love playing these smaller venues and since this is an acoustic tour, I've been able to have a lot of fun with it. I'll be doing some songs from my previous records, some of the songs from Idol and maybe try out a new one or two; I'll get to let my grey hair down a bit (laughs). After this tour, it's wide open. I'll go wherever there's an opportunity created for me; there's no rest for the weary and by the way; I eat just about anything except Oreos. I might just be the only person in the world who doesn't like Oreo Cookies; I know, I know you think I'm kiddin' but I'm not (laughs).  I can't say I had a favorite food in season one because everywhere we went, everything was so good; I can't wait for season two."